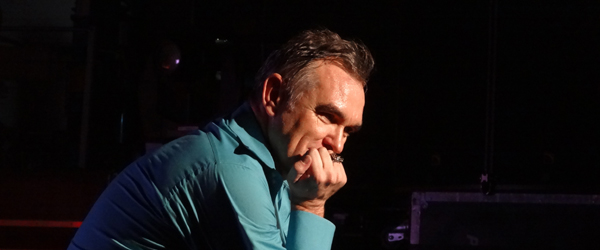 Photo taken at Bob Hope Theater, Stockton, California by Jason Debord (Read his fantastic review at http://rocksubculture.com )
Morrissey has ended the latest leg of his world tour, with two concerts over the weekend, in Bakersfield and Stockton. I have this morning been working my way through the Youtube footage, and although both looked to be great concerts (they always are), there is little to report that has any bearing on MorrisseysWorld.
There is very little footage from Bakersfield, so I will ignore it completely and just give a brief overview on Stockton. The finger lingerie was back, with Moz wearing a little blue number. His left wrist was also strapped, but I have no idea if that was a reference to his blog, or a good old fashioned injury. Boz wore the bluey/green dress & dark nail varnish. The band were in 'Assad is Shit' t-shirts. The show opened with 'Shoplifters', contained 'Maladjusted' and 'Action', and closed with 'Panic' as the encore, in which there were quite a few stage invaders and hugs. During 'Speedway', Morrissey quoted "I believe that since my life began, the most I've had is just a talent to amuse." The lyrics are from 'If Love Were All' by Noel Coward, although Morrissey could possibly have been more influenced by the Shirley Bassey version. It is described on wikipedia as 'self deprecating' and 'One of the loneliest pop songs ever written'. Marianne Faithfull's version of the song also consists of the lines 'Though fate often treats me meanly, I serenely persue, a little mirage in the blue.'
During the concert, Moz handed the mic to a woman in the front row, who spoke from the heart and said what many of us would love to say. Among other things, the women thanked Morrissey for "giving a home to so many people who just can't find their place in this world and above and beyond all things for dragging virtue into the spotlight and keeping it there for almost thirty years." She got a huge cheer and Moz replied "it's too much". A flower (which looked like a red rose) landed on the stage during 'How Soon Is Now', and initially it was not seen, but eventually Morrissey noticed it and whipped it away with the mic lead, obviously not interested. It would appear that roses need to be 'HANDED' to Morrissey. During both 'Maladjusted' and 'Everyday Is Like Sunday', Morrissey held his heart, but didn't put his hand INSIDE his shirt. He also made the 'O' sign during 'Sunday'.
So, the concerts are over, and now we await The Mozziah's return to twitter. He has already posted a handful of tweets, and I get the distinct feeling that he is about to up the anti. He now has 8,400 followers, and apart from tweeting a few things about the Eurovision song contest on Saturday, he has also tweeted,
"Boring celebrities who tweet about what they're eating/buying and what the Guardian says today - beware. There's a new man about town."
It's fighting talk, so are we about to see Moz let loose?
'@MorrisseysWorld' has also hinted at a new parody article entitled, 'Manc Lad's Rose Diary'....now, I wish I'd thought of that!
I have just read back through this blog entry, and it's rubbish, it's a good job nobody is paying to read this, as I'd be issuing refunds. Having spent the whole of my weekend playing and watching cricket, I feel I am neglecting my Moz duties. Now that the concerts have ended, I can cut the umbilical cord and wait for MorrisseysWorld to explode....and for now, I'm off to watch MORE cricket.
Twitterdilly Arms Top 10 Countdown tomorrow at 12.45PM UK time with @TheRatsBack on twitter.....not 'arf.