Uk 'parody rapper', Dizzee Rascal, has made my day. When Our Mozzer took to twitter a couple of days ago, and asked Dizzee (@DizzeeRascal) why he tried so hard to make himself interesting, and why he referred to women as "biatches", Dizzee ignored him. Yesterday, after a Dizzee fan tweeted to say that he had started rapping because of Dizzee, Our Mozzer responded by saying, "Yet another good reason for Dizzee to retire." This was too much for Dizzee, who mustered every ounce of wit he possesses, to come back at Our Mozzer with the following retort, "stop following me then you silly miserable cunt! Do 1."
Dizzee Rascal is unfortunately a perfect example of both the current music industry and Britain as a whole (hole?). All the current British 'singers'(?) are just cheap imitations of the crap that is coming out of America. I guess it is no different to the late 1950's, when the British singers of the time, like Cliff Richard, were just cheap imitations of Elvis. The difference between then and now, is that Elvis had talent, he could sing. The current crop of American singers, whether they be the rappers or the poster kids like Bieber, have NOTHING to offer.
The only hope is that a new crop of bands come through to revolutionise the music industry again. The Beatles and The Rolling Stones did it in the early 60's, a whole crop of bands did it in the early and mid 70's, The Smiths did it in the early 80's, and to a certain extent, Oasis did it in the 90's. It has now been a VERY long time since any 'proper' new bands emerged. Something HAS to happen to kill off the X Factor/Pop Idol garbage that has all but killed the music industry. Our Mozzer has yet again used twitter to demonstrate all that is wrong with modern Britain, but unfortunately nobody has noticed. It would be interesting to see what media coverage Mozzer's twittercisms received if his twitter account was accepted as being the REAL Moz. I expect the tabloids would just say it was 'miserable old Morrissey', but perhaps the intellectuals would realise that Moz spoke the truth. He is one of the VERY few famous people prepared to speak openly and honestly. SURELY intelligence is still valued in modern Britain? Perhaps I am being deluded. The one thing Dizzee Rascal doesn't need to be scared about, is smearing his lovely career by showing intelligence, it's an IMPOSSIBILITY!
It has been announced today in 'The Sun' (so it must be true), that our old friend Russell Brand, is dating Spice Girl Geri Halliwell. Let us hope that he can give her what she wants, what she really, really wants. All of us here at 'Following The Mozziah' HQ wish the pair the very best. I wonder if Geri knows about MorrisseysWorld. More to the point, I wonder if Geri knows about Gary!
Last week Boz Boorer (@Boz_Boorer) tweeted me to say, "as mentioned a few times, Boz_Boorer is official (just news directly from Boz, Lyn or Fabrique records)." I get the impression the tweet came from Michael from Fabrique records, who also tweeted to let me know Boz's new album, 'Some of the Parts', is out NEXT MONDAY. From the samples I've listened to so far, I REALLY like track 4, 'Bozanova'. It's a real summery song....it's just a shame summer is over.
And talking of summer being over, the cricket season is winding up (even though it never really got going), and in a weeks time, the kids will be back at school. I will have NOTHING to do. Perhaps it is my cue to FINALLY get writing. It has been nearly eight months since I gave up work, and I have written NOTHING, except this blog thingy. The question is, will I continue to write about Moz? I suppose it depends on whether he gives me anything to write about. Time as ever will tell.
Today's Twitterdilly Arms Top 10 Countdown was conducted NOT on twitter, but in the chat room of MorrisseysWorld. As the MW chat room was always at the bottom of the MW blog site, and as the MW blog has now disappeared, I have decided to call the MW chat room 'The Worlds End'. It is an alternative pub to the Twitterdilly Arms, just as 'The Flying Horse' (situated in Jubilee Terrace) is an alternative to Coronation Street's 'Rovers Return'. It is a modern day 'speakeasy'. As the chart wasn't 'performed' in 'The Twitterdilly Arms', I guess it's no longer the Twitterdilly Arms Top 10. I shall re-name it 'The Blue Rose Top 10'. Here is this weeks:
THE BLUE ROSE TOP 10 - WEEK BEGINNING SUNDAY AUGUST 26TH 2012
1. WILLIAM - THE SMITHS (NEW ENTRY)
2. REEL AROUND THE FOUNTAIN (LIVE IN DERBY '83) - THE SMITHS (NEW ENTRY)
3. I KNOW IT'S OVER (LIVE IN MANCHESTER '12) - MORRISSEY (UP 5)
4. SCANDINAVIA/ACTION IS MY MIDDLE NAME (DOUBLE 'A' SIDE) (STUDIO IN SESSION) - MORRISSEY (DOWN 3)
5. TROUBLE LOVES ME - MORRISSEY (UP 1)
6. THE TEACHERS ARE AFRAID OF THE PUPILS - MORRISSEY (NEW ENTRY)
7. COME BACK TO CAMDEN - MORRISSEY (NEW ENTRY)
8. PAINT A VULGAR PICTURE - THE SMITHS (NEW ENTRY)
9. PEOPLE ARE THE SAME EVERYWHERE (STUDIO IN SESSION) - MORRISSEY (DOWN 5)
10. IN EVERY DREAM HOME A HEARTACHE - ROXY MUSIC (DOWN 5)

(Goodbye to Rita Pavone, who has finally dropped out of the chart)
The Blue Rose Top 10 can be 'heard' LIVE every Tuesday at 12.45pm UK time, either on twitter in 'The Twitterdilly Arms' (follow @UpthePier), or in the MorrisseysWorld chat room - 'The Worlds End' ( http://chatroll.com/embed/chat/morrisseysworld-chat?id=f1w_p-GET5u&platform=blogger&w=$0 ).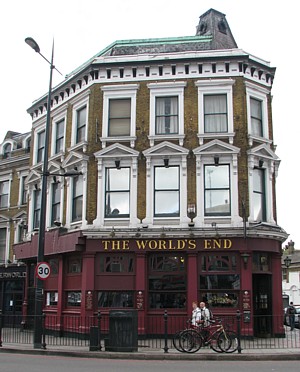 THE WORLDS END PUB - THE MW SPEAKEASY