I was just about to write that I am bored stiff and have nothing to report, when suddenly, thanks to the beauty (?) of social networking, I have found Morrissey. Of course, Morrissey probably wasn't even aware that he was lost, but since MorrisseysWorld disappeared, there has been no sign of him, and like wise, no sign from him (see what I did there?).
I'm still not overly sure why I am bothering to write this, as my readership levels have plummeted in the past week. I can only presume that the majority of my regular readers only read the first half of my 'Operation' blog entry, and presume I died! I am, however, confident that with Morrissey's tour starting in just eleven days time, my readership levels will once again rise to dizzy heights, and if Moz dons a blue rose, they'll go through the roof, but for now, it's just you and me kid.
Anyway, I digress, back to 'Finding Morrissey', which shouldn't be confused with 'Finding Nemo', as my story has no fish, just a book store in Manhattan and a fainting old lady.
NEMO - NOT INVOLVED HERE
It would appear from various tweeters, '@caterita2008' for example, that Morrissey has recently been staying in Rome, but it would appear that on Saturday, he took a flight from Rome airport (Gate 14 to be precise) and flew to New York.
ROMA AIRPORT
And here is where today's story starts. Really, I should be writing this a as a parody piece, but I have only just stumbled over the story, and due to my bored mind, I just cannot be bothered. It is a shame, because there is probably quite a bit of comedy in it. I shall try and find some silly photos instead.
It would appear from whoever is responsible for running the official twitter account of '@strandbookstore' in New York, that not only did Morrissey pop in yesterday, to peruse their '18 Miles of New, Used Art and Rare Books and much more', but he saved the life of some poor old wretch! Here is the tweet from '@strandbookstore':
"I didn't see it myself, but...apparently Morrissey was in the store today and came to the rescue of an elderly woman who fainted."
STRAND BOOK STORE - ON THE CORNER OF 12TH & BROADWAY
Of course what ISN'T clear at this point, is whether the "elderly woman" fainted at the shock/excitement of seeing Moz, or for some completely unrelated factor, such as dehydration, poor circulation, lack of food, heart problem etc. Morrissey would no doubt play down the whole incident, but the words of the tweet are quite clear, "came to the rescue". Morrissey is a superhero.
MORRISSEY - SUPERHERO. DR GAVIN HOOPS WAS RIGHT ALL ALONG
EYEWITNESS PHOTO: MOZ (RIGHT) PLACES HIS PALM ON THE FAINTING WOMAN'S HEAD & MIRACULOUSLY REVIVES HER. SOME SAY A MIRACLE, OTHERS SAY 'A SIGN'. NOTE THE MAN ON THE LEFT HAS A VEST ON....VERY SENSIBLE
I wonder if Moz will visit J&R Records whilst in New York? It was my favourite haunt when I visited last December. Just knowing Morrissey is in New York makes the next leg of the World tour feel very real. The excitement will now start to build.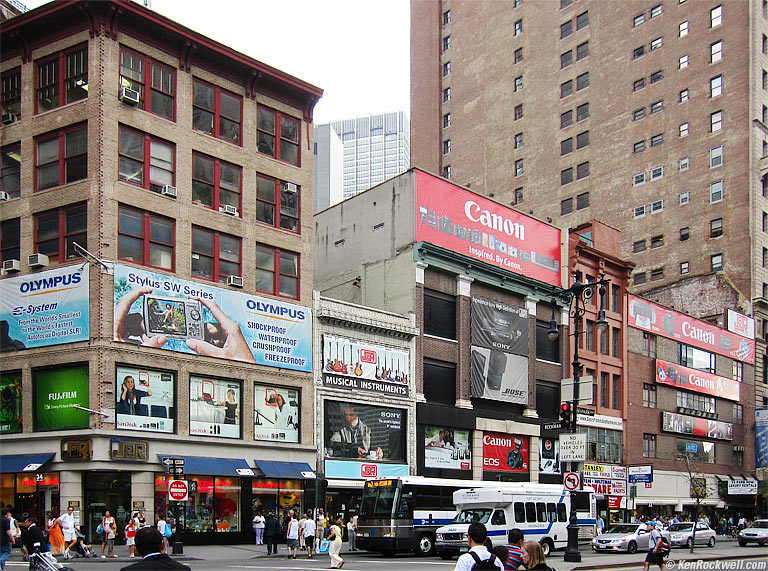 J&R RECORDS - 23 PARK ROW IN DOWNTOWN MANHATTAN
So, while The Mozziah has been saving lives in New York, what has my life had to offer? Boredom. You would think that having had emergency heart surgery just six days ago, I would be grateful to be alive, but I have been stuck indoors, Mrs Whiskers (my wife) has made me dramatically change my diet, and I feel as though I don't know where my life is going.
I have no goals, no ambitions, and the writing career I wanted to start, just hasn't happened. The only thing I have taken up, is football management! I used to run a youth team a few years ago, and was recently asked to do it again, so yesterday, I crawled out of my pit, and took to the sidelines in the pouring rain, for the first game of the season.
THE RAT (LOOKING A LITTLE UNDER THE WEATHER) IS WELCOMED BACK INTO THE WORLD OF FOOTBALL MANAGEMENT
All was going extremely well for the first ten minutes of the match, and I'd managed to get in an incredible number of early cliches, such as; keep tight, hold it up, drop into the hole etc, when suddenly disaster struck, Mrs Whiskers appeared from nowhere, and dragged me out of the rain, informing all and sundry that I was overdoing it, and being stupid. I watched the game from the car, oh the embarrassment.....Sir Alf Ramsay would be turning in his grave. We won 4-2.
MRS WHISKERS LEADS ME AWAY
My boredom has continued today, but I have invented a new phenomenon....'Moz Factor'. The idea is to find ordinary people on You Tube singing Morrissey songs, you then post them on twitter, where everybody else decides whether they are good enough to go through to the next round. It's brilliant, and so much better than X Factor. Follow me @TheRatsBack for hours of endless fun, or alternatively, go out and find yourself a life.