Thanks to all those who humoured me by taking part in my silly quiz. Congratulations to Heather Cat, who beat Girl Without by just 1 point, the Caramac bar is in the post. Here are all the questions again, this time with INFORMATIVE answers and some NEW PICTURES & CAPTIONS:
1. What did the mysterious twitter user, '@Bucktoothedboy', claim was his favourite song by The Smiths?
ANSWER: Stretch Out & Wait. BucktoothedBoy claimed on twitter, that he saw The Smiths sing this live in 1985. As I presumed that 'BucktoothedBoy' was in fact the actor and comedian, Russell Brand, I pointed out that he would have only been 9 in 1985! BucktoothedBoy replied that his sixteen year old sister had taken him to the concert. Russell Brand remains an ONLY child!
RUSSELL BRAND - TROUBLED BECAUSE HE WAS TOO YOUNG TO SEE THE SMITHS IN 1985?
2. On Dec 10th 2011, '@MorrisseysMum' tweeted, "Ladies and gentlemen prepare for the rerun return of Elsie Tanner. Si?" A reply came from @caterita2008 saying, "Si! Ora ho capito! Better late than never!" What happened on stage in Guadalajara on December 13th that 'may' have had a connection to these tweets?
ANSWER: On Dec 8th 2011, Boz Boorer appeared on stage at the Plaza Condesa in Mexico City wearing women's clothing for the first time in years. It was a suit and jacket. Five days later, in Guadalajara, the band played, wearing JUST Speedos, and Boz wore a dress and long haired wig, making him look VERY similar to Elsie Tanner. Boz continued to dress in ladies clothes for much of 2012, and was nicknamed 'Gaynor Tension' by Moz.
ELSIE TANNER - "BY 'ECK THAT BOZ BOORER COULD BE MY TWIN."
3. What was the first ever No.1 in the Twitterdilly Arms Top 10?
ANSWER: On Monday January 2nd 2012, I first wrote about 'The Twitterdilly Arms', a make believe pub on twitter, where we play You Tube songs on our make believe jukebox. The following day, '@Stillicling' volunteered to keep a list of EVERY You Tube song that was played in The Twitterdilly Arms, so a weekly chart could be produced. On Tuesday January 10th, the first chart was published on this blog, with 'Heart' by Rita Pavone taking the number 1 spot. Just a few hours after our first chart was published, True-To-You published Morrissey's 'own' Top 10, which had 'First of the Gang To Die' as number 1. The publishing of Morrissey's own Top 10 was of course, just a coincidence!
THE TWITTERDILLY ARMS & MORRISSEY'S NO.1's FROM JAN 10TH - COINCIDENCE, NOTHING ELSE!
4. Which tweeter introduced me to Dante, and what Morrissey song mentions Dante?
ANSWER: The mysterious '@dotdotdotpause' (now changed to '@dots_and_dots') introduced me to Dante. I nicknamed this tweeter my 'Spirit of Nico' as she/he claimed to be German. I continue to this day to converse regularly with 'Dot', but have NO idea who she/he is.
'Safe Warm Lancashire Home' mentions Dante, but this ISN'T mentioned in Mozipedia (unless it's in the updated version).
5. On November 3rd 2011, '@caterita2008' tweeted "@MorrisseysWorld Please, please, please...no." What appeared on British tv screens 7 days later to arouse my suspicions of Caterita's tweet?
ANSWER: The John Lewis Christmas advert featuring the song 'Please, Please, Please Let Me Get What I Want." 'Caterita2008' explained that her tweet was just a coincidence.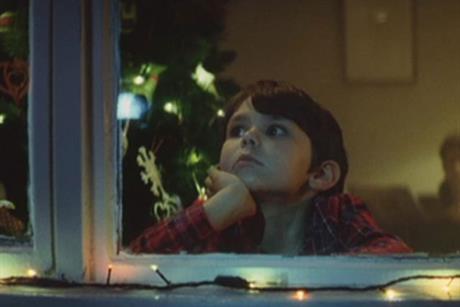 PLEASE, PLEASE, PLEASE LET ME TWEET WHAT I WANT
6. On July 4th 2012, Morrissey's wikipedia web page was updated, making reference to the 'Blue Rose Society', comparing it to Oscar Wilde's 'Green Carnation'. The following morning, ALL reference to Blue Rose and Green Carnation on wiki had disappeared again, but WHAT did Morrissey wear in concert THAT night (July 5th)?
ANSWER: Morrissey wore a green carnation at Les Ardentes Festival in Liege. Users of the Morrissey-Solo website recognised that this was a reference to Oscar Wilde, but failed to link it to the Blue Rose/Green Carnation reference that they had read just the previous day on Wikipedia. It was just a coincidence anyway!
7. What is the twitter user name of the FIRST ever person to take a blue rose to a Moz concert? (CLUE: It happened in Japan)
ANSWER: '@Tokyo_Katie', who took a blue rose on May 3rd 2012 at Ebisu Garden Hall, Tokyo.
TOKYO KATIE - FIRST BLUE ROSE
8. Why, according to a parody story on MorrisseysWorld, did Morrissey continue to wear his finger plaster on stage, long after the finger had healed?
ANSWER: In a parody article on MorrisseysWorld, written in 2011, Morrissey wrote, "I might continue to wear the finger plaster, even after the finger has healed, to represent my journey of personal suffering." (Not the exact quote, but as the blog has disappeared, I can't remember it!) Morrissey has indeed continued to wear the finger plaster on stage from time to time, but it is just a coincidence.
MORRISSEY - STOPS OFF AT SAN DIEGO ON HIS JOURNEY OF PERSONAL SUFFERING AKA HIS TOUR!
9. Who did Our Mozzer claim sponsored his South American tour in one of his parody pieces?
ANSWER: Caramac. In the parody piece 'My Live Tour Journal Sudamerica', Our Mozzer wrote about a large shipment of Caramac arriving at his hotel. This had followed an unexplained 'tweet-pic' posted by '@MorrisseysWorld' of a Caramac bar.
ITV DRAMA SERIES 'MORRISSEYSWORLD' IS SPONSORED BY NESTLE CARAMAC
10. What was significant about the shirt Morrissey was wearing when he took to the stage at his birthday concert this year?
ANSWER: It was covered in roses (see picture under question 8)
11. What allegedly happened when Morrissey went for a haircut on November 18th 2011 at Rob's Chop Shop in Dallas?
ANSWER: Morrissey is alleged to have taken his hair trimmings away with him. The shop proprietor posted on his Facebook page that Morrissey had visited his shop, but he later removed the posting.
























ROB'S CHOP SHOP IN DALLAS - A TAKEAWAY?


12. On April 22nd, who labelled the author of MorrisseysWorld a "deluded and mentally unstable nutcase" on the Morrissey-solo website?

ANSWER: Uncle Skinny aka Peter Finan. Uncle Skinny is a moderator on Morrissey-Solo, and is vehement in his hatred for MorrisseysWorld. He believes that 'I' am the author, although he has never offered up any explanation as to how I could possibly be making Morrissey wear a blue rose tie, make 'OO' signs on Conan, predict concerts in Argentina etc. When the promoters of Les Ardentes Festival listed '@itsMorrissey' as Morrissey's twitter account, I tweeted them to say that they had made a mistake. Uncle Skinny took umbrage to this, and wrote on Solo, "that cunty blogger had the shame, the gall, the effrontery, to contact the promotors of the Belgian festival." Former MorrisseysWorlders Rosy Mires, Stillicling and Nurse Cathy assure me that Skinny is a thoroughly nice man. Whilst he and his website continues to criticise Morrissey, and whilst he refers to me as a cunty blogger, I will just have to take their word for it.
14. In my May interview with Morrissey, he answered EVERY question I put to him, apart from one, a question about the NME court case. Four hours after Morrissey published his answers, what appeared on True-To-You?
ANSWER: In my interview with Morrissey on May 17th, I asked, "All seems to have gone quiet on the NME court case, is it still going ahead, and if so when?" Morrissey answered "...", and just four hours later, TTY posted a statement saying that the court case was scheduled to start on July 16th. This was of course, just ANOTHER coincidence in a long list of many!
NME - EVENTUALLY APOLOGISED TO AVOID COURT
15. On August 22nd 2011, what did the MorrisseysWorld blogsite ask fans to wear to the upcoming US concerts?

ANSWER: A single white or red rose, devoid of thorns.
16. On September 6th 2011, the '@MorrisseysWorld' twitter account started. What website publicised it on September 14th 2011?
ANSWER: Morrissey's official website, True-To-You.net. The statement read, "Morrissey would like to stress that he has absolutely no affiliation with the site called MorrisseysWorld, and that the views expressed on MorrisseysWorld blog and Twitter page are not Morrissey's views, and do not come from Morrissey. Morrissey has no connection with this site. Please beware." A VERY strong denial, and yet a number of those who say that Morrissey is NOT behind MorrisseysWorld, now say he 'goes along with it', as it is their ONLY way of explaining the 'OO' signs, blue rose tie etc. The truth is, they don't know WHAT to believe.
MORRISSEY'S 'CONNECTION' REMAINS WITH TRUE-TO-YOU WEBSITE OWNER JULIA RILEY AND NOT WITH THE AUTHOR OF MORRISSEYSWORLD, WHOEVER IT MAY BE
17. What famous 80's singer named '@MorrissysWorld' his favourite twitter account in a national UK newspaper?
ANSWER: Boy George. Morrissey1959 once said in the MorrisseysWorld chat room that Boy George KNOWS that Morrissey is behind the blog. As to whether this is true or not, who knows? As Morrissey once famously said,"I lie a lot, it's really useful."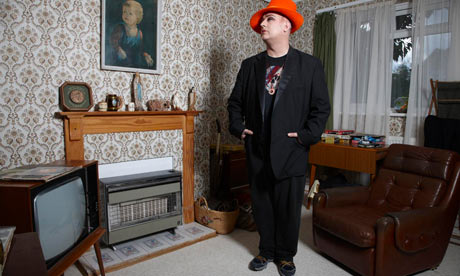 BOY GEORGE POPS AROUND TO MORRISSEY'S FOR A CUPPA
18a. What 'parody' twitter account had the below profile picture?
BOY GEORGE HAS TODAY TWEETED THAT HE HAS "FALLEN IN LOVE" WITH BIEBER.....LORD HELP US!

ANSWER: '@BiebersSadWorld'. It was one of a handful of parody accounts created by 'Our Mozzer'.
18b. Who blocked '@MorrisseysWorld' on twitter on October 10th 2011?
ANSWER: Johnny Marr. '@MorrisseysWorld' had tweeted to say that @Johnny_Marr was a great guitar player, and also a singer. Marr replied by saying "I am not worthy of your wit. Blocked."
JOHNNY MARR - "ALSO A SINGER"
19. Which member of The Smiths left a long winded comment on my blog in October 2011, saying, "I do regret that it had to go to trial and I'm also sorry that we all had to go through the process, but in my opinion, I wasn't wrong to take up proceedings in the first place, nor will I ever be?"

ANSWER: Mike Joyce. Principals are all well and good, but while Joyce maintains this stance, would Morrissey EVER consider sharing a stage with him again? Er, probably not.
INTERNET DJ & FORMER DRUMMER, MIKE JOYCE
20. On October 21st 2011, I claimed that the words 'Love MT Blue Rose' came to me in my sleep. What Morrissey song is this an anagram of?

ANSWER: Trouble Loves Me
21. On November 6th 2011, 'Morrissey1959' entered the MorrisseysWorld chat room, and talked about the time he lived in Kensington. What London Park did 'Morrissey1959' say that he and his band played football in?
ANSWER: Hyde Park
"LADIES AND GENTLEMEN, IN GOAL TONIGHT, BOZ BOORER"
22. In an interview with a Brazilian magazine, Morrissey denied authorship of MorrisseysWorld (for the 4th time), but bizarrely said in the interview "I am seventeen." What did Our Mozzer later claim this was a reference to?

ANSWER: Justin Bieber's age. Nobody else has offered any other explanation for this bizarre quote.
23. In my parody story about the three wise men finding The Mozziah, what nationality are the wise men?

ANSWER: Bloody Welsh
24. In the film Porcile by Pasolini, who do I say is a dead ringer for the actor Pierre Clementi?








CLEMENTI AND BRAND - SEPARATED AT BIRTH OR IN THE CROWD OF THE SMITHS CONCERT IN 1985?


ANSWER: Russell Brand
25. At which festival did Morrissey appear on stage wearing a green carnation?

ANSWER: As mentioned in question 6, it was Les Ardentes Festival in Liege on July 5th 2012. Would it have created more debate had it been worn at a UK concert? Perhaps.
MORRISSEY ON STAGE IN LIEGE WEARING A GREEN CARNATION, WHICH MOST FANS HAVE PAID LITTLE ATTENTION TO
26. The photograph below featured on the MorrisseysWorld blog, but with no explanation as to why, and with NO name attached. Who is the photograph of, and which twitter user first told me his name?
BOBBY BRITT


ANSWER: The photograph is of 'dancer' Bobby Britt, who was arrested in 1927 for being an 'importuner of men'. Sergeant Arthur Spencer described him as a "nancy type". It was the mysterious '@dotdotdotpause' tweeter who identified Britt. Perhaps Our Mozzer just liked the picture.
27. At which concert did Morrissey 'pluck' the white rose from the audience, and during which song?

ANSWER: The concert was on March 17th 2012 in Bogota, Columbia. It was the very last concert of the South American tour and MorrisseysWorlders had just about given up hope of Morrissey taking a rose. During the song 'You Have Killed Me', Morrissey wasn't just handed the Columbian rose, he actually leant right into the audience to pluck it from a fan. The rose appears red because of the lighting, but it was actually white. In Oscar Wilde's 'The Nightingale and the Rose', a white rose is turned red with the blood of a nightingale. Just a coincidence of course.
MORRISSEY WITH A WHITE ROSE THAT TURNED RED
28. Morrissey wore his BLUE ROSE tie to receive the 'Key to the City' of WHICH city?

ANSWER: Morrissey was presented with the 'Key to the City' of Tel Aviv by Mayor Ron Huldai on July 21st 2012. Why WAS Morrissey wearing what has since been described as a "gaudy" blue rose tie? Could it be that Morrissey really IS 'playing along' with the MorrisseysWorld blog that he has described as "dangerous" and told his fans to "beware" of? Oh the contradiction of it all!
MORRISSEY RECEIVES THE KEY TO TEL AVIV IN HIS "GAUDY" BLUE ROSE TIE
29. WHO wears a blue rose in Twin Peaks?

ANSWER: Lil the dancer.
30. On November 7th 2011, the MorrisseysWorld blog published a collage of famous people making an 'OO' sign. On November 29th 2011, Morrissey guested on the Conan TV show in America and made the 'OO' sign. WHAT DID THIS PROVE?

ANSWER A: It proved beyond all doubt that Morrissey really is behind MorrisseysWorld.
ANSWER B: It proved nothing whatsoever.