NOT A PARODY!
(The setting is the Cardiology ward of the QA Hospital in Portsmouth, it is 8.30am on Tuesday Sept 18th 2012. TRB has just had an angiogram, undertaken by his cardiologist friend Dr Mark).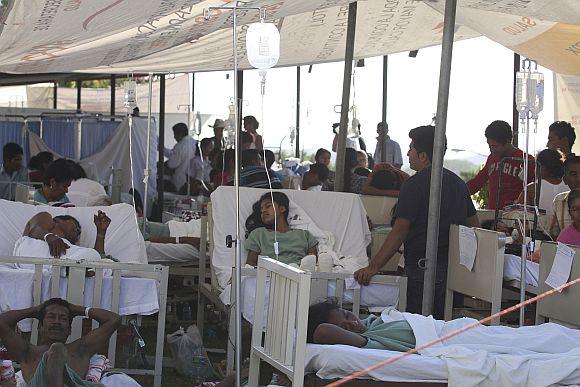 TRB - FRONT LEFT WITH 'STICK ON' MOUSTACHE - RELAXES AFTER HIS ANGIOGRAM & AWAITS NEWS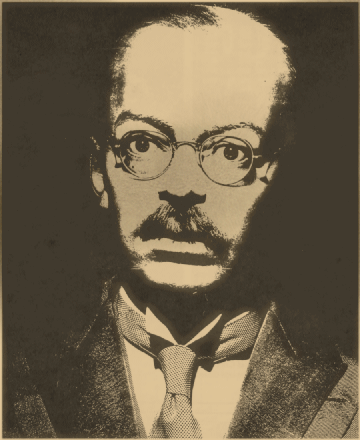 DR MARK
TRB: Go on then, how was it?
DR MARK: (looking serious) Not good I'm afraid. Your L.A.D is hanging on by a thread, and one of your other arteries is virtually blocked.
TRB: What's my L.A.D?
DR MARK: It's one of the main coronary arteries on the front left of your heart. How you haven't suffered a massive heart attack, God only knows.
TRB: Fucking hell.
DR MARK: One of your arteries is COMPLETELY blocked, which means that at some stage, probably within the past few weeks, you've suffered a heart attack without realising it.
TRB: Fucking hell.
DR MARK: It's a good thing we got you in today.
TRB: What do you mean "hanging on by a thread"?
DR MARK: It's so furred, you could just about get a piece of cotton through it.
TRB: Shit. So what now?
DR MARK: Well it's up to you, but my advice would be to fit two stents.

TRB: When?

DR MARK: Now! The artery that is completely blocked is too small for a stent, and as it's now blocked off, we may as well leave it, but the other two need sorting A.S.A.P.
TRB: Well there's nothing to think about, let's get back in.
DR MARK: I'd rather not do it, it's a bit too close to home for me.
TRB: You mean, if you lose me, you don't want my wife and kids blaming you?
DR MARK: I'm confident we won't lose you, but as I say, it's a bit close to home, I've asked my colleague Hugh Griffiths to do it.
MRS WHISKERS TRYING TO REMEMBER IF THE LIFE INSURANCE PREMIUMS ARE UP TO DATE
(At 2.15pm, TRB signs a consent form, which points out in CAPITAL letters that you might suffer a stroke, heart attack or death in theatre, and at 2.30pm, is wheeled back in. Dr Griffiths enters.)
DR HUGH GRIFFITHS
DR G: Hi, I'm Dr Griffiths, let's get the radio on, and then we can get started.
(Heart fm is turned on, yes, REALLY, and Dr Griffiths re-enters the groin artery hole left by Dr Mark. TRB is given a slight sedative. Ten minutes later, 'Down Under' by Men At Work comes on the radio.)
AUSSIE NURSE: YES!
DR G: You only like it because it's one of only two songs to come out of Australia. (singing) Lying in a den in Brussels. (stops singing) Oh, wrong verse.
TRB: Bombay
DR G: That's it, you're showing your age. What music do you like?
TRB: Morrissey.
DR G: God, he's a bit depressing isn't he? (NOTE FROM EDITOR: Being a Morrissey fan, the 'depressing' thing is thrown at us time and time again. Normally I argue MOST vehemently about how Morrissey is not in the slightest bit depressing, but is both humourous and uplifting. At approximately 2.45pm on Tues Sept 18th, under a sedative, and lying on an operating table having heart surgery, I decided not to bother!)
TRB: He's better than this. ('Groove Is In The Heart' by Deee Lite comes on.)
DR G: (singing) Groove is in the heart.
TRB: (singing) Griffiths in my heart. (laughter from nurses and operating doctor).
(Various other bland songs come and go, with Dr G singing while he works. 'Only You' by Yazoo comes on).
TRB: (singing) Only Hugh. (More laughter from theatre staff)
DR G: Right, keep VERY still. No heavy breathing, coughing, singing, or sudden movements, this is the vital part, I'm entering your heart.
TRB: (shuts up)
(At 3.15pm, TRB is wheeled out of theatre, with two new stents.)
TRB: Thank you all very much, you have saved my life (starts applauding).
The End...although luckily, not!
THE BLUE ROSE TOP 10 - WEEK BEGINNING SUNDAY SEPTEMBER 16TH 2012
1. HEART - RITA PAVONE (UP 1)
2. DEATH - KLAUS NOMI (NEW ENTRY)
3. ALL OVER THE WORLD - FRANCOISE HARDY (NEW ENTRY)
4. POUPEE DE CIRE, POUPEE DE SON - FRANCE GALL (DOWN 3)
5. PAINT A VULGAR PICTURE - THE SMITHS (NEW ENTRY)
6. BOZANOVA - BOZ BOORER (NEW ENTRY)
7. TROUBLE LOVES ME - MORRISSEY (RE-ENTRY)
8. SOME GIRLS ARE BIGGER THAN OTHERS - THE SMITHS (NEW ENTRY)
9. SO LITTLE TIME - DIANA DORS (DOWN 6)
10. MY WORLD IS EMPTY (WITHOUT YOU) - JULIE GRANT (NEW ENTRY)
DEATH IS DENIED THE TOP SPOT BY A STRONG BEATING HEART