I intended to once again give a list of Our Mozzer's tweets from the weekend, but once again '@MorrisseysWorld' has GONE!
Before MW disappeared, I did manage to take note of a few tweets from Saturday, which included:
"I would like to announce that I have no new songs whatsoever."
"Yo @justinbieber wassup man? I'mma gonna grab i-tunes number 1. My fans go hard. leggo. Believe."
"If I admitted I'm losing the plot I'd be lying. There never was a plot."
"@mancladmozfan I look forward to the blue rose."
Andrea Willoughby asked: "Will you take a rose from me in Chicago or LA? Or anywhere?"
MW replied: "I don't take - you must give. YesYesYes BlueRoseSociety."
"Shall I reopen the blog? Shall I wear a blue rose? Will a Justin Bieber song be sung in America? BlueRoseSociety"
"Hasn't anyone ever wondered HOW I've managed to churn out 5726 Wildean/Morrisseyean witticisms while holding down a job as a lollipop man?"
I Replied: "I've wondered how you've managed to churn out 5726 tweets without Morrissey being spotted in public while you tweet. Lucky." Our Mozzer re-tweeted me.
MOZ (CENTRE) & THE BOYS PREPARE TO TAKE A BOW
"Goodbye for now, for ever, for nothing."
"Only a literal BlueRose or a @jb t-shirt will bring me back. Over to you, Morrissey."
That wasn't actually the end, as Our Mozzer reappeared on Saturday evening, Sunday morning (at about 5am NYC time) and again Sunday afternoon, but unfortunately, by the time I arrived in the Twitterdilly Arms to take notes (after X Factor, Downton Abbey and the Ryder Cup had finished), the MW account had gone. I try to stay away from twitter at the weekends, but I did pop in very briefly on Saturday and asked MW: "All those things to do in NYC and YOU are watching X Factor online in a hotel? Is That All There Is?" To which Our Mozzer replied something along the lines of: "boredom is boredom whether in Cambridge, Camberley or Slough." It wasn't actually those places he mentioned, but you get the drift. He followed it up with "BOREDOM IS A PLAGUE."
A YOUNG MOZ - "I WAS BORED BEFORE I EVEN BEGAN"
Our Mozzer's Sunday tweets included a dig at my 'false idol' ( see my blog from Day 285) Tim Burgess (@Tim_Burgess). MW accused Burgess of trying to be like Ian Brown and acting like a thug. TB took umbrage to Our Mozzer's tweet, and replied:
"When did I act like a thug? A career out of trying to be Ian Brown? It's a no to both of those I'm afraid."
TIM BURGESS TRYING DESPERATELY NOT TO BE IAN BROWN
Before disappearing, Our Mozzer did hint that 'The Real Morrissey' (TRM) would soon be appearing on twitter. TRM has of course always said that he won't use twitter, but he has been known to change his mind occasionally, so who knows! If TRM DOES join twitter, the interesting thing will be to see just how many followers he attracts. Other former 80's lead singers, such as Boy George (@BoyGeorge) and George Michael (@GeorgeMichael) are on twitter, with Boy currently having 225,000 followers, and Michael 500,000. The other three Smiths are all on twitter, with Johnny Marr (Johnny_Marr) currently having 118,000 followers, Andy Rourke (@AndyRourke64) 3,806 and Mike Joyce (@Mikeoycedrums) 4,994.
With MW having disappeared, I have turned my attentions to Mozzerie-Guts (@MozzerieGuts). There are a number of MorrisseysWorlders who are convinced that Mozzerie is Morrissey, but I dismissed him/her back in May when he/she had a go at me about my Morrissey interview, calling it mendacious. Mozzerie initially turned up on twitter in May, out of nowhere (where else IS there to appear from when you arrive in a virtual world?), with a blue rose profile, which in July he/she (oh, bugger, let's just call him a he for arguments sake) changed to a BLACK ROSE. He then tweeted on July 12th:
"Does anyone besides ol' Mozzerie Guts think black roses will ever be adopted by the @MorrisseysWorld phenomena?" I didn't give the tweet much further thought, but that VERY evening in Florence, Moz appeared on stage in a black rose shirt.
MORRISSEY IN FLORENCE WEARING BLACK ROSES
The following day, Heather Cat tweeted to say Moz wore a black rose shirt, and Lizzy Cat pointed out that this was "just ANOTHER coincidence." Mozzerie Guts tweeted:
"Coincidences are a refuge for the narrow-minded."

Yesterday Mozzerie-Guts tweeted:
"I am certain that @TheRatsBack reads everything I say with a microscope in hand. I have never felt more interesting."

I actually HADN'T been reading all of Mozzerie's tweets, but this morning I trawled my way back through them, and I have to say, many of the tweets are VERY Mozzean, but I have suspected SO many people of being Morrissey on twitter, that I suppose I have been reluctant to believe that Morrissey has yet ANOTHER twitter account, after all, as he said himself just the other day, "I know nothing about twitter." I remain open minded about Mozzerie-Guts, but I have to say, I'm beginning to think it MUST be Moz. Here is a 'Pic tweet' he posted on July 31st, which I missed: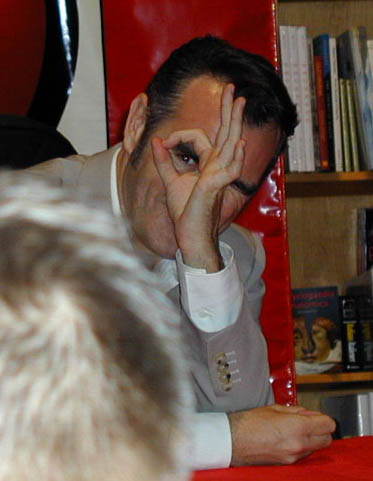 WHO IS MOZZERIE-GUTS?
Another newcomer on the twitter scene is Kyle Douglas (@Mozkidkyle), who is a VERY young Morrissey fan, and DEFINITELY NOT Morrissey! Kyle has posted a number of tweets today, including these photos:
KYLE LETS BIEBER KNOW WHAT HE THINKS OF HIM
KYLE SEES THINGS THAT OLDER FANS DON'T SEE
ATTEMPTED STAGE INVADING STARTS EARLY



Kyle has also tweeted:

"@BlueRoseSociety I want to be the one to hand Morrissey the Blue Rose, will you help me?"

It would appear that Kyle's account is run by his dad '@Bravevampire', who will be taking his son Kyle to the concert at Radio City Music Hall in NYC on October 10th, so if Manc Lad or Chio fail to deliver BLUE ROSE in Boston, then COULD Kyle be the first? I wish him the best of luck. Morrissey has noticed Kyle at a concert before, see here: http://www.youtube.com/watch?v=KBlQB2mBW8A&feature=relmfu

SURELY it is now just a matter of time before BLUE ROSE is accomplished? Surely?