The MorrisseysWorld blog remains closed, the MW twitter account has disappeared, and even Mozzerie-Guts has gone quiet. There is nothing on the interweb abut TRM (The Real Morrissey), so all is quiet in Moz land!
The only news doing the rounds, isn't 'news' at all, it's the old 'Smiths Reunion' rumour mill, which seems to have been sparked by Morrissey just mentioning the words "The" and "Smiths" in the same sentence during his recent interview with the Australian News.com.au. It is no wonder that Morrissey refuses to answer questions on The Smiths, it must be draining.
THE SMITHS IS DEAD - AND LONG MAY THAT REMAIN
So, with nothing to report, I shall just publish the Top 10, which was counted down on twitter by @UpThePier at 12.45pm, earlier today. I've decided to change the name of the 'Top 10' back from 'The Blue Rose Top 10' to 'The Twitterdilly Arms Top 10', it just seems the right thing to do!
THE TWITTERDILLY ARMS TOP 10 - WEEK BEGINNING SUNDAY SEPTEMBER 30TH 2012
1. MOON RIVER - MORRISSEY (NEW ENTRY)
2. LONELY DAY - SYSTEM OF A DOWN (NEW ENTRY)
3. I MARRIED MYSELF (THE SPARKS COVER) - ERIN MERLE WALLACE (NEW ENTRY)
4. DEATH OF A DISCO DANCER - THE SMITHS (RE-ENTRY)
5. PAINT A VULGAR PICTURE - THE SMITHS (NO CHANGE)
6. HEART - RITA PAVONE (DOWN 5)
7. TROUBLE LOVES ME - MORRISSEY (NO CHANGE)
8. LAST NIGHT I DREAMT THAT SOMEBODY LOVED ME - THE SMITHS (NEW ENTRY)
9. THAT JOKE ISN'T FUNNY ANYMORE - THE SMITHS (DOWN 7)
10. MOON RIVER - ANDY WILLIAMS (NEW ENTRY)
AUDREY HEPBURN SINGS MOON RIVER IN BREAKFAST AT TIFFINYS, BUT IT'S MORRISSEY (NO.1) & ANDY WILLIAMS (NO.10) WHO TAKE THE SONG INTO OUR CHART
THE 25TH ANNIVERSARY OF 'STRANGEWAYS' RELEASE BROUGHT 3 TRACKS INTO THE CHART
TRM'S (THE REAL MORRISSEY) MENTION OF LIKING THIS SONG BROUGHT A FLURRY OF PLAYS ON THE INTERNET JUKEBOX IN THE TWITTERDILLY ARMS
ERIN MERLE WALLACE - DISCOVERED BY HEATHER CAT SINGING MORRISSEY SONGS ON YOU TUBE. HER VERSION OF SPARKS 'I MARRIED MYSELF' GRIPPED THE TWIT ARMS THIS WEEK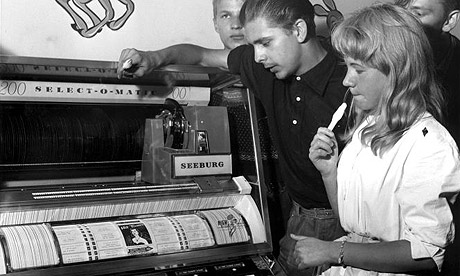 TWITTERDILLY ARMS LANDLORD 'LOUGHTON LIL' SHOWS NEW GIRL 'ROCIO SAV' HOW TO USE THE INTERNET JUKEBOX. MANC LAD OFFERS A VACANT STARE IN THE BACKGROUND