Step right up, hurry hurry
Before the show begins, my friends
Stand in line, get your tickets
I hope you will attend
It'll only cost you fifty cents to see
What life has done to those like you and me
See the man with the broken heart
You'll see that he is sad
He's hurt so bad (So bad, so bad)
There's got to be no sadder show to see
No doubt about it, satisfaction's guaranteed
So let the side show begin, THE MOZZER'S BACK IN TOWN
FANS QUEUE OUTSIDE NBC STUDIOS YESTERDAY, WAITING TO SEE MOZ ON THE JIMMY FALLON SHOW
NOTE THE HOLE IN THE EAR OF 'MR MEAT IS MURDER'
It was a quiet day yesterday, as everybody waited for Morrissey to perform on the 'Late Night With Jimmy Fallon' show. It would be the first public sighting of Morrissey in months (if you discount the bookstore & record shop outings).
I spent the evening on twitter, exchanging banter with my favourite Italian housewife/Argentinian Playboy, Romina Ricci (@caterita2008), and the highly intellectual Kevin Stoba (@Menippus). I don't usually tweet much with Menippus, on the basis that I never understand a word he's going on about....he tweets in Greek! Not really, that was just my little joke, it's due to his intellect & my poor state education that I don't tweet with him.
Menippus was one of the early finders of the MorrisseysWorld blog (way before I found it), but he then disappeared for many months. When he reappeared a couple of months ago, my suspicions were aroused that Menippus could be YET ANOTHER of Morrissey's pessoa's, but I have watched him exchange tweets with MW, and am quite satisfied that he ISN'T Morrissey. Not EVERYBODY involved in this whole phenomenon can be Morrissey anyway, can they?
KEVIN 'MENIPPUS' STOBA - A REAL PERSON.......POSSIBLY
I am therefore happy to believe that Menippus is a real person, and just a good old fashioned Morrissey fan, like the rest of us. He made me laugh out loud yesterday (yes really), when he tweeted a Top 3 list of his 'Never-Quite-Living People', which included Ella Henderson. I had NO idea who Ella is/was, so I googled her, and found that she is one of this year's X Factor finalists. What is more, according to the website 'ThisIsGrimsby.co.uk', "Ella Henderson has the look of a real star". I am once again laughing out loud, but perhaps I should be crying. The irony is that Ella Henderson will probably have a recording deal BEFORE Morrissey. You couldn't make this up.
ELLA HENDERSON - "THE LOOK OF A REAL STAR" SAYS 'THIS IS GRIMSBY'
I decided yesterday, that Romina is ALSO just a normal Morrissey fan. I have been suspicious of Romina from day 1, but she has recently been posting lots of photographs of her summer at the beach in Sperlonga, and the inside of her house, so she HAS to be genuine, she just HAS to be. Yesterday evening we were tweeting about mushrooms, and Romina then posted a picture of her dinner:
ROMINA'S DINNER - GOD ONLY KNOWS WHAT IT IS!
Romina CANNOT be Morrissey, it is impossible, but the fact that this "normal Italian housewife" likes unknown Irish band the Raglans, knows about Elsie Tanner, and predicted the use of 'Please Please Please' last Christmas, makes her a VERY interesting person. Another of her tweets yesterday said: "Many people I like are dead! For example Frank lloyd Wright."
Once again, I had to bring up a google page, to find out who Frank Lloyd Wright is/was. It transpires that he is a was, he died in 1959. Frank Lloyd Wright was an American architect/interior designer/writer/educator, and the more I've read about him, the more interested I've become. It just goes to prove that twitter CAN be educational, it isn't JUST about people tweeting pictures of their dinner!
FRANK LLOYD WRIGHT
I won't go into long winded detail about Frank Lloyd Wright, if you're interested, you can google him yourself, (or ask Romina) but he was most famous as an architect, designing more than 1,000 structures. His most famous building is slap bang in the middle of Manhattan, the Guggenheim museum on 5th Avenue.
GUGGENHEIM MUSEUM ON 5TH AVENUE NEW YORK - COMPLETED 1959
It is SURELY just ANOTHER coincidence that Romina happened to be tweeting about the man who designed one of Manhattan's most famous buildings, whilst Morrissey HAPPENED to be in Manhattan, possibly even looking around the Guggenheim!
FALLINGWATER HOUSE, PENNSYLVANIA - DESIGNED BY FRANK LLOYD WRIGHT - COMPLETED 1937 (NOTHING TO DO WITH MORRISSEY OR ROMINA, I JUST LIKE IT!)
Romina ALSO tweeted to me yesterday that her mum, who apparently is nearly seventy, looks "a little bit like Liz Taylor." I replied that my mother looked more like Dennis Taylor, which in hindsight, is a little unfair to Dennis.
ROMINA'S MUM OR LIZ TAYLOR?
MRS RATSBACK SENIOR
I thought nothing of the Elizabeth Taylor comment at the time, but I shall mention more of it in a minute. Also during our tweeting session yesterday, we were joined by 'Fancy123' (@Fancys123), yet ANOTHER of the people on twitter who has previously aroused my suspicions. 'Fancy' hasn't tweeted anything recently to make me suspicious, but in the early days she (yes, he/she claims to be a 'grandmother' from somewhere in the US) seemed to mention our old friend Russell Brand quite a bit. The reason I mention 'Fancy' now, is because I particularly like her twitter profile picture. I can't work out if the guy selling roses is supposed to be Morrissey or Grandpa from the Waltons!
FANCY123 - A GREAT PROFILE PICTURE
Although 'Fancy' hasn't recently aroused my suspicions, she DID make me laugh yesterday, when during the mushroom discussion, she mentioned that she "could ask my brother if he has any fungal problems." Hmm.
As we all tweeted yesterday evening/US afternoon, yet another Morrissey email interview hit the airwaves of the internet. This latest one was with the Boston Metro, although quite a few of the questions covered the same old ground, so I won't list them all. Here are my highlights of the interview:
METRO: "Were there portions (of your book) that you found yourself skipping over because you felt you adequately addressed them in song already?"
MOZ: "No, because anything worth saying bears repeating."
(Menippus immediately picked up on this quote and pointed out that 'Our Mozzer' repeats his own tweets all the time, which is of course, is just a coincidence.)
METRO: "Do you have your epitaph picked out already?"
MOZ: "Chaucer's "mother dear, let me in." That would suit, I think."
(Now Moz just has to try and outlive his mother!)
METRO: "Did you always know that you would have such a long career?"
MOZ: "I had no idea that I would have a career. In fact, it's not a career at all - it's simply one great mudslide. It's now 30 years on, which is so unthinkable that you might as well tell me that it's my life without me in it. I'd believe you."
METRO: "What makes you laugh these days?"
MOZ: "My naked self. Thankfully it's not something I see often. I tend to look away."
METRO: "How important was it to let your feelings be known about the royal family?"
MOZ: "Kate Middleton, for example, is a joke."
A NAKED MOZ LOOKS AWAY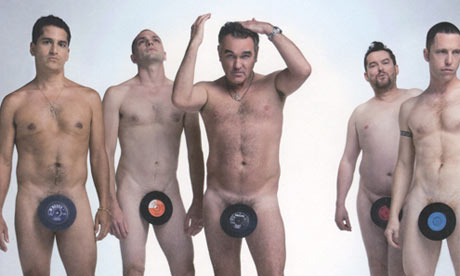 KATE MIDDLETON - "A JOKE"
So, to the MAIN EVENT....Moz on The Late Night Jimmy Fallon Show. The band, including new drummer Anthony Burulcich, were all dressed in matching 'THUGS' t-shirts. Even Boz wore the t-shirt, which meant that for the first time in quite a while, it was a 'Non Gaynor' night. The drum kit had two matching pictures of a young James Dean. Morrissey had no finger lingerie, but appeared to be sporting some sort of plaster on his chest, does anyone know why?
Moz and the band beautifully performed the Frankie Valli cover, 'To Give (The Reason I Live)', before Jimmy Fallon came over to say thank you and goodnight. As Fallon read from the auto cue, Mozzer mimicked him, by raising one finger, to point in the same way. This action has promted a number of the MorrisseysWorlders to get excited on twitter, because it is of course, ONE OF THE MASONIC SIGNS *cue twilight music* It also means that the batsman is 'out' in cricket, but we'll shelve that for another day!
FALLON AND MORRISSEY BOTH GIVE A MASONIC SIGN
This HAS to have just been a coincidence, although BIZARRELY, Moz then followed this up with the Masonic sign of praise, where you swing the arms across the body. SURELY just another coincidence, there can be NOTHING to see 'OO' here, Mozzer is NOT a Grand Pontiff!
MOZ GIVES THE MASONIC SIGN OF PRAISE TO FALLON & NEW BOY BURULCICH SMILES
After playing for the TV show, Morrissey & The Thugs then sang 'You Have Killed Me' for the studio audience. It was another great performance, with 'Pasolini' sang twice at the beginning of the first verse (instead of Accattone) and Italian film director (or Everton footballer) 'Fellini' thrown in as a lyric change for 'Magnani' in the second verse. Despite the studio audience loving the two songs, the Solow lot have already been putting the boot in, with the first lot of comments as follows:
"That's a bit disappointing" - Viva Hate
"Sadly 'To Give' is going to be a nightly inclusion on the US tour" - bored
"It's a shame it's not an original being broadcast" - mcrickson
"For real? What a wasted opportunity" - Harsh Truth
"A little shambolic. Jesse's squelchy kerranging is back"- King Leer
"The band sound clunky as usual and his voice is really being stretched. What a mess" - Amy
"This kind of sucks; the same sorry setlist as the dates earlier this year, I kind of hope he cancels the Columbus show now" - Fan
I have my suspicions about the last comment....it's the semi colon! I'm SO suspicious of the semi colon, but WHY THE HELL do these other people visit a Morrissey website, JUST to leave their negative comments? WHY?
MORRISSEY'S FANS KILL HIM - BUT AS ALWAYS HE FORGIVES THEM
Some people will SWEAR I make this up, but right at the end of 'You Have Killed Me', just as Morrissey sings "I forgive you, on my soul", I am SURE that he makes the 'Sign of the Horn' with his right hand. It's very quick and subtle, but look for yourselves, and let me know what you think. This is the one sign that the MorrisseysWorld blog said was still to be made.
BUSH MAKES THE SIGN OF THE HORN...BUT DID MOZ?
And finally Esther, and finally Cyril, you may remember that earlier I mentioned Romina tweeting about Elizabeth Taylor just hours before James Dean appears on Morrissey's drum kit. Just a coincidence, just a coincidence. They are ALL just coincidences.
A TWEET ABOUT TAYLOR JUST A COINCIDENCE.....PERHAPS, PERHAPS, PERHAPS.