In the early hours of this morning, at 2.19 am Boston time (7.19 am UK time), Morrissey left a comment on my blog, saying:
"Will the blue rose cry for you? When, oh when, will the log be held?"
What does Morrissey mean about the blue rose crying? Roses don't cry, they're just flowers, but 'Blue Rose' is of course just a symbol, the ACTUAL 'Blue Rose' is Morrissey himself, so does that mean HE will shed a tear for US, the 'Blue Rose Society'? Could it POSSIBLY mean that Morrissey is about to sing 'Trouble Loves Me' on stage for the first time in over six years, and he is aware that the song, particularly with it's new meaning, may make him cry? I am welling up at the very thought.
MORRISSEY SINGING TROUBLE LOVES ME IN SPAIN 2006
The 'log' comment, is of course a reference to 'Log Lady' from the MorrisseysWorld blog. Before the blog disappeared, we were promised that a member of Morrissey's band would appear on stage holding a log. The band have already worn 'COSH' t-shirts, but it would now seem, from Morrissey's comment, that we may see an ACTUAL log being held on stage!
"WHEN, OH WHEN, WILL THE LOG BE HELD?"
Tonight, the thirty five date US tour kicks off in Boston, and the excitement, particularly in light of this new Morrissey comment, is unbearable. The word of BLUE ROSE has continued to spread, and tonight at The Wang Theatre in Boston, there will be at least two members of the 'Blue Rose Society' taking blue roses for Morrissey. One of those people is Chio, who has been dyeing her roses all week. Here is the finished product: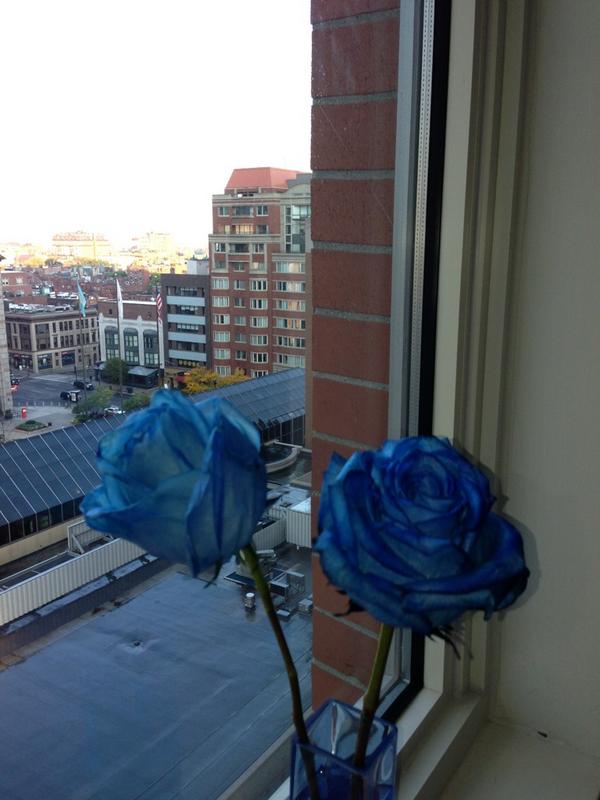 CHIO'S ROSES LOOK OUT OVER BOSTON
Whether Chio will be successful in her quest to be the FIRST person to hand a BLUE ROSE to Moz, will have to be seen, but I am sure she will try. The other Blue Rose member going tonight, is our old friend MancLadMozFan. Manclad has 'attempted' to give Morrissey a rose on THREE separate occasions, but has failed each time, with his most famous of those failures coming on May 8th in Singapore. Leading up to the concert, '@BozBoorer' had tweeted, "We're looking forward to Manclad in Singapore", but at the end of the final song (Last Night I Dreamt That Somebody Loved Me), Morrissey looked for the rose, before shrugging his shoulders and walking off. Manclad had DROPPED it when he went to the loo!
MANCLAD LOOKS FOR HIS BLUE ROSE IN SINGAPORE
Manclad has promised to try and deliver a blue rose in Boston tonight, but I am already having doubts that he'll even get to the concert. Last night, at 10.30 pm local time, he tweeted the following:
"Judt spoke with moz msnfarin oriental restaursnt boylston strert" which apparently, when translated, means that Manclad spoke to Morrissey in the Mandarin Oriental Hotel, although if Manclad was speaking to Moz in the same manner that he was tweeting, God only knows what was said! Will Manclad be sober enough to deliver BLUE ROSE? We shall have to wait and see.
MANDARIN ORIENTAL HOTEL, BOSTON
Despite not having a record deal, Morrissey is still able to pick and choose the VERY best venues to play in, and tonight is no exception, the Wang theatre is described as Boston's 'entertainment mecca', and it looks to be on a par with London's Palladium. I am SO envious of those going tonight.
BOSTON'S WANG THEATRE - AVAILABLE TO HIRE, EVEN WITHOUT A RECORD DEAL
Another email interview with Morrissey has appeared on Billboard.com. Here are my highlights:
BILLBOARD: Which living artist would you rush the stage to embrace?
MOZ: Kirk Douglas. And if you think I'm joking, I'm not.
BILLBOARD: You helped an elderly woman who had collapsed in New York's Strand bookstore. Will you make a habit out of being a good Samaritan?
MOZ: The woman had a mild stroke. That was obvious. I held her hand and spoke to her very gently. No one else seemed interested in helping her. I'd do the same for anyone...except Sarah Palin, of course.
On US politics:
MOZ: It would be fascinating to see a President who was female, but only because we expect so little. Would America ever elect a president who was single? Or does being married automatically make a candidate wholesome and lovely and caring and nice?
On the subject of his autobiography, Morrissey's answer was very 'Life of Brian':
MOZ: Generally, modern autobiographies are launched as sensations but are forgotten by the following Thursday - usually just before lunchtime.
There was a tongue in cheek dig at the Billboard journalist by Moz when asked about the last great piece of literature he'd read, although I expect the gig was wasted:
MOZ: Probably 'Bleak House' by Charles Dickens, which was written in 1201, as you know.
On Manchester:
MOZ: It's difficult for me to move around central Manchester because the local newspapers usually run a craparazzi shot with a 'Heaven Knows He's Incredibly Fat Now' headline.
On the Ramones:
MOZ: If the Ramones were alive today, they'd be the biggest band in the world. It takes the world 30 years to catch on, doesn't it? I mean, look at poor Nico. Every modern teenager now seems to love Nico, yet while she was alive she couldn't afford a decent mattress.
On his future as an artist, Morrissey reinforced everything we all feel about NOT wanting The Smiths to reform. It is also interesting that on Tuesday, I stated that Morrissey must find the whole Smiths thing "draining" and then I posted a photo of 'The Smiths is Dead' album cover:
MOZ: The solo years have been more meaningful to the audiences than the Smiths years, but the press in England only write about me in relation to the Smiths era. This exhausts me. I wish the press were more willing to chronicle these recent tours and the most recent albums. But they won't do it. Their needle is stuck at 'The Queen is Dead.' I've sold out large venues throughout five continents this year alone - with incredible reactions everywhere. Yet the press will only blather on about Smiths reunion rumours. You can imagine the frustration. Thank God I have a strong chin.
And so to tonight - WILL Moz at last sing 'Trouble Loves Me'? WILL Chio or Manclad deliver BLUE ROSE? WILL Boz or one of the band carry a log? The only certainty is that YET another theatre, in YET another town, in YET another country, on YET another continent, will bear witness to the GREATEST singer on earth....bar NONE, ladies and gentlemen......MORRISSEY.
*FOOT NOTE* Please feel free to leave comment below. You no longer need to sign in or have an account but it would be nice if you signed a name....even if you make one up! Please let me know what you think of the new blog layout, font size etc. Thank you, you are dismissed.