Yesterday Morrissey kicked off his thirty five date US tour at the Wang Theatre in Boston with the following set list:
1. YOU HAVE KILLED ME (RINGLEADER OF THE TORMENTORS 2006)
2. ALMA MATTERS (MALADJUSTED 1997)
3. YOU'RE THE ONE FOR ME FATTY (YOUR ARSENAL 1992)
4. A RUSH AND A PUSH AND THE LAND IS OURS (STRANGEWAYS HERE WE COME 1987)
5. I'M THROWING MY ARMS AROUND PARIS (YEARS OF REFUSAL 2009)
6. OUIJA BOARD, OUIJA BOARD (BONA DRAG 1990)
7. EVERYDAY IS LIKE SUNDAY (VIVA HATE 1988)
8. SPRING-HEELED JIM (VAUXHALL AND I 1994)
9. MALADJUSTED (MALADJUSTED 1997)
10. LET ME KISS YOU (YOU ARE THE QUARRY 2004)
11. TO GIVE (THE REASON I LIVE) (COVER)
12. SPEEDWAY (VAUXHALL AND I 1994)
13. LAST NIGHT I DREAMT THAT SOMEBODY LOVED ME (STRANGEWAYS HERE WE COME 1987)
14. FANTASTIC BIRD (SOUTHPAW GRAMMAR (EXPANDED EDITION) 2009)
15. PEOPLE ARE THE SAME EVERYWHERE (UNRELEASED)
16. MEAT IS MURDER (MEAT IS MURDER 1985)
17. SCANDINAVIA (UNRELEASED)
18. I KNOW IT'S OVER (THE QUEEN IS DEAD 1986)
19. I'M OK BY MYSELF (YEARS OF REFUSAL 2009)
ENCORE
20. HOW SOON IS NOW? (HATFUL OF HOLLOW 1984)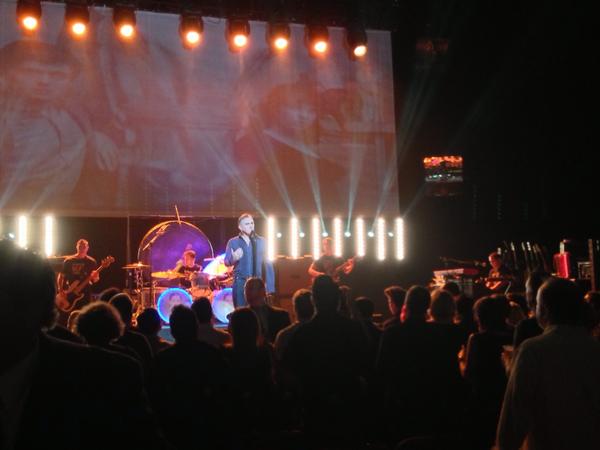 MORRISSEY AT THE WANG THEATRE BOSTON
I have spent the day working my way through tweets and YouTube footage of last night's concert, but the first thing to grab me was the diversity of the set list. As greatest hits tours go, could there be a better mix? There were songs from thirteen different albums (with no more than two songs from any one album), a cover, two unreleased songs, and the FIRST EVER live performance of 'Fantastic Bird' (which originally came from the 1992 period, but was only released on the re-issued edition of Southpaw Grammar in 2009). Also added into the set, marking the 25th anniversary of the 'Strangeways' release, was 'A Rush And A Push And The Land Is Ours', and from 'Vauxhall and I', we were treated to 'Spring-heeled Jim' - I make it sound as though I was there! With 'I'm OK By Myself' also getting an outing, it's like greeting old friends!
The YouTube footage has revealed a new stage backdrop (see photo above), but I have no idea who the two stars are. Lizzy Cat has suggested the woman may be the Italian actress Anna Magnani, where as Romina thinks that it may be Gina Lollobrigida. Personally, I'm not convinced that it's either of them. Nobody has put forward a name for the man. If you know, please leave a comment.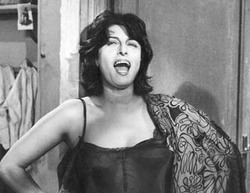 GINA LOLLOBRIGIDA AND ANNA MAGNANI - IS ONE ON THE BACKDROP?
As I write this (5pm UK time), there are only seven of the songs from last night on YouTube, and I am yet to see 'Fantastic Bird'. 'I Know It's Over' is YET AGAIN a highlight, with there being a lovely moment where Moz kneels down in front of the James Dean picture on the drum kit, as if in prayer. There is no sign yet of 'Speedway', so I have no way of knowing if 'What Difference Does It Make' has made it into the pause!
Towards the end of 'How Soon Is Now', which incidentally had a number of stage invaders, Moz sang the line "I've already waited too long", before leaning into the audience, plucking a bunch of red roses, sniffing them, and then singing "And all my hope is gone", at which point he launched the roses into the crowd. Was this Our Mozzer sending a direct message to the 'Blue Rose Society'? Is Moz saying that he has already waited too long for a BLUE ROSE, and his hope of receiving one is fading? I think it IS! (See the rose footage here at 3 mins 52 secs: http://www.youtube.com/watch?v=ba3VzKs1Kes&feature=player_embedded).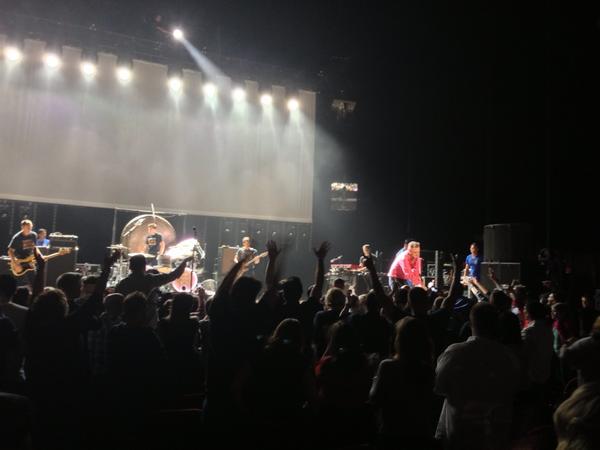 MOZ LEANS INTO THE CROWD TO COLLECT THE RED ROSES
A QUICK SNIFF OF THE ROSES BEFORE THEY ARE LAUNCHED INTO THE AUDIENCE
The roses were taken by sisters '@Mairinlovesyou' and '@gwennae'. Mairin tweeted straight after the concert to say:
"Can I relive Morrissey again please he was perfect and he got my roses."
This was followed by Gwennae who tweeted:
"THOSE ROSES HE THREW OUT TO THE CROWD WERE FROM ME AND MY SISTER BY THE WAY oh god take me back!! <3."
I think it's fair to say the girls enjoyed the concert! And if you're wondering how they knew to take roses, then just ask '@BlueRoseSociety', who has been doing a great job of tweeting to everybody about BLUE ROSE.
Meanwhile, it would appear that our old friend Manclad has ONCE AGAIN failed to deliver his rose, whilst Chio, the other BRS member in attendance last night, had her rose confiscated before she even entered!
WAS THERE A WANG BAN LAST NIGHT?
All in all, it looks to have once again been a fantastic night, but then again, they ALWAYS are. Boz was NOT in drag, so perhaps Gaynor Tension isn't on this tour. The band wore t-shirts that read 'Ringling Beats Animals', which is a reference to the Ringling Brothers Circus. There was no finger lingerie, no string belt and no gold finger paint. During 'Sunday' the word 'silly' was added to 'face', and at the end there was something about being made to be free and it being cold outside, but I may have got that wrong!
I have no idea if there were any masonic signs; there are SO many different masonic signs, it is hard to tell if Moz DOES one or not, after all, he does tend to be expressive with his arm movements. I'm glad I'm not a mason, I don't think I'd keep up!
Chio's disappointment at not being able to deliver her BLUE ROSE was eased by meeting the great man himself back at his hotel. Chio tweeted that she had received a handshake and his autograph. She will be attempting to deliver a rose again tonight.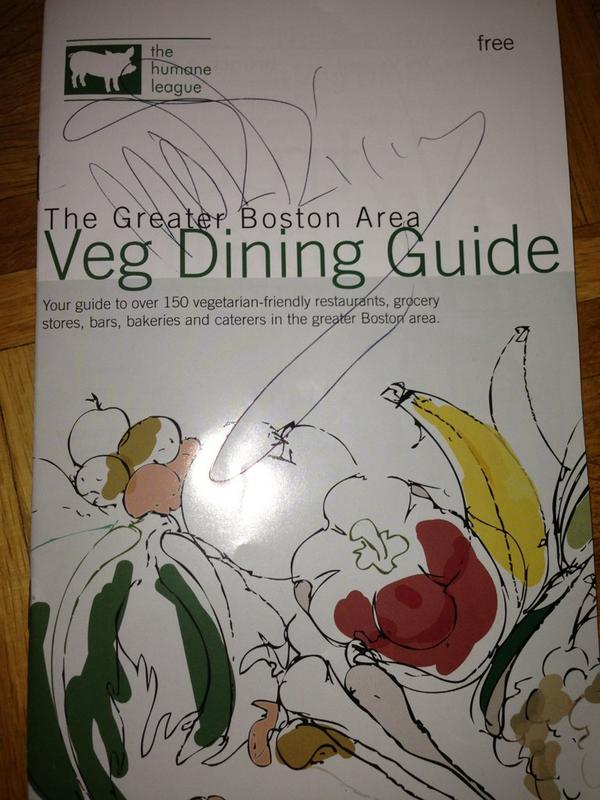 CHIO'S MORRISSEY AUTOGRAPH
About twenty minutes before Morrissey went on stage, Mozzerie-Guts tweeted the following:
"Those who don't understand judge. Those who understand empathize. Those who are kind keep their mouth shut."
Mozzerie followed it up with:
"The night calls out to me. But will I respond? G(OO)DNIGHT."
So, IS Mozzerie-Guts Morrissey, and if so, was his first tweet meant for anyone in particular? Perhaps it was aimed at broadcaster Dermot O'Leary, because today Morrissey has once again been receiving negative press in Britain, thanks to comments made by O'Leary on tonight's pre-recorded appearance on the Jonathan Ross show.
JONATHAN ROSS (FOR THOSE OUTSIDE THE UK WHO HAVE NEVER HEARD OF HIM)
O'Leary, who Morrissey refers to as Detergent O'Leary, and Our Mozzer refers to as O'Dreary, apparently got married last month and honeymooned in Rome. Here is what he says on the Ross Show:
"We walked into a hotel in Rome and we dumped our bags and we came downstairs to the courtyard and had the strangest situation - David Moyes, the Everton manager, was sat over there and Morrissey was sat over there." O'Leary says that he approached Morrissey and said:
"It's lovely to see you", to which he then alleges Morrissey replies:
"Really? I'm sure you'd say the same thing to Barry Manilow or Gary Barlow."
O'Leary then said:
"No, it is. Morrissey, I'm on my honeymoon" to which Morrissey allegedly replied:
"It won't last, these things never do."
Today's newspapers are all reporting that O'Leary took this to mean that the marriage wouldn't last, and are rather predictably calling Mozzer 'Not Charming Man' (YAWN), but if O'Dreary's quote is to be believed, Morrissey could ACTUALLY have meant that the HONEYMOON wouldn't last, Moz doesn't even MENTION the marriage! Personally, I doubt the marriage WILL last, although it may have slightly longer legs than O'Dreary's DREADFUL broadcasting career, which will DEFINITELY not last.....these things never do! I wonder if the Everton footballer Marouane Fellaini was in that hotel with Moz and David Moyes? Hmm.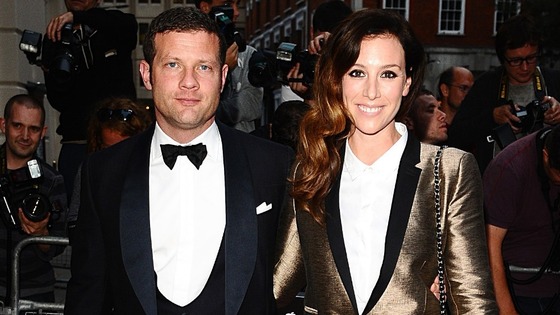 DETERGENT O'DREARY AND HIS NEW WIFE STACEY SOLOMON
So, has Morrissey chosen himself ANOTHER drab leisure centre to play in tonight, like he seems to in Britain, or another beautiful old theatre like yesterday? Er, the latter: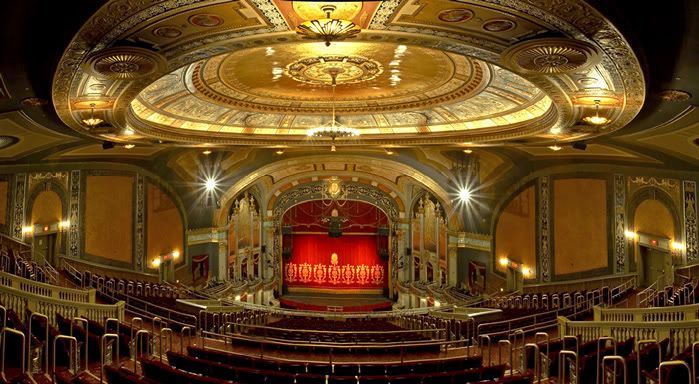 INSIDE THE PALACE THEATRE, WATERBURY, CONNECTICUT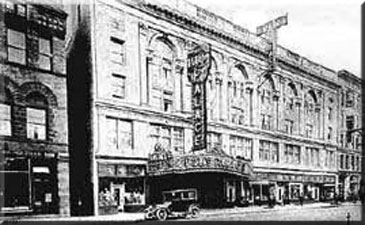 PALACE THEATRE WATERBURY - 'NOT' A LEISURE CENTRE
Good luck to Chio and anybody else taking roses tonight. It seems unlikely that we will get to hear 'Trouble Loves Me', but having now sung 'Fantastic Bird', ANYTHING is possible.