I missed out on quite a lot of yesterday's excitement in The Twitterdilly Arms, and more over, I missed Morrissey's visit to the MorrisseysWorld chat room.
The reason I missed out on yesterday's buzz, was because I spent the morning watching as much footage from Radio City Music Hall as I could, and then, having made a start on my blog, I had to go off to 'Dodgy Hearts Anonymous', an exercise club for those who have recently undergone heart surgery. The nurse asked if I'd had any problems during the week, but I thought it best not to mention that my only scare was when 'Loughton Lil' crept up behind me in The Twitterdilly Arms during the chart rundown on tuesday! The nurse might have thought my brain was as f***ed as my heart, which actually, is probably true.
LOUGHTON LIL BEHIND THE BAR OF THE TWITTERDILLY ARMS ON TUESDAY WITH ROMINA AND CHIO. LIZZY PROPS THE BAR
After 'DHA', I then had to rush straight to watch one of my children play hockey, and by the time I'd got home, had a family meal, and finished writing my blog, it was nearly 10pm. It's hard work living in the real world, but now I am back to the comfort of the shell.
Today, all seems much quieter in The Twitterdilly Arms, and I sense the feeling of 'what now?' among the regulars. The answer MAY be about to be revealed. At 5.30pm (New York time) yesterday, Morrissey placed the following comment on the MW blog:
"What does blue rose mean? You will see."
This has been followed up with an MW tweet this morning at 3.15am NY time, which said:
"Blue Rose fulfilled BUT what does it all mean? Over to you, Morrissey."
Could it be that Morrissey will now start WEARING a BLUE ROSE, just as Wilde wore his GREEN CARNATION? Morrissey now has the perfect excuse to turn up on stage this evening wearing a blue rose, with Rosy Mires offering the excuse that it's Morrissey's 'thank you', to young Kyle's kind gesture! Morrissey could then continue to wear a BLUE ROSE at EVERY concert, with Mires and her Solow friends explaining that it is purely because Morrissey 'likes it', thus dismissing the MorrisseysWorld connection as yet ANOTHER coincidence, or maybe conceding once again that Morrissey is 'just playing along'. It's BRILLIANT, the whole thing is BRILLIANT. Morrissey can now even wear the Bieber t-shirt if he so desires, they won't believe ANY of it, they don't WANT to believe, they are sleeping....or am I sleeping? Is this all a dream?
WILL THE GREEN CARNATION NOW BE REPLACED BY THE BLUE ROSE? '00'
Also on the twitter front, MW yesterday posted the following:
"@mozkidkyle He is the hero of the BlueRoseSociety."
I don't think ANY of us dispute THAT. We are all so proud of Kyle, he has restored the faith of many people these last few days. Even Billboard have given him a write up, and mentioned the BLUE ROSE (see here: http://www.billboard.com/events/morrissey-goes-shirtless-inspires-rowdiness-1007978762.story#/events/morrissey-goes-shirtless-inspires-rowdiness-1007978762.story)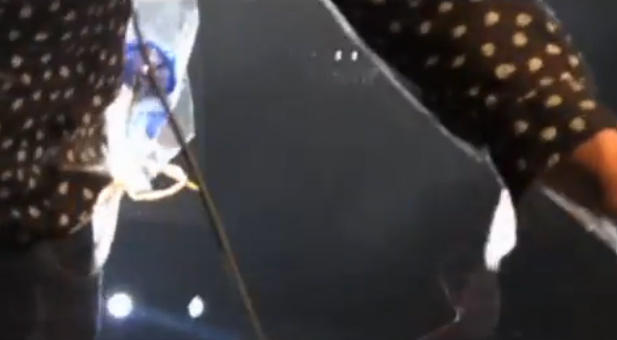 MORRISSEY WITH KYLE'S BLUE ROSE IN NYC TWO DAYS AGO
Other MW tweets from yesterday:
"THEY said I'd never take my shirt off at London. I did. THEY said I'd never accept red and white roses. I did. THEY said I'd never do '00'. I did. THEY said I'd never spell it mesmerizing. I did. THEY said - OK but he'll NEVER wear a blue rose. I did. BlueRoseSociety."
"BlueRose is fulfilled and....nothing happens and nobody notices. BECAUSE WE MUST. BlueRoseSociety."
The above tweets are NOT parody Moz, they are REAL Moz. Incidentally, '@MorrisseysWorld' follower numbers have DROPPED to 8336. If you are reading this blog entry in January 2014, having just read Morrissey's autobiography, I promise you, I am NOT making this up!
MORRISSEY'S AUTOBIOGRAPHY
And on the subject of Morrissey books, it has occurred to me that I HAVE to outlive Morrissey, as otherwise I will never get the chance to read his diaries, which I am presuming, he will only allow to be published posthumously. Morrissey is six years older than me, but I have a dodgy ticker. My only other option is to sneak into his room, but as I don't even know what COUNTRY he lives in, let alone which town or street, the sneaking option seems flawed before I even began (see what I did there?).
SNEAK IN FOR A READ....IF YOU CAN FIND THE ROOM
Smiths drummer, Mike Joyce (@ReadilyReplaceableLawnMowerPart ), has been busy tweeting today, and his tweets prove that he must still read everything about Morrissey, as he has responded to Morrissey's interview with Village Voice. Joyce's opening tweet of the day read:
"Apparently Mozzer reckons me, Andy & Johnny never liked his lyrics. Yeah, I always thought he was the weak link in the band..."
He quickly followed this up with another tweet, just in case anybody thought he was being serious. He tweeted:
"Talking of Moz. The best performance from any frontman ever? I believe this is it. Staggering. (link to YouTube performance of 'William' by the Smiths, live in Madrid in 1985)."
MORRISSEY MADRID 1985 - "BEST PERFORMANCE EVER"
I tweeted Joyce saying:
"I agree Moz was brilliant back in the eighties, but his voice TWO DAYS AGO in New York was BETTER", and I posted a link of Morrissey singing 'I Know It's Over'.
It is obvious that Joyce still adores Morrissey, but those of you who have been reading my blog from the start, will remember that I suggested to Joyce back on 'Day 43', that in my opinion, the ONLY chance of him EVER playing with Morrissey again, would be if he publicly apologised for taking Morrissey to court. Joyce's full response can be read in the comments section of 'Day 43' of my blog, or in my 'Day 46' entry, where I write about it further.
Joyce at the time said that he DID have "regret" and "was sorry" that they had all had to go through the process, but he also said that he was "NOT wrong" for doing it. I wonder if, ANOTHER year on, and with a Smiths reunion as distant as ever, Joyce STILL believes he wasn't wrong, or can he now see that with yet another year's hindsight, he would have been better off NOT suing Morrissey, but biding his time, and waiting for the right moment for the Smiths to reform? I shall post this blog entry to Joyce's twitter feed, and see if Joyce would care to let us know in the comments section below.
MIKE JOYCE ON HIS WAY TO COURT IN '96 - SORROW YET?
And finally Esther, and finally Cyril, my old mate 'Loughton Lil' said to me on twitter a couple of weeks ago, that he would be interested to see my blog audience figures once the US tour started. Since the very start of my blog, my core audience has ALWAYS been from the UK, but for some unbeknown reason, I am currently getting more views from the USA. Could it be that Heather has been re-reading the WHOLE of my blog, or is there another explanation? I'm sure it's just a coincidence, most things ARE around here.
FOLLOWING THE MOZZIAH - WEEKLY AUDIENCE, WEEK ENDING OCT 12TH
Foot note: For anyone else, who missed Mozzer's visit to the chat room yesterday, there are some notes in the comments section of yesterday's blog entry.