I am writing this at 9 am on Sunday morning. I shall soon be setting off to Bagshot in Surrey, where my football management skills will be put to the test in a very tough Under 15 cup match. I have decided to adopt Malcolm Allison's approach to football management, and will today be wearing a fedora hat, and insist that the player's call me 'Big Rat'. If that doesn't get us a victory, then God knows what will!
'BIG MAL' GIVES THE BLUE ROSE '0' SIGN - AHEAD OF HIS TIME - NOW DEAD!
I have had a very quick glance at YouTube, and it would appear that as I was sleeping, the BLUE ROSE's President was dancing the night away, on stage with Moz! HOW does he do it? Seasoned concert pros like Manc Lad, have attempted FOUR times to give Morrissey a rose, and yet Kyle strolls in to Radio City Music Hall on Wednesday, hops onto the stage at will, gives Moz a BLUE ROSE, then hops off again, whilst LAST NIGHT, in a pit of aggressive 'Meatheads', Kyle just pops onto the stage again during the 'Still Ill' encore, jumps into Morrissey's arms, and then dances with him!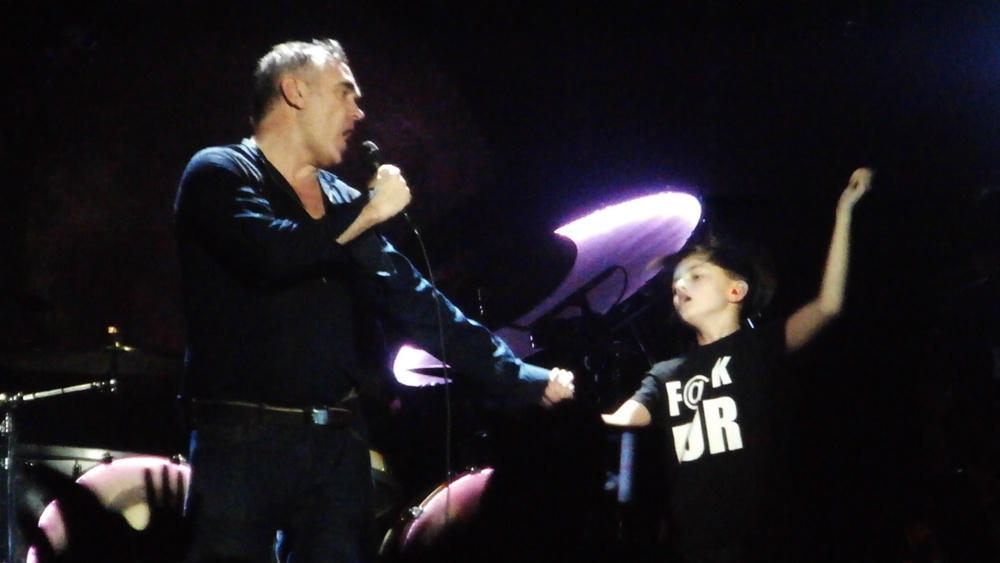 EL PRESIDENTE DANCES WITH THE MOZ
THE YOUNGEST WAS THE MOST LOVED DURING THE ENCORE AT TERMINAL 5
SET LIST
IN OUT
SCANDINAVIA FANTASTIC BIRD
I KNOW IT'S OVER PEOPLE ARE THE SAME EVERYWHERE
The only other videos on YouTube at the moment are of 'Scandinavia' (mesmerizing!), 'One Day Goodbye Will Be Farewell' (powerful) and 'Speedway' (awesome as ever), so I've no idea if there was any relevance to 'I Know It's Over', as mentioned yesterday, but it WAS played.
During 'Speedway', Morrissey quoted, "Some are born for happiness, some are born for sorrow, but only for a little while, we'll all be dead tomorrow." I've got a feeling that he's quoted this before,but I haven't got time to look up the quote.
The evening before, during 'Speedway', Morrissey quoted a section of an old parody song by Victoria Wood, called 'Northerners', so I imagine that Moz probably had his 'tea interview' with Victoria on Friday.
I have no time to write any more, so please add comments below. Thanks to Edge Industrial Photography for leaving comment yesterday on Friday's concert.
I am presuming that NOBODY managed to get a rose to Morrissey, not EVEN El Presidente, but we can't expect it EVERY day (everyday). And HOW has our president coped with all this excitement?
EVEN GREAT LEADERS NEED REST!