Before yesterday's concert in Portland began, a tweeter called Chris aka '@eyricci' tweeted:
"I see plenty of people from the @BlueRoseSociety in line for Moz. Here's hoping he takes one."
It would appear that BLUE ROSE IS SPREADING!
One of those who took a rose last night was a man by the name of Kevin aka '@Inkedotter', but having tweeted to say he was taking a rose, he later tweeted: "@BlueRoseSociety No ones getting anywhere near Morrissey tonight. Security is a b..." and he posted this photo: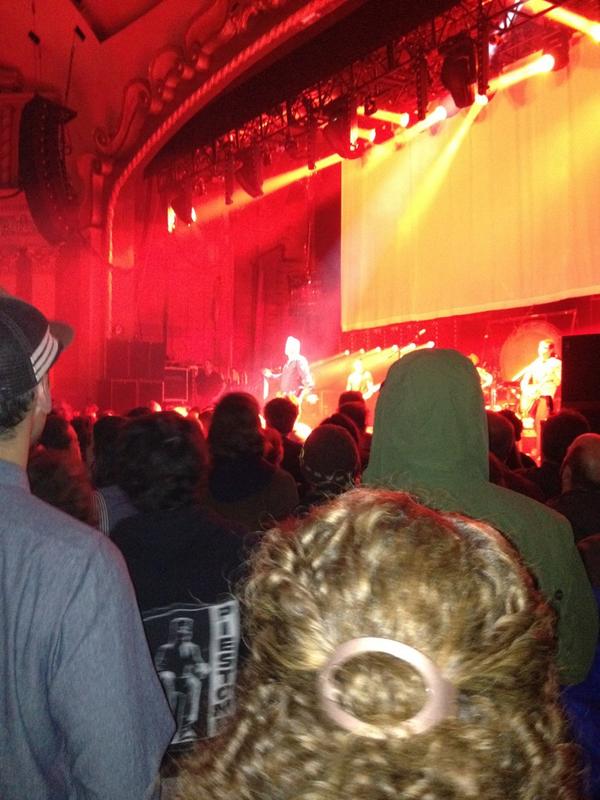 MORRISSEY IN MAINE - WATCHED BY MIKE JOYCE IN A HOODIE
(Photo courtesy of @Inkedotter)
THE STATE THEATRE, PORTLAND, MAINE - OCTOBER 15TH 2012
SET LIST
1. SHOPFITTERS
2. YOU HAVE KYLED ME
3. SUNDAY
4. PARIS
5. FATTY
6. YOUNGEST
7. GOODBYE-FAREWELL
8. SPRING HILL
9. TO GIVE
10. OUIJA
11. BLACK CLYDE
12. SCAN
13. KNOW OVER
14. KISS
15. BIG MALADJUSTED
16. SPEED
17. MEAT
18. FAR-OFF
ENCORE
19. ILL
I have left it until mid afternoon to write today, as I've been waiting for some YouTube footage from last night, but there is NOTHING! I know the show definitely took place, because I have read a review, but it is incredible that NOBODY has uploaded a single song, it's like the dark ages, have the Main(e)s fused?
Anyway, according to the review on Pressherald.com, Morrissey announced that he was "In a state at The State." Did he mean his looks or his mind, because having cheekily written yesterday about decrepit 53 year olds, I was shot down in flames by all the drooling female fans, and yet it would appear Moz agrees with me, he said it himself, he's in a state! If you self deprecate long enough, people believe you.
MORRISSEY - "IN A STATE IN THE STATE"
It has been reported that Morrissey worked his way through his usual four shirts last night, and according to '@Killswitchkelly' on twitter, this salmony red number was among them:
SHROUD OF TURIN OR THE HOLEY SHIRT OF PORTLAND?
So, with nothing else to report from Maine, I will turn to twitter happenings.
I am now starting to come around to the fact that '@Mozzerieguts' MUST be another Morrissey pessoa, and if it isn't, then the person behind it is certainly giving the impression that they ARE Moz.
Mozzerie-Guts appeared yesterday at 3pm Maine time, and was sporting a new twitter backdrop of Claude Brasseur in a fedora hat. (I didn't know who it was, he told me). Mozzerie then disappeared for about an hour and a half (sound check?), before re-appearing around 5pm for half an hour. He then came back again at midnight for half an hour.
If it IS Morrissey, then he isn't sleeping much, because at 4am Maine time, Our Mozzer strolled into The Twitterdilly Arms! He posted a retweet belonging to El Presidente Kyle, then posted a couple of maudlin tweets, had a quick pop at Madonna, a little dig at Gareth Gates, and then announced that,
"In between concerts, I play Football Manager 2012; I read novels; and I blog and tweet."
His final tweet before going, was to tell Romina that he is currently reading Dracula. He doesn't USUALLY let on as to what he is reading, so is there a clue somewhere here......or is he simply reading Dracula!
NOT THE STAGE BACK DROP
Our Mozzer then returned to The Twitterdilly at 6.15 am Maine time. Heather Cat tweeted: "@MorrisseysWorld - I'm wondering if you ever sleep!" To which MW replied: "I sleep spasmodically, just as I live spasmodically. Often I communicate via admin guy. He faxes me tweets and I reply by fax."
Obviously he doesn't REALLY still use fax (does he?), but his irregular tweeting is further proof, if ever it were needed, that Morrissey IS MorrisseysWorld, because if it were a hoaxer, the hoaxer would go out of their way to make sure they tweeted at regular times, they wouldn't risk getting it wrong. What is more, however good a hoaxer they were, what are the chances of NEVER tweeting while Moz is spotted out in a bookstore, or a record shop? And would a hoaxer REALLY let an eleven year old boy think he's involved in something that isn't real? Actually, scrub that last bit, I haven't told my youngest about Father Christmas yet, but he's a bright lad, he worked out there was no God at the age of seven!
THERE IS NO GOD - JUST A MOZZIAH
Our Mozzer stayed around for about half an hour, but didn't seem to be really concentrating. I asked how the tour journals were coming on, and he replied that he would post something on the MW blog soon. He then banged out a few flowery Wilde type tweets, and some old repeats. In the early days of MW, I would have retweeted them all, and hung off his every word, but our relationship has moved on a long way since then, so I merely tweeted him to say: "Some of your tweets are like watching 'Dave' on TV." It must have tickled him, he retweeted it!
Our Mozzer's final tweet was: "I am Oscar Wilde of the Twitter Age." This was shortly followed by a tweet from '@OldOscarWilde', who tweeted: "@MorrisseysWorld No, I am the Oscar Wilde of the twitter age. You are the Mozzer of the twitter age."
It's nice to see these two exchanging tweets, and there was us thinking that Old Oscar didn't know WHO MORRISSEY IS!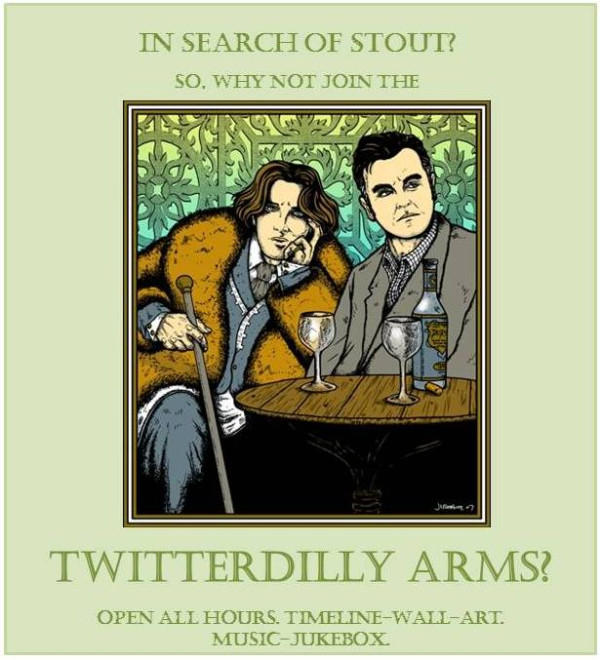 OLD OSCAR AND OUR MOZZER CELEBRATE OSCAR'S 158TH BIRTHDAY
Finally on the twitter front, there has been a reappearance from Drag Boz (@BozBoorer), although she is now calling herself Gaynor Tension. All previous tweets have disappeared. Today she tweeted: "Unloved. Unwanted. Unnoticed." And that was it!
The Solow scum have apparently attacked Kyle's dad, calling him a "rich parent". I no longer visit the Solow place, but Kyle's dad has tweeted:
"Why the hell would I even look at Solo, I'm a rich parent? We worked overtime to get those tickets to take Kyle! FUCKMORRISSEYSOLO.COM" How LOW can those people fall? Some have even posting their hatred on my blog, I just delete it. They are not wanted here.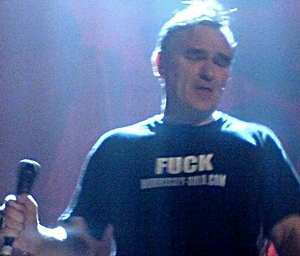 FUCK MORRISSEY-SOLO.COM
Morrissey's latest email interview is with 'CultMontreal.com'. God knows how he manages to keep answering the same questions:
On the Smiths: "We know nothing about each other. We aren't friends, and we don't know where one another lives, so when I hear reunion rumours, it's always so ridiculous. Why would I make music with people I don't know? It would be a bit like me becoming part of a reformed Led Zeppelin- it's that remote."
On doing a 'classic album' tour: "I've never given it any thought. I don't have any trouble selling tickets, so I've never needed to concoct any thematic reason to be onstage."
And so, onto tonight's leisure centre of choice, the Flynn Theatre in Burlington, Vermont. The Flynn is another restored art deco theatre, and is approximately a 200 mile drive from Portland, so Morrissey and the boys will have had to endure a four hour drive today. Anybody coming from Montreal will only be traveling half the distance, and I expect that, as Vermont is the closest venue to Montreal, there will be a fair few Canadians making the journey, as Morrissey STILL refuses to play in Canada.
FLYNN THEATRE - OPENED IN 1930 AS A MOVIE HOUSE WHEN 'TALKIES' WERE IN THEIR INFANCY
RESTORED ART DECO THEATRE - AN ONGOING THEME ON THIS TOUR
THE TWITTERDILLY ARMS TOP 10 - WEEK ENDING SATURDAY OCTOBER 13TH 2012
(COUNTED DOWN IN THE TWITTERDILLY ARMS TODAY AT 12.45 BY @UPTHEPIER)
1. STILL ILL (LIVE AT RADIO CITY NYC - BLUE ROSE) - MORRISSEY (NEW ENTRY)
2. THE IMPERFECT LIST/LAST NIGHT I DREAMT (LIVE AT RADIO CITY NYC) (DOUBLE 'A' SIDE) - BIG HARD EXCELLENT FISH/MORRISSEY (NEW ENTRY)
3. DIS-LUI NON - FRANCOISE HARDY (NEW ENTRY)
4. SPEEDWAY + NORTHERNERS (LIVE AT TERMINAL 5 NYC 12/10) - MORRISSEY (NEW ENTRY)
5. PEOPLE ARE THE SAME EVERYWHERE (LIVE ON COLBERT) - MORRISSEY (NEW ENTRY)
6. LET ME KISS YOU (LIVE AT RADIO CITY NYC) - MORRISSEY (NEW ENTRY)
7. FANTASTIC BIRD (LIVE IN WATERBURY) - MORRISSEY (NEW ENTRY)
8. HEART - RITA PAVONE (UP 2)
9. SHOPLIFTERS OF THE WORLD UNITE (LIVE IN WATERBURY) - MORRISSEY (NEW ENTRY)
10. I'VE GOT A LITTLE SOMETHING FOR YA (MN8 COVER) - OUR MOZZER (NEW ENTRY)
KYLE'S BLUE ROSE AT NUMBER 1