I have awoken this morning with clarity and purpose. BLUE ROSE may have been fulfilled in Our Mozzer's eyes, but The Blue Rose Society is in it's infancy, and BLUE ROSE won't REALLY be fulfilled until EVERY Morrissey concert is awash with roses. Whether people believe that MorrisseysWorld is/was Morrissey or not, is irrelevant, the idea of Morrissey having his very own 'Green Carnation' is romantic, and there is NO reason why ALL his fans shouldn't embrace it, they just need to be told about it.
The twitter user '@BlueRoseSociety' has been doing a great job of spreading the word about BLUE ROSE, but it is important that ALL of us who have already embraced the idea, continue to take our roses, and encourage others to do the same. They don't need to be blue roses; red and white are equally as good, 'BLUE ROSE' is just a name. Morrissey has accepted a RED ROSE in Pomona, a WHITE ROSE in Bogata, a bunch of WHITE ROSES in Rome, a bunch of RED ROSES in Boston, and a BLUE ROSE in New York - He has accepted NO OTHER FLOWERS in years - MORRISSEY WANTS ROSES.
PLAYWRIGHT MARCUS MARKOU HOLDS ALOFT A BLUE ROSE IN MANCHESTER
(Photo courtesy of Edge Industrial Photograph)
PALACE THEATRE, ALBANY, NEW YORK OCT 18TH 2012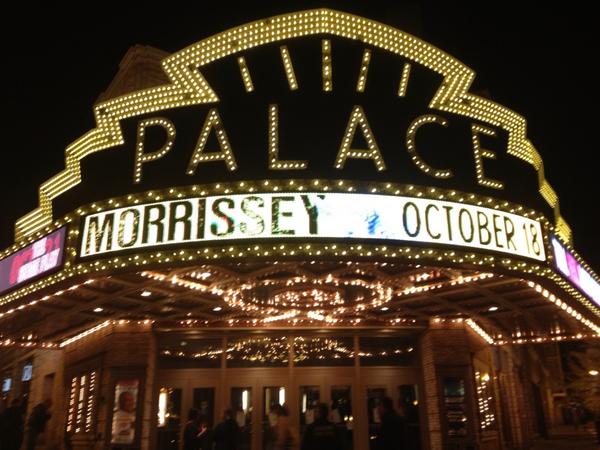 (Photo courtesy of a c*nt, keep reading to find out who)
SET LIST (ROUGHLY):
1. SHOPLIFT
2. KILLED ME
3. SUNDAY
4. PARIS
5. BLACK CLOUD
6. YOUNGEST
7. STILL ILL
8. OUIJA
9. SAME PEOPLE
10. FATTY
11. ACTION
12. SPRING-HEELED
13. MURDER
14. TO GIVE
15. I KNOW OVER
16. KISS YOU
17. GOODBYE - FAREWELL
18. SPEEDWAY
ENCORE:
HOW SOON
I cannot guarantee that the above set list is 100% accurate, as I have pieced it together from various tweets I've read. I have even resorted to visiting the Solow place to try and find the set list, but they have NOTHING! In the good old days, Solow would have had the set list published within an hour of the concert finishing, and there would have been hundreds of reviews and observations, but as I write this, ELEVEN hours after the concert has ended, Solow has NO set list, NO videos posted and just THREE comments from people who attended the concert.
Of course David Tseng, Uncle Skinny et al won't admit it, but Solow is no longer the place Morrissey fans want to visit. It used to be the first port of call for ALL of us, but now the Solow dictators have turned the majority against the site, including Morrissey himself. Tseng contradicts himself by saying that he advocates freedom of speech, particularly if it contains criticism or hatred toward Morrissey and his work, and yet Solow's moderators delete posts that they don't agree with, and they block virtually EVERY mention of MorrisseysWorld or BlueRose.
MorrisseysWorld is the BIGGEST thing to have happened in the World of Morrissey (!) for years, and yet the Solow leaders choose to ignore it, rather than embrace it. They are too busy building fences to open any gates.
CHAIRMAN TSENG EVICTS LOG LADY FROM THAT SOLOW PLACE
The photo I have posted of the Palace Theatre, was taken by a man called Tony Fletcher, who has recently released a book about the Smiths, which I WON'T be reading, just as I have never read the Severed Alliance by Johnny Logan. Morrissey has had NO input into Fletcher's book, so it is of NO interest to me whatsoever.
If ever I needed another reason not to read Fletcher's book, it is a tweet he posted last night, which has REALLY annoyed me, it read: "Have to say, that was a damn fine interpretation of the Smiths Still Ill." It's not a fucking 'interpretation' Tony, it's not EVEN a cover, it's Morrissey's fucking song! What a cunt, he should stick to photographing theatres.
STILL ILL - 'WRITTEN' BY MORRISSEY, NOT 'INTERPRETED'
A couple of videos have appeared on YouTube from last night, with 'Everyday Is Like Sunday' sounding as awesome as ever. It has to be one of the most uplifting songs I've ever heard, and yet those who don't get it, think it's depressing. I hope this song NEVER leaves the set.
Jackie aka '@blandwitch' posted a couple of tweets of Morrissey comments from the show:
"Did you know that President Obama eats lambs? And did you know that lambs are someone's babies? President Obama eats babies."
"I find smiling to be aging...that's why I don't do it."
I think it is safe to say that the Obama comment will soon be all over the press, and the t-shirts won't be far behind.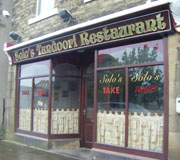 HAS TSENG BRANCHED OUT?
"TWO BAGS OF BABIES FOR OBAMA TO TAKE OUT"
The only OTHER news I can report from last night's concert, is that it would appear Morrissey cut his hand on the edge of the stage during the penultimate song. Jon Paul Fiorentino aka '@stripmaller' tweeted: "Uh oh. Morrissey is bleeding from his hand. And keeps looking at it...Encore??" A stigmata? Well, he IS the Mozziah! There will no doubt be a whole new range of plasters/bandages.
THE MOZZIAH WITH A PREVIOUS STIGMATA
A new Morrissey email interview has emerged, this time with The Columbus Dispatch, which may suggest my theory about Columbus being cancelled is wide of the mark.
Quite a few of the questions cover the same old ground, but here are the highlights:
On Retiring: "Oh, I'd probably become a great Shakespearean actor. Or, more likely and more preferably, I'd accept life's glass as it is: half-empty or half-full and mind my own business."
On His Career: "The only alternative is being thrown into the sea. I don't necessarily object."
On Loneliness: "Most people are terrified of being left alone with their own thoughts, so they can't understand why anyone would willingly want solitude. The only decent conversations I ever have are usually with myself."
On Stage Invaders: "I've always considered it to be the biggest compliment....It takes a lot for people to take on security and a barrier and then climb onto the stage when, generally, most people find it difficult to get out of bed."
Morrissey's comment on stage invaders has just reminded me of the YouTube footage I watched two days ago, of stage invaders at the Flynn Theatre in Burlington. They just popped up onto the stage at will, and were then gently helped back into the front row by the kind security staff! The also had SO much space down at the front, and NOBODY was pushing.
This of course ISN'T the norm, and the only time I have stood at the front in similar circumstances, was at the Meltdown Festival in 2004, at The Royal Festival Hall in London. On that occasion, most people remained seated, and just a handful of us stood at the front, with NO security! Unfortunately, the stage was SO high, you'd have needed a ladder to get up onto it, so my one and only invasion came Up the Pier in Great Yarmouth in 2009, where the security CERTAINLY weren't as pleasant as those at the Flynn.
MORRISSEY STROLLS UP GT YARMOUTH PIER WITH DICKIE FELTON 2009.........
.......WHILST SECURITY HELP ME LEAVE - THROWN INTO THE SEA, I DIDN'T OBJECT!
Back to the Columbus Dispatch interview:
On Inspiration: "The Heart Is a Lonely Hunter by Carson McCullers was a big turning point for me when I was about 12."
On US Politics: "Only a black lesbian mother could ever be the right president for America."
On Leaving a Legacy: "People who make music never die. The song lives on forever - and, as soon as it's heard, you are as alive and young and demented as you were when the song was recorded."
On What Genuinely Makes Him Happy: "I don't understand the question."
Over on twitter, the stage backdrop debate rages on, with nobody any the wiser. Meanwhile, 'theSmiths' was last night trending , thanks to footballer Joey Barton (@Joey7Barton) quoting lyrics. It is ironic that a clueless thug like Barton, tweets Smiths lyrics, and has 1.7 million followers, while Morrissey (@MorrisseysWorld) WRITES the lyrics, and has just 8,000 followers, of which only 22 actually believe it is really him! You couldn't make this up.
BARTON & TEVEZ DUET: "YOU SHUT YOUR MOUTH, HOW CAN YOU SAY"
I have managed to find the wording of the final entry on the MorrisseysWorld blog before it disappeared, it said: "Blue Rose has been fulfilled by the seminal artiste Morrissey and hairy-backed bedsit dweller 'Our Mozzer' will return to his career as manager of Real Madrid forthwith." This can mean only ONE thing, the MorrisseysWorld author was none other than: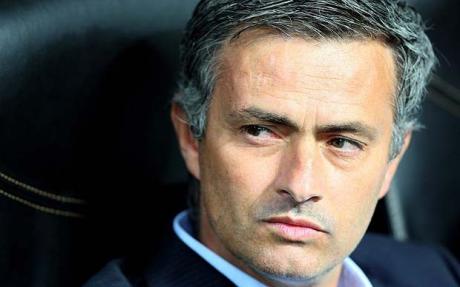 JOSE 'THE SPECIAL ONE' MOURINHO - AUTHOR OF MORRISSEYSWORLD
I STILL don't understand how Mourinho managed to get Morrissey to remove his shirt at the Palladium, predict an Argentinian tour, get Morrissey to make masonic signs on tv shows, get Morrissey to accept red/white/blue roses on stage while ignoring ALL other flowers, answer a question I asked on True To You etc etc etc, but then again, Mourinho IS the Special One!
And so to tonight's leisure centre of choice, The Rapids Theatre in Niagra Falls, NewYork State. The Rapids was formerly called The Bellevue Theatre, and was built in 1921 as an art deco movie house, but then you've probably already guessed that! One of the very first MorrisseysWorlders will be attending tonight, Rutger B Devon aka '@EcubyanPoet'. Will he take a rose, and if so, will he get it to Morrissey? We shall have to wait and see 'OO'.
THE ORIGINAL BELLEVUE THEATRE WHERE THE THREE STOOGES ONCE PERFORMED
3 MILLION DOLLARS SPENT ON RESTORATION - SEATING DOWNSTAIRS NOW REMOVED
SOLD OUT