I am in bed with man flu, and every time I sneeze, my whole body throbs with pain, but today is chart day, so like the true pro that I am, I bravely soldiered on through the pain, and delivered a mesmerizing chart countdown to a lively throng in The Twitterdilly Arms.
DESPITE BEING BEDRIDDEN, I DELIVERED
As Morrissey spends time with his mother, the Solow scum have been out in force, and once again, NOTHING has been done by the moderators to stop the hatred and lies aimed at Morrissey and his family. If Tseng, Skinny et al REALLY loved Morrissey, they would NOT allow people to come onto their website and spout whatever shit they wanted. WHY would any genuine Morrissey fan WANT to be hostile towards him, and WHY, if you were in charge of the website, would you allow it to happen? Here are some of the goodwill messages on Solow yesterday:
Skylarker: "Give her some bread."
Luke Action McClure: "FuckingLOL."
bluemask68: "Let's make a list---throat, sniffles, bad back, lightening, ear ache, bum knee, hives, sniffles, meat being served, bottle to head, sniffles, and now his sick mother."
JMM: I heard his Mother is not really that ill - not enough to warrant a return to England."
There are plenty more anonymous ones too. The Solow moderators should be ashamed of themselves, the place just gets worse and worse.
Yesterday evening on twitter, Rosy Mires and Kevin Stoba (@menippus) turned up to ridicule anybody and everybody who believe that '@SocietyRose' and '@MozzerieGuts' are Morrissey.
Rosy started it off by tweeting: '@MozzerieGuts @SocietyRose Why do the 'both' of you 'allow' people to believe you are Morrissey? Tweeting nonsense while his dear mum is ill?"
I pointed out that '@SocietyRose' last tweeted at 7pm East Coast time, and '@MozzerieGuts' at 11pm, so there is NO evidence to suggest that Morrissey had EVEN received the news about his mother at that stage, but Rosy thought that was irrelevant.
I pointed out to Menippus that I thought that '@SocietyRose' was perhaps 'the softer side' of Morrissey, to which Menippus replied: "If soft side = unfunny, unironic, poorly written pedestrian side, then yes, who knows."
Rosy Mires tweeted: "Cheap imposter of the imposter!" She then added: "This is madness!"
Menippus chipped back in with: "Seems like the 'parody' is collapsing into people's fantasies about having Moz as their best friend."
ROSY MIRES - HATES SOCIETY ROSE BUT LIKES UNCLE SKINNY
KEVIN 'MENIPPUS' STOBA - 'KNOWS' SOCIETY ROSE ISN'T MOZ
So what makes me believe that these two twitter accounts might be Morrissey? I have to say, I was rather sceptical about 'Mozzerie-Guts' being TRM (The Real Morrissey), mainly because he/she accused me of making up my interview with Morrissey in May, but in recent weeks I have become more open minded to MozzerieGuts being real, although I am still not 100% convinced.
I am MORE convinced that '@SocietyRose' is TRM, mainly because of a number of tweets over the weekend. On Friday he tweeted this 'limerick' to '@girlwithout': "I once saw a girl without, with bosoms sturdy and stout. The wind would blow, and the nipples would grow, to points that could put an eye out." This would of course have had Rosy Mires screaming "MORRISSEY WOULD NEVER", if she had seen it, but actually, to me, it's seaside humour is proof that it IS him. An imposter would go out of their way to try and be more Morrisseyesque, where as this appears to me, to be TRM being himself!
Also on Friday, there was then a conversation about Morrissey's cut hand. Lizzy Cat asked 'SocietyRose' if he'd had a tetanus jab-


SOCIETYROSE: "The shot doesn't expire for 10 years and it's only been 1 year since the infamous dog bite."


SOCIETYROSE: "The dog wasn't the first thing to offend with it's mouth. Remember the cheetah print invasion."
LIZZY: "You have lost me now I am afraid. Please explain!"
SOCIETYROSE then posted this picture:
COULD YOU EVEN BEAR TO KISS HER FULL ON THE MOUTH?
The photo was taken in LA in 2006, but how many people would have remembered it, or indeed the cheetah print? The whole experience obviously had a harrowing effect on Our Mozzer! I have found another photo from that incident:
"GEROFF ME"
I am SURE that woman is Jessie Wallace, the actress from Eastenders!
JESSIE WALLACE - SECRET MOZ FAN?
SocietyRose also tweeted this on Friday: "One only has so many digits. If each is wearing lingerie, then where oh where will the oversized rings sit?" That SAME EVENING, for the first time in a very long time, Morrissey DIDN'T wear his 'oversized rings' on stage. No doubt just a coincidence, but interesting all the same.
THE ENGLEWOOD RING - MISSING ON FRIDAY IN NIAGARA FALLS
When SocietyRose decided to log off from twitter on Friday, he tweeted: "I'm afraid I need to go now. Good day and goodbye for the time being." I jokingly tweeted: "@SocietyRose Definitely NOT Our Mozzer, he NEVER said goodbye, he just buggered off!"
The following day, on SocietyRose's return, he tweeted this to me: "you're incorrect", followed by this:
A 'GOODNIGHT' TWEET FROM @MORRISSEYSWORLD
Now, HOW would SocietyRose have had access to THAT? It was ABSOLUTE PROOF to me, that SocietyRose MUST be Our Mozzer, and therefore, by definition, is ALSO, the REAL Morrissey.
Final proof came when SocietyRose posted a link to the MorrisseysWorld chat room, but it wasn't the link that we've all used before, it was a link to the MW chatroll HOMEPAGE - See here: http://chatroll.com/morrisseysworld-chat. NOBODY but Our Mozzer could have posted this, unless of course, YOU know different?
And finally Esther, and finally Cyril, the debate about the stage backdrop picture MAY finally have been solved by Romina Ricci. She believes that the stars are Paolo Turco and Gina Lollobrigida from the 1969 film Un Bellissimo Novembre. I am STILL not convinced.
MORRISSEY'S STAGE BACKDROP
'@EricaCalil' provided this picture: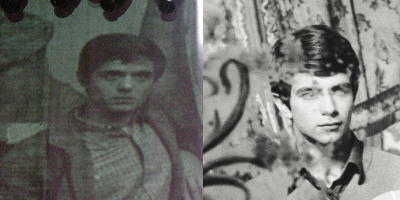 PAOLO TURCO ON THE RIGHT IN UN BELLISSIMO NOVEMBRE
I think Turco, who plays Nino in the film, looks too young to be the man on the backdrop, so the hunt goes on.
THE TWITTERDILLY ARMS TOP 10 CHART - WEEK ENDING SATURDAY OCT 20TH
1. STILL ILL (LIVE IN NYC 2012) - MORRISSEY (NO CHANGE)
2. MALADJUSTED (LIVE AT TERMINAL 5 NYC 2012) - MORRISSEY (NEW ENTRY)
3. SWEET AND TENDER HOOLIGAN (LIVE AT WOLVERHAMPTON CIVIC HALL 1988) - MORRISSEY (NEW ENTRY)
4. I KNOW IT'S OVER (LIVE AT TERMINAL 5 NYC 2012) - MORRISSEY (NEW ENTRY)
5. ANGEL, ANGEL, DOWN WE GO TOGETHER - MORRISSEY (NEW ENTRY)
6. THESE DAYS - NICO (RE-ENTRY)
7. WILLIAM, IT WAS REALLY NOTHING - THE SMITHS (RE-ENTRY)
8. HEART - RITA PAVONE (NO CHANGE)
9. SHOPLIFTERS OF THE WORLD UNITE (LIVE AT THE STATE THEATRE PORTLAND 2012) - MORRISSEY (NEW ENTRY)
10. LIFE IS A PIGSTY (LIVE AT THE HOLLYWOOD BOWL 2007) - MORRISSEY (RE-ENTRY)
NO.10 IN THE CHART - MORRISSEY AT THE HOLLYWOOD BOWL 2007 - IS THAT JESSIE WALLACE AGAIN, BEING RESTRAINED BY JOSE MALDONADO AKA THE MEXICAN MOZ?