September of 2011 was quickly followed by October, and Our Mozzer's Parody Nights club was in full swing, although when I say full swing, it was only attracting the same clientele each day, and it remained COMPLETELY undiscovered by the hundreds of thousand of occupants of Black Cloud Island.
The Solow leaders continued to assure their community that Parody Nights was an illegal den of iniquity, with both Skin and Tze Tze fearing that their township would fall apart if their residents were to realise that Morrissey was the owner of the club, and that EVERYBODY was welcome. Skin and Tze Tze's main fear was that the Solow residents would up sticks, and form a new community centred around Parody Nights. For now, the only other building near Parody Nights was The Twitterdilly Arms, a large pub with ensuite accommodation above.
OCT 2011 - OUR MOZZER BEHIND THE BAR OF PARODY NIGHTS WITH WALTER EGO MAKING COCKTAILS. RAISING THEIR GLASSES ARE: MME STAELGHOST, LIZZY CAT, AMORA, EARS, HEATHER CAT, ROSY MIRES, GW, CLINGSTER, HECTOR, MANC LAD, LOUGHTON LIL, RAT ETC. ROMINA CAN JUST ABOUT BE SEEN IN THE BAR, WITH HER HEAD ON THE BAR. THE NON SMILING MAN IN THE VERY CENTRE IS SKIN OF SOLOW - HE IS WORRIED THAT HIS COMMUNITY WILL REALISE HE SECRETLY FREQUENTS PARODY NIGHTS
On October 9th, Parody Nights held a Twin Peaks theme night, compared by a woman by the name of Margaret Lanterman, aka Log Lady. Some of those in attendance thought that Log Lady could in fact be Morrissey or Boz Boorer in disguise, but whoever it was, they provided a bizarre evening of entertainment, that culminated in Margaret rubbing her log, and making a strange prediction. She said:
"When the blood runs, the white rose becomes a red rose. When the truth settles down, nothing will remain."
None of the regulars had ANY idea what Log Lady's prediction could mean, but despite her presence being slightly disturbing to a number of the regulars, others liked her 'off the wall' act, and she was booked for further performances.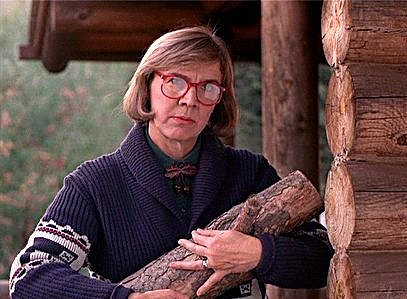 MARGARET LANTERMAN - SECURED FURTHER BOOKINGS AT PARODAY NIGHTS THANKS TO AN OFF THE WALL DEBUT OF LOG RUBBING AND PROPHESYING IN OCTOBER 2011
Early one morning, the following week, Morrissey was strolling down from his hilltop home, heading toward Parody Nights, when he bumped into Russell Brand, one of the 'Moz Celeb' community, who was out practicing his yoga. Morrissey had recently noticed Brand hanging around the Parody club, so he decided that, as Rustle was a trusted friend, he would let him in on his secret.
Morrissey also informed Brand that he was just on his way to close the club down for a while, as he was heading off on tour, but he told Brand that he would introduce him to the club regulars. Morrissey instructed Brand to disguise himself, and told him that he must NEVER reveal their true identities.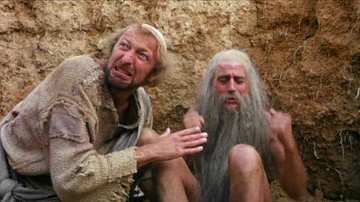 OUR MOZZER (LEFT) INSTRUCTS BRAND THAT HE MUST KEEP QUIET
That evening (Oct 12th), Our Mozzer announced to all the regulars of Parody Nights, that he was closing the club, but he asked the audience to welcome into the community, Bucktoothed Boy.
What happened next, was a scene reminiscent of when Morrissey left the stage at London's Roundhouse in January 2008. As an awkward looking Bucktoothed Boy walked onto the stage, the audience started to look at each other, and asked WHY was Our Mozzer closing the club, and what is more, WHY was he offering this odd looking man as some sort of replacement? The audience booed, most stormed out, and Rat, rather shamefully, through a cup of wee at the new boy.
BRAND DISGUISED WITH ITEMS FROM HIS DRESSING UP BOX, ENTERED THE PARODY NIGHTS AND WAS DRENCHED WITH RAT WEE
With Parody Nights now closed, the focus fell on The Twitterdilly Arms, where the twenty two nomads, now gathered. They all had their own individual rooms upstairs, and they would drift in and out of the bar at different times of night and day, while the jukebox constantly played. The other regulars of Parody Nights seemed to have disappeared, or perhaps they were lurking in the shadows of the Arms.
THE TWITTERDILLY ARMS - A BASE WHILE PARODY NIGHTS WAS CLOSED
The very first evening that Buck ventured into the Twitterdilly Arms, he was made to feel welcome, but Buck appeared to be wearing the very same UK Uncut t-shirt that Russell Brand had been wearing over the past few days. Rat and a few of the others recognised the t-shirt, and when Buck started talking about Richard Dawkins being the Abu Hamza of atheism, their suspicions seemed to be confirmed.
BUCKTOOTHED BOY, LOOKING A BIT LIKE BRAND
November arrived, and as the regulars of The Twitterdilly Arms moped about, waiting for Morrissey's tour to start, something unexpected happened, The Parody Nights club re-opened, and it had been completely redecorated, with pictures of famous people making 'OO' and 'O' signs.
THE NEW DECOR OF PARODY NIGHTS
November 7th saw Log Lady return to the Parody Nights stage, and she had another VERY important announcement.
The story is old, I KNOW, but it goes on. Come back tomorrow to find out WHAT Log Lady's IMPORTANT announcement was all about, discover the meaning of the 'OO' signs, and also see whether any roses appeared on the US Morrissey tour of 2011.