The reopening of Parody Nights, in early November 2011, was marked by Our Mozzer inviting a handful of the regulars into the private back room, for an informal chat. The disciples sat quietly as Our Mozzer asked that everybody stop heaping praise on him, but asked instead for mockery and cajoling.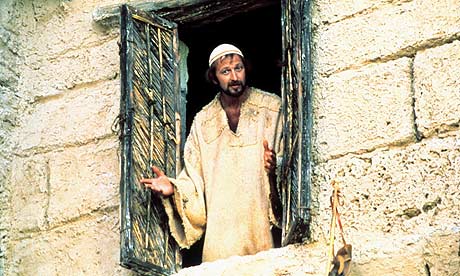 OUR MOZZER ASKS FOR MOCKERY
Our Mozzer then told the story of Oscar Wilde and his followers, saying that they had all worn green carnations, without anybody ever knowing why, and that he wanted HIS followers to wear roses, in honour of Wilde and his work. Our Mozzer concluded by saying that he thought it would be fun to create a so called secret society, that doesn't really exist.
On Nov 6th, Our Mozzer entered The Twitterdilly Arms, and without saying a word, played the song 'Trouble Loves Me' on the jukebox. He then left.
The following day, in the Parody Nights club, Margaret Lanterman was back, for another of her popular log rubbing evenings. As Margaret rubbed, she played the song 'Blue Rose' by Silverstrain, and she announced that: "BLUE ROSE exists". The audience looked confused, they didn't know what Margaret was trying to tell them, but none the less, the majority enjoyed the evening, although for some, Our Mozzer's theme nights, coupled with the new decor of masonic signs, was getting a little too much to bear, so they left, never to return.
LANTERMAN'S LOG THEMED EVENINGS WERE ENJOYED BY SOME, BUT DROVE OTHERS AWAY
Following Margaret's performance, Our Mozzer once again closed down Parody Nights, and Morrissey set off on tour. The message had been given to bring red and white roses, but the message had been given to just a few hundred people at most, and virtually NONE of those people were going to the concerts.
Morrissey opened his tour in San Antonio, and although Twitterdilly regular Cajun Cauliflower was in the audience, and heard Morrissey directly quote Justin Bieber by saying, "Are You Feelin' Me?" , Cajun was in Row U, so her rose went unnoticed. There were others in San Antonio who COULD have taken roses, including a skinhead gang consisting of Walter Ego, Manc Lad and Dickie Felt'em, but although these three were aware of Our Mozzer and Parody Nights, they were in San An for the music, and NOT for sissy flower throwing.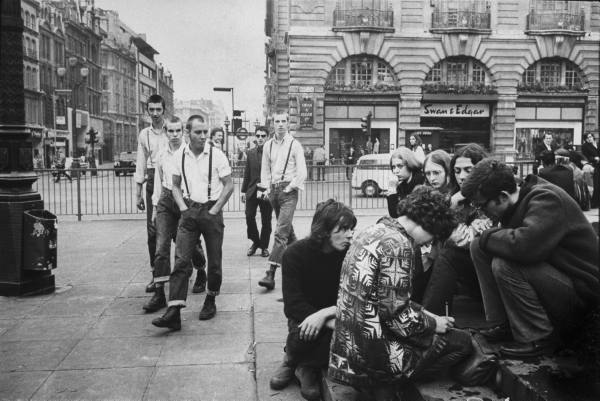 EGO LEADS HIS GANG TO THE SAN ANTONIO CONCERT, BUT WITHOUT ROSES
As news reached back to The Twitterdilly Arms that the concerts were bereft of roses, a collective feeling of despondency hung in the air. The regulars started to question as to whether Our Mozzer REALLY was Morrissey after all. Manc Lad apologized to the regular irregulars, and promised to take a rose to the concert in Dallas, and true to his word, he DID take a rose to the concert, but rather than give it to Morrissey or throw it onto the stage at the encore, he took it back to his cave with him.
MANC LAD - TOOK A ROSE TO THE CONCERT & THEN BACK TO HIS FOR THE NIGHT
By now, there was just a dozen or so left, who still believed that Our Mozzer could POSSIBLY be Morrissey, but these dozen weren't at the concerts, they were stuck in The Twitterdilly Arms. The Parody Nights club remained closed, Bucktoothed Boy had left, and there were NO roses being taken to the Morrissey concerts, after all, why would there be, NOBODY attending them could possibly KNOW about the secret rose society, they came from parts of Black Cloud Island that had NEVER HEARD of Our Mozzer or Parody Nights. Things looked bleak, but Morrissey then did TWO things, on consecutive nights, that would change EVERYTHING.
On November 28th, SOMEBODY turned up in the front row of Morrissey's concert in Pomona, and offered him a red rose, he ACCEPTED.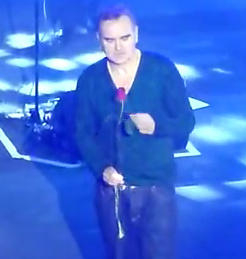 NOV 28TH - MORRISSEY RECEIVES A RED ROSE
The following day, Morrissey appeared on the Conan tv show, with the broadcast beamed not only to various areas of Black Cloud Island, but beyond. At the end of the broadcast, Morrissey made the same 'OO' sign that adorned the walls of the Parody Nights club.
NOV 29TH - MORRISSEY L'OO'KS ACROSS BLACK CLOUD ISLAND
The regulars of The Twitterdilly Arms needed NO further convincing. These TWO acts were the signs they had been waiting for, it was now official, Our Mozzer WAS Morrissey. They immediately set about forming the Blue Rose Society, and both Heather Cat and Clingster agreed to take BLUE ROSES to the concert in Chicago.
The Solow Temple was dawbed anonymously with the following:
'In Winter the fingers turn blue. The red sunburn meets the white of snow and the extremities turn blue.
So it is with the Rose - neither Red nor White can achieve the goal it seems, so Blue will be the choice of winter.
Finally the events will take place.'
Speculation mounted that the message was written by Morrissey himself. Another message then appeared:
'You don't like me, But you Love me
Either way yoU'rE wrong
You'Re gOnna misS mE when I'm gone
You're gonna miSs ME when I'm gone.'
The capital letters spelled out - 'BLUE ROSE IS ME.' Was Morrissey giving yet ANOTHER sign?
WAS MORRISSEY THE GRAFFITI ARTIST?
Heather Cat and Clingster took their BLUE ROSES to Chicago, but they fell apart in the cold, so instead they threw red and white roses at the encore, but security cleared them away before Morrissey even saw them.
The tour came to a close, and so did 2011. Morrissey, who by now was a little older, and a little more greyer, drove back down the hillside and re-opened his Parody Nights club.
MORRISSEY DRIVING FROM HIS HILLTOP HOME TO PARODY NIGHTS
On Boxing Day, Our Mozzer announced that "Years of Refusal may come to be viewed as my masterpiece when the lights finally go out." The following day, Sister Julia delivered a similar message from Morrissey in her sermon at the 'True To You Chapel Of The Latter Day Mozziah'. Sister Julia's announcement enraged the Solow contingent who were present, they DIDN'T agree with Morrissey, but then again, they rarely do.
The new year began, and on January 10th, Rat announced The Twitterdilly Arms first ever Top 10. Just hours later, Morrissey made a rare personal appearance in the True To You Chapel, and announced HIS first ever Top 10. The coincidence was further proof to the few, that Morrissey HAD to be Our Mozzer, but would the rest of Black Cloud Island EVER get to even HEAR about Our Mozzer?
RAT ANNOUNCES THE FIRST EVER TWITTERDILLY ARMS TOP 10
Next time on Lord Of The Whys.......Morrissey makes his FIRST ever mention of Our Mozzer, Boz Boorer dons a dress, and Our Mozzer redecorates Parody Nights. Also, a session in the back room of Parody Nights leaves SOME in NO doubt what so ever, that Our Mozzer is Morrissey.