In August 2011, a mysterious website called 'MorrisseysWorld' asked Morrissey fans to take either a single RED ROSE or a single WHITE ROSE to Morrissey concerts. The 'MorrisseysWorld' website explained that Morrissey wanted roses, in honour of his literary hero, Oscar Wilde, who had a theme of roses running through his work.
On November 14th 2011, Morrissey's tour of North America got underway, and a handful of fans who had read MorrisseysWorld, took roses to Morrissey concerts.

On November 28th 2011, Morrissey accepted a RED ROSE on stage in Pomona. It was the first flower of ANY variety, that Morrissey had accepted on stage in years.

On February 24th 2012, Morrissey started a tour of South America, and again, a few fans took roses.

On March 17th 2012, Morrissey accepted a WHITE ROSE on stage in Bogota, Colombia. Many other varieties of flower were taken to the concerts, but Morrissey ignored them all, EXCEPT THE ROSE.

The days of Morrissey accepting gladioli on stage are long since gone, Morrissey ONLY wants roses.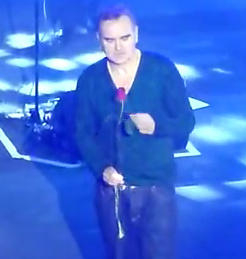 MORRISSEY WITH A RED ROSE IN POMONA & A WHITE ROSE IN BOGOTA
In the 1890's, Oscar Wilde and his followers would all wear a GREEN CARNATION to his performances. Green carnations are not a natural flower, so Wilde's followers would use dye to change the colour of white carnations to green.

Morrissey fans have formed the 'Blue Rose Society', choosing a BLUE ROSE as the theme, because blue roses, like green carnations, are ALSO an unnatural flower, and they are often portrayed in literature as a symbol of unrequited love.

Members of the 'BLUE ROSE SOCIETY' take either; RED, WHITE or BLUE ROSES to Morrissey concerts, some fans even dye their own, just like Wilde's followers, although blue roses can now be bought from florists.
A MEMBER OF 'BLUE ROSE SOCIETY' WITH BLUE ROSES IN SAN DIEGO - MAY 22ND 2012
On July 5th, Morrissey's wikipedia entry was updated, to make reference to both the BLUE ROSE SOCIETY and GREEN CARNATION, it read:
"The sign of this secret society is the blue rose; blue roses - as well as their other signs, the red and white rose - have been seen at many Morrissey concerts in 2011-2012 from the US to Colombia. The Blue Rose Society is seen by some as a reference to Oscar Wilde's green carnation-wearing followers."
That VERY evening, Morrissey appeared on stage in Liege, Belgium, wearing a GREEN CARNATION for the first time EVER. The next day, the wikipedia entry had mysteriously disappeared. Was Morrissey giving a sign?
MORRISSEY WEARS A GREEN CARNATION IN LIEGE - JULY 2012
On July 7th 2012, Morrissey played a concert to a large and enthusiastic crowd in Rome. Many of the audience took gladioli, and offered them to Morrissey, but he refused them all. As Morrissey walked onto the stage for the encore, a fan offered Morrissey a bouquet of WHITE ROSES, which he accepted. ROSES are the ONLY flowers Morrissey has accepted in years!


On October 5th 2012, Morrissey began the US leg of his tour in Boston. Again there were many flowers in the audience, but the ONLY flowers Moz accepted, were a bunch of RED ROSES.


MORRISSEY WITH THE RED ROSES IN BOSTON
On October 10th 2012, eleven year old Morrissey fan, Kyle Douglas, took a BLUE ROSE to Morrissey's concert at Radio City Music Hall in New York. Morrissey took the BLUE ROSE from Kyle and wore it for the whole of the encore (See here: http://www.youtube.com/watch?v=c_UB-wKCcN4).
KYLE LEAVES HOME WITH HIS BLUE ROSE...........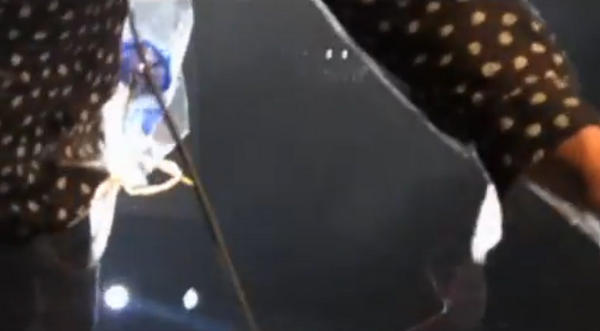 .....AND MORRISSEY PLACES IT IN HIS POCKET....................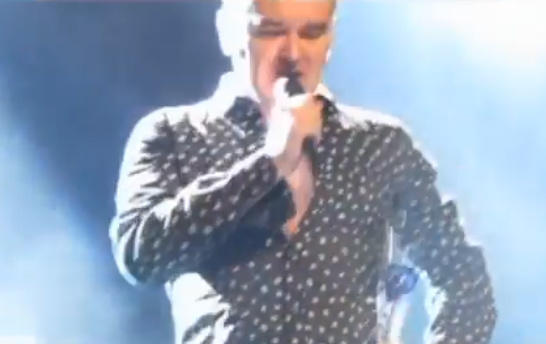 .........WHERE IT REMAINED FOR THE WHOLE ENCORE IN NEW YORK
The BLUE ROSE SOCIETY is growing in numbers, and more and more Morrissey fans are taking roses to his concerts.
It is obvious that Morrissey is fully aware of the BLUE ROSE SOCIETY, he may EVEN have started it, just as it was Oscar Wilde who started GREEN CARNATION. If you are going to a Morrissey concert in either the USA, NEW ZEALAND or AUSTRALIA, take a rose for Morrissey, and if possible, HAND IT TO HIM, or throw it onto the stage at the encore.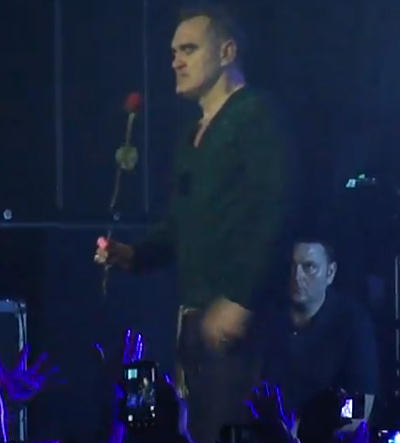 MORRISSEY WANTS ROSES
A BLUE ROSE IN MANCHESTER - JULY 2012