The summer tour came to an end, and in early August 2012, Morrissey set off from his luxury hilltop home, and headed straight for The True To You Chapel Of The Latter Day Mozziah. Here, Morrissey, like Commander Bond returning from the field, handed Sister Julia Moneypenny a sermon for her to read to her congregation, which mentioned his tour being "Nights of wine and roses."
MORRISSEY BOND IMPRESSES SISTER JULIA MONEYPENNY WITH HIS STORIES OF NIGHTS OF WINE AND ROSES
Once outside the chapel, Morrissey pulled a spray can from his jacket pocket, and sprayed 'WAKE UP' in large blue letters across the perimeter wall. He then nipped back into the chapel's vestry, and donned his Our Mozzer disguise. Before heading off to his Parody Nights club, Our Mozzer went back to the graffitied wall, and with a wry smile, added the words 'You Are God'.
On reaching his Parody Nights club, Our Mozzer cleared out some of the old decor, replaced a few missing bulbs, and re-opened, with the first evening's entertainment being a brilliant stand up comedy routine from Our Mozzer himself, contemplating how to close down Parody Nights. This was followed up by a very thought provoking, and more serious evening, with Our Mozzer informing everybody that their lives had become relegated to sideshows. He informed the audience that he would be closing Parody Nights for good, and suggested that everybody should embrace solitude.
As the regulars sat stunned, the door to the private room to the rear of Parody Nights creaked open, and the audience trotted in, to find Our Mozzer sat waiting.
L TO R: EARS, LOUGHTON LIL, OUR MOZZER, HEATHERCAT, MME STALEGOAT, MANC LAD, GOB, UNKNOWN MALE, SOUTHKIRK KIRKY AND LIZZYCAT AT THE LAST SUPPER
Our Mozzer told those present, that Morrissey's autobiography would not be released until 2015, and that the Attack label would probably be resurrected for the next album. He also explained that the upcoming tour of the US would be the 'Ironic t-shirt Tour'. Our Mozzer also said that BLUE ROSE would be fulfilled, but that the rose HAD to be delivered on stage. With the food all eaten, Our Mozzer quietly slipped away, and the following day, the Parody Nights club was once again boarded up.
LOUGHTON LIL OUTSIDE THE BOARDED UP PARODY NIGHTS - IT WAS BUILT TO HOUSE THOUSANDS, BUT JUST A HANDFUL EVER CAME
Despite Parody Nights now being closed, Our Mozzer popped into the Twitterdilly Arms from time to time, keeping the regulars amused with his acidic wit and self deprecation.
On one evening in early September, Our Mozzer led the Twitterdilly regulars to a back door entrance of the Parody Nights club, where he then threw an impromptu party. The usual crowd were there, including an original Parody Nights member called Menippus.
At the party, Our Mozzer told all present, that he would be leaving once again, but he said that he would visit the Twitterdilly Arms in a new guise. The following day, a new face appeared in the Twit Arms, somebody by the name of Society Rose. Although heavily disguised, MANY of the residents thought Society Rose was in fact, Our Mozzer.
SOCIETY ROSE OUTSIDE THE TWIT ARMS, THOUGHT BY MANY TO BE OUR MOZZER IN DISGUISE
October arrived, and Morrissey began another series of concerts. On his very first night, Morrissey plucked a bouquet of red roses from the crowd, and sang "I've already waited too long." Blue rose member Chio was in attendance, but she was unable to get a blue rose to Morrissey.
During this period, Society Rose would continue to visit the Twitterdilly Arms, along with another relative newcomer, by the name of Mozzerie Guts.
On October 9th, Our Mozzer ran into the Twitterdilly Arms singing MN8's 'I've Got A Little Something For Ya', and then dashed out again. The very next day, Parody Nights was re-opened.
That evening, the President of the Blue Rose Society, eleven year old Kyle, set off from the Twitterdilly Arms (with his dad), and headed for the New York region of Black Cloud Island to watch Morrissey. As the last song arrived, Kyle leapt onto the stage, and offered Morrissey a BLUE ROSE, which he gladly accepted, and tucked into his belt.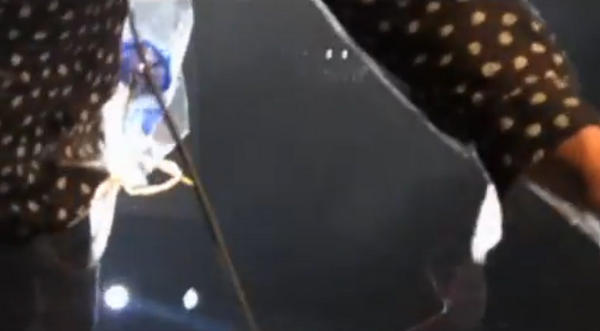 MORRISSEY FULFILLS THE BLUE ROSE PLEDGE OF LOG LADY
With Blue Rose fulfilled, Parody Nights closed down. Society Rose and Mozzerie Guts continued to frequent the Twitterdilly Arms, but they were quickly chased away with pitchforks by Menippus and Rosy Mires, who like a bad penny, had turned up YET again. Annoyed at the unfair treatment of Society Rose and Mozzerie Guts, the twitterdillians turned on Mires and Menippus, and fighting broke out.
Meanwhile, Morrissey cancelled his concerts, to spend time with his sick mother, and rioting erupted within the Solow community, with many baying for Morrissey's blood.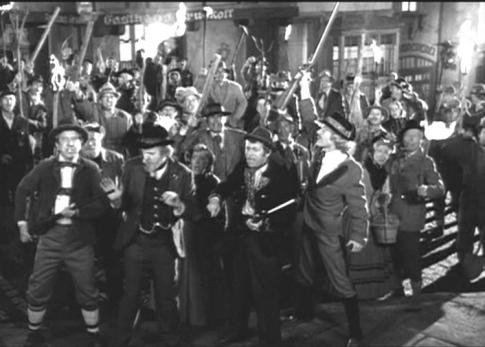 A SOLOW MOB BAYING FOR BLOOD
As his fans fought amongst themselves, Morrissey sunk into the bath, in his luxury hilltop home, closed his eyes, and let Francoise Hardy's 'All Over the World' drift gently through the air.