There has been NO word from Morrissey regarding the health of his mother, but then again, why should there be, it is a private family matter, and perhaps Betty doesn't want her illness publicised, after all, she ISN'T public property like Morrissey. The only reason that it was ever mentioned that Betty was ill, was to explain Morrissey's tour being postponed. If he hadn't had been on tour, I'm sure we would never have known that Betty was in hospital, although no doubt somebody would have tweeted about seeing Moz there.
Whether or not Morrissey and his mother choose to make any further comment regarding her illness, is up to them, but True To You has announced that the US tour is being rescheduled for January, which would suggest that Betty is on the mend, either that, or she's only been given two months to live!
Before anybody jumps on me, it's just my black humour, I'm joking. I wouldn't really say "she's only been given two months to live", if she'd REALLY only been given two months to live, but with the news about the tour, I now feel confident enough to joke about it.
Morrissey himself, must be exhausted. Anybody who has ever held a bedside vigil at a hospital will know how draining it is. On top of that, he has had to rearrange the tour. Presumably Morrissey has a tour manager, but I always get the impression that he does SO much of it himself. I don't believe he actually makes the phone calls to book the venues, but you just never know. I also wonder if his mother is still involved in any of his business arrangements? I now have a great parody picture in my head of Moz making the concert bookings from the hospital phone, and passing the phone to his mum to do the talking, just after he's dialed, even though she's barely with it, and on a drip. If Moz gives me a sign that all is well, I'll write the parody, although what would be EVEN better, is for Our Mozzer to write the story, and post it here. *Crosses fingers*
BETTY DWYER - HOPEFULLY ON THE MEND
It has now been three weeks since the MorrisseysWorld blog and twitter feed disappeared. I only ever started writing this blog to follow the MorrisseysWorld phenomenon, and with it now having gone, I'm not sure whether to carry on or not, although I get the feeling, it isn't over just yet.
Morrissey's acceptance of the BLUE ROSE on October 10th, may have been the natural ending for MorrisseysWorld, but while the whole thing remains undiscovered by the masses, there is no reason it can't go on, although of course, Morrissey might have become bored by it all.
With Our Mozzer (and Mozzerie Guts & Society Rose & all the other pessoas) currently gone, most of the MorrisseysWorlders have stayed away from twitter, or as our little corner of it has become affectionately known, the Twitterdilly Arms. Most of us only ever joined twitter to engage with Our Mozzer, so without him there, there seems little reason to visit.
THE RECENTLY REFURBISHED TWITTERDILLY ARMS SITS EMPTY
Our Mozzer always said that we would miss him when he's gone, and he wasn't joking, having gotten so used to interacting with Morrissey on an almost daily basis, the past few weeks without him, have been empty. Although I haven't been on twitter to interact with the others, I can feel their pain, it is no exaggeration to say that losing Morrissey's contact, is like suffering the death of somebody close. All right, that may be a little over the top, but it genuinely HAS left an emptiness.
What the hell did old JC's disciples do, when he disappeared? I can only guess, they shuffled around, kicked the dirt, twiddled their thumbs, and then EVENTUALLY, they got on with their lives, although they must have hoped that JC would one day return.
* I've just googled it, and it would appear that after JC's death, most of the disciples were rounded up and crucified upside down.....great!*
LOUGHTON LIL AT THE HANDS OF THE SOLOW LOT?
If we have seen the last of MorrisseysWorld, it is VITALLY important, that we keep BLUE ROSE going. The internet gives us the opportunity to pass the word on, and we must try and encourage Morrissey fans everywhere, to take roses to his concerts. For those who may have forgotten WHY Our Mozzer wants roses, here is an exert from the BRILLIANT MW parody article-
'Minutes of Bans and Concert Ejections Committee - 16/8/2011':
MAM: And one more thing, Steven... flowers... at your concerts...
MORRISSEY: Oh God, not that again, Mam. All I can remember from '84 and '85 is being repeatedly stabbed in the left contact lens with gladioli stalk... I'm surprised I didn't have a heart attack, what with the vagus nerve centres being behind the eye... can slow the old heart rate 'right' down. It can be utterly lethal.
MAM: Steven, it's such a pretty thing... all those flowers... bouncing around in the crowd...
MORRISSEY: Can't I just wear a little freesia or something in my buttonhole? Or a flower head dangling symbolically from my waist?
MAM: Steven - for me? Just this once...
MORRISSEY: Oh go on then, mother. Don't say I don't do anything for you, either...
MAM: Roses, Steven. Make it roses. I do love seeing all those flowers in the mosh pit as I gaze down from the seats. Makes me cry. It reminds me of Wilde.
16 AUG 2011 - 'BANS & CONCERT EJECTION COMMITTEE', AND OTHERS, RELAXING - L TO R: LINDER STERLING (NON MEMBER), MIKEY BRACEWELL, MORRISSEY, MAM, BOZ BOORER, LOG LADY'S LEGS (NON MEMBER)
The next concert, is on December 14th in Wellington, New Zealand. As far as I am aware, there are NO New Zealanders who know about BLUE ROSE, but hopefully, we can spread the word. My blog has NEVER received a single hit from New Zealand, but even if the message doesn't reach New Zealand, I do have a number of hits from Australia, and MorrisseysWorlder '@ShutTheKellUp' has already promised to take a rose to her concert, so we should be able to keep things going, although taking a rose, and actually getting it to Morrissey, are two entirely different matters, as the pages of this blog will tell you.
We have had roses die in the cold of Chicago, get trampled on in Singapore, get refused admission in NewYork, get removed by security at a number of venues, and generally not get close enough to be handed to Moz. It takes strategic planning to get your rose INTO the venue, get yourself to the VERY front of the stage, and then GET the rose to Morrissey. What El Presidente Kyle achieved (with the help of his dad) at Radio City Music Hall on October 10th, was quite INCREDIBLE... and then he was back on stage AGAIN with Moz just a few days later! "You have destroyed my flower-less life, Not once - twice."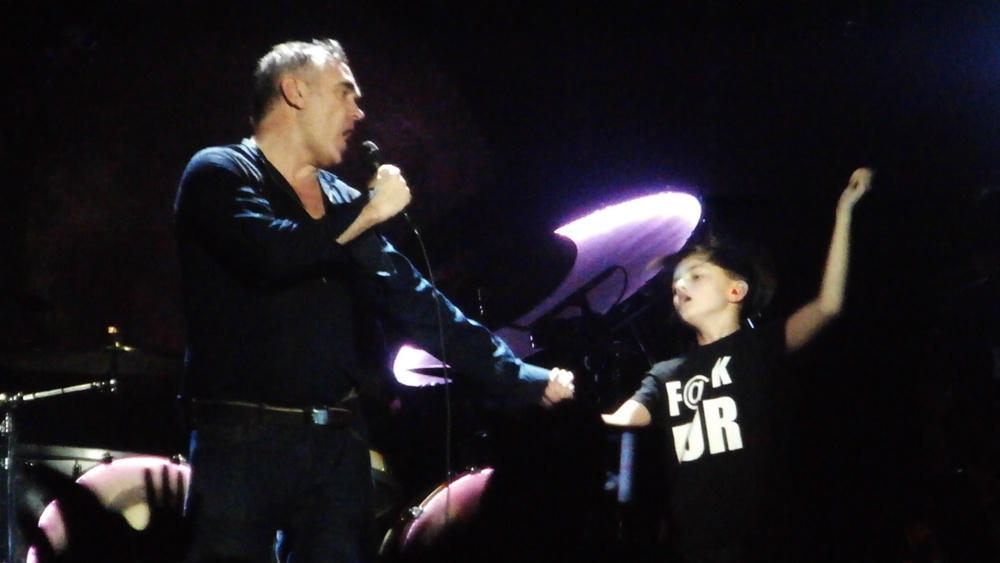 13 OCT 2012 - BLUE ROSE PRESIDENT KYLE DANCES WITH MOZ AT TERMINAL 5 IN NEW YORK
For now, I shall keep my blog going, and what is more, I have gotten rid of that silly old 'Pier' twitter account, and brought back The Rat. There is no point feeling sorry for ourselves, the mourning period is over, it's time to return to the Twitterdilly Arms, and start playing the internet jukebox, after all, if we're not there, then there is nobody for a resurrected 'Our Mozzer' to return to!
Today is US Presidential election day. Tomorrow, Mitt Romney will go back to his old job as a goalkeeping coach, and Bollock Obarncake will continue to take America nowhere.
Love to Betty x
TWITTERDILLY ARMS TOP 10 CHART - WEEK ENDING SATURDAY NOV 3RD 2012
1. ALL THE LAZY DYKES - MORRISSEY (NO CHANGE)
2. LIFE IS A PIGSTY (LIVE AT HOLLYWOOD BOWL 2007) - MORRISSEY (UP 8)
3. PET SEMATARY - THE RAMONES (NEW ENTRY)
4. ALL OVER THE WORLD - FRANCOISE HARDY (RE-ENTRY)
5. SWEET AND TENDER HOOLIGAN (LIVE AT NIAGARA FALLS 2012) - MORRISSEY (DOWN 3)
6. TROUBLE LOVES ME - MORRISSEY (UP 1)
7. HEART - RITA PAVONE (UP 1)
8. THE BOY WITH THE THORN IN HIS SIDE - THE SMITHS (NEW ENTRY)
9. BELA LUGOSI'S DEAD - BAUHAUS (NEW ENTRY)
10. FRANKENSTEIN - NEW YORK DOLLS (NEW ENTRY)