If I were still continuing the story 'Lord of the Whys', the current chapter would be describing how Our Mozzer's 'Parody Nights' club, has now been converted into an art gallery. Instead of having just pictures on display, this gallery also has a large number of written 'Parody Pieces'.
It is perhaps the world's first 'Parody Gallery'. Nothing new has been added since it's re-opening, but this morning I have been enjoying a trip around the gallery, reacquainting myself with forgotten masterpieces. A visitor counter in the reception hall, shows me that 'Our Mozzer's Parody Gallery' (as it is now called on Black Cloud Island) has had 322,117 visitors since opening it's doors in December 2009. God only knows how many of those visits are mine, but it's a fair few!
'OUR MOZZER'S PARODY GALLERY' - NOTE THE MASONIC SIGNAT THE TOP
'Our Mozzer's Parody Gallery' doesn't have the 'serious' musings of 'Our Mozzer' on display, it is purely the parody articles that he has written over the past two years, plus a number of pictures, which include; Boy George, Fans in Hawaii, Jaz's Blue Rose, Amy Lame's Unhappy Birthday, Marcus The Greek, Rose Man From Japan, Drag Boz, Oscar Wilde, The Illuminati, James Dean, David Bowie, Following The Mozziah, Bobby Britt, Morrissey and The 'O' Sign.
BOBBY BRITT - IT HAS NEVER BEEN EXPLAINED WHY HIS PICTURE IS ON THE MW BLOG. MOST OTHER PICTURE ARE IN SOME WAY RELATED TO EVENTS
There really are some brilliant pieces of parody in the gallery, and I never tire of reading them. It is still incredible to believe that the vast majority of Morrissey's fans are completely oblivious to the existence of MorrisseysWorld, but even MORE incredible to comprehend that so many 'hard core' fans have discovered it, and dismissed it, with most of them throwing ridicule at it to boot. It is hard to imagine how they will feel when the truth is revealed, if of course, it ever is! Hector Lector says he will eat Rosy Mires hat, while Rosy Mires has offered to eat a Blue Rose. I am a rat, I shall eat cheese.
So, with 'Parody Nights' having now become an art gallery, Our Mozzer has made The Twitterdilly Arms his place of residence. Yesterday afternoon I wasn't in the Twit Arms, but Our Mozzer paid a visit.
MENIPPUS THE BARMAN AND OUR MOZZER - TWIT ARMS YESTERDAY
It would appear that Our Mozzer was in a reflective mood, with his first tweet being:
"The longer one looks at life, the more it resembles death."
You have to hand it to Our Mozzer, he's got 'being Morrissey' off to a tee. I'd go as far as to say that '@MorrisseysWorld' is the best Morrissey parody on twitter, so why he only has 8,269 followers, is beyond me. Funnily enough, as I was wandering around 'Our Mozzer's Parody Gallery' this morning, I re-read the article 'My Twitter Journal 6th September - 6th October 2011', which starts with:
"6/9 Everything looks promising. A million by christmas, and 15 million by late 2012. My wit, charm and rodomontade are attracting followers by the second. I'm mesmerizing, quite frankly mesmerizing. Next stop the Sun gossip column."
It would appear that Our Mozzer's sense of self importance was a little high back in October 2011, his anticipated fifteen million followers is lacking somewhat, in fact he's got 1.7 million less followers than Katie Price, whose most interesting tweet EVER is "busy day."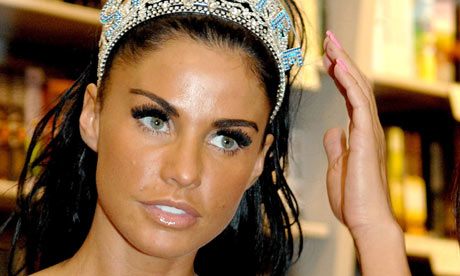 PRINCESS KATIE - 1.7 MILLION MORE FOLLOWERS THAN OUR MOZZER
The rest of Our Mozzer's tweets of yesterday followed a similar vein to the first, and included:
'If you are different, people will ruin you. If you try to be the same, you will ruin yourself."
"I'm the only fruit vendor on Oxford Street still selling in pounds and ounces." (Records and cds?)
"Somebody has to be me, so it may as well be me."
"Once one realises that art is more important than life, life suddenly becomes quite beautiful. but not for long."
"Am I your longed-for poetic uncle? A sad, crying child? A man with blue roses in his eyes?"
IS THIS OUR MOZZER, OR SHOULD I NOT EVEN JOKE ABOUT IT, IN CASE THIS SAD CRYING CHILD IS DISTRESSED BECAUSE OF HUNGER, WAR OR POVERTY? PERSONALLY, I THINK HE'S UPSET BECAUSE HE CAN'T FIND A PROMO COPY OF GLAMOROUS GLUE
One of Our Mozzer's final tweets of yesterday was the old favourite:
"I am not Morrissey." We know that, you're Our Mozzer!
There has been no sign of Our Mozzer in the Twit Arms today, so I am going to head back to the Parody Gallery to have another look around. I'm sure it won't be there forever, and I'll miss it when it's gone.
Since starting the writing of this article, MW's followers have fallen by 3 to 8,266. His wit, charm and rodomontade are discouraging followers by the second, but he is mesmerizing, quite frankly mesmerizing.