After writing my blog entry on Monday, regarding the possibility of going to see Morrissey's January concert in Long Island, New York, I set about trying to find somebody to accompany me. I had to weigh up: A) which of my friends would be able to afford a January trip to New York, B) who would want to go to see Morrissey, and C) who would I want to spend four days with?
I concluded that the latter was less important than the first two, but it still only left me with four candidates; 'Mike the Spy', 'Camp Simon', 'Garry Baldy' or 'Midlife Matt'. 'Big Mick' had been ruled out on the grounds that he didn't enjoy the concert in Manchester in July, but in fairness, he would probably have been ruled out on all three grounds, and I wouldn't be surprised if there was a criminal record somewhere in his past, which would rule him out on a fourth.
BIG MICK - RULED OUT
I decided to send a text message to my four 'would be' travelling companions, convincing myself that all four would say yes, particularly as they could have lost me in September, on that operating table in Portsmouth's QA hospital. I worded my text message carefully, making sure that the two 'non Moz' fans would understand that there was no obligation to attend any concerts, although one of the two, 'Camp Simon', had accompanied me to Moz at London's Earls Court, and had enjoyed it!
My optimism was short lived. 'Mike the Spy', who only a fortnight ago had told me that he was going to take a leaf out of my book, and cut back on his work load, fired a text message back within 30 seconds, saying that he needed to be fully focused at work in early January! I have holidayed with 'Mike the Spy' (MtS) a number of times, and I thought he would be my best bet for New York, although having said that, Morrissey really isn't his cup of tea, and when we went to Vegas a few years ago, 'MtS' dragged me along to see Barry Manilow, who he actually looks very similar to.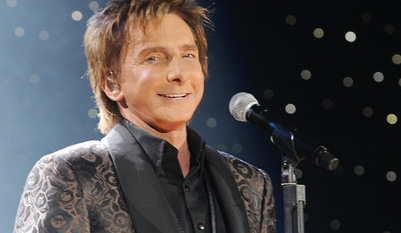 MANILOW - DOPPELGANGER FOR 'MIKE THE SPY'
Shortly after receiving the text message from 'MtS', I received one from 'Camp Simon'. Both myself and 'MtS' had accompanied 'Camp Simon' to New York a number of years ago, on 'Camp Simon's' stag weekend, so I was VERY confident that 'Camp Simon' would want to return to New York, particularly if there was the chance of hooking up again with Amber or Honey at the 'Private Eyes Gentlemen's Club'.
PRIVATE EYES IN NEW YORK - THE POLES ARE JUST PART OF THE SUPPORT STRUCTURE OF THE BUILDING
'Camp Simon's' text message informed me that he would love to come to New York......but he will be in Egypt with his family!
The next to reply was 'Garry Baldy' (GB), who works for an International charity and travels all over the world, visiting countries that I didn't even know existed. 'GB' is a big Morrissey fan, having seen him play live before I ever did, back in 1984 in Norwich. 'GB' has been to a few Moz concerts with me over the years, with the last one being the infamous 'Welcome to my World' at the London Palladium last year.
I have been away on trips with 'GB' many times, including a number to Prague, where his brother lived in the nineties. I have also accompanied 'GB' to Italy, to watch his beloved Norwich football team play Inter Milan in the breathtaking San Siro stadium. We drove all the way from England to Milan, and when we got to the stadium, we walked up to the ticket office to buy our tickets.

MILAN'S SAN SIRO FOOTBALL STADIUM
In broken English, the ticket vendor informed us that we couldn't have tickets, as we were English, and there were to be "no sales to English fans". 'GB' came up with a cunning plan. He decided that as I looked like "an oily spick", I could easily pass myself off as an Italian fan, so we nipped off to purchase an Inter Milan scarf, wrapped it around my neck, and then I approached a different ticket booth, where I slid my lira across the counter, and in my best Italian accent, asked for "due biglietti." It worked, and we watched Dennis Bergkamp score the only goal in a 1-0 win for Inter.
INSIDE THE SAN SIRO
Anyway, 'Garry Baldy's' text message informed me that he will be in Cambodia in January, so he won't be able to come to New York! I just hope that he remembers to pack a wife, which he won't, because A) It isn't a 'Holiday in Cambodia' that he's going on, and B) His wife left him years ago!
So, to 'Midlife Matt' (MM). He, like 'Big Mick', had also accompanied me to the Manchester concert in July, although we didn't exactly talk much, as he spent the whole time with his new twenty something girlfriend. I haven't spoken to 'MM' since July, although we have exchanged a couple of text messages, but I had assumed that his 'fling' with a girl half his age, would have fizzled out by now. It would appear that it hasn't, as 'MM' sent a text message to me on Wednesday, saying that he and 'Twenty Something' (TS), were definitely "interested in the possibility" of coming to New York!
'MIDLIFE MATT' AND 'TS' - DEFINITELY MAYBE
I hadn't exactly invited 'TS' along on my, 'Boys Trip to New York', but with 'Mike the Spy', 'Camp Simon' and 'Garry Baldy' having all let me down, I was now a beggar, and not a chooser, so I shot back a message telling 'MM' that I would buy three tickets for the concert in Greenvale, Long Island. He didn't reply.
By yesterday afternoon, I STILL hadn't had a reply from 'MM', so I had no idea if his 'definitely maybe' text message was confirmation of him coming to NYC or not. I decided to bite the bullet. At 2.50 pm, I logged onto the Ticketmaster webpage, and adopted the same pre purchase ritual as the President of the BlueRoseSociety was adopting, or his dad at any rate!
KYLE'S DAD ADOPTS HIS PRE-TICKET SALE POSE
The tickets were going on sale at 3 pm (10 am NYC time), but in the minutes leading up to 3 pm, I clicked refresh, refresh, refresh, in the hope that I'd get in early. At exactly 3 o'clock, the refresh suddenly took a little longer, and then BAM (not the Brooklyn Academy of Music, that's today's ticket sales) I was in. I opted for the 'best available' seats and up popped Row P, which is 17 rows from the front. Not exactly front row, but I decided that I daren't reject them, in case I was offered worse ones next time around. I made the purchase, at 102 dollars each (including fees), and was informed at the end of the buying process, that I have to collect the tickets from the box office.
'MM' has this morning informed me that he "should be ok to come", and has suggested I go ahead and buy tickets for BAM (Yes, Brooklyn Academy of Music, not a Batman style 'crash' sound). The only problem is, I won't be near a computer at 3 pm today, so it looks like we'll have to take our chances with ebay, or a tout. With regard to getting near the front at Greenvale, with my Blue Rose, I will have to hope there is an opportunity to run down to the front, just as the lights go down. It's not easy, this rose lark, just ask Manc Lad!
BROOKLYN ACADEMY OF MUSIC - THE TOP TIERS WILL BE LIKE BEING BACK AT THE SAN SIRO IN MILAN
Now I must await confirmation that 'MM' and 'TS' are going to come. I can then book flights and hotels, and then start praying that: A) The fling survives until January B) I can get tickets for Brooklyn C) Moz doesn't cancel D) I can get to the front E) I can get a rose to Moz. I wish I was a Manilow fan, life would be SO much easier!
There has been no further sign of 'Our Mozzer' in the Twitterdilly Arms, and his follower numbers have fallen even further, to 8,258. Having said that, former lead singer of eighties band Kajagoogoo, 'Limahl' (@Limahl1), has just 2,480 followers, and HIS account is verified'! AND he had a Number 1 single! If I were him, I'd ask for the verification tick to be taken away, and pretend it was an impersonator.
Limahl has just entered the 'I'm A Celebrity' jungle, so I will keep an eye on his follower numbers, to see what such exposure could've done for that other former eighties lead singer, Morrissey.
FORMER EIGHTIES LEAD SINGER IN THE JUNGLE - IT COULD'VE BEEN MOZ
I shall return to this blog thingy on Monday, as I continue to 'Follow the Mozziah'.