If Morrissey IS writing a novel, I would be prepared to bet everything that I own (which isn't much...although the full set of Beatles autographs and the Elvis 'Sun' records are worth having) that it won't be published under the name 'Morrissey'. I have a feeling that Morrissey has been so heavily influenced by the Portuguese writer Fernando Pessoa, that he would publish a novel as somebody completely different, and I don't just mean using a false name. I have written about Fernando Pessoa before (on Day 209 of 'Following The Mozziah') but it is worth looking at him again.
There are many examples in history of authors writing novels under a false name, but what Pessoa did, was create heteronym's, which are the literary concept of an imaginary character, created by a writer to write in different styles. A heteronym isn't simply using a differnet name, it is a whole character, with their own date of birth, identity, history, and of course, writing style.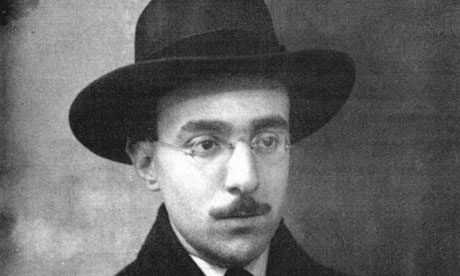 FERNANDO PESSOA
It is more than a possibility, that Morrissey is writing a novel as 'Parody Morrissey', although it could be as any one of his many personalities/heteronyms. I actually hesitate to call him 'Morrissey' anymore, because 'Morrissey' is the 'pop star', the man who sings live and releases records (when he can get a record deal!). The central being behind the heteronyms, is actually Steven Morrissey, although to save confusion, I shall refer to him as Steven. In 1982, Steven created 'Morrissey', a heteronym that has gone on to become a god to many of us, The Mozziah.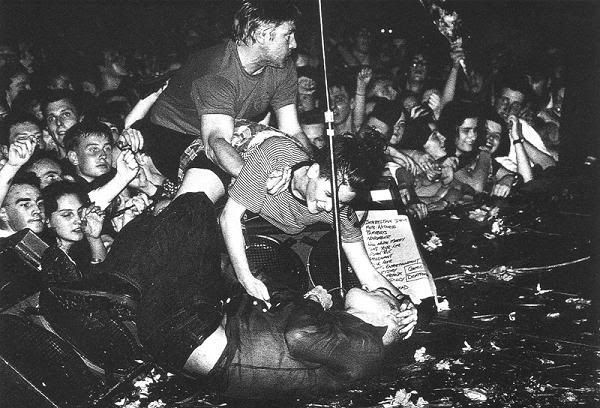 THE MOZZIAH - 'HET' ME KISS YOU...OH OH
Morrissey the pop singing Mozziah usually appears in 90 minute bursts, wearing chunky rings, whipping microphone leads, and stripping to the waist, whilst delivering the most beautiful poetry you are ever likely to hear. Such is the presence of this god, that we, his adoring fans will do anything for a touch of his hand, or a piece of his shirt, but when Morrissey leaves the stage, he returns to being Steven, in much the same way as an actor playing a part returns to being themselves off set, rather than the character they portray. Sean Connery was James Bond but James Bond was NEVER Sean Connery. Steven is 'Morrissey', he is also 'Our Mozzer', but 'Our Mozzer' isn't Steven, and he's CERTAINLY NOT Morrissey!
JAMES BOND - NOT SEAN CONNERY
SEAN CONNERY - NOT JAMES BOND
Pessoa's influence on Morrissey, sorry, Steven is also very evident in the way he uses twitter. Each time Steven logs on, he adopts the different character/heteronym, whether it be the thirty something male 'PaulYoungMozFan', the tittering elderly woman 'GreyerGirl', the bitter homosexual 'BrokenMorrissey', or the more recent caring twosome 'MozzerieGuts' and 'BlueRose'. I think I was wrong back in April to presume that Steven *Sorry, I cant keep calling him Steven, it just doesn't feel right, I'll call him 'Moz'*, Moz, was also 'Romina Ricci' and 'Fancys123', but who knows? If Moz were to really throw himself into the heteronym thing, he would give his twitter characters full personalities and backgrounds, so that they became believable and real.
ROMINA RICCI - REAL
After Fernando Pessoa's death, a trunk was discovered, with 25,000 pages of manuscript, with writings by nearly 80 different characters that he had created. They were all literary alter egos, all with differing views on subjects such as life, death, modern tedium, politics, religion etc. Many of the characters were linked together, for example, Alberto Caeiro was a patient of Dr Ricardo Reis. Both were writers, neither was real! Pessoa lived in his own little (or not so little) world. Moz has created MorrisseysWorld, and not only has he created characters, we have all joined as EXTRAS. In MorrisseysWorld, we have the caring HeatherCat, the outspoken GOB, the jovial Loughton Lil, the fragile EARS, and the fawning Rat, to name but a few. It's a soap opera, with everything revolving around the central character, 'Our Mozzer'.
The argument that "Morrissey wouldn't do that" has been used by many, and of course they are right, but Morrissey is a singer, and it ISN'T him that is doing it, it's Steven/Moz/Call him what you like.
The man in the photo below is NOT Morrissey, the singing god who's hand is being kissed at the top of this page, it's a 53 year old man out shopping in Manchester. The man below is wearing no chunky rings, and is unlikely to rip his shirt off. If he happens to be stopped by a Morrissey fan, he would no doubt become Morrissey, but only for a quick photo, or a scribbled autograph, and then he'd be back to being the man in the street, literally by the look of the photo!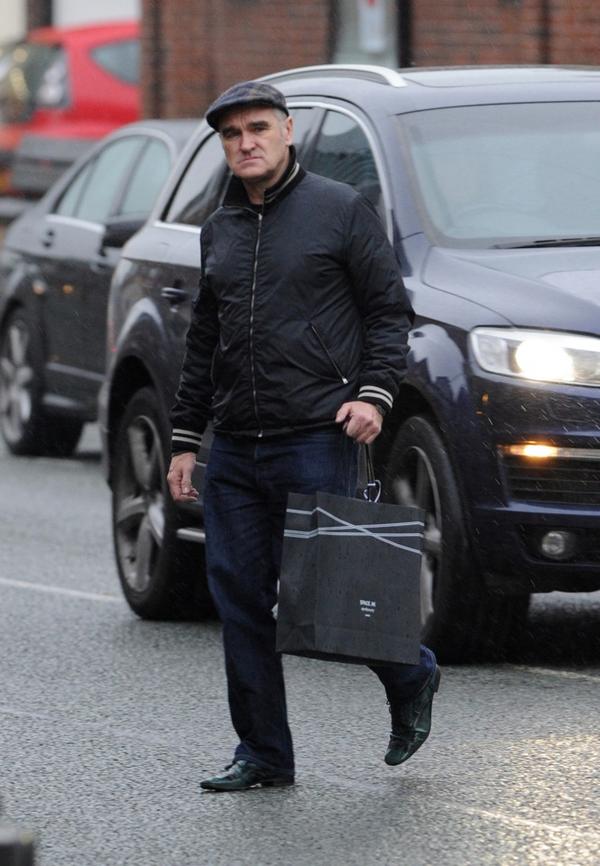 MAN IN THE STREET
Interestingly enough, 'Our Mozzer' (@MorrisseysWorld) has posted a tweet and a retweet, which relate to this subject matter. '@James_jimi' tweeted, "You portray morrissey very good", to which MW replied, "That's just it. Morrissey portrays Morrissey rather badly."
'@EcubyanPoet' tweeted, "Steven doesn't do justice to the Morrissey brand. Someone needs to tell him to sod off. Replace him with the parody." This was retweeted by 'Our Mozzer'. The whole thing is fascinating and god only knows how long Moz has been using heteronyms, and where. I would guess that Solow is littered with them, and not necessarily 'nice' characters. 'Our Mozzer' informed us last year that the review of Reading Festival written on Solow by Broken in 2004, was actually him. IF Moz is writing a novel, even just under a false name rather than a heteronym, I wouldn't be surprised if his being behind it is 'leaked out', rather than 'announced', just as MorrisseysWorld was, thus leaving that air of 'is it, or isn't it?' Where would the fun have been, in Moz announcing that he'd created a 'Parody Morrissey'? I've said it before, and I'll say it again, he's a fucking genius, and a TRUE artist.
MOZZIAH - ARTIST - GENIUS - MAN IN THE STREET
My thanks go to those who posted yesterday to update us all on the happenings in the MW chat room on Sunday. It would appear that 'Our Mozzer' was in a playful mood, getting people to guess what Eurovision Contest song he was thinking of ('Total Eclipse of the Heart' by Nicki French if you're interested!). HeatherCat has informed me that 'Our Mozzer' also said that he would be prepared to sing at the Eurovision Song Contest if asked, adding that he would wear a Blue Rose. 'Our Mozzer' also (that's too many also's isn't it?) revealed that he had removed all references on the MW blog, that link the blog to Morrissey. The only record of the references that now remain, are in my blog, but WHY would anybody believe me?
And finally Esther, and finally Cyril, there was a healthy attendance to the Twitterdilly Chart countdown earlier today, but most people were more interested in Mrs Whisker's (my wife) Leek & Potato soup recipe, than the new Number 1. Here are both the recipe AND the chart:
MRS WHISKER'S LEEK & POTATO SOUP RECIPE:
2 TBL SP OLIVE OIL
1 LARGE POTATO
3 LEEKS
1 MEDIUM ONION
2 VEGETABLE STOCK CUBES
2 PINTS BOILING WATER
2 TBL SP MIXED DRIED HERBS
1 TEA SP BLACK PEPPER
NO SALT!!!
Heat the olive oil in a saucepan and then add the peeled and chopped potato, leeks and onion. Cook until soft, stirring the whole time, to stop the vegetables sticking. Mix stock cubes into the boiled water and then add to the vegetables. Add the pepper and mixed dried herbs. Simmer for 30 minutes and then place in electric blender. Serve.
TWITTERDILLY ARMS TOP 10 - FOR THE WEEK BEGINNING SUNDAY 18TH NOV 2012
1. THERE IS A LIGHT THAT NEVER GOES OUT (LIVE AT GLASTONBURY) - MORRISSEY (NEW ENTRY)
2. TROUBLE LOVES ME - MORRISSEY (RE-ENTRY)
3. LIFE IS A PIGSTY - MORRISSEY (RE-ENTRY)
4. WHY DON'T YOU FIND OUT FOR YOURSELF - MORRISSEY (NEW ENTRY)
5. SEASICK, YET STILL DOCKED - MORRISSEY (RE-ENTRY)
6. HEART - RITA PAVONE (RE-ENTRY)
7. ACTION IS MY MIDDLE NAME - MORRISSEY (RE-ENTRY)
8. THE MESSENGER - JOHNNY MARR (NEW ENTRY)
9. LET ME KISS YOU (LIVE AT PINKPOP) - MORRISSEY (RE-ENTRY)
10. EVERYDAY IS LIKE SUNDAY - MORRISSEY (NO CHANGE)