My twitter timeline was so empty yesterday morning, that tumbleweed could be seen blowing down Twitterdilly High Street. The only person in the Twitterdilly Arms was 'Manc Lad' (Manchester), who was propping up the bar, mumbling to himself about Mancapitalist City sacking Mark Hughes as their manager....which happened THREE years ago! Manc Lad finished his mumble and left.
MANC LAD LEAVES THE TWIT ARMS AND FALLS INTO THE TUMBLEWEED
Due to the Twitterdilly Arms being so empty, I decided to sit myself quietly in a corner, and spend the day writing my 'Putting The Record Straight' book. I looked up from time to time, to see who had entered the Twit Arms, but I didn't engage in conversation. The only other morning visitors were 'Romina' (Italy) and 'Yunara' (Indonesia). Romina played a couple of songs on the jukebox, while Yunara just left a message behind the bar for 'Lizzy Cat' (England).
In the afternoon, 'Kellie the Crisp' (Australia) popped in to chat to 'Heather Cat' (Midwest USA), while 'Marcus the Greek' (London) came in, with a soap box tucked under his arm, and continued to do what he does most days. He placed his soap box on the small stage next to the jukebox, and started to air his views on the topic of the day. The Twitterdilly Arms stage is 'Marcus the Greeks' equivalent to Hyde Park's 'speaker's corner'. If you are wondering why Marcus needs a soap box when there is already a stage, the answer is because A) The soap box is symbolic and B) He's a short arse!
MARCUS THE GREEK IN SPEAKERS CORNER, HYDE PARK - NOTE HIS 'MORRISSEYSWORLD IS MORRISSEY' T-SHIRT HIDDEN UNDER HIS JUMPER, JUST AS IT WAS IN MANCHESTER IN JULY
I love 'people watching' in real life, and it can be just as fascinating doing it on twitter, although of course, you could be watching the same person in a different disguise! Romina (Italy still) returned to the Twitterdilly Arms in the afternoon, and rather bizarrely posted:
"Se mi pagassero scriverei una recensione positiva sull'ultimo disco di De Gregori, ma credo ce ne siano troppe", which google translate reliably informs me, means "If you paid me I would write a positive review on the last disc of Sinatra, but I believe there are too many."
WHAT is Romina going on about? Is Romina the Twitterdilly Arms equivalent of the mumbling woman with a shopping trolley?
A WOMAN (ROMINA'S MOTHER?) CONTEMPLATES WRITING A REVIEW ON FRANK SINATRA'S 1981 ALBUM, 'SHE SHOT ME DOWN'
The Twitterdilly Arms got busier during the afternoon, with Marcus allowing Heather to take over on the stage, where she gave a reading of some of 'Our Mozzer's' twittercisms. Non MorrisseysWorld believers, 'Cathy5' (Ireland) and 'Rosy Mires' (Brighton) chatted together and pretended to ignore Heather, while Regi (Germany), 'Chio' (Boston), 'JJazmine' (LA) and 'Fancys123' (USA) listened intently.
HEATHER READS FROM THE BOOK OF 'OUR MOZZER' TO: (ON SOFA) MARCUS, CATHY5, ROSY, REGI (LEANING ON STAGE), CHIO AND FANCYS123 (FAR RIGHT)
At approximately 7.30 pm UK time, the doors of the Twitterdilly Arms burst open, and in strolled 'Our Mozzer' (MorrisseysWorld), announcing "And...here I am." He resisted adding "well, you don't need to look so pleased", but I bet all those present thought it. I wasn't present in the Twit Arms when Our Mozzer entered, but it was obvious that Marcus and Heather had just been the warm up acts, as Our Mozzer walked straight over to the stage, and jumped up. The pub fell silent. With everybody's gaze falling on Our Mozzer, he began.
He started by denouncing those who execute dogs, and then turned on Rupert Murdoch, before asking Marcus the Greek when 'MorrisseysWorld - the documentary' would be coming out? Marcus responded that he would like to do it next Spring, to which Our Mozzer replied that the real Morrissey would no doubt be prepared to play the role of 'Our Mozzer', although he might struggle.
Our Mozzer then laid into One Direction, calling them the pop equivalent of Jesus Christ, adding "While Jesus fed 5000 with a bit of bread, 1D made 20 songs out of half a tune." Our Mozzer then added, "You suspect Harry is a little bit above the ludicrous stupidity of one Direction and will therefore be the first to leave." Is Our Mozzer a Harry Styles fan?
HARRY ISCARIOT - PREDICTED TO BE THE FIRST OF THE GANG TO LEAVE
Our Mozzer had a little dig at Justin Bieber, and then gave a name check to the President of the BlueRoseSociety, Kyle (Long Island), before jumping off the stage and heading to the Jukebox. 'NotMorrissey' (Our Mozzer) inserted his 50p (yes, he has to pay, just like the rest of us) and selected his 6 plays (It's 10p a play but 6 for 50p). He chose:
1.The Youngest Was The Most Loved LIVE on the Jools Holland Show
2. First of the Gang To Die LIVE at the Manchester Move Festival 2004
3. Billy Budd LIVE from Introducing Morrissey
4. Everyday Is Like Sunday LIVE banjo version
5. Something Is Squeezing My Skull LIVE on the Jools Holland Show
6. Seasick, Yet Still Docked LIVE in Germany
Is anything to be read into Our Mozzer's song selections? Are these tasters of what to expect when the tour gets back underway next month? I would be thrilled to hear all six at the two concerts I will be attending in New York. 'Seasick' is beautiful, 'Squeezing' is, in my opinion, one of the best songs in recent years, and is VERY underrated, 'Sunday' is an all time Top 5, 'Billy Budd' is pure adrenalin, 'Gang' is timeless, and 'Youngest' is another desperately underrated classic. There is no such, thing in life as normal. Genius, Genius, Genius. (I'm getting excited about NYC, can you tell?)
THE YOUNGEST WAS THE MOST LOVED - PLAYED ON THE TWITTERDILLY ARMS JUKEBOX BY OUR MOZZER, BUT WILL IT BE IN MORRISSEY'S SET LIST?
I don't know if the playing of music on the jukebox pierced my sixth sense, but something made me enter the Twitterdilly Arms last night, at around 8.15 pm, and I remarked to Our Mozzer that it had been ages since he'd played the Jukebox. I also asked him if he would be joining us on Tuesday for the chart countdown. 'NotMorrissey' replied: "Rules are made to be broken. Let's do a joint impromptu 'Twitterdilly All-Time Top 20' right now. You pick 20, I pick 19 etc."
FUCK ME, loving charts as I do, and loving Morrissey as I do, this was like finding a golden ticket for the Chocolate Factory, a joint countdown with Our Mozzer! There was only one problem, I knew that Mrs Whiskers (Wife land) was just about to ask me to go and read with one of the little rats. I could hardly tell her that I was conducting a chart countdown with Morrissey in the Twitterdilly Arms, she would NEVER understand, good wives like her, never do.
MRS WHISKERS - JUST SILLY SLANG
I decided to just get on with the chart, and cross the reading bridge when I got to it. I racked my brain as to what ten songs I should choose, and off I went:
Rat: "At 20, it's Come Back to Camden by Morrissey"
Our Mozzer: "At 19 it's No one Can Hold a Candle To You by Raymonde"
Rat: "At 18, it's old Mozzer again with Everyday Is Like Sunday"
Our Mozzer: "At 17 it's Paint a Vulgar Picture by The Smiths."
By now, the Twitterdilly Arms was starting to fill up, with 'Loughton Lil' (London), 'Lizzy Cat', 'GWO' (England) and 'CarolinaHL' (Chile) joining the others who were gathered around the juke box watching 'Ratty and Mozzie' pretending they were Freeman and Walker.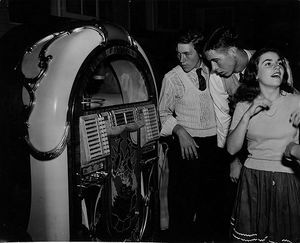 RAT AND OUR MOZZER CONSIDER THEIR OPTIONS WHILE LIZZY CAT BOPS TO EVERYDAY IS LIKE SUNDAY
Rat: "At 16, it's Morrissey LIVE with Last Night I Dreamt That Somebody Loved Me"
Our Mozzer: "At 15, it's Gloria, by Patti Smith"
Rat: "At 14, it's Morrissey with Scandinavia"
Our Mozzer: "At 13, it's New York Dolls with Funky But Chic"
Rat: "And at 12, it's Morrissey with Let Me Kiss You Oh Oh"
Our Mozzer: "At 11, it's Morr-ee-say with There is a light that never goes out"
I was just about to list 'There is a Light', so Our Mozzer's choice threw me a bit, and it was at this stage that I realised he'd manipulated the situation so that HE got to choose the Number 1. Well, he would, wouldn't he! I was now trying to second guess him. I obviously wanted to keep 'Trouble Loves Me' and Rita Pavone's 'Heart' to the end, but as Mozzer would be choosing the Number 1, should I leave him Rita, and WHAT if he didn't pick her? A Twitterdilly chart without 'Heart' is unthinkable!
Rat: "At 10, it's Morrissey with People Are The Same Everywhere"
Our Mozzer: "At 9 it's Saturday Nyte Special by Sundown Playboys"
Mrs Whiskers: (calling from lounge) "Mr Whiskers, can you go up and read with mini rat?"
SHIT! We'd only just entered the top 10. I could hardly walk out on Our Mozzer mid-chart, what would he think? I'll pretend I didn't hear her.
Rat: (typing fast) At 8, it's Mozzer live with How Soon Is Now?"
Our Mozzer: "At 7, it's As Long as you Love Me by @JustinBieber
Rat: "Hmm, you always need a novelty act! At 6, it's Morrissey LIVE with I Know It's Over."
Loughton Lil: "Gasp."
Our Mozzer: "Hmm so do you. At 5 it's Need You Around by the Smoking Popes. Come on Loughton Lil! I Know It's Over isn't that bad."
Mrs Whiskers: (calling) "Mr Whiskers, I'm sending mini rat up to bed, can you go and read with him?"
BOLLOCKS! Moz wants me to throw in a novelty act, and Mrs Whiskers wants me to go NOW!
Mr Whiskers: (calling back) "I'm just in the middle of some research on Number 1s of 1955, I won't be a minute, tell mini rat to start reading to himself, I won't be a minute."
"THIS FERNANDO DUDE IS SO LAME DADDY RAT" (Joke and picture supplied by Rosy Mires)
Rat: "At 4, it's another novelty, Boz Boorer with Bozanova"
Our Mozzer: "At 3, it could only be My Way by Sinatra"
At this point, despite being in a rush to finish and get upstairs to read with mini rat, it suddenly dawned on me that because I'd thrown in a novelty record (sorry Boz), I only had one song choice left, and yet still had 'Pigsty' and 'Trouble' to fit in, hoping that Moz would do the decent thing with Rita. I decided to box clever.
Rat: "There's a joint Number 3, it's Morrissey with Life Is A Pigsty, and at 2, it's Mozzer again, with TROUBLE LOVES ME"
I purposely opted for capital letters, hoping that once and for all he'll take it on board and sing it for me in New York. I won't mention it again, because he'll just do the opposite. I'll work on the theory that if I keep quiet from here on in, you just never know.....except I DO know, he won't!
MORRISSEY - TROUBLE LOVES ME AT NUMBER 2
Mrs Whiskers: (Annoyed Voice) "Are you going up to read or not?"
Mr Whiskers: "On my way"
Our Mozzer: "Number 1 is First of the Gang to Die by Morr-ee-say."
A great choice for Number 1, but Rita Pavone failed to make the Twitterdilly Arms 'All-Time Top 20'. This CAN'T be right, and one day, I shall put the record straight.
I left the Twitterdilly Arms straight after the chart, and went up to read with mini rat. Our Mozzer stayed for a little longer, and gave an important message, he said:
"I hereby announce that Morrissey will soon wear the t-shirt of a manufactured pop act."
The Twitterdilly Arms immediately started to buzz with excitement, with everybody trying to guess which pop act it might be. 'Fancys123' pumped for Bieber, 'Kellie the Crisp' opted for Nicki French, but could the One Direction reference have been a clue? Our Mozzer then left the Twit Arms, but as he left, he said:
"Oh dear, silly me. MorrisseysWorld.blogspot.com updated."
Sure enough, the MW blog has been updated for the first time in weeks, and it's an article entitled 'Log Lady Makes a Special Announcement.' In the article, Log Lady confirms that Morrissey will wear a manufactured pop act t-shirt, adding "ironically of course." Log Lady also reinforces that every pledge has been honoured, and asks, "what when this one is honoured." Log Lady adds "Remember what MIkE said. MIkE. MIkE." Finally, Log Lady mentions, "Appetite. Satisfaction. A golden circle", before saying, "Morrissey will say something very interesting. "INFAMY! INFAMY! THEY'VE ALL GOT IT INFAMY!" She signs off PINK WIG.
LOG LADY - BACK
I think it is fairly safe to presume that we will DEFINITELY see Morrissey wearing a pop act t-shirt very soon, and I wouldn't be surprised if it happened as soon as next month. Is the "MIkE" Log Lay refers to 'Mikey Bracewell'? and if so, WHAT DID he say?
I have just re-read the 'Minutes of the Bans and Ejections Committee Meeting' article from the MW blog, but I can't find anything there, apart from Mikey saying "You've already tried claiming to be Morrissey, while writing in a dumbed-down parody of your own writing style, Why not do the opposite? Deny you're Morrissey but write in a much closer approximation of your own style. You can occasionally contribute to the blog as a 'satire' of Morrissey when, in fact, you are Morrissey." Mikey goes on to discuss turning MW into a news site to replace Solow, which is something Our Mozzer has again been talking about recently.
The theory behind 'Golden Circles' is VERY interesting. You may like to watch this Simon Sinek video. At 11 mins, he discusses the 'The Law of Diffusion of Innovation', and explains that the first 2.5% of our population are innovators, and the next 13.5% are early adopters, with the next 34% being the early majority etc. It all ties in very well with MorrisseysWorld. Morrissey is an innovator, he has come up with a completely new idea. If you are reading this, you are probably an early adopter. MorrisseysWorld/Blue Rose has not gone beyond the early adoption stage yet, but it is worth watching the video. http://www.youtube.com/watch?v=mqZyg2XAmDk
I shall be watching out for the "Infamy" quote, it is of course a Kenneth Williams joke from Carry On Cleo. My biggest concern is that if the quote is made in New Zealand or Australia, and it may not be filmed, so we would all miss it. My hope is that the quote is saved for Long Island 2013, where I can guarantee one smirking rat in the audience.
"INFAMY, INFAMY, THEY'VE ALL GOT IT INFAMY"
I have written more than enough for today, and if you've read it all without skipping any, I thank you. If you did skip some of it, then may I suggest you go back and read it again. The bit you missed out was the best bit.
Finally, Our Mozzer returned to twitter this morning, and tweeted:
"A new song: I love you, baby. I's the most ironic thing I've ever done."
*Goes off singing* The Twitterdilly Palare, was just silly slang, between me and the boys in my gang