Life has been busy since my last update on Thursday, so I shall give a brief(ish) review of each of the past four days, but first, I HAVE to mention the news that is sweeping the nation, news that I KNOW will be causing distress to both Morrissey and Our Mozzer, no, not the announcement that William and Kate are to bring yet ANOTHER Royal parasite into the world, I am referring to the shock news from York, that Our Mozzer's favourite snooker player, the World Number 1 Judd Trump, has been sensationally knocked out of the UK Snooker championships in the very first round by a NOBODY, a nobody by the name of M. Joyce!
M. JOYCE - WITH SNOOKER CUE IN HAND
FRIDAY 30th NOV - 'DAY 443'
At the end of Thursday's blog entry, I wrote that on Friday, I would write either, a 4000 word review of Johnny Marr's 'The Messenger', or a new parody piece. I was of course joking about writing a review of 'The Messenger', as I have said a number of times, with all due respect to Johnny, I have NO real interest in either him or ANY musicians. I appreciate that Johnny Marr is a superb guitar player, but I've never been interested in guitar players, it's always been about the front man for me, and although Johnny Marr has now decided to become a singer, he ISN'T a charismatic front man, he is a guitarist who has now turned his hand (or tonsils) to singing.
Ironically, listening to 'The Messenger', it sounds as though Marr has now moulded himself on Noel Gallagher, a man who originally moulded himself, as a guitarist, on Johnny Marr. Now that I've mentioned it, I may as well review 'The Messenger', so here goes: 'A pleasant hum along song that would fit nicely onto a Noel Gallagher album.' Why use 4,000 words when fourteen will suffice?
I believe that if 'The Messenger' were to be released as a single, prior to an album release, it would perform better in the chart than Adam Ant's 'Cool Zombie' (Number 154), and with the right promotion, may do as well as Morrissey's last pre-album release 'That's How People Grow Up' (Number 14), but what do I know?
THE MESSENGER - "A PLEASANT HUM ALONG SONG"
I have already gone on too long about Johnny Marr, and 'Following The Marriah' just doesn't have the same ring to it, in fact, people might mistake it for a Mariah Carey blog, which just WOULDN'T do! Ironically enough, if you want to read wall to wall stories about Johnny Marr, the place to go these days is Morrissey-Solo.com, which is now NOTHING to do with Morrissey, and ALL to do with Marr.
I have recently become so incensed with Morrissey-Solo running nothing but Marr stories, that on Friday, I decided to contact my local trading standards office, and I informed them that I find the name 'Morrissey-Solo' VERY misleading. The trading standards officer I spoke to wasn't very helpful, and informed me that because Solow is run by a former Morrissey fan based in America, it is out of UK jurisdiction, however, it isn't ALL bad news, because the trading standards' officer DID agree to look into my other complaint about people passing themselves off as being Morrissey, when they clearly AREN'T Morrissey. On Friday afternoon, the trading standards officer made not one arrest, but four! He nicked one wooly looker for attempting to pass themselves off as Morrissey, but also arrested a fake Zayn Malik, a fake Ed Sheeran and a fake M. Joyce snooker player:
A SMILING, AND VERY SWEATY TRADING STANDARDS OFFICER WITH HIS FOUR ARRESTS, L TO R: 'NOT ZAYN MALIK', 'NOT MORRISSEY', 'NOT ED SHEERAN' (ALTHOUGH, ACTUALLY THAT 'MIGHT' BE THE REAL SHEERAN, IT'S HARD TO TELL!) AND 'NOT M. JOYCE SNOOKER PLAYER'
Anyway, I digress. I spent ALL day Friday writing an extremely funny parody piece, based around police officers, called 'MorrisseysWorld - What A Carry On!' It was finally finished at 8 pm, so I headed over to the Twitterdilly Arms to distribute it, and just as I arrived, Our Mozzer turned up, which obviously meant that NOBODY paid any attention to my masterpiece. Our Mozzer declared that, "Despair is the champagne to contentment's Blue Nun." I had mentioned 'Blue Nun' (which is a horrible wine) just the day before in my blog, so I responded to Our Mozzer's declaration by saying, "Hello, hello, hello, Jordan's drink of choice being offered up I see!" Rather flatteringly, Our Mozzer replied, "Rat - do only we get it in the whole wide world?"
I informed him, "No, there are others", but Our Mozzer DOES have a point, WHY do SO few get it? It's not as though it's THAT well hidden or disguised any more, he's made it more and more obvious, but STILL the masses can't see. Even those who get close to seeing the truth, STILL fall back into their safety net of, "Morrissey just WOULDN'T."
MORRISSEY - NOT KEEPING IT SO WELL HIDDEN THESE DAYS
Just after 'Our Mozzer' ordered his flute of 'Despair Champagne' from the Twitterdilly bar, he invited everybody to join him in the back room of 'Our Mozzer's Parody Gallery', but he decided to limit the number to six (it's usually 10), explaining that it was just like the nineties, "downsize from stadia to leisure centres and lap up the exceptional atmosphere." THIS IS SELF AWARE SATIRE OF THE HIGHEST NATURE, AND MORRISSEY'S FANS ARE MISSING OUT - WAKE UP, WAKE UP!.......oh, why do I bother, the only people reading this either already believe, or think MorrisseysWorld is me, and me telling them otherwise ISN'T going to change their minds.
'Our Mozzer' seemed very relaxed on Friday evening, and the lucky five who were present (me, Alex 'Suave' West, Lizzy Cat, Southkirk Kirky and GOB), plus whoever might have been watching through the window, were treated to the REAL Morrissey. He told us:
"I reject wisdom - it is tantamount to accepting that one's true life is over"
"When one thinks one knows the answers, one is intellectually dead"
"Wilde was the antithesis of wisdom"
Friday marked the anniversary of Wilde's death, and Wilde was clearly on Mozzer's mind.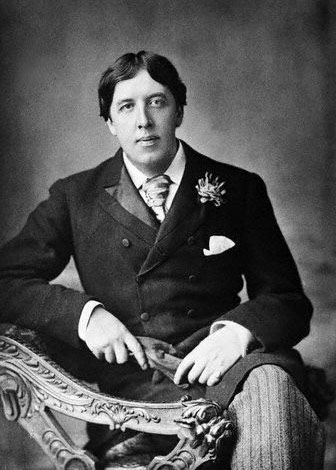 WILDE - "THE ANTITHESIS OF WISDOM" AND IN THE THOUGHTS OF MOZ
After discussing Twin Peaks with GOB, who has just started watching it, Morrissey mentioned that it reminded him of when "Nancy S, Johnny Depp and Co were my neighbours." Lizzy asked, "was it fun to meet Depp?" to which Moz replied, "Yes Lizzy. He ignored me. And I ignored him."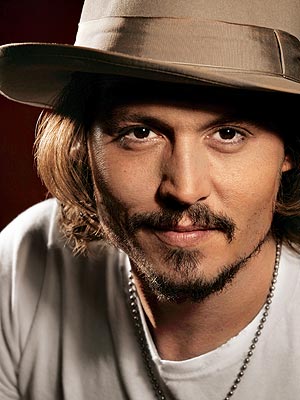 DEPP - BOTH THE IGNORER AND THE IGNORED....LOOKING A BIT LIKE BARRY GIBB
Moz then asked those present, "who is the greatest actor of all time?" He quickly added, "Dean couldn't act", which I entirely agree with, but he certainly brought 'something' to his films, particularly 'Rebel Without a Cause.' Lizzy Cat replied that she liked Dustin Hoffman, and quick as a flash, Moz retorted, "Lizzy means, 'I like dusting off men.'" I LOVE to see this side of Moz, it had me grinning from ear to ear.
GOB mentioned that there were certain German actors that she liked, and Moz added, "I think some foreign actors are terribly underrated, such as Philippe Noiret. Dead of course." There is probably no need for me to mention that I've never heard of Noiret, but I bet I'm not the only one!
There is no mention of Philippe Noiret in Mozipedia, but then again, there is no mention of MorrisseysWorld, BLUE ROSE, Dante, Bobby Britt and so many other things in Mozipedia. When author Simon Goddard EVENTUALLY discovers MorrisseysWorld, his book will need a lot of updating, so let's hope for his sake that I don't decide to delete my blog. Funnily enough, it has crossed my mind MANY times to delete my blog, and if MorrisseysWorld DOES disappear completely, there would be NO other proof that it was ever there!
PHILIPPE NOIRET - "UNDERRATED" ACCORDING TO MOZ
Morrissey also mentioned liking Emmanuelle Beart, who ALSO isn't mentioned in Mozipedia. I'm starting to think that Simon Goddard DOESN'T know very much about Moz after all. How did he manage to make his book so thick? It must be all the Johnny Marr stuff in it. Perhaps Goddard will produce a 'Marripedia', although somehow, I doubt it!
It wasn't long before the subject matter moved onto BLUE ROSE, and Morrissey didn't hold back in letting us know of his disappointment, he said:
"How is it that not a single one of you grown-ups managed to deliver a blue rose? Don't you see my frustrations? I couldn't have made it more obvious. And yet-"
GOB replied, "I have never made it to the front row", to which Moz retorted:
"You have to try. I make the stage every night." He then amusingly added: "It's not easy." A few excuses were thrown up, with the most common excuse being that most of the BlueRoseSociety haven't actually been to a concert where they have been able to get near enough, but Moz didn't accept that, he said, "Relationships take courage and so does delivering a blue rose."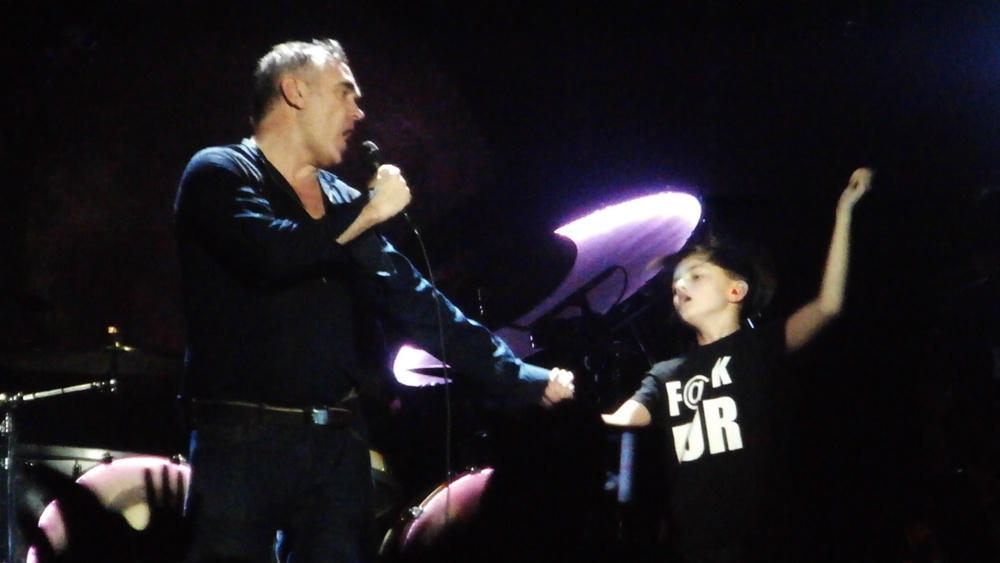 PRESIDENT KYLE - SHOWED COURAGE BY DELIVERING A BLUE ROSE
At this point, the real world dragged me away from 'Our Mozzer's' back room, but just as I was leaving (to be replaced by GWO), Morrissey stated that he had an announcement to make. He stalled for ten minutes, informing me that I shouldn't be leaving anyway, and that, "Your prime allegiance ought to be to me, not to your life." I pointed out that it "bloody well seems to be."
The announcement was as follows: "Quite soon a remarkable thing will happen, a fabula mirabilis. It will culminate in a Twin Peaks reference. Keep your eyes open." Having never watched Twin Peaks, I am going to have NO chance of noticing this "Fabula Mirabilis", unless of course it involves Boz Boorer dressed as Log Lady, I think even 'I' would see that!
When my real world activities were over, I snook back to the back room of 'Our Mozzer's Parody Gallery', but there was no room at the inn. 'Suave' Alex and Southkirk Kirky had gone, and had been replaced by Marcus The Greek and an anonymous 'Guest'. I peered in at the window.
RAT PEEKS THROUGH A WINDOW. IT MAY LOOK LIKE AN INSIDER LOOKING OUT, BUT IT WAS AN OUTSIDER LOOKING IN. PICTURES CAN BE DECEIVING
It transpired that I'd just missed everybody voting on whether Moz should delete his MW twitter account or his blog; he had decided that one or the other HAD to go. The vote had ended in a tie, so Moz made GOB cast the deciding vote, and she chose to keep the blog. He immediately deleted his twitter account and then declared:
"I was so terribly bored with twitter. I thank GOB for saving the blog - I don't enjoy twitter anymore, it's too mindless. It's gone forever. I am bored of stupidity and twitter is overwhelmingly stupid. I am too tired for this you see. Stillicling was obsessed and fawning until she decided I'm not Moz - then she made sarcastic remarks and hung around Uncle Sweaty."
Moz was in a chastising mood, but GWO pointed out that not everybody was the same. Moz agreed, adding, "GWO I know you are unique. You are quiet, sensitive observer." Praise indeed for GWO, who I know very little about, but I too have enjoyed her (?) company very much throughout this MW experience. Out of all the regulars that I write about, GWO has probably given the least away about who they REALLY are, but at the same time, she(?) has been a major contributer to our funny little community.
GWO - DEPICTED ON TWITTER AS AN ORANGE ROPE BALL, STUCK IN A TREE - MAJOR CONTRIBUTOR
Having dished out a compliment to GWO, Morrissey was soon back to chastising, with the following comment:
"But the rule clearly, I think you would agree GWO, applies to most. What if I say I am Broken, not Morrissey - what does it change? I have said I'm not M all along, for months and the articles, tweets, chats - these remain the same. It only changes one thing - you immediately think, 'ah but he is not authentic, he is not this image I like'. 'He is not the famous person I think I know'. Do you understand the point of all this now?"
At this point, the anonymous 'guest' piped up, saying, "Before, I wanted to meet and greet you, not anymore." Morrissey hit back, "It's the party killer again, here to complain in bald, uninteresting prose how mundane my recent albums are, while he/she chats on a site run by me, for me, about me, with me." The uninvited 'guest' was then evicted.
SOLOW'S DAVID TSENG (RIGHT) - ANOTHER MORRISSEY EVICTEE
With the intruder gone, Moz continued: "I expected hundreds of thousands to catch on. Look at the clues. What more could I do? I wore a blue rose tie, picked a blue rose, wore it. Promised red and white roses and wore both. Sociologists will ponder. Dramatists will wonder. Journalists will slumber. Why did he do it? The biggest clue was entirely missed. Only a few were highlighted."
Lizzy interjected, "I feel you are disappointed with us", to which Moz replied:
"NO, I am thrilled. Just disappointed not to receive roses from those who promised many times. It could have been very beautiful. An ocean of blue roses. Instead, one child delivered it. He promised it and it happened."
Lizzy again interjected, "It still can", to which Moz replied:
"It's over. I gave a year of my life. I'm not waiting any longer. Even if I posted another comment on true to you denying it, people would not question it."
GOB then naively suggested, "What if you posted a comment asking people to bring blue roses?" The reply was quick, and rather obvious:
"No, I shall never. They would only accept crass, transparent statements which would defeat the object."
GOB - WANTED MOZ TO 'ASK' FOR ROSES
This whole phenomenon has always been about mystery and subtlety, and Moz is right, we HAVE let him down, although personally, I still think it is VERY early days regarding BLUE ROSE. It was NEVER going to happen overnight, these things take time, but eventually we WILL fulfill the goal of having venues full of roses. Moz may be ready to throw in the towel, but it is our job, NO, it is our DUTY to make sure BLUE ROSE continues.
An eleven year old child has managed to present Morrissey with a blue rose, and yet NOBODY else has! There must be NO more excuses. I have only attended one concert since discovering MorrisseysWorld, but I didn't take a BLUE ROSE, presuming that I wouldn't get close enough to present it. I DIDN'T even try! In my defence, I took a luminous plastic blue rose instead, and although I got my blue rose onto the stage for the encore, I SHOULD have made more of an effort. Marcus The Greek took a much more positive approach to the Manchester concert, he DID take a real BLUE ROSE, believing that it was his calling. As it happened, he didn't get close enough to deliver it, and he left Manchester disappointed, but perhaps he should have queued up all morning, to get on the front row! We've ALL got to up our game.
MARCUS THE GREEK'S ROSE AT MANCHESTER. CLOSE, BUT NO CIGAR
Leading up to the concert at Radio City Music Hall on October 10th, President Kyle wrote on his twitter profile that he wanted to give Moz a blue rose at Radio City, and he DID! Simple. Kyle has now changed his profile to say 'I gave Morrissey a Blue Rose at Radio City, I want to meet MORRISSEY when he comes to LONG ISLAND.' I wouldn't put it past him to do it, the kid's an achiever!
I have NOT got front row tickets to the two concerts in New York in January, but I HAVE to get a BLUE ROSE to Morrissey. I have changed my twitter profile to read:
"I WILL present Morrissey with a BLUE ROSE at Long Island or Brooklyn in January. Because I MUST. Because we ALL must."
I shall enter the Tilles Center in Long Island on January 9th, with the following words ringing in my head:
"Relationships take courage and so does delivering a blue rose."
We fans of Morrissey are always going on about what we WANT from Morrissey. The demands for a new album, the demands for certain songs at concerts, the demand of playing concerts in particular towns. I've recently come to realise how selfish we all are. NONE of us should WANT anything from Morrissey. This MW experience has taught us all many things, but more than ANYTHING else, it should have taught us that Morrissey has spent THIRTY YEARS giving to us, and we have given NOTHING in return. It is time to reverse this, it is time to take roses to EVERY concert, EVEN if you can't get them to him. Just to WEAR the rose is enough, and eventually EVERYBODY will follow the lead. The only thing I now want, is to see the boy happy, actually forget that, I DON'T want that at all, a 'happy' Moz would NEVER do, so perhaps just to see the boy semi content, every sixth Thursday would be enough for all concerned.
Morrissey finished the Friday night session by asking Marcus to make the MW film, and he also declared: "Just as much a part of the Morrissey story as The Smiths or the wilderness years, the boxing references and the flowers, will be 'that strange blog'."
SATURDAY DEC 1ST 'DAY 444'
Having spent all day Friday writing Part 1 of 'MorrisseysWorld - What A Carry On!', I spent all day Saturday writing Part 2, although I don't know why I bothered, NOBODY read it, and if they did, the lack of comments show it wasn't particularly well received. Oh well, they can't ALL be classics!
There was no sign of 'Our Mozzer' all day, but then again, that wasn't a surprise, as Lady GOBiva had made him delete his twitter account!
I finally booked my flights and accommodation for New York on Saturday. The cost for flights, transfers, and five nights in a hotel very close to Times Square, came to an unbelievably cheap £690 each. I am SO excited about my first Morrissey 'away' trip, but if he did happen to cancel because of a poorly finger, or a swollen ankle, I would still have a wonderful time. I LOVE New York.
A RECORD SHOP IN GREENWICH VILLAGE, NEW YORK
SUNDAY DEC 2ND 'DAY 445'
I woke up on Sunday to a very pleasant surprise, no, NOT a frisky Mrs Whiskers leaping all over me in celebration of our 15th wedding anniversary; a brand new parody piece on the MorrisseysWorld blog! It was not only the first parody article from Our Mozzer since July, but I was in it, albeit in a very minor role. The article, which is entitled 'MorrisseysWorld Blog annual review, December 2012, The Ritz Hotel, London', has Morrissey singing 'Don't Make Fun of Daddy's Voice' (with me in doing the 'Walk Like an Egyptian' dance), before then seeing Morrissey throw his own mother out of the meeting, before he, and 'Broken', launch into the usual verbal assault of Boz Boorer. The whole piece is hilarious, but the actual meeting never gets going, and we are left with a 'Part 2 Coming Soon' notice.
THE 'WALK LIKE AN EGYPTIAN' DANCE
Apart from being VERY funny, this latest article also tells us that Morrissey's mum is now better. No official word has come from Morrissey, but the fact that he is taking the pee out of her in his parody, means she's OK. The non believers won't see that message of course, but they can't even see him wearing gaudy BLUE ROSE ties. They certainly won't have the ability to read inbetween the lines, when they can't EVEN read the actual lines!
The rest of my Sunday was very busy with football in the morning, Mini Rat's cricket in the afternoon, and my cricket match in the evening. For the first time this winter, my car windscreen was covered in ice, so I had to grab a CD case to scrape it off. I obviously didn't want to risk moistening the inlay cover of one of MY cds, so I selected one belonging to Mrs Whiskers. I opted for 'The Entertainer' by Alesha, on the grounds that I'd never heard of it, and it looked like it had been purposely made to scrape ice off frozen car windscreens. If me and Mrs Whiskers ever decide to call it a day on our marriage, and as it's now been 15 years, so it isn't a bad time for a review, splitting the cd collection will NOT be a problem.
As it happens, I don't think a split is imminent, and as I didn't see her all day, it would seem a perfect marriage. I did feel 'slightly' guilty for going down the pub after playing cricket, but she didn't seem to mind. I think she realises how lucky she is!
AN ICE SCRAPER
MON DEC 3RD 'DAY 446'
For the first time in ten months, I had to do a full days work at one of my companies (yes I know what you're thinking, how can this idiot own a couple of companies). It was a shock to the system, and meant that I had NO time to write either a blog entry or anything for my Number 1s book. Actually, I knocked off at 3pm and came home for a two hour soak in the bath, but it was STILL an inconvenience.
TODAY 'DAY 447'
I have written this rubbish all day, breaking off VERY briefly to present the new Twitterdilly Arms Top 10, to an audience of THREE! My thanks to Romina, Kellie the Crisp and GWO. There has once again been no sign of Our Mozzer. I have today ordered some more luminous BLUE ROSES, and also some inflatable red ones for New York. President Kyle's Dad is getting me the REAL blue rose. I am considering purchasing a 'Morrissey IS NotMorrissey' t-shirt, but perhaps I should stick to a BLUE ROSE one. We HAVE to spread the word of BLUE ROSE, we just HAVE to.
TWITTERDILLY ARMS TOP 10 - FOR THE WEEK SUN 2ND - SAT 8TH DEC 2012 (PUBLISHED ON TUES 4TH AT 12.45 PM UK TIME BY @WALKERRAT)
1. SWEET AND TENDER HOOLIGAN (LIVE AT NIAGARA FALLS OCT 19TH) - MORRISSEY (RE-ENTRY)
2. EVERYDAY IS LIKE SUNDAY (OH MY POOR LONELY RAT, LIVE IN MILAN) - MORRISSEY (RE-ENTRY)
3. THE KID'S A LOOKER (DANCING BY PRESIDENT KYLE) - MORRISSEY (DOWN 2)
4. HEART - RITA PAVONE (UP 4)
5. I'M OK BY MYSELF - MORRISSEY (NEW ENTRY)
6. TROUBLE LOVES ME - MORRISSEY (UP 1)
7. SWALLOW ON MY NECK - MORRISSEY (NEW ENTRY)
8. YOU WERE GOOD IN YOUR TIME - MORRISSEY (NEW ENTRY)
9. SORRY DOESN'T HELP - MORRISSEY (NEW ENTRY)
10. COOL ZOMBIE - ADAM ANT (NEW ENTRY)