MorrisseysWorld has GONE! Last Saturday Our Mozzer closed his twitter account, stating that he was bored with it, but he promised to keep the MorrisseysWorld blog open, and the very next day, he posted a hilarious new parody piece, but on Wednesday, that new parody article was taken down, and yesterday, the MorrisseysWorld blog disappeared completely. The only thing that remains is the chat room (http://chatroll.com/morrisseysworld-chat) which seems to be inhabited on a permanent basis by somebody called 'URBAN' who just spouts nonsense all day long.
MORRISSEYSWORLD - GONE
The Twitterdilly Arms has been virtually empty for the past few days. The disappearance of Our Mozzer has come as a major disappointment to the MorrisseysWorlders, and as most of us only ever joined twitter because of MorrisseysWorld, there seems little reason to go there anymore. Some of the MorrisseysWorlders are clinging to the hope that Our Mozzer MAY have just faked his own death, and could be floating around Wellington's Lambton Harbour in a canoe.
OUR MOZZER?
Personally, and I think my view may well be shared by a few others, I think MorrisseysWorld may have gone FOREVER. Our Mozzer has closed his blog and twitter accounts MANY times before, but this time, it somehow feels a little more permanent. We shouldn't feel too upset, after all, nothing lasts forever, and MorrisseysWorld HAS been going for nearly three years, although of course, most of us didn't find it until 2011, when the denials were made on True To You.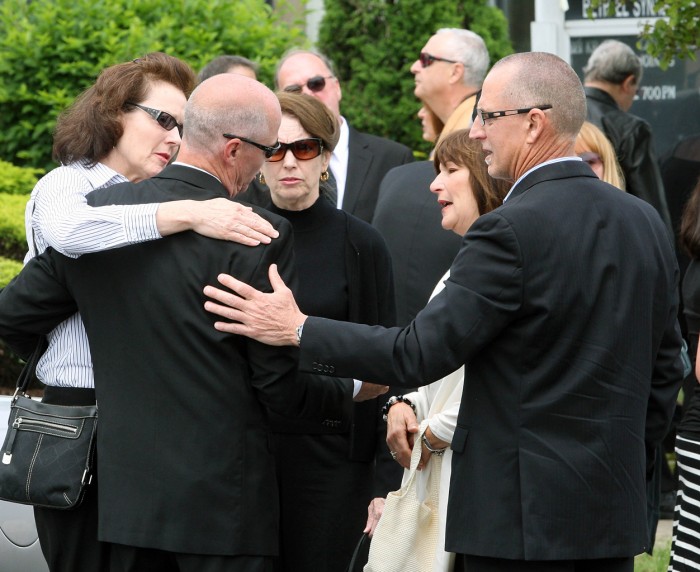 REGULARS OF THE TWITTERDILLY ARMS MOURN THE LOSS OF MORRISSEYSWORLD - 16.12.09 - 08.12.12 . FROM L TO R: HEATHER CAT, MANCLAD (MORE DISTRAUGHT THAN MOST.....BLAMING HIMSELF FOR NOT DELIVERING ALL THOSE ROSES), LADY GOB, LIZZY CAT, LOUGHTON LIL AND EARS (OBSTRUCTED)
Loughton Lil left a comment on my last blog entry, asking me about the latest 'hit' figures for my blog. I can confirm that my blog has received ZERO hits from New Zealand, which makes me think this really, REALLY is the end. Morrissey is no longer following me, following him. I genuinely think he's had enough of it all.
It is now up to those of us who have been lucky enough to have been part of this phenomenon, to make sure the BLUEROSESOCIETY blossoms and grows. I will do my best to play my part at Greenvale and Brooklyn in January, and hopefully the word will spread that Morrissey wants roses at his concerts.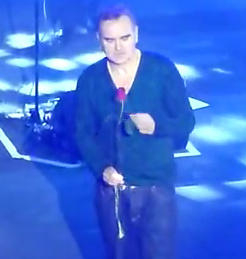 POMONA - NOVEMBER 28TH 2011
As for my 'FollowingTheMozziah' blog, I will now bring it to a close, after all, it was only ever started to report on the MorrisseysWorld phenomenon, so with MorrisseysWorld gone, it seems only natural to bring 'Mozziah' to a conclusion, even though it isn't the conclusion I envisaged.
When I started writing, I naively presumed that Morrissey would eventually be unmasked as the author of MorrisseysWorld, but in reality, that was NEVER going to happen. If there IS to be any sort of unmasking, it will have to be via Morrissey's autobiography, but even THAT may leave things up in the air. The REAL unveiling may have to wait until Morrissey's posthumous diaries are posted, if they EVER are. Maybe the truth will never be told, after all, the BLUE ROSE in Twin Peaks was NEVER explained.
LIL THE DANCER WEARING A BLUE ROSE - IT WAS NEVER EXPLAINED
Such has been the grip of MorrisseysWorld on my life, that on January 13th of this year, I gave up my job to concentrate on 'Following The Mozziah' on a full time basis. At 9 am this morning, I had the unfortunate task of having to dismiss the person I had employed to replace me at work. I was always going to be a hard act to follow, and it just hasn't worked out.
So now, with MorrisseysWorld coming to an end, it looks as though fate is pushing me back to work, and I have penciled in a return for January 15th 2013, the day after I return from New York. I am now hoping for a twist of fate to save me from a return to the rat race, but I have a feeling I am doomed.
I will continue writing 'Mozziah' until Brooklyn, and plan to make the following blog entries:
1. Tuesday December 11th (Twitterdilly Top 10 Chart)
2. Friday December 14th (Report on Wellington concert)
3. Saturday December 15th (Report on Auckland concert)
4. Monday December 17th (Report on Brisbane concert)
5. Tuesday December 18th (Chart)
6. Wednesday December 19th (Report on Melbourne concert)
7. Friday December 21st (Report on Sydney concert)
8. Saturday December 22nd (Report on Sydney concert)
9. TBA (A Christmas parody piece)
10. Tuesday January 1st (Twitterdilly Arms Top 100 Chart of 2012 + All day 'Final Countdown' in The Arms)
11. Tuesday January 8th (Report from New York)
12. Wednesday January 9th (Report from New York)
13. Thursday January 10th (Review of Greenvale concert)
14. Friday January 11th (Report from New York)
15. Saturday January 12th (Review of Brooklyn concert and The Rats farewell)
I am VERY excited about seeing two Morrissey concerts in January, but I, like the other MorrisseysWorlders, am sad to see this phenomenon come to an end, it's been a blast.
Vive la Rose
TRB