I retired to bed on Saturday night, and as is customary for a Saturday evening, I turned the telly on, and watched Match of the Day. Having watched the highlights of the first few games, my interest started to wane when the Stoke vs Everton match came on, so I flicked on my ipad, and had a glance into MorrisseysWorld. Having read all the amusing comments on Part 4 of the latest parody piece, I scrolled to the bottom of the page, to see if there was anybody in the MW chat room.
Usually the only occupant is the deranged 'Urban', who rabbits on and on about his/her love for 'Bunny', but on Saturday night, to my amazement, I stumbled across Morrissey1959, along with Alex 'Suave' West, JJazmine and Heather Cat. It would have been Sunday lunchtime in New Zealand, but Moz informed us that he was just eating breakfast, which incidentally was strawberries and pancakes.
A MOUTHWATERING MOZ BREAKFAST
Unfortunately, the wifi signal in the west wing of my rather large bedsit, isn't very strong, and I lost contact after about 15 minutes. In the short time that I was in the chat room, Moz rather worryingly informed us that he wouldn't be surprised if Boz were to leave the band soon, stating that Boz was really upset by TRM's (The Real Morrissey's) comment about the "poor" early nineties band. I suggested that perhaps Boz was just in need of a bit of fuss. M1959 said that he would consider buying Boz a new dress.
The only other thing I can remember about our chat, was M1959 mentioning that he'd been to the Isle of Wight. I said that I didn't believe him, but he added that he didn't JUST visit places to carry out leisure centre concerts and conduct email interviews. I STILL don't believe him.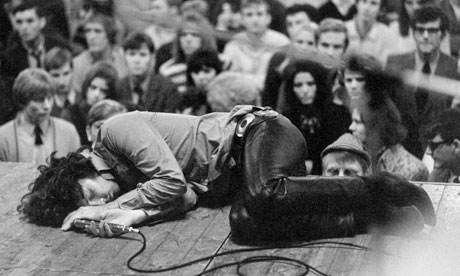 ELEVEN YEAR OLD MORRISSEY (FAR RIGHT IN GLASSES AND TIE) WATCHES JIM MORRISON ON STAGE AT THE 1970 ISLE OF WIGHT FESTIVAL, AND MAKES A MENTAL NOTE TO REPLICATE MORRISON'S POSE DURING 'LIFE IS A PIGSTY' IN THE FUTURE, WHEN ALL'S WELL(ISH)
And on the subject of the Isle of Wight, I have this morning been watching the limited Youtube concert footage from Morrissey's concerts in New Zealand. WHAT has this got to do with the Isle of Wight I hear you cry? Well, and please bear in mind that I may have gone absolutely barking mad, as I watched the footage of 'Everyday Is Like Sunday' in Auckland, I stared in disbelief, as the dark blue shirt that Moz was wearing, got completely drenched in sweat, all except a patch slap bang in the middle of his chest, which REMARKABLY, stayed dry, and took the shape of the Isle of Wight! It was only the other day that the MW blog posted the piece about Russell Brand going off to the Isle of Wight to meet David Icke, so...... no, forget it, I HAVE gone mad, this is all getting TOO far fetched now, but for anybody who'd like to humour me, please take a look for yourselves, and let me know your thoughts in the comments box below: (Everyday Is Like Sunday in Auckland: http://www.youtube.com/watch?v=4PN4kiNq53o)
HARRY STYLES IN 'HIS' SWEATY ISLE OF WIGHT SHIRT
I had a busy day on Sunday, and was away from the house, and internet all day. When I logged on this morning, I was delighted to find yet another new article on the MorrisseysWorld blog, entitled 'A piece of visual art entitled simply: Dignity'. It comprises a number of photos of male pop stars, and compares them to Morrissey. It is another hilarious article, and culminates in a rather unflattering photo of sixty four year old, Steven Tyler, who seems to have Donald Trump hair, and emu leg tits.
AEROSMITHS' STEVEN TYLER FILMING A COVER VERSION OF NOVEMBER SPAWNED A MONSTER IN HIS SPEEDOS
My twitter timeline shows me that Our Mozzer was once again quite busy yesterday. He appeared at around 1.30pm UK time, which would have been 11.30pm Brisbane time. He stayed until 1.30am (Brisbane time), then disappeared for 4 hours, before returning at 5.30am with the new MW blog article. WHEN DOES HE SLEEP? He stayed for an hour, before then inviting the MorrisseysWorlders to join him in the MW chat room. I have NO idea WHO was in the chat room, what was discussed, or how long he stayed, so I ask that people leave comment below.
I DO know Manclad was there, because he has tweeted to say that Morrissey1959 informed everybody that the ONLY article that HASN'T been republished on the MW blog, is the homoerotic story about Leonid Albrecht. Now WHY wouldn't Our Mozzer want us to see THAT particular article?
MRS MANCLAD SENIOR ASKS HER SON, "WHAT HAPPENED TO THE LEONID ALBRECHT ARTICLE? I LIKED THAT ONE!"
Here are the twitter highlights:
(In reply to 'Kellie The Crisp's' question as to where he was) "@shutthekellup I'm in a mystical time zone and I'm missing my bed and I'll soon be home."
"When I retire from being a pop star and failed twitter wit, I fully intend to become a drug addict and watch Jeremy Kyle with Mike and Andy."
NEW THREE PIECE BAND 'FROM THE SMITHS' L TO R: JEREMY KYLE, MIKE READ AND IAN BROWN
TWITTER HIGHLIGHTS (CNTD):
'I'm fenced-in by self-doubt and fenced-out by self-loathing; the grass is always greyer on the other side."
"My singing voice sounds like a desolate foghorn interpreting the angst of Rimbaud and the sensuality of Bolan."
MARC BOLAN PERFORMING AT THE 1968 ISLE OF WIGHT FESTIVAL
TWITTER HIGHTLIGHTS (CNTD):
(On Lady Gaga) "As much as I deplore her music, she is an intriguing and terribly nice person (+ a fan of my blog)."
"Jobs reduce people to absolute stupidity, they forget to think about themselves. There's something so positive about unemployment." Chio (@rocioslav) questioned this, pointing out that people need money, and told Moz that it was OK for him with his juicy bank account. He replied:
"@rociosav But I have lived in abject poverty; and it's better than mediocrity."
"By the way do you all realise you missed another stunning and undeniable MorrisseysWorld reference from the true artiste Morrissey? (WAS it the Isle of Wight sweat stain?)
And the result of the latest round of tweeting? '@MorrisseysWorld' follower numbers currently stand at 8,119. Numbers continue to fall!
According to an interview with the website 'SomeDizzyWhore.Com', Boz Boorer has killed off Gaynor Tension. This is VERY sad news for all fans of middle aged drag queens.
THE GAYNOR'S DEAD BOYS, AND IT'S SO LONELY ON A LIMB
And so, to today's concert in Brisbane, which is taking place as I write. I shall report on the concert tomorrow, when hopefully I will have seen some Youtube footage. Both '@DeclanRooney' and '@LaraineMcCarthy' have both tweeted, promising to take BLUE ROSES, so I look forward to seeing if they delivered them. Call me an old cynic, but some how I doubt they will have, although the pair of them definitely have will power, because they tweeted to report that they met Moz at Brisbane airport, at 4pm on Sunday.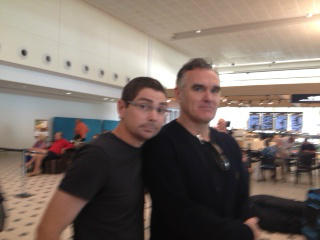 DECLAN MEETS THE MOZ IN BRISBANE........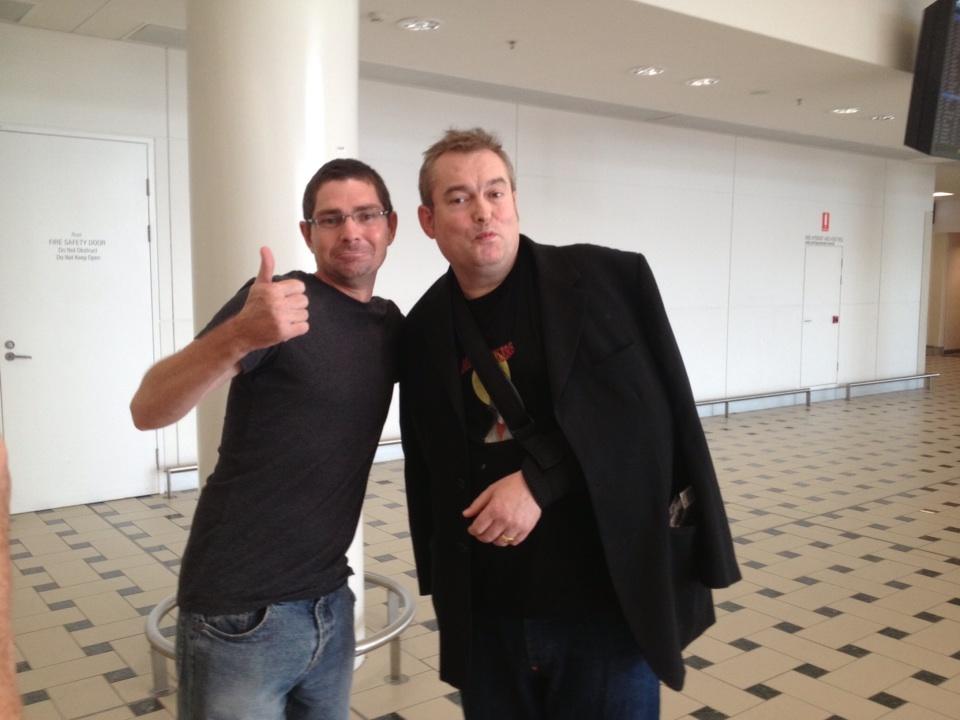 .......AND THE ONE ARMED BANDIT
So did Declan manage to deliver his rose? We shall have to wait and see.
Finally, my mother's breathing is still very wheezy, and we have decided to keep her off work until after Christmas, but I would like to reassure any of her regular clients who may be reading this, that she should be back on the streets by mid January at the very latest, although due to the breathing difficulties, all oral services have been suspended until February. Anybody who has one of the December discount vouchers should hold on to it, as the '20% off' will be honoured up to and including the last day of February 2013. All other terms and conditions still apply.
RAT AND MRS WHISKERS SENIOR - BOTH BACK TO WORK IN JANUARY
Pageviews by Countries
I MADE CONTACT WITH NO NEW ZEALANDERS, SO WHO WAS READING MY BLOG? (IF YOU ARE WONDERING ABOUT THE RUSSIAN HITS, THEY ARE SPAMMERS, WHICH INCIDENTALLY ARE GETTING VERY ANNOYING)