I have been watching Youtube footage all morning, and the shows in Sydney were STUNNING, simply STUNNING. Here are the Sydney setlists:
Oops, that's Sid The Sexist, let me try again:
Nope, that's Sid James playing the role of Sidney Fiddler, aka Sidney Sexist in Carry On Girls. Let me try again:
SYDNEY SETLISTS: (GOT THERE EVENTUALLY)
FRIDAY DECEMBER 21ST ENMORE THEATRE, SYDNEY
1. SHOPLIFTERS OF THE WORLD UNITE
2. YOU HAVE KILLED ME
3. YOU'RE THE ONE FOR ME, FATTY
4. ALMA MATTERS
5. SPEEDWAY
6. EVERYDAY IS LIKE SUNDAY
7. HOW SOON IS NOW?
8. OUIJA BOARD, OUIJA BOARD
9. ONE DAY GOODBYE WILL BE FAREWELL
10. TO GIVE (THE REASON I LIVE)
11. I'M THROWING MY ARMS AROUND PARIS
12. MEAT IS MURDER
13. LET ME KISS YOU
14. STILL ILL
15. IRISH BLOOD, ENGLISH HEART
16. PLEASE, PLEASE, PLEASE LET ME GET WHAT I WANT
17. I KNOW IT'S OVER
18. NOVEMBER SPAWNED A MONSTER
19. THE YOUNGEST WAS THE MOST LOVED
20. SWEET AND TENDER HOOLIGAN
ENCORE
21. FIRST OF THE GANG TO DIE
SATURDAY DECEMBER 22ND SYDNEY OPERA HOUSE
IN OUT
BLACK CLOUD ONE DAY GOODBYE WILL BE FAREWELL
MALADJUSTED TO GIVE (THE REASON I LIVE)
ACTION IS MY MIDDLE NAME SWEET AND TENDER HOOLIGAN
The footage of the Enmore Theatre show posted on Youtube by 'ryandashsdotorg', is possibly the best set of Morrissey videos EVER posted on Youtube by an amateur, and not only is the footage superb, the concert itself is just out of this world. Forget the excitement that my kids are currently feeling leading up to Christmas, the excitement 'I' am currently feeling, knowing that in seventeen days time I will be in Long Island watching Morrissey LIVE, is off the scale.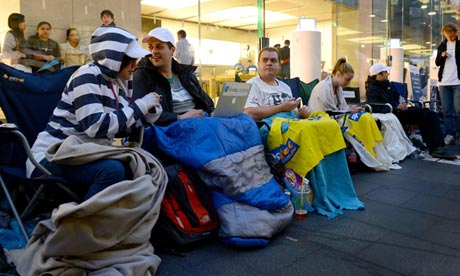 THE QUEUE FOR MORRISSEY'S NEXT CONCERT ON JAN 9TH HAS BEGUN- L TO R: PRESIDENT KYLE, MOZ FIEND, RAT, JULIA RILEY, KYLE'S DAD, JOYCE
The stand out songs for me from Enmore were; Shoplifters of the World Unite, How Soon Is Now, Let Me Kiss You, I Know It's Over, November Spawned a Monster and Sweet and Tender Hooligan. Somebody in the crowd was waving a huge bunch of blue flowers during Shoplifters, but they weren't roses, so I presume they were ignored. It would appear that the Australians DIDN'T pick up on the BLUE ROSE SOCIETY, but I don't think anybody ever really thought that they would. The only Australian Blue Rose members that I am aware of are Kellie The Crisp, who couldn't attend any concerts, and Comrade Harps, who I don't think took a rose to the Melbourne concert that he attended.
I have stated on twitter that the Enmore performance of 'How Soon Is Now', is BETTER than the Smiths, and I meant it. Morrissey's voice is stronger than it was in the eighties, his band are tight, and although the purists would argue that Johnny Marr's guitar playing is missing, I REALLY can't tell the difference. A Smiths reunion would amount to bringing in two 50 year old djs to play instruments that they no longer play, and losing Boz Boorer. No thanks!
MIKE JOYCE - NOW A DJ
ANDY ROURKE - NOW A DJ
BOZ BOORER - A ONE ARMED TROOPER
Back to Enmore, where during the pause in Speedway, Morrissey sang a snippet of Reel Around the Fountain a capella. The crowd immediately sang along, and who can blame them. 'Reel' is one of my all time Top 5 Moz songs, and I was lucky enough to see Morrissey sing it at Portsmouth Guildhall in March 1985.
A photo has appeared from the Enmore concert showing Morrissey tucking his right hand inside his shirt, just like he did in Manchester, and just like on the MorrisseysWorld blog, but although I have worked my way through the Youtube footage, I am yet to find which song it occurred in. Due to the shirt, I can tell that it was in one of the songs somewhere between Still Ill and Sweet and Tender Hooligan, and I have a hunch it may have been during I Know It's Over, but 'ryandashsdotorg's' footage of that particular song is all close up of Morrissey's head, so I cannot tell.
MORRISSEY ADOPTS THE POSE FROM THE MW BLOG AT THE ENMORE THEATRE, SYDNEY
The Youtube footage of the Sydney Opera House concert, shows that it was another outstanding delivery by Moz and the gang.The night opened with Moz saying, "Why ask for the stars, when you can moon me", before launching straight into a perfect rendition of Everyday Is Like Sunday. The stand out songs are; Sunday, Shoplifters, Youngest, Murder, Kiss You and Please, Please, Please, Please. A lot of the youtube footage has been loaded by '@MizHelena', who has also written a review on her blog, 'MizHelenasRants.blogspot.com.' According to her review, there were a few Moz witticisms, including:
'I'm the kind of person who'll go to the gallows before their time"
"I was born a 95 year old soul"
"I'm so happy I'm going outside to throw myself under a car"
"When I sing of romance, the songs aren't very long."
"Look at my grave and remember these words" before drifting into Please, Please, Please.
MORRISSEY ON STAGE AT THE SYDNEY OPERA HOUSE
So, this leg of the tour is now over, and according to Manclad, Moz is due to land back in Blighty tomorrow afternoon, where he will spend Christmas at Bowden.
I am presuming that nothing happened in Sydney to allow MorrisseysWorld to reopen, but there has been a little bit of activity from MW, both on the blog and on twitter.
A new blog piece entitled simply, 'Walter Ego' has been posted, with a photo of Kevin Marinan hiding his face. The photo also has 'Morrissey Was here' written on the wall. Is Our Mozzer telling us that Marinan IS involved with MorrisseysWorld, or has Rosy Mires got it right, when she says that the author behind MorrisseysWorld HATES Kevin Marinan, and this is his way of getting back at him?
WALTER EGO - THE WRITING'S ON THE WALL
I have been reliably informed that yesterday, Our Mozzer turned up in the MW chat room, along with a number of the MW regulars AND Marinan. Our Mozzer reportedly said that he and Banjaxer had a number of photos of each other, and Our Mozzer posted the one that is now on the blog, with Marinan hiding his face. Our Mozzer then said, "Walter thinks I'm Morrissey. It's absurd. I'm a loser in a flat & Mozzer just plays along." Our Mozzer also added, "Walter is writing a diary about his time with MW so that if the story ever breaks he has his own little diary."
The wording "his time with MW" is VERY interesting, and further adds to the thought that Marinan IS employed by Moz as his internet troll, just as is stated in the 'Bans Committee' article. The one thing that is certain, is that Marinan's continued denials about being involved in MW are going to REALLY piss off his So-Low mates, particularly Uncle Sweaty and Rosy Mires, who have believed his every word, but if Marinan gets to publish a book on the back of this whole phenomenon, he won't of course care about who he treads on in the process. The Marinan mystery continues.
Our Mozzer briefly appeared on twitter yesterday, but as the account has once again been deleted, I can't report what was said. I was also going to write about some other things today, including me having to read the eulogy at my Step Grandmother's funeral yesterday, but I have now run out of time, so I won't bother. I also haven't yet managed to write the parody piece that I planned for Christmas, so I will try and find the time tomorrow, but tomorrow is of course a VERY special day!
*Goes off singing* But, take me to the haven of your bed, was something that you never said, two lumps please, you're the bees knees, but so am I.