I should have mentioned yesterday, that a new parody piece has been published on the MorisseysWorld blog, and it is probably Our Mozzer's funniest work yet. The reason that I didn't mention this yesterday was because I was working through the happenings of Our Mozzer in a methodical fashion, and because he'd been so active, I ran out of time. I have peeked in to MorrisseysWorld this morning, and there is YET ANOTHER new piece on the blog, and it's an IMPORTANT one, so with no further delay, I shall once again work methodically through the past couple of days, and hopefully this time I will get up to speed.
THURSDAY DECEMBER 27TH -
On Thursday morning I set up my Crossley reproduction record player in the kitchenette area of my bedsit, and then started to dig out an eclectic mix of 45s and LPs, ready for my afternoon vinyl party. I chose records spanning from the 1950s to the current Number 1 'He Ain't Heavy, He's My Brother' by the Justice Collective, which incidentally is the first UK Number 1 to be issued on 7" vinyl since Lady Gaga's 'Telephone' in March 2010.
THE JUSTIVE COLLECTIVE - LIMITED EDITION OF 1500 RED VINYL 7"(STILL AVAILABLE FROM WHATRECORDS.CO.UK. ALL PROCEEDS GO TOWARD LEGAL FEES FOR THE HILLSBOROUGH 96)
I fired up the Crossley and started playing an assortment of records at full volume. Mrs Whiskers (wife) and the Mini Rats (kids) moaned about the noise, and it suddenly struck me just how much I miss playing records. I, like everybody else, get my intake of music these days from my ipod or Youtube, but there is something very, very special about listening to vinyl.
As I danced, no, make that 'pranced' around the kitchen to 'The Never-Played Symphonies' from the Swords LP that I bought last year in New York, I suddenly stopped singing mid sentence. No, I hadn't just been struck with the realisation that 'Symphonies' is an absolutely marvellous and underrated track, I'd worked that out years ago, I had suddenly realised that there was something wrong with the Crossley, it was playing too slowly.
I whipped Swords off the turntable and tried a 45, but it was just as bad, it was revolving at more like 41rpm, which resulted in 'Do You Really Want To Hurt Me' sounding as though it was being sung by Barry White rather than Boy George. I had guests arriving in less than hour, and I had NO record player for my vinyl party. Panic! The action, not the single, not unless I wanted to hear Barry White sing that too!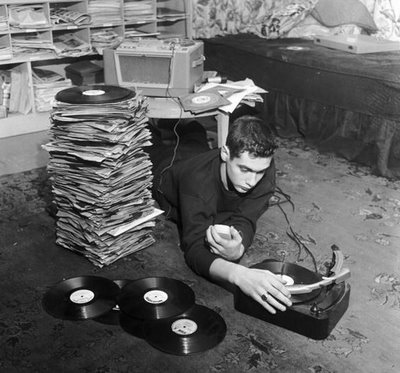 AN ARCHIVE PICTURE OF RAT IN HIS BEDSIT THINGY
I decided to call one of my vinyl party guests, 'Camp Simon', to see if he had a record player. He explained that he did *Hooray* but it had no stylus *boo*. He asked, "Is the party off?" Me: "Of course not! SOMEBODY will have a record player." 'Camp Simon' informed me that he had a large case of records that he was bringing over, including some Modern Romance classics. I managed to hide my excitement!
My next call was to 'Garry Baldy'. He informed me that he was greatly looking forward to the party, but exclaimed, "No, I don't have a record player.... and I can't bring any records, I don't know where they are!" I decided not to remind Garry that I still have his 'This Charming Man' New York 12" mix that I 'borrowed' over twenty five years ago.
GARRY BALDY - CHARMING MAN
I didn't bother to call 'Middle of the Road Mike', I KNEW he didn't own any records, let alone a record player, and I was already regretting that I'd dug out a Lionel Richie LP for him. I called 'Midlife Matt', my New York travelling companion. He told me that he didn't have a record player, but he offered to go into town to try and buy one. He called me back twenty minutes later to tell me that he'd found one in Maplin, reduced form £69.99 to £29.99. It didn't sound ideal, but I was desperate, so he bought it.
Just as I ended the call with 'Midlife Matt', my mother turned up on my doorstep, uninvited of course. Don't get me wrong, it's great to see her up and about after her touch with death two weeks ago, but NOT today, and NOT when I'm just about to have twenty plus people turn up for a party.
I let Mrs Whiskers senior say a quick hello to her grandchildren, and then I hurriedly ushered her out. As I opened her car door for her and pushed her in, I casually asked, "I don't suppose you have a record player do you?" She did! I jumped into my Fiat 500 and followed her home, where I then raided her loft, before bundling a ridiculously oversized 1990s stack system and speakers into my little motor vehicle. Job done, party back on!
I won't bother going into a mass of detail about the party as I've already wasted valuable time in which I should be reporting on MorrisseysWorld, but we had about twenty adults at the party, with ages ranging from seventeen year old 'Mrs Mollie Styles', to fifty seven year old 'Beatle Tim.' Everybody took it in turns to a choose a record to play. I of course played Morrissey, The Smiths, Rita Pavone etc, and 'Middle of the Road Mike' committed crime after crime after crime, mainly thanks to 'Camp Simon' bringing REO Speedwagon to the party.
As the alcohol flowed, a great time was had by all, with the highlight coming when 'Footballer Tom' told us the story of how he had been roped into being a pall bearer a couple of weeks ago as a favour for a friend. It transpired that the funeral was for former BBC newsreader Kenneth Kendall, and 'Footballer Tom', who has particularly limp wrists (this is true, he broke them both this year), managed to drop Kenneth as they lowered him onto the 'A' frame in the church.
KENNETH KENDALL - DROPPED DEAD TWICE IN ONE WEEK
The party came to a close with us all listening to 'Derek and Clive' LIVE, which none of us had listened to for twenty plus years, and of course the youngsters had NEVER previously heard. If you've not ever listened to Derek and Clive, or if you haven't listened for a number of years, then go and treat yourselves, there is NO better way to make you genuinely belly ache with laughter. This bloke came up to me, and he said.......
And now to MorrisseysWorld. It was a busy day again for Our Mozzer in the Twitterdilly Arms on Thursday. He started the day by changing his appearance, ditching the 'Bogota Rose' avatar, and adopting the 'Conan OO'.
MORRISSEY IMITATES OUR MOZZER ON THE CONAN TV SHOW
OUR MOZZER'S TWITTERDILLY HIGHLIGHTS THURSDAY DEC 27TH:
"Twitter mirrors reality; the more I tweet the more followers I lose. It's just like releasing albums."
"I'll unfollow everyone without BlueRoseSociety in their profile shortly. Thank you."
"Being a devotee is enough to follow me, but not to be followed."
At this point, '@MorrisseysWorld' was following 704 people. He disappeared for a while, and later returned, following just seventy people.
The Twitterdillians couldn't work out what had happened. Sarah Munro (@sorcha69) exclaimed, "@MorrisseysWorld Oh I see you've unfollowed me. Well I suppose I needed another bad thing to make three this Christmas. Still love u though." Our Mozzer replied, "@sorcha69 My sweet, I had someone unfollow all those without BlueRoseSociety in their profiles. Please add it. I adore you."
This prompted a number of others to add the BlueRoseSociety hashtag into their profiles, including; @Chiskrosser, @stinibobs, @Antfan, @sandrayala, @Jeni_says_so and even @Banjaxer, who added, "Don't forget little old me." I wouldn't be surprised if Banjaxer was the "someone" who Our Mozzer had used to unfollow the 640 people from his account. Our Mozzer also gave Banjaxer (aka Walter Ego) a mention, saying, "Old Walter Ego's a key member of the Blog. Without him, it would be barren."
WALTER EGO - KEY MEMBER
OUR MOZZER'S TWITTERDILLY HIGHLIGHTS THURSDAY DEC 27TH (CNTD):
"And if the true artiste mentions the BlueRoseSociety -- what then?" JG (@LoughtonLil) replied, "He read it here, what other explanation could there be?" And of course JG is right, the MorrisseysWorld haters would just add any mention by Morrissey of the BlueRoseSociety to their ever increasing list of 'coincidences.' It is almost as though it has now gone too far for the mockers to do a 'U' turn.
What exactly WOULD it take for the ridiculers to believe? I honestly don't think that Morrissey wearing a One Direction t-shirt would make them believe, nor him singing 'Trouble Loves Me', they would now see both as coincidences, or at best, Morrissey just playing along. It's genius, pure genius. Back to the highlights:
"One spends childhood wishing to be an adult, and adulthood wishing to be a child again."
"Old age is spent wishing one hadn't wished quite so much."
"The purpose of life - if indeed there is a purpose - is to strip away this mental window-dressing and simply live."
'Time is short and wishing is more costly than gold."
I particularly love ALL of the above four quotes. I have no idea if they are original quotes, or if Our Mozzer is quoting somebody else, but either way, they are SO true, and the first one particularly sums up for me the whole MW experience.
The word 'wish' is used quite a lot in Morrissey songs, such as 'Everyday is Like Sunday', 'Unhappy Birthday', 'Seasick, Yet Still Docked' and 'Break Up the Family.' 'Wish' is a dreamers word, and Morrissey is the biggest dreamer in the world, and that is why he is also the best lyricist in the world.
"I WISH A LOT, BECAUSE I'M KING OF THE DREAMERS"
OUR MOZZER'S TWITTERDILLY HIGHLIGHTS THURSDAY DEC 27TH (CNTD):
"Long ago I decided to reject wisdom, and instead embraced that adolescent craving for control over destiny."
"As age cripples body and mind, I paper helplessly over cracks with song. The only thing I know."
"Mikey Bracewell, Wossy, Broken and Boz over for monopoly; the rose wine is flowing; after eights are vanishing; the purples are mine!"
"I'm a Morrissey statuette in a red lounge suit. Boz plays with a heavily made-up drag queen. Wossy is himself. Mikey is the ship!"
"If it's morally acceptable to eat animals because they're less intelligent, when can we dine on Paris Hilton?"
OUR MOZZER'S TWITTERDILLY HIGHLIGHTS THURSDAY DEC 27TH (CNTD):
"I just bankrupted Boz. He's sighing and rolling his eyes. Now he's putting on some lippy and sulking into his vanity mirror."
Our Mozzer then posted the new parody piece on the MW blog, entitled 'MorrisseyBand Monopoly Challenge Cup, December 2012.' It is quite possibly THE funniest article ever published on MorrisseysWorld, and is certainly in the Top 3. As previously hinted by Our Mozzer in the Twitterdilly Arms, the story sees Morrissey, Jonathan Ross, Mikey Bracewell, Broken and Boz enjoying a game of Monopoly. Solomon Walker is stood in the corner wearing a dunces hat, with his mouth taped. The dialogue tells how Solomon was unable to claim any rent because he couldn't talk, but it was explained that Morrissey wasn't bullying Solomon, he had merely taped him up to teach the others about discrimination, with Mikey Bracewell pointing out that nobody had stood up for Solomon. I'm laughing again as I type this, it is HILARIOUS.
If you are reading this blog entry in June 2015, having just discovered that Morrissey REALLY is behind MorrisseysWorld, here is the link to the Monopoly piece. GO AND READ IT NOW...if Moz hasn't deleted the whole website that is!: http://morrisseysworld.blogspot.co.uk/2012/12/morrisseyband-monopoly-challenge-cup.html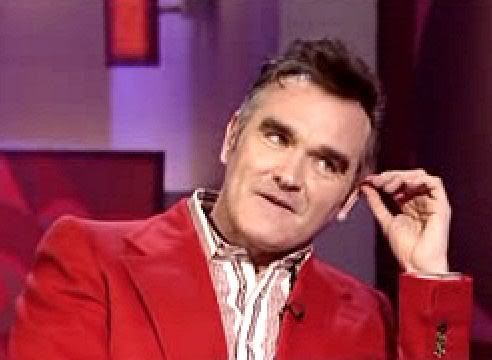 MORRISSEY'S MONOPOLY PIECE - A STATUETTE OF HIMSELF WEARING A RED LOUNGE SUIT A LA THE JONATHAN ROSS SHOW CIRCA 2004
Having posted the parody article at around 1am, Our Mozzer hung around in the Twitterdilly Arms until around 4am, no doubt soaking up the praise for his latest piece of comic genius. I know from personal experience, that when you've written something that you KNOW is funny, it is exciting to receive the plaudits from your readers, and gives you a glow to know it's appreciated. I just wish I could write something as funny as the Monopoly piece.
OUR MOZZER'S TWITTERDILLY HIGHLIGHTS THURSDAY DEC 27TH (NOW ACTUALLY EARLY MORNING FRIDAY) (CNTD):
"The Smiths remain a curiosity: the content have no need for them, and the malcontents only become more malcontented."
"I was happy being sad until I visited an analyst: and now I'm bored with being sad. Progress."
"Ridicule is the tribute paid to the genius by the mediocrities - Wilde." I LOVE this quote, again it is very relevant to MorrisseysWorld.
Thursday Night/Friday Morning came to an end, and due to Our Mozzer's culling of the 640, his own follower numbers had dropped to 8,007. Meanwhile Limahl, the former lead singer of eighties pop group Kajagoogoo, has increased his follower numbers to 6,097.
FRIDAY DECEMBER 28TH -
Friday was a quieter day for Our Mozzer.


My Friday consisted pretty much spending all day catching up with Our Mozzer's activities of the past couple of days. The first highlight of the day for me was discovering the Monopoly piece that had been posted the night before, and I also discovered that Morrissey had left another comment on my blog, which always gives me a little buzz. It read:




The comments left on the MW blog included one from 'Poetic Morrissey' aka Luke, informing everybody that he would be attending the New York concerts, and would also be taking a Blue Rose.

Our Mozzer made an appearance in 'The Arms' at approximately 1pm. Here are the highlights.

OUR MOZZER'S TWITTERDILLY HIGHLIGHTS FRIDAY DEC 28TH:

"As one grows old, despair at boredom is replaced by boredom at despair."

"If one could be seduced by disgust, I would be fulfilled."

"Now that I've removed the mindless 'celebs' from my timeline, I lack targets for my wit-"



SATURDAY DECEMBER 29TH-
I sat up in bed last night until 1am, finishing Dickie Felton's superb book, 'Morrissey International Airport.' I only wish it were longer. Reading Dickie's book has increased my excitement regarding my New York trip to ridiculous levels. I turned 47 last week, and yet I am like a ten year old in the proverbial candy shop. There are certain memories that stand out in your life, and I have a feeling that my first ever trip to see Morrissey on foreign soil is going to be right up there with the other major events in my life.
With the thoughts of Blue Roses in my mind, my excitement was taken to increased levels this morning, when I discovered yet another new article on the MW blog, entitled 'What is the BlueRoseSociety.' It features President Kyle's new poster, and goes on to explain all about the BlueRoseSociety, and also makes mention of the BlueRoseSociety ring, which I gave to EARS at the concert in Manchester. The intention was for EARS to pass it on to another BlueRoseSociety member at the next concert in Edinburgh, and then that person would pass it to another.
THE BLUEROSESOCIETY RING
Unfortunately there were no other Blue Rose members in Edinburgh, so the ring is still with EARS. I shall request that EARS gets the ring back to me, and I shall take it to New York, where I will pass it to either Moz Fiend, President Kyle, Poetic Morrissey or Kyle's dad. If any other BlueRoseSociety members reading this are going to New York, perhaps you would be good enough to leave a comment below.
New York will be awash with roses. Myself and Kyle's dad have ordered an assortment of 50 red, white and blue roses, so add to that the inflatable red roses and the luminous blue roses, NEW YORK IS GOING TO BE VERY SPECIAL!
After a very slow start, the BRS is just about to take off. If anybody wants to be a part of history, then take the time off work, and book a ticket for New York NOW!
*Goes off singing* Ay, Ay, Ay, Ay Moosey