HAPPY NEW YEAR
I've never been one to make new year resolutions, but I am going to try and be more tolerant of people this year, particularly with regard to those seeking the truth about MorrisseysWorld, although the ones who continue to mock and abuse may not receive the same tolerance. If I could make a resolution for other people, it would be to 'Open Your Mind' and DON'T accept everything you are told is the truth, whether it be told by misguided website moderators, the media or people in power.
Our Mozzer's twitter follower numbers had started to rise in recent days, but Log Lady's dark article about gulags and freemasons has resulted in more followers heading for the hills and abandoning MorrisseysWorld. If MorrisseysWorld doesn't offer cotton candy, some people just can't handle it, mind you, even when Our Mozzer DOES offer cotton candy, the majority STILL can't handle it!
This latest dark article had MorrisseysWorlder 'Rocio Sav' declaring on my blog yesterday, "Unnecessary and disappointing," to which 'Morrissey' replied, "The truth may disturb, shock or amuse you. Yet - if the truth offends you, your life is a lie."
The main tester of my new tolerance will probably be Rosy Mires, who despite promising to stay away from MorrisseysWorld, returned yesterday to mock Lizzy Cat. Rosy tweeted, "I see 'Your Mozzer' has lost the plot again." Lizzy was astute enough to ignore her, but WHY can't Rosy just stay away?
ROSY MIRES - CAN'T STAY AWAY, PERHAPS SHE IS OUR MOZZER?
'@MorrisseysWorld' has finished 2012 with a grand total of 7,984 followers and the blog has received 343,400 hits since it first appeared three years ago. There are probably around fifty to a hundred people who GENUINELY believe that Morrissey is behind MorrisseysWorld. The question that NONE of the detractors have been able to answer is, 'WHO IS MORRISSEYSWORLD?' One of them MUST have a serious theory, they just MUST. So-Low moderator Uncle Skinny CONTINUES to suggest that I am behind MorrisseysWorld, and has now added Marcus The Greek into my gang. At least Rosy Mires is bright enough to have realised that MW isn't me, but Skinny thinks little of Rosy's opinion.
In light of the new article on MorrisseysWorld, how about David Lynch, the creator of Twin Peaks being behind MW? The only drawback to that theory, is that there is NO WAY that Lynch would have known who Julian Joachim is, and Our Mozzer DOES!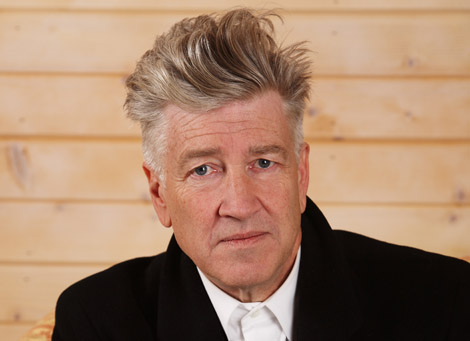 DAVID LYNCH - OUR MOZZER?
I am rather disappointed to see that Dickie Felton has continued to ignore MorrisseysWorld. I tweeted him to compliment him on his excellent new book, but Felton didn't respond, despite the fact that he seems to have replied to EVERY person who compliments him on his book. Felton also ignored Our Mozzer, who tweeted Dickie the other day to suggest he write the story of MorrisseysWorld.
Felton made NO mention of MorrisseysWorld or the Blue Rose Society in his book, and he has obviously made up his mind that MorrisseysWorld is a hoax, but as Lizzy Cat very wisely pointed out yesterday, WHY would anybody want to pull such a hoax? What would be the point? Whoever this hoaxer is, they spent ALL of Christmas day being friendly to Morrissey fans on twitter. WHERE is the hoax in that? I keep wondering how the likes of Dickie will feel when the penny eventually drops, and they realise that they have missed out on all the fun. I guess they'll be gutted. Felton was even accused by some of the So-Lowers of BEING MorrisseysWorld in a genius blogsite which I would link to, but I can't remember the address!
DICKIE FELTON - SET TO BE GUTTED, OR IS HE OUR MOZZER?
Yesterday morning, I had a board meeting with my fellow directors, and I am pleased to announce that I will NOT be going back to work after all. One of the other directors has stepped up to the plate, so I will be free to continue blogging for as long as there is a story to blog about. If Our Mozzer's bedsit gets repossessed, and his pc gets ceased by the bailiffs, I will at that stage find something else to do! Talking of Our Mozzer, as I often do, the MW blog posted a photofit picture of him the other day, and he looks like a cross between Liam Gallagher and Neanderthal man.
OUR MOZZER?
I was supposed to attend a New Years Eve party yesterday, but 'Middle Of The Road Mike' had flu, and cancelled. I'm glad really, as I was tired, and also, I CERTAINLY don't want to catch flu when in seven days I fly to New York. SEVEN DAYS! As the kids would say OMG!
Instead of going out last night, myself and my rat pack brood played Cluedo, a board game that I was given for my birthday lat week. Yesterday was only the second time we have played, and I have won both times. Forget Our Mozzer's Monopoly Cup, I have a 100% Cluedo record. If anybody is interested, last night's murder was committed by Mrs Peacock, in the Hall, with the dagger.
MRS PEACOCK - A KILLER, BUT NOT YET SUSPECTED TO BE RESPONSIBLE FOR MORRISSEYSWORLD, ALTHOUGH GIVE IT TIME AND NO DOUBT SOMEBODY WILL ACCUSE HER OF BEING OUR MOZZER
Our Mozzer spent most of New Years Eve in the Twitterdilly Arms and I was lucky enough to be around for some of the time. I had to leave to spend time with my family, but it would appear that Our Mozzer stayed around until 5am. I haven't got time today to catch up on his tweets, so I will try and find time tomorrow.
Our Mozzer has been in a very serious mood of late, and many of his tweets relate to Log Lady's latest article on the blog. The whole thing is fascinating, but although Our Mozzer is obviously VERY interested in the workings of the Illuminati, the Skull and Crossbones, The Grove, the New World Order etc, I try not to let it consume me too much. The consequences of it all are frightening, but the helplessness of doing anything about it would frustrate me too much. I feel the same about British politics, and probably society in general if I'm honest. I pulled up the drawbridge a number of years ago. A number of videos have been added to the MW blog, the majority of which I have seen before, largely through watching David Icke's material on Youtube. Being aware is enough for me, I'm far more interested in our very own BlueRoseSociety, it says much more to me about my life.
AWARE
The reason that I haven't got any time today to report on Our Mozzer's tweets, is because I have been counting down the Twitterdilly Arms Top 100 in the Twit Arms. I counted down from 100 to 91 yesterday as @WalkerRat, but today I decided to sack him, and instead I brought back @FluffRat instead. It was a fairly poor turn out in the Twit Arms, but all was going well until Our Mozzer showed up when I had reached Number 25, and offered to do an impromptu Top 20 with me. Instead of snapping his hand off, I explained that I was in the middle of counting down the annual Top 100. BIG MISTAKE, Our Mozzer immediately disappeared. We are all only here for Our Mozzer, so our Top 100 is irrelevant compared to interacting with him. I finished the countdown to Number 20, and then I limped away with my rat tail between my legs. I was lucky that the regulars of the Twit Arms didn't lynch me. Have I become the latest victim of Mozzer's legendary ostracizing? Time as ever will tell. Perhaps I will be going back to work after all.
THE TWITTERDILLY ARMS TOP, ER, 21 TO 100 - 2012:
21. THERE IS A LIGHT THAT NEVER GOES OUT (LIVE) - MORRISSEY
22. SHOPLIFTERS OF THE WORLD UNITE (LIVE THROUGHOUT THE WORLD 2012) - MORRISSEY
23. IF YOU DON'T LIKE ME, DON'T LOOK AT ME - MORRISSEY
24. THE QUEEN IS DEAD (LIVE AT THE HOLLYWOOD BOWL 2007) - MORRISSEY
25. IMPERFECT LIST - BIG HARD EXCELLENT FISH
26. THE KID'S A LOOKER - MORRISSEY
27. ALL OVER THE WORLD - FRANCOISE HARDY
28. TO GIVE (THE REASON I LIVE) (LIVE THROUGHOUT THE WORLD 2012) - MORRISSEY
29. FIRST OF THE GANG TO DIE - MORRISSEY
30. SEASICK, YET STILL DOCKED - MORRISSEY
31. PLEASE, PLEASE, PLEASE, LET ME GET WHAT I WANT (LIVE THROUGHOUT THE WORLD 2012) - MORRISSEY
32. ALL THE LAZY DYKES - MORRISSEY
33. RUBBER RING - THE SMITHS
34. NOW MY HEART IS FULL - MORRISSEY
35. PAINT A VULGAR PICTURE - THE SMITHS
36. MALADJUSTED (LIVE THROUGHOUT THE WORLD 2012) - MORRISSEY
37. SHAME IS THE NAME - MORRISSEY
38. WILLIAM, IT WAS REALLY NOTHING - THE SMITHS
39. LAISSE TOMBER LES FILLES - FRANCE GALL
40. NATIONAL FRONT DISCO (LIVE AT THE HOLLYWOOD BOWL 2007) - MORRISSEY
41. NOVEMBER SPAWNED A MONSTER - MORRISSEY
42. ALMA MATTERS (LIVE THROUGHOUT THE WORLD 2012) - MORRISSEY
43. IN EVERY DREAM HOME, HEARTACHE - ROXY MUSIC
44. POUPEE DE CIRE, POUPEE DE SON - FRANCE GALL
45. THE HEADMASTER RITUAL - THE SMITHS
46. IRISH BLOOD, ENGLISH HEART - MORRISSEY
47. FRIDAY MOURNING - MORRISSEY
48. THE LAST OF THE FAMOUS INTERNATIONAL PLAYBOYS - MORRISSEY
49. SOME GIRLS ARE BIGGER THAN OTHERS - THE SMITHS
50. WHY DON'T YOU FIND OUT FOR YOURSELF - MORRISSEY
51. SLIPPERY FORCES - BOZ BOORER
52. THESE DAYS - NICO
53. FANTASTIC BIRD - MORRISSEY
54. BLACK CLOUD (LIVE THROUGHOUT THE WORLD 2012) - MORRISSEY
55. CHRISTMAS KISSES - HAPPY MARTYR
56. I'LL GET YOU BACK - KRISTEEN YOUNG
57. SUEDEHEAD - MORRISSEY
58. THIS CHARMING MAN - THE SMITHS
59. THAT JOKE ISN'T FUNNY ANYMORE - THE SMITHS
60. TO GIVE (THE REASON I LIVE) - FRANKIE VALLI
61. SPRING-HEELED JIM (LIVE IN NEW YORK 2012) - MORRISSEY
62. SING YOUR LIFE (TONIGHT SHOW 1991) - MORRISSEY
63. SO LITTLE TIME - DIANA DORS
64. MOON RIVER - MORRISSEY
65. PANIC - THE SMITHS
66. WE'LL LET YOU KNOW - MORRISSEY
67. TO GIVE (THE REASON I GIVE) - SHIRLEY BASSEY
68. THAT'S HOW PEOPLE GROW UP - MORRISSEY
69. THE ONLY ONE I KNOW - THE CHARLATANS
70. BOZANOVA - BOZ BOORER
71. I WANT THE ONE I CAN'T HAVE (LIVE IN CHILE) - MORRISSEY
72. YOU'RE THE ONE FOR ME, FATTY (LIVE IN RIO 2012) - MORRISSEY
73. YOU'RE GONNA NEED SOMEONE ON YOUR SIDE - MORRISSEY
74. DON'T MAKE FUN OF DADDY'S VOICE - MORRISSEY
75. MON AMIE LA ROSE - FRANCOISE HARDY
76. LONELY DAY - SYSTEM OF A DOWN
77. DEATH - KLAUS NOMI
78. WOODEN HEART - ELVIS PRESLEY
79. FUNKY BUT CHIC - NEW YORK DOLLS
80. IT'S NOT YOUR BIRTHDAY ANYMORE - MORRISSEY
81. WELL I WONDER - THE SMITHS
82. LE TEMPS DE L'AMOUR - FRANCOISE HARDY
83. TEENAGE DAD ON HIS ESTATE - MORRISSEY
84. ONE LESS LONELY GIRL - JUSTIN BIEBER
85. YOU WERE GOOD IN YOUR TIME - MORRISSEY
86. ENSEMBLE - COEUR DE PIRATE
87. DIS-LUI NON - FRANCOISE HARDY
88. BEBE REQUIN - FRANCE GALL
89. A RUSH AND A PUSH AND THE LAND IS OURS - THE SMITHS
90. SLUM MUMS - MORRISSEY
91. SOMETHING IS SQUEEZING MY SKULL - MORRISSEY
92. I'M OK BY MYSELF - MORRISSEY
93. I KNOW IT'S GONNA HAPPEN SOMEDAY - MORRISSEY
94. KISS ME LIKE YOU MEAN IT - HAPPY MARTYR
95. I DON'T OWE YOU ANYTHING - THE SMITHS
96. ANGEL, ANGEL, DOWN WE GO TOGETHER - MORRISSEY
97. MEXICO - MORRISSEY
98. THE BOY WITH THE THORN IN HIS SIDE - THE SMITHS
99. DING A DONG - TEACH IN
100. THE TEACHERS ARE AFRAID OF THE PUPILS - MORRISSEY