My faux pas of yesterday was quickly forgiven, and I ended up doing a Top 20 countdown in the Twitterdilly Arms with Our Mozzer ('@MorrisseysWorld') yesterday afternoon after all. He mentioned during the chart that he was already in Brooklyn, but whether or not he was telling the truth is anybody's guess. Straight after our joint Top 20 countdown, Our Mozzer informed us all that he would now be closing the MorrisseysWorld blog. A final blog entry was then posted, under the catchy heading of, 'This Blog is now closed forever, unless Morrissey gives the BlueRoseSociety a definite sign in New York - debate what might happen on this thread, post your reviews, discuss possible signs.'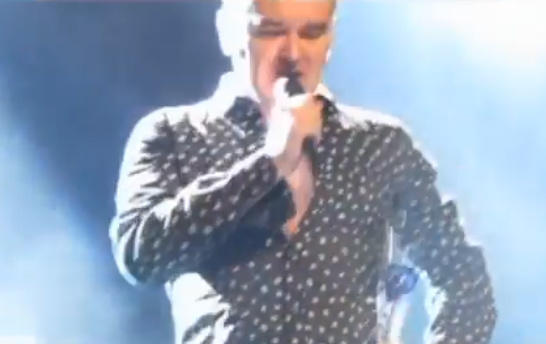 The article explains that for the blog to continue, Morrissey needs to give YET ANOTHER SIGN during the next tour. So far he has given signs on every tour, but from the comments being left by the MorrisseysWorlders, EVERYBODY seems to be convinced that this time, more than any other time, the sign will be enough for the masses to OPEN THEIR EYES....or will it?
Our impromptu chart countdown resulted in Our Mozzer selecting President Kyle's version of 'Everyday Is Like Sunday' as his top song. Eleven year old Kyle will be attending six concerts in January, and has announced that he is taking BLUE roses AND a BLUEROSESOCIETY t-shirt for Morrissey, so there is a lot of confidence that Morrissey WILL accept one of these, thus giving a sign, but even if he does, the detractors will of course dismiss it as meaningless, and will claim that Morrissey recognised Kyle from both Radio City Music Hall and Terminal 5.
PRESIDENT KYLE - HAS A SIMILAR SHIRT FOR MOZ
Our Mozzer has hinted in the Twitterdilly Arms that Morrissey MAY duet with Kyle at one of the concerts, but even that would mean nothing to the non believers.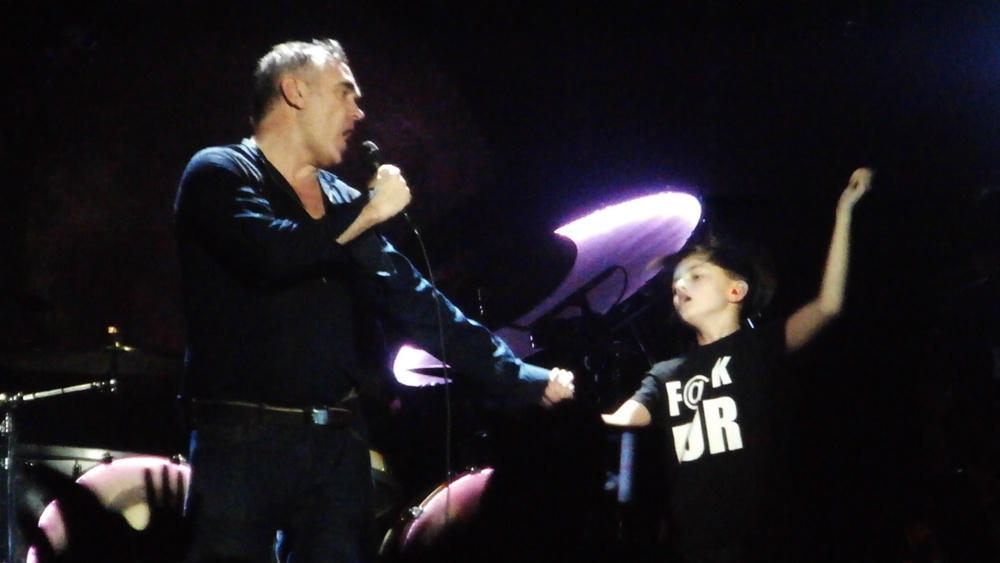 PRESIDENT KYLE DANCING WITH MOZ AT TERMINAL 5 - A DUET NEXT?
The 'Log Lady' article has been taken down from the MW blog. My interpretation is that Moz only posted it to show his dark thoughts to the deluded dozen and didn't want it there for all and sundry to see. Alternatively he may have regretted letting his dark thoughts out in public, but where as many of us express our dark thoughts at dinner parties, or to our nearest and dearest, Morrissey probably doesn't attend many dinner parties, so has nowhere else to release his darker thoughts about the world.
The dark thoughts about a New World Order have been aired a number of times on the MW blog. My own personal dark thoughts usually centre around economic collapse and the potential for a complete break down of society. I nearly sold my house last year because I was convinced that financial meltdown was imminent. I'm still not convinced that it isn't, but when I'm not shrouded by a complete black cloud, I am able to just ignore the things that horrify me. I guess Moz is the same, but the demon for him is the workings of the illuminati.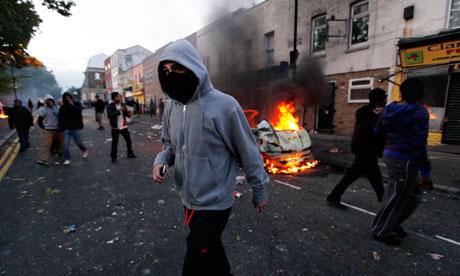 BREAKDOWN OF SOCIETY - MY DEMON
As I walked the dog this morning, I got a call from an old friend of mine, 'The Big A', who hosts a daily radio show for a local BBC station. Big A asked if I would be prepared to come on the radio and talk about Charity singles, particularly number ones. I agreed. I hadn't spoken to my old mate for a while, so we caught up with the usual family stuff, and then he asked me what I've been up to, so I told him all about MorrisseysWorld.
Although Big A isn't a Morrissey fan, he wasn't shocked in the slightest by what I told him, as he appreciates that Morrissey's lyrics are incredibly clever and witty. Big A immediately likened what Moz is doing with MorrisseysWorld, to what Peter Cook used to do when he made phone calls to radio station LBC, pretending to be a Norwegian fisherman called Sven. Cook phoned regularly, and pretended to be Sven for FOUR YEARS, usually discussing his relationship with his wife Yuta, and his hatred of the Norwegian obsession with fish. Nobody, including presenter Clive Bull, had a clue that Sven was Peter Cook, the truth came out years later. Reclusive geniuses HAVE have to do something, they can't just sit in the dark all day every day!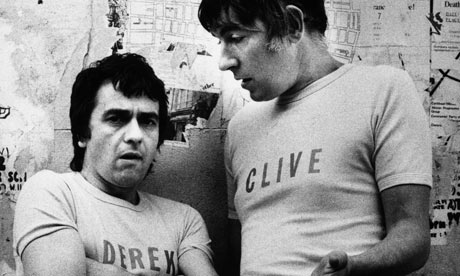 PETER COOK (RIGHT) - SVEN AS WELL AS CLIVE
Having done my little bit on the radio, I then got called in to work, which meant that all hope of me blogging about Our Mozzer's tweets of the last three days went flying out the window. I could be doing it now, but then I wouldn't have had the time to write the things above, which I felt were worth writing about. I will try and catch up with Our Mozzer's tweet highlights in the next day or two.
Whilst at work, I couldn't help but take a peek into the Twitterdilly Arms, and there I found Our Mozzer. I told him about my little radio piece, and he immediately mocked me for not being brave enough to mention MorrisseysWorld. He also called me a 'hack', which hurt deeply. If I were a hack, I would have broadcast my MW findings months ago, but the truth of it is, I'm not a journalist, I'm a Morrissey fan, and on a purely selfish basis, I don't want the masses to find MW because then it will change forever. It is up to the real hacks to find the truth about MorrisseysWorld, but if Peter Cook could manage four years, then there is no reason that Morrissey can't last even longer.
MORRISSEY - KEEPING HIS HIDDEN
As I write this, Our Mozzer has posted a letter in the comments section of my blog of yesterday to one of the regular MorrisseysWorlders, 'SmallBoyJokes.' The letter is in response to SBJ's long comment that had been left on my blog, describing how she (yes SBJ is a girl) was upset by one of Our Mozzer's tweets to me, in which he said, "It's just that the ones (fans) who fawn, fawn, fawn always moan, moan, moan and have to have their little digs." I realised straight away that this was 'Morrissey' (NOT Our Mozzer) telling me that the likes of Uncle Skinny are the fans that he cannot abide, it DEFINITELY wasn't a dig at the likes of SBJ. Anyway, rather than me try to explain to SBJ what Morrissey meant, here is his letter, although perhaps I should just point out one more thing to SBJ, when you read the letter, don't believe for one minute that it has been written by some hairy backed guy in a bedsit, it has been written by MORRISSEY. Morrissey CAN NEVER, and WILL NEVER admit to being Our Mozzer, he just CAN'T, and although I fully appreciate how complicated this all feels at times, Morrissey is OUR Peter Cook, and Our Mozzer is OUR Sven.......but don't tell everybody, it's OUR secret. Morrissey's letter to SBJ:
Morrissey
2 January 2013 16:20
MorrisseysWorld is a phenomenon. The fact that SO few have seen the truth makes it SO special. These words have been spinning around my head all day:
Hand in glove, the sun shines out of our behinds. No, it's not like any other love, this one's different - because it's US.
VIVA MORRISSEYSWORLD
VIVA BLUE ROSE SOCIETY
PS. The Top 10 of 2012 will be broadcast at some time tomorrow in the Twitterdilly Arms.