MorrisseysWorld has fallen silent, as is usually the case when Morrissey goes on tour. If it really were some hairy backed fan in a bedsit running MorrisseysWorld, then HOW would he be able to resist the temptation to carry on blogging and tweeting for months at a time, especially with all the attention he gets from all us 'fools' who 100% believe that MORRISSEY is behind MorrisseysWorld? SURELY 'Fake Morrissey's' ego would be FAR too big to let everything go quiet for months on end?
And also, how come Morrissey has STILL never been seen out and about whilst '@MorrisseysWorld' has been online tweeting? '@MorrisseysWorld' can't KNOW when he is safe to tweet, and what is more, he spent ALL of Christmas day tweeting. SURELY somebody must know where Morrissey spent Christmas day, and therefore be able to PROVE once and for all that Morrissey ISN'T MorrisseysWorld?
MORRISSEY - HAS NEVER ONCE BEEN SPOTTED IN PUBLIC, OR PROVEN TO BE MID FLIGHT ETC AS MORRISSEYSWORLD TWEETS
It seems INCREDIBLE that NOBODY has been able to catch out this "deluded cunt" as Uncle Skinny from Morrissey-Solo.com so beautifully describes the author of MorrisseysWorld. Uncle Skinny has ALSO used the Morrissey-Solo 'fansite' to describe the so called 'Fake Morrissey' as a, "poorly fat bloke" (See here: http://www.morrissey-solo.com/threads/126508-Is-the-owner-of-the-Twitter-account-MorrisseysWorld-Morrissey-himself/page2), but HOW does Uncle Skinny KNOW that MorrisseysWorld is run by an ill man carrying an extra few pounds, HOW?
The author of MorrisseysWorld has NEVER announced that he is either 'ill' or 'over weight', so does Uncle Skinny KNOW something that nobody else KNOWS, and if he does, WHY won't he give us a name? The answer of course is that Uncle Skinny has NO IDEA who is behind MorrisseysWorld, and the "poorly fat bloke" he is referring to is of course me. The idea of me being behind MorrisseysWorld is HIGHLY flattering, but ridiculously laughable. Despite Uncle Skinny calling me "a wanker", "a cunt", "deluded", "fat" and ridiculing my health, I am assured by '@RosyMires', '@StillICling' and '@CathyPlus5', that Peter Finan aka Uncle Skinny, is a really nice man.
The reason of course that neither Uncle 'Really Nice Man' Skinny or ANYBODY else will EVER be able to 'catch out' or 'name' 'Fake Morrissey', is because he ISN'T a fake, 'MORRISSEYSWORLD IS MORRISSEY'....... unless of course, you know different? *Turns to Cyril Fletcher* Cyril....
"MORRISSEY IS MORRISSEYSWORLD"..... THAT'S LIFE!
Before I leave this subject and catch up on other things, such as; MW's twitter highlights, why I am called 'TheRatsBack', the gripping autobiography I am currently reading, and the return to Twitter of 'Broken', let me also remind everybody of WHY Morrissey has started the BLUEROSESOCIETY. For anybody who thinks Morrissey 'would never do such a thing', it should be remembered that Morrissey is a HUGE fan of Oscar Wilde, and Oscar Wilde started his very own secret society called 'Green Carnation.' It really is VERY natural that Morrissey would do the same. It's arty, it's mysterious and above all, it's a bit of childish fun!
MORRISSEY WEARS A GREEN CARNATION - ARTY, MYSTERIOUS, CHILDISH FUN
Right then, on to those Twitter Highlights. These tweets were sent in the early hours of New Years Day, although IF Moz was already in New York, it may have still been New Years Eve for the first batch.
OUR MOZZER'S TWITTER HIGHLIGHTS JANUARY 1ST 2013:
(In conversation with '@HeatherCat222' about those with the REAL power) "By ignoring interpretations which cause us discomfort - and by systematically doing this - one comes to the wrong conclusions. This is the principal failing of democratic society. He who controls the information controls the democracy."
"I'll be publishing my Christmas diaries soon. There's a big surprise in there."
(In response to '@EcubyanPoet' saying, "I write to exist. It's the only way my mind functions. So, don't tell me that I have to waste a majority of my time doing something else.") "Beautifully put. Some people grow gradually more desperate and snap. I say to those types, 'why not give it all up and write?'"
(Ultimate 'dead or alive' dinner party guests) "1 Wilde, 2 Bennett, 3 George Best, 4 Nico, 5 myself, 6 TheRatsBack, 7 Boz Boorer, 8 Marc Bolan, 9 John Betjeman, 10 PETA." I have NO idea why I am on the list, but needless to say I am greatly flattered.
(Dinner guests to avoid) "1 Tony Blair, 2 Dubya, 3 Mrs Thatcher, 4 Ed Balls, 5 Robert Smith, 6 Madonna, 7 Madonna's entire family, 8 Sir Elton John!"
L TO R: ELTON JOHN (NO INVITE TO DINNER), MARC BOLAN (INVITE), ROD STEWART (SANDWICHES IN THE PARK)
OUR MOZZER'S TWITTER HIGHLIGHTS JANUARY 1ST CONTINUED:
"Songwriting is easy: it's poetry without the rhyme and form; it's prose without the storyline; its a teenage diary without the logic."
"And how did YOU spend new year Uncle Skinny? - "Enforcing the rules on the forum, and, er, censoring anyone with thoughts or ideas, Moz." "
"My expectations of life are now so low that even my life is capable of satisfying me." This quote has been tweeted before, but as it was New Years Day, repeats are the norm!
"@UncleSkinny How does it feel to be a professional forum moderator on a site devoted to an artist that hates the site and its moderators?"
"2013 New Year's Resolution: 1 Spend more time on Twitter, 2 Spend more time blogging, 3 waste less of my life on actually living."
"It's Nico for me tonight. Lights off. The sound of rigor mortis, begging to be allowed to die in peace as competent CPR is performed."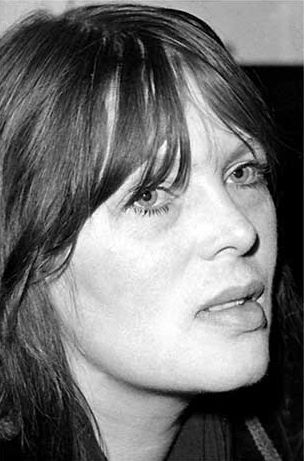 NICO - 2013 WILL SEE THE 25TH ANNIVERSARY OF HER DEATH
HIGHLIGHTS CONTINUED:
"HM Strangeways Prison holds a unique position in popular music, being both the name of a classic Smiths album and Ian Brown's second home."
"My life is unrelenting grey, relieved only by passing moments of absolute blackness."
(Retweeting '@AirRaid25' aka EARS) "I would love to see our President @Mozkidkyle with the BlueRoseSociety ring."
Perhaps this is as good a time as any for me to announce that I am now back in receipt of the BlueRoseSociety ring, and it leaves for New York next Tuesday with me. I will hand it to another BlueRoseSociety member at Tilles Center, Long Island next Wednesday, and it will then be up to that person to pass it to another BlueRoseSociety member. For us to keep track on the ring, it would be great if each person who comes into contact with it, either takes a photo and posts it on twitter, or writes about having the ring on THIS blog. Can we get the ring to EVERY concert?
THE BLUE ROSE SOCIETY RING - ON IT'S WAY TO NEW YORK NEXT WEEK
I have run out of time YET AGAIN. I have been so busy today doing some REAL work, buying dollars and generally getting ready for New York, that I haven't even had time to tweet in The Twitterdilly Arms.
Hopefully tomorrow I will be able to FINALLY finish writing 'Our Mozzer's Twitter Highlights', and I may eventually find the time to tell the story of how my name came about, reveal the title of the book I'm reading, and tell of the return to twitter of 'Broken', who MAY or MAY NOT be a Morrissey pessoa!
I will sign off for today with a picture of a painting that has been posted on the MorrisseysWorld website. It is a painting of Morrissey with the BLUE ROSE he received in New York in October...... the first of MANY!
MORRISSEY WITH THE FIRST BLUE ROSE - PAINTING BY JAMES LUKE ROBINSON AKA 'POETIC MORRISSEY'