0945 UK TIME: On some days I have nothing to write about, and on others I have loads. Today is a 'loads' day, but, in the words of Diana Dors (not that she wrote it) I have 'So Little Time.' I have to leave the house in one hour to go and manage my Under 15 football team in a top of the table league clash, and from there I will be heading straight to an 'Afternoon Tea Party' to celebrate 'Mrs Mollie Styles' 18th birthday. This evening I need to pack for New York and tomorrow I set off to 'Midlife Matt's' flat in Wimbledon, which apparently has no broadband, so my next blog entry will be on Tuesday from the 'Hotel St James' on 45th street, near the corner of 6th Avenue in Manhattan.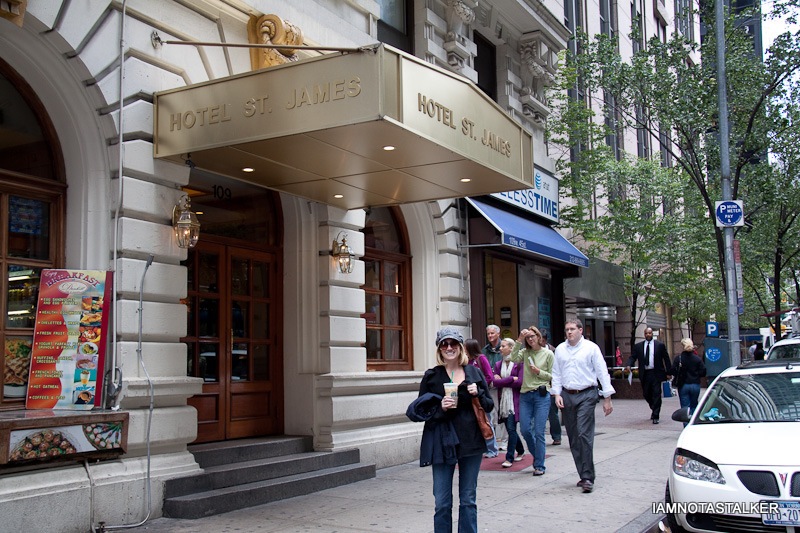 HOTEL ST JAMES IN MANHATTAN - THAT ISN'T ME!
As if I didn't need to be further sidetracked, on searching google images for a photo of the Hotel St James, I find out that it's the "Seedy hotel where Josh Baskin (aka Tom Hanks) stayed after first becoming 'big' in the film of the same name." Oh Great! Actually, the piece I read went on to say that it is now a very nice hotel. It matters little to me, I don't plan to be in it very much.
Anyway, with so little time, I shall write a to do list, and everything that I don't get the chance to write about today, I shall just carry forward.
TO DO LIST:
1. MorrisseysWorld Update
2. The Book I'm reading
3. Our Mozzer's Twitter Highlights
4. Broken's Twitter Highlights
5. True To You announcement
6. Morrissey on the Late Show
7. Dickie Felton and Julie Hamill
8. The Funniest Joke EVER starring Morrissey, Uncle Skinny and David T
9. My Ignored MW Interview
10. Manclad's Prediction of a European Tour 2013
11. Story of TheRatsBack
1: MorrisseysWorld Update
The MW blog has had some additions added to the last article dated January 1st, and also, the 'Prophecy and Pledges' article from April has also been updated. I think that it is fair to say that nobody would have noticed the update to the 'Prophecy' article, and usually when this is updated, we are alerted to it by Our Mozzer, but with him currently in exile in Brooklyn, the alert was raised by 'Broken.' More about 'Broken' in a minute (or on Tuesday, depending on how quickly I type!)
The updates to the latest article include some quotes from various MorrisseysWorlders on what MorrisseysWorld has meant to them, and there is also a number of new photos, including this one of President Kyle's dad, with his Blue Rose Society badge, or 'pin' as the yanks like to call them *whispers quietly* They are badges, not pins.
PRESIDENT KYLE'S DAD
The update to the 'Prophecy' page details how we 'missed' two signs from an interview Morrissey gave in September in Boston. The interview sees Morrissey saying that new drummer Anthony Burulcich is "very good with his fists" and also goes on to call his group 'The Morrissey Band.' Also in the interview, Morrissey says, "Get me to a bar with an internet jukebox."
The update to the article explains that it was MorrisseysWorld who first christened the group 'The Morrissey Band' and that it was the MW article entitled 'A Music Press Ad for a New Drummer' which first mentioned a reference to drummer's being able to "bare-knuckle fight." The prophecy article also points out that the same interview mentions the internet jukebox, which it says MUST be a reference to The Twitterdilly Arms, which is something we MorrisseysWorlders noted at the time.
THE MORRISSEY BAND - IN F**K MORRISSEY-SOLO SHIRTS
2. The Book I'm Reading
If I don't mention this now, I never will! I am currently reading, and have nearly finished, the autobiography of David Walliams, called 'Camp David.' I am not a good book reader, I just never seem to see a book through to the end, and what is more, my memory is SO poor, that as soon as I've read anything, I've forgotten it a day later, which therefore has made me feel that reading is pointless. When I discovered MorrisseysWorld, I was halfway through former cricketer Simon Hughes' autobiography, but the discovery of MW made me abandon Hughes.
Since then, the only books that I've read are Russell Brand's first autobiography, and half of his second one. I keep meaning to go back to it, but again, I can't remember what I read, so I've lost the moment. I purchased Tim Burgess' autobiography last summer, but I haven't even opened it, he just doesn't interest me enough.
I read Dickie Felton's new book recently, mainly because it's about kindred spirits, but David Walliams book has kept me hooked because it is simply written, and shows what a child he is, which is right up my alley! I also like the fact that Walliams is a Moz fan, and at the London Palladium in 2011, I watched as he jigged away in the Royal box. I guess after the debacle of The London Roundhouse in 2008, when Walliams went on stage with Ross and Brand to apologise for Morrissey's illness, Morrissey had INSISTED on him being as far away from the stage as possible!
DAVID WALLIAMS (LEFT) COWERS BEHIND RUSSELL BRAND WHO IS EXPLAINING MORRISSEY'S ILLNESS TO A NOT TOO UNDERSTANDING CROWD AT THE ROUNDHOUSE IN 2008 - 'CAMP DAVID' IS AN ENJOYABLE READ
It is now 11.00 am, and time to set off for football and then the 'Afternoon Tea Party', I shall return later..... or tomorrow, or Tuesday, or if the plane crashes, NEVER!