10.35 UK TIME: Yesterday was a busy day for me, so I never did get back to finish my blog. I am pleased to report that due to some brilliant tactical changes by the manager, ie me, my football team turned a 1-1 halftime score into a 7-1 victory. The Afternoon Tea Party was very pleasant, and then more friends turned up on the doorstep of my bedsit, so blogging was out of the question.
I set off for London in an hour, so this will be my last entry before New York. I am all packed up and ready to go, but disaster has struck, I'VE LOST THE BLUEROSESOCIETY RING! I have hunted high and low for it, but it is in none of the places that I think I would have put it in for safe keeping. I now have the choice of buying a NEW ring, or hoping that this one turns up eventually. If I choose the latter option, I would then have to make sure that the ring is passed around Europe instead of the USA.
The reason I mention Europe, is because '@MancladMozFan' has tweeted to say that a big European tour is planned for 2013. Manclad is one of the 'Deluded Dozen', an inner circle of the 'Blue Rose Society', and from his tweets over the past eighteen months, it would appear that he works for BA, so I guess he would be able to find out what flights Morrissy is booked on. He also would appear to have a contact in the Moz camp, because he often tweets about tickets being 'sorted' for him. A European tour would be fantastic, ring or no ring!
I'd better get on with today's blog. I have removed certain items from my 'TO DO LIST', including the 'Story of TheRatsBack', and 'The Funniest Joke EVER starring Morrissey, Uncle Skinny and David T.' I am going to have a busy few days ahead, including reports from concerts, so those things can wait for a dreary day in February, although I may wheel the joke out sooner, it really is very good, even if I do say so myself!
TO DO LIST:
1. Our Mozzer's Twitter Highlights
2. Broken's Twitter Highlights
3. True To You announcement
4. Morrissey on the Late Show
5. Morrissey News announcement
1. OUR MOZZER'S TWITTER HIGHLIGHTS JAN 2ND
These will now be the edited highlights, and I won't include the conversation I had where Our Mozzer called me a hack. January 2nd was the last day that Our Mozzer tweeted, and his avatar is now the photo of President Kyle in his Blue Rose Society t-shirt.
PRESIDENT KYLE - THE NEW MORRISSEYSWORLD AVATAR
"I'm feeling a little demoralised. I ought to be the new @JustinBieber but instead I'm gradually turning into Paul Young."
"The Stone Roses are a nostalgia act. Well, they would be, if there was anything to be nostalgic about."
"Had the New York Dolls not been born, I would probably have become a librarian in Humberside."
"I met Evan Dando briefly in the late 90s at a music festival. I saw him playing guitar and threw him a coin."
"It's a national outrage how few retweets I receive." I replied, "Ironically, if people believed that you were TRM (The Real Morrissey), they would retweet, fawn and lol to every word." Our Mozzer replied, "As per the infamous Rosy Mires interview on my blog, everything so unMorrisseyesque would suddenly become Morrisseyesque." He then added, "WHAT IF... I turned out to be the real Morrissey....." and he attached the Rosy Mires interview (See here: http://morrisseysworld.blogspot.co.uk/2012/07/interview-series-with-our-mozzer-part.html)
JONATHAN ROSS AND RUSSELL BRAND FROM THE MW BLOG AND FEATURED IN THE CLASSIC 'ROSY MIRES INTERVIEW'
"As I said to my mother as I opened my Christmas presents this year, "There's more to life than socks you know, but not much more.""
"Will Trouble finally Love us?" I very much doubt it!
(A retweet of @sorcha69) "Historians will be baffled as to how such a huge movement like the blueRoseSociety managed to stay so underground."
"Why, God, did you SHOVE me into self-deprecating bones and skin? Why, god? Do you hate me? Why? Why? Why?" Another reference to 'I Have Forgiven Jesus.' COULD it be coming soon?
"EXCLUSIVE: If Moz gives another sign at New York, we WILL take over from SoLow."
"There's goodbye and farewell. If there is no sign, this is farewell. Thank you for being you. I love you. BlueRoseSociety."
And with that, he was gone.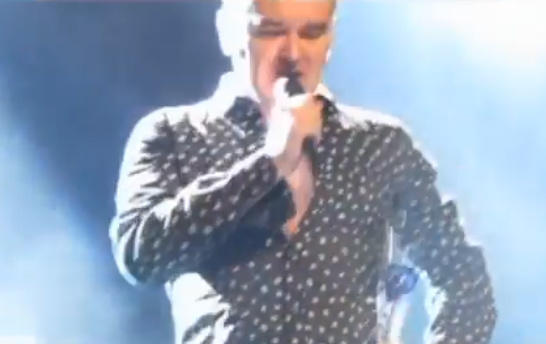 MORRISSEYSWORLD WILL TAKE OVER FROM SOLOW 'IF' THERE IS A SIGN
2. BROKEN'S TWITTER HIGHLIGHTS JAN 3RD - 5TH
The day after MW signed off, the mysterious 'Broken' reappeared. The person that I believe to be behind 'Broken' is well documented in the pages of this blog, so I won't spoil the fun by spilling the beans, if you haven't been reading my blog on a daily basis, then it is your own fault if you can't keep up to speed! 'Broken' is notorious for starting debates and knowing which buttons to press to inflame a situation. He plays devils advocate, and is VERY good at exposing people's imperfections, which NOBODY ever likes. It is hugely entertaining to watch 'Broken' in action, especially when you know what he's up to.
Interestingly enough, 'Broken' has disappeared from twitter in the last two days, just when it has been announced by various people that Morrissey and the crew are flying to New York. It looks as though Our Mozzer was probably fibbing about being in Brooklyn last week, as Manclad has tweeted to say that Moz flew out on Sunday...... not that Moz has anything to do with Our Mozzer of course!
"I wonder if Morrissey will call Boz Boorer 'Old Son' in New York."
"The latest TTY statement is very much like a MorrisseysWorld parody piece. "I notice Lady gaga was 3rd, behind a certain..."
This seems like a good moment to mention item 3 on my to do list. The TTY announcement. Here it is:
'Singapore Straits Times Newspaper has voted Morrissey's 2012 show as the best concert of The Year. Lady Gaga was voted the third best.'
The wording of Gaga being third had people on twitter asking why she was mentioned, and not the second placed person. As 'Broken' has pointed out with his MW quote from above, it is OBVIOUS why the TTY announcement mentions it! I shall add it to the list of coincidences, although I have no idea where the list is.... probably with the Blue Rose Ring!
"I'm more excited about New York than any Moz concert for years. I predict... no sign." I have to admit, I think 'Broken' is right, I don't think there will be ANY significant signs in New York..... unless of course we bombard Moz with so many roses, it can't be ignored!
I have once again run out of time, so very quickly, I must mention that Moz is singing 'Action is My Middle Name' on the David Letterman show tomorrow, and as it is being filmed in New York, I may wander down to see if I can get in, although I very much doubt it, and I may not even arrive in time.
Finally, '@MorrisseyNews' has tweeted to say "a fun little announcement about the US tour" will be made TODAY. WHAT could it be, and WHO IS behind Morrissey News?
I'm off to London, and then next stop New York.