I am in New York and have just got back from The Letterman Show. I am buzzing with excitement, but as a professional blogger, I shall go through things in a methodical order from where I left off, although before I get going, and to keep your interest, may I just mention that A) I got a Blue Rose to Morrissey this evening, and B) Somehow I got into The Letterman Show, through the artists entrance just to see Moz! Now HOW did THAT happen. All shall be revealed.
As I write this, it is 7.30pm New York time, which really means that it's 12.30am, and my eyes are both heavy and red. I travelled up to London yesterday on the train, and despite finding it a holy nightmare trying to find Platform 3 at Woking, which is actually secretly hidden away, I managed to reach 'Midlife Matt's' flat in Wimbledon at 4.30pm. Myself, 'Midlife Matt' (so called because he's having a midlife crisis) and 'Sophie Twenty Something' (here on in to be called 'STS', and the major player in 'Midlife Matt's' crisis) headed up to Wimbledon Village, which is the posh part near the All England Tennis Club, and set about having a 'Pre-New York' drinking session, which started in the Crooked Billet, before moving next door to the Hand in Hand, which I am reliably informed is the regular haunt of former ITN newsreader Trevor McDonald, although there was no sign of him, just a mad dog called Enzo.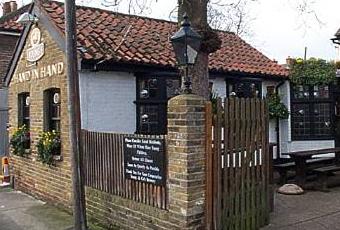 HAND IN HAND PUB IN WIMBLEDON
I took the opportunity of our drinking session to tell Midlife Matt and STS all about MorrisseysWorld and the Blue Rose Society, but although they humoured me, I could tell that they thought I was mad. Midlife Matt was having NONE of it that Moz was in any way involved, but STS said that she thought it was the sort of thing Morrissey would possibly do. After another beer in the Dog & Fox and some pasta in Pizza Express, we all headed back to the flat, where we set about playing the 45s that I'd packed for President Kyle on Midlife Matt's £29.99 record player which he bought for my vinyl party, but was never used. I have brought Kyle; Everyday is Like Sunday, Girlfriend in a Coma, Interesting Drug, Panic and William, It Was Really Nothing. I have also brought the cover for November Spawned a Monster, but the record isn't inside! He'll just have to mount that one as a picture.
NOVEMBER SPAWNED A MONSTER COVER - ART
We all went to bed at about 11.30pm, but the excitement of New York was just too much to bear, and I woke at 3.45am. The taxi that would be taking us to Heathrow wasn't due until 6am, so I put on my head phones, and just listened to Moz, although I also listened to Adam Ant's 'Cool Zombie', which although I initially slated a few weeks ago, has grown on me to such an extent that I downloaded it last week, and have been listening to it most days. I don't know if Boz Boorer produced it or not, but it is actually VERY catchy thanks to Adam Ant's own backing vocals.
I eventually got up and dressed, and when I opened my suitcase to get out some clean clothes, I was shocked to see that the Blue Rose Ring was sat on the top of the pile, it had mysteriously returned! I think a certain Mrs Whiskers (wife) might have been playing a trick on me, but I won't mention it. The good news is, that it can now hopefully make it's way across the USA, and I have placed it inside a special Morrissey cufflinks box.
THE BLUE ROSE SOCIETY RING - NOW IN NEW YORK
The plane took off twenty minutes late, but arrived on time at JFK airport, 12.15pm local time. For most of the eight hour flight, I listened to Moz on my ipod, with 'Southpaw Grammar' being my album of the day. There are certain songs on that album that I just don't listen to enough, particularly 'Best Friend on the Payroll', 'Reader Meet Author' and the wonderful 'The Teachers Are Afraid of the Pupils.'
SOUTHPAW GRAMMAR - ALBUM OF THE DAY
I also watched the film 'Ted' on the plane, which was hilarious. I usually fly Premium Economy when I go to the USA, but as I was with my friends and not my family, I decided to slum it in cattle class for this flight, but after two hours, I could bear it no more, so I snook into Premium Economy and managed to stay there for four hours before being discovered. I do love a blag!
I was dreading the immigration process at JFK, as it usually takes hours to get through, but it was deserted when we got there, and we breezed through. As we drove out of the airport, the first thing we saw was a huge Burberry advert with little Brooklyn Beckham plastered all over it. WHY do his parents feel the need? He'll be up chimneys next.
BROOKLYN BECKHAM
As our deranged taxi driver weaved in and out of every lane, and hooted at every car, I took in all the sights of Brooklyn and it's red brick buildings, and let Moz songs dance around my head. I kept singing little snippets to myself and later in the day, as we walked the streets of Manhattan, I would hear 'Midlife Matt' doing the same. By the end of the day we would be dueting various songs in various locations, including 'Sweet and Tender Hooligan' in the middle of Walmarts, with the special 'elbows flailing' Morrissey dance of the early eighties to go with it. This whole trip is already making me feel nineteen again.
THE INFAMOUS 'ELBOWS FLAILING' MORRISSEY DANCE'
If the Hotel St James has been improved since Tom Hanks' character stayed here in the film 'Big', then god only knows what it must have been like back then, because it is AWFUL! The reception area is most unwelcoming, the staff aren't interested, the communal areas are filthy, and the elevator doesn't work. There are no porters in this low budget hotel, so I dragged my own case up the narrow staircase. Once unpacked, I logged on to the internet to see if there were tickets available for David Letterman's Late Show. There weren't! You had to apply before midday, and it was now 2pm. I tried phoning, but there was no answer. I hadn't expected to be able to get a ticket, so I wasn't too disappointed. We had nothing else planned, so the three of us headed up the eight blocks to the Ed Sullivan Theater on Broadway, just to catch the buzz of people waiting to go in for the Letterman Show.
ED SULLIVAN THEATER ON BROADWAY
When we arrived, there was a long queue of people with tickets, plus a stand by queue. I enquired as to whether there was any chance of getting into the show, and was told that there may be a slim chance, so the three of us put our names down, and were put on the standby, standby list! We were given numbers 45, 46 and 47, and instructed to return at 3.30pm, so we went and got a coffee. On our return at 3.22pm, there was yet another queue, which it transpired were the 44 people in front of us on the standby, standby list.
We queued for an hour, before being told what we had already predicted, there was no room at the inn. The hour queuing had been quite good fun, and we talked to an array of different people, including a local beggar, who I had a really good laugh with. The guy had some great lines to try and entice people to give him their change, and he told me that if I rubbed my nose, I'd get into the show. Despite the rubbing, it hadn't appeared to have worked.
I decided that we should walk around to the stage door, to see if we could see Moz arrive, but I was informed by the Late Show's head of security, that Moz was already inside. I asked him if he would be kind enough to let us watch Moz from the side of the stage, but he said "NO", and asked us to move along!
Just then fate played it's hand, Morrissey's tour manager, Donnie Knutson appeared out of the side door. I of course happened to be carrying one of my luminous Blue Roses, which incidentally a large blonde lady in the standby, standby queue had rather rudely informed me was 'tacky!' Despite Mrs Blonde Lady being rude AND not a Moz fan, she got into the show, which was a bit annoying, but I suppose she DID have a point regarding the plastic roses, they ARE tacky, but that makes them ideal for a FAKE Morrissey.
Anyway, I recognised Donnie straight away, and asked him if he would be kind enough to give Moz my luminous, plastic,'tacky' Blue Rose. He said that he would, but then his phone went off and he was distracted. As Donnie talked, he subconsciously waved the rose around, which looked hilarious. I nudged Midlife Matt and told him to take a photo, which he duly did, thus ordaining Donnie into the BlueRoseSociety.
DONNIE INADVERTENTLY JOINS THE BLUE ROSE SOCIETY
When Donnie had finished his phone call, I asked if he could sneak us in to watch. He said, "NO!" I decided to chance my arm. I said, "when you give Moz the rose, can you just say that the guy giving it wondered if he could come in and watch." Donnie laughed, but promised that he would. He then disappeared back inside. We waited fifteen minutes, but Donnie didn't come back. By now the show was underway. We decided to go and get a beer, and then come back at 5.20, to see if we could hear Moz singing from the pavement (sidewalk to those in the USA).
We had a couple of beers in Rosie McGrady's Irish Bar, and then returned to the theatre. As we walked towards the stage door, the Late Show's head of security was stood there, along with around a dozen or so fans. We heard the security man talking into his radio, and he said, "the three of them are back again." We thought we might be in trouble, so we were just about to make a retreat, when something EXTRAORDINARY happened, the security guy told us that he was going to usher us in to watch Moz! We were stunned. This was the guy who had told us to go away earlier, and despite a dozen other people waiting outside, it was just US THREE who were invited in. SOMEBODY had made this happen!
Before we knew it, we were whisked in through the stage door, and just as we entered, Moz stepped on stage. The first thing I noticed was a new picture on the drums, and then I noticed Moz was wearing a badge (pin to you yanks), although I couldn't make out what it said.
Moz looked as cool as ever, wearing jeans, a button pattern shirt and jacket. He sung 'Action Is My Middle Name' as well as I'd ever heard it before, and even threw in some good old 'mic lead whipping' for good measure. At the end of the show, just after the cameras had probably stopped rolling, Moz put his hand above his eyes, and looked out into the audience, as though he was lOOking for somebody in particular, although WHO that person might be, I have NO idea!
We left on an absolute high, with STS declaring that this has been the best day of her life, which seemed a little extreme, but then again, seeing as she was born in 1986, musically at least, it is probably true! The dozen autograph hunters were to be left disappointed, because Moz rushed straight to his car as he always does. I didn't actually see him come out as I was too busy talking to roadie '@JosephJoannides', who I follow on twitter. I have NO IDEA as to whether or not Moz was carrying my plastic BLUE ROSE, but I would guess not.
So that's about the sum of my VERY long day. It is now 10.45pm, and the Late Show is on in about forty five minutes. I am absolutely shattered, but I will of course stay up to watch it. Meanwhile, President Kyles's dad has tweeted a picture of the REAL Blue Roses that he has bought for us to take tomorrow. Just seeing the photo has taken my excitement to another level.
Myself, Midlife Matt and STS are going cycling in Central Park tomorrow, and then of course, we shall head to Greenvale on Long Island. I shall blog on my return.