As I sat in the roof top 'Vu Bar' last night on West 32nd street, with my New York travelling companions 'Midlife Matt' and 'STS', looking up at the stunning view (not vu!) of the Empire State Building next door, the subject, as ever, turned to Morrissey and MorrisseysWorld.
THE VU BAR
Following on from the bizarre events of the last two days, where we were mysteriously ushered into the Letterman Show through the stage door on Tuesday, and then Morrissey mentioned a toothbrush at the Tilles Center on Wednesday, I asked both Matt and Sophie (STS) if they now believed that Morrissey was MorrisseysWorld. "Abso, fucking lutely" exclaimed STS, "One hundred percent" chipped in Midlife Matt. STS added, "the only thing that I don't understand is how you seem to be so laid back about it all, I mean, Morrissey is giving you personal messages from the stage, and you seem so non-plussed. I'd be going fucking mental with the excitement. I AM going mental with excitement, and I'm not the one getting messages!"
STS - MENTAL WITH EXCITEMENT
I explained to them both that I AM of course 'mental with the excitement,' and that I feel unbelievably privileged to be slap bang in the centre of this whole phenomenon, but I have learned to control my excitement, and I try not to be pathetically fawning, although at times, it still remains difficult, after all, this IS Morrissey we're talking about! I realised many months back, that Morrissey hates all the fawning, and only a couple of weeks ago, when somebody tweeted him to say that they loved him, he replied, "No you don't, you don't know me."
All of us Morrissey fans have always felt that we DO of course 'know' him, because his lyrics have touched us so much, but the one thing that this MorrisseysWorld phenomenon has taught me more than ANYTHING else, is that NONE of us have got a clue about him, not a clue.
MORRISSEY AT THE TILLES CENTER - HOW COULD ANYBODY POSSIBLY KNOW HOW HE FEELS?
As the three of us continued to chat in the Vu Bar, I tried to explain that I feel my blog is just somewhere for the 'Deluded Dozen' to go, to spill out what they want to say. I am just a vehicle, and this ISN'T about me, it's about US. I also told Midlife Matt and STS that it didn't really feel like this was happening to me, and that it was almost like somebody else's life. Midlife Matt laughed, and started to sing, "I've seen this happen, in other people's lives, and now it' happening in mine." He suddenly stopped himself and said, "that's it, that's what Moz sang on Wednesday."
I asked Midlife Matt what he was going on about, and he said, "you were trying to remember what Morrissey sang during the break in that song."
"You mean Speedway?" I replied. "Yes" said Midlife Matt, he sang those lines. He was right, Morrissey HAD sung those lines from 'That Joke Isn't Funny Anymore." We all looked at each other in bemusement and laughed. Of all the songs in all the world, what led our topic of conversation there?
I suppose I had better get on and report the events of the past two days. This next section will be all about my adventures in New York rather than being specifically Morrissey related, so if you are one of the 865 people who read my blog yesterday, and you are only reading this today because you've been linked here from the heading at the top of the MorrisseysWorld blog, I would recommend that you stop reading now. In fact, you are probably looking for my review of the concert at the Tilles (pronounced Till - ees by the way) Center, in which case you need to scroll to the bottom of this page and click on Day 484. While you are there, may I tempt you to read some of my other offerings, such as 'Day 313 - WHO IS MORRISSEYSWORLD?', which should give you a very clear understanding about what is going on here.
OSCAR KNOWS WHAT'S HAPPENING
Actually, before I DO start on events of the past two days, I must quickly mention that I am no longer going to the concert at Atlantic City on Saturday. My very supporting wife, who shall now be renamed Mrs Ratsback, has aired her concern that I am overdoing things, and she has reminded me that just three months ago I was on an operating table having heart surgery. I feel perfectly fine, but I did feel guilty about abandoning my two travelling companions, who were kind enough to accompany me to New York, so as I was unable to get them tickets, or a lift to New Jersey, I shall succumb to Mrs Ratsback's wishes and remain in Manhattan. It means that tonight's concert in Brooklyn will be my last.
BROOKLYN ACADEMY OF MUSIC - MY FINAL CONCERT OF THIS TRIP
Also, before I start on the events of the past two days in New York, I MUST mention both the new article on the MorisseysWorld blog and the comment left by Morrissey on my blog yesterday. The new article on the MW blog is entitled, 'The Morrissey World Order', and it is not only by far the longest parody piece ever written on the blog, it is also being proclaimed as the best, receiving comments such as:
"The best article yet? Loving it." JMH
"That was hilarious! My favourite post so far, definitely." Lels
"This piece is very clever and brilliantly funny." LizzyCatMoz (Note from Ed - Poor choice of words there, old son.)
"Wow no wonder you have been awol, that must have taken ages." Manc lad (Note from Ed, and by the way, I mean 'Editor', ie ME, and not my old squash partner 'Ed' Banger - Poor punctuation Manc lad, old son.)
MY OLD SQUASH PARTNER ED BANGER (CENTRE WITH FEET ON DESK) - NO RELEVANCE TO THIS CURRENT PIECE I'M WRITING, BUT I HAVE MENTIONED HIM A COUPLE OF TIMES BEFORE, AND AS HE AND MOZ WERE BOTH IN THE NOSEBLEEDS AT SEPARATE TIMES, I THOUGHT WHY NOT POST HIS PICTURE! INCIDENTALLY, AND I KNOW THAT THIS IS NOW A RIDICULOUSLY LONG CAPTION FOR A PICTURE, HAS ANYBODY EVER NOTICED THE RESEMBLANCE BETWEEN ED 'BANGER' GARRITY AND MORRISSEY'S PERSONAL BODYGUARD LIAM? UNCANNY.
THE MORRISSEY WORLD ORDER COMMENTS CONTINUED:
"This is unbelievably funny, an epic classic, and I love the new perspective on determining what is Morrisseyesque. This piece is yet another highlight of the blog. Long may it last." HeatherCat
"This one has just become my favorite piece of all time. I never really thought of a Morrissey themed world. I ALREADY LIVE IN SUCH A WORLD." Morrizzy aka JJaz
"I can't wait for part 2!! That was a great read. I'm still chuckling. The Our Mozzer poster is the best." Harrison
POSTER FROM THE MW BLOG ARTICLE 'THE MORRISSEY WORLD ORDER'
COMMENTS CONTINUED:
"I take my hat off to you, this piece must have taken AGES to write, and it is utterly bonkers and of course hilarious. *Goes off singing* Friday Mourning I'm dressed in black." TRB (Note from Ed - Nice comment me old mucker, but you could have been a bit more praising, it's the best article Our Mozzer's ever written! It's one thing not fawning all the time, but when credit is due, pile it on. Twat!)
"I pronounce it (if anybody can undrtsand my pronunciation after this) as the best piece on the blog so far. I thought the bans committee, the ad for the drummer... so many actually... were IT but this is superb." JohnGill aka Loughton Lil (Note from Ed - What the fuck is 'undrtsand?' you illiterate cunt!)
"Nothing causes me pain." Morrissey (Note from Ed - I think this may actually be a reference to Morrissey being half strangled on stage on Tuesday night. It was his way of telling us he is ok. I have just remembered something really funny from the concert on Tuesday. Just before singing 'The Youngest Was The Most Loved,' Morrissey was chatting to the crowd, and then somebody shouted something, to which Morrissey hilariously replied, "I'm not listening. Too busy.... suffering!" The crowd all heartily laughed. He's a funny man that Moz, but then again, we already know that!)
"Our Mozzer in a Stalin suite is truly cute! Well done, I can't stop laughing!" Romina (Note from Ed - a Stalin "suite", I can't stop laughing either. She's a very funny woman that Romina.)
"Very well done!" Bring back Brookside with Our Mozzer & David Lynch at the helm!" Emotional Air Raid Survivor aka EARS for short. (Note form Ed - The thought of Morrissey writing Brookside in the manner of Lynch is TRULY mouthwatering. Harry Cross could come back as a grumpy evil spirit and Sinbad's window cleaning could represent a cleansing of the soul. You'd have to earn the right for your soul to be cleansed, and if you earned the right, you'd get yer windows done an' all.)
SINBAD IN BROOKSIDE - WHY THE F**K AM I WRITING ABOUT SINBAD FROM BROOKSIDE FOR, WHEN I HAVEN'T WRITTEN A SINGLE THING ABOUT MY ADVENTURES IN NEW YORK FROM THE PAST TWO DAYS? I THINK MRS RATSBACK MAY BE RIGHT ABOUT ME OVERDOING IT. CHRIST KNOWS WHAT I'D BE LIKE IF I EVER TOOK DRUGS!
Right, that's got the MorrisseysWorld article out of the way, now onto the comment left on my blog yesterday by 'Morrissey.' Actually, before I do mention that, there is ANOTHER article on the MW blog that I should mention, entitled 'New York concert reports, discussions, signs.' When I returned from the concert on Tuesday, I tried to post my concert review in the MW comments section, rather than on my blog, but unfortunately it was too long, so I had to write it as a blog posting and link it. At the top of this 'New York' article, Our Mozzer has published two photographs taken by Midlife Matt, and posted by me on twitter. The first is of Morrissey's tour manager Donnie holding the Blue Rose that I gave him on Tuesday, and the other photo is of myself and President Kyle at the Tilles Center on Wednesday:
DONNIE AT LETTERMAN WITH A BLUE ROSE
EL PRESIDENTE AND THE RAT
Now for that comment left on my blog of yesterday. Here it is:
The answer is of course that everybody very much wants MorrisseysWorld to stay open, but it would appear that a sign has ALREADY been given, so therefore MorrisseysWorld SHOULD remain open whether anything happens at the final New York concert tonight or not.
The sign in question is on the two drum faces of 'The Morrissey Band.' Regular MorrisseysWorlder SBJ noticed that the lettering on the drums of the word 'Amer-i-ca', is written in RED on one of the drums, and BLUE on another, and they both have red and blue lighting around the edges. This, according to SBJ's comment left on the MW blog, is a direct link to the Twin Peaks character, Dr Lawrence Jacoby, who has one RED lens in his glasses, and one BLUE.
DR JACOBY WITH HIS DIFFERENT COLOUR LENSES AND 'OO' OWL SHAPE HAND
Coincidentally, and this time it really IS a coincidence, SBJ goes on to explain in the comments section of the MW blog, that in Twin Peaks, there are three murder victims, and each is left with a little piece of paper under their fingernails, with a letter on. The three letters are 'T', 'R' (Under the nail of Laura Palmer, and 'B'. What can it all mean?
I have now run out of time to write any more, so the tales of my last two days in New York will have to wait, although in reality, I doubt I will ever get around to writing about them, as they will have become old news. I will quickly mention that I has a lovely day yesterday, shopping for records in Greenwich Village, where my purchases included two Dean Martin 7 inchers, 'Welcome To My World' and 'Everybody Loves Somebody.'
I also moved room last night, and luckily managed to get a full night's sleep, if 1.30am to 6.30am counts as a full night! Now that I'm not going to New Jersey, I decided that there was no way I was going to put up with the all night drilling outside room 509, so I am now on the 8th floor, with a view of metal staircases and walls, just like in my second favourite film of all time, West Side Story.
THE VIEW FROM MY HOTEL WINDOW
The final thing that I MUST mention today, is my tweet exchange yesterday with Morrissey's support act, the beautiful and very talented, Miss Kristeen Young. Having seen Kristeen sing an untitled new song on Tuesday night, I tweeted saying, "@kristeenYoung You were fantastic last night. Hope you liked the rose. Please name the new song soon!" She replied, "Ok. It's called Soon. Thanks for the suggestion." She's a very funny lady that Kristeen Young, I wonder where she gets it from? I sent her one final tweet, asking if she would sing 'Soon' for me tonight, so I shall wait with bated breath, which is much better than the pasta breath I had the other morning! Incidentally, I did eventually find my toothbrush, so I didn't need to share after all.
I've just re-read the comment that Morrissey left on my blog, it doesn't say a 'sign' must be fulfilled at the last show in New York, ie tonight, it says 'SIGNS', plural, which if he means 'signs' and not 'sign', would mean we need ALL of the following tonight; Morrissey 'wearing' a blue rose tonight, referring in some way to the Blue Rose Society, one of 'The Morrissey Band' wearing a manufactured acts t-shirt, one of the band making an '0' or '00' gesture, one of the band appearing with a lump of wood, Morrissey holding or wearing the BlueRoseSociety t-shirt (and he has now got one), and Morrissey making a Twin Peaks reference.
The ironic thing is, ALL of the above COULD be done tonight without anybody really making a connection, and if Moz were to throw in Trouble Loves Me as well, I think I might just launch myself off the Brooklyn Bridge on my way home tonight, and die with a smile on my face after all.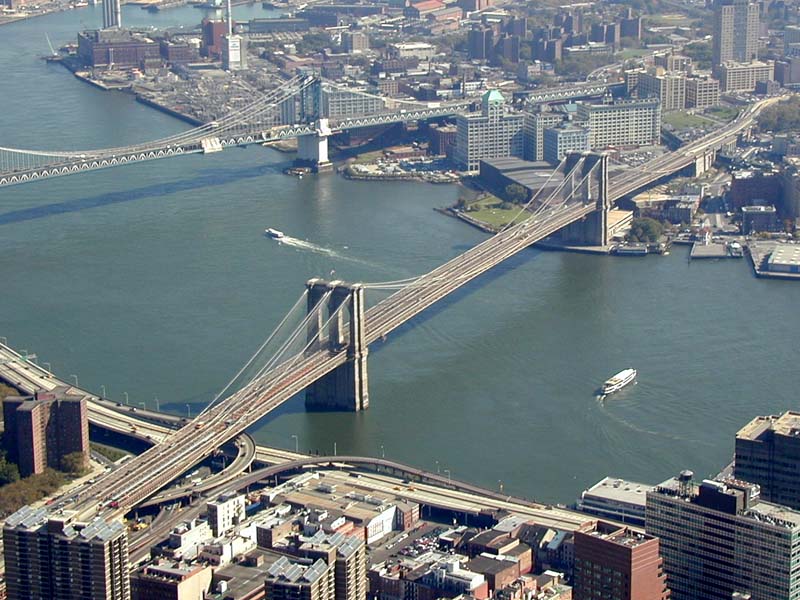 THE BROOKLYN BRIDGE
Now this REALLY might be fate. I was just this second about to press the publish button for this blog, when I received an email from a News Agency, who responded to me asking if they wanted an exclusive story about Morrissey. They do, and they can guarantee a national newspaper. I would NEVER of course give them the story unless Morrissey wants me to, so if he sings Trouble Loves Me tonight, I will see it as a sign for me to become Judas Iscariot, and I will let this whole phenomenon go public. If he DOESN'T sing 'Trouble', I shall tell the News Agency that it was a false lead.
*Goes off singing* I've seen this happen in other people's lives, and now it's happening in mine.