BROOKLYN ACADEMY OF MUSIC (BAM), HOWARD GILMAN OPERA HOUSE, BROOKLYN, NEW YORK
FRIDAY JANUARY 11TH 2013
SET LIST (AS PRINTED ON THE SHEET THAT IS IN MY GRUBBY LITTLE HAND):
1. ACTION IS MY MIDDLE
2. EVERYDAY IS LIKE SUNDAY
3. HOW SOON IS NOPE?
4. FIRST GANG DIE
5. SHOPLIFTERS OF WORLD
6. BLAK CLOUD
7. PEOPLE ARE THE SAME EVERYWHERE
8. ALMA MATTERS
9. MALADJUSTED
10. LEMME KISS YUH
11. YOU HAVE KILLED
12. OUIJA
13. PLEASE LEMME GET
14. YOU'RE THE FAT
15. NOVEMBER SPAWNED A
16. ONE DAY GOOD
17. I'M PARIS
18. SPEEDWAY
19. MEAT TIS
ENCORE
20. STILL ILL
Let me start by saying that this was THE best Morrissey concert that I have ever attended.
Myself and my two travelling companions, Midlife Matt and STS, walked from our Hotel close to Times Square, to Grand Central Station on 42nd Street. Here I made an impromptu purchase of a dozen red roses, in the hope that we could once again turn Morrissey's concert in Brooklyn into a sea of roses, just like we had at Greenvale on Wednesday.
If anybody is reading this blog of mine for the first time, you may be interested to know that the only flowers that Morrissey has accepted on stage in the last three years, have ALL been ROSES. There is a huge reason as to why this is, and if you are interested, may I suggest that you start by reading Day 313 of my blog, and then work your way through the whole thing to reveal the phenomenal story in full, but be prepared to have your mind blown by what you find.
Having bought the roses, we then caught the subway train down to Brooklyn Bridge, and then we made our way by foot over the famous New York landmark (water mark?) to Brooklyn, which is east of Manhattan island.
TRUDGING SLOWLY OVER WET BRIDGE
On arriving in a wet Brooklyn, we hailed a yellow taxi, and headed to the Brooklyn Brewery on 79 North 11th Street. The bar part of the brewery didn't open until 6 pm, so we grabbed something to eat in the adjacent Reynard Restaurant, and then went to sample the local brew. I have virtually given up drinking these days, so I just had the one, before we hailed down another cab, in the now very wet street outside, and made our way to the Brooklyn Academy of Music.
BROOKLYN BREWERY ON A SUNNIER DAY THAN YESTERDAY
When we arrived at BAM, there was already quite a buzz to the place. It was a far more trendier crowd than that of Wednesday, and many people had dressed up smartly for their visit to the historic theatre. I met up with the President of the Blue Rose Society, eleven year old Kyle Douglas, and of course his chauffeur/personal security/parent, who goes simply by the name of 'Kyle's Dad.' Kyle and his dad very kindly presented me with a Blue Rose, so that I could offer it to Morrissey, and Kyle had one to offer too. Kyle's day at school had been less hazardous than on Wednesday, when his homework was unceremoniously ripped up by the nasty Miss Ward. Kyle informed me that he has a teacher called Miss Mycelles (pronounced My-chell-ess), who not only is a Morrissey fan, but actively encourages Kyle to listen to alternative music. It's a big thumbs up for Miss Mycelles, perhaps she could help me get my kids to like Moz!
Kyle and his dad also gave me a Blue Rose to wear on my shirt, which incidentally was one of the new shirts that I bought on Wednesday at the Tilles Center on Long Island. I bought YET another shirt at BAM, the 'Oh Manchester' one, with a picture of Morrissey as a boy. I explained to Kyle why I believe Morrissey has taken such a shine to him, it's because he isn't afraid to be different, he is just being himself, and although the tother kids at school may ridicule Kyle, he is one cool kid. Cool Kid Kyle wore a Cramps t-shirt to last night's concert, he is FAR less obvious than uncool old me, but I can live with uncool.
PRESIDENT KYLE AND THE MAN HE NOW REFERS TO AS UNCLE RAT, AT BAMS WEARING THEIR BLUE ROSES AND BLUE ROSE SOCIETY PIN BADGES
Midlife Matt and STS headed up to the gallery area, and I made my way to the orchestra area. Disaster struck immediately, the door staff stopped us with our roses, and told us there was a strict 'No Flower' policy. America allows it's citizens to carry guns, but flowers are seen as a danger. I ditched the twelve red roses, which luckily only cost 15 dollars, and set about hiding the Blue Roses down my trouser legs. I also hid my 3 foot, inflatable giant red rose down the back of my jeans.
We entered the orchestra area, where Kyle and his dad had tickets for the front row. My ticket was for the not so impressive Row 20, but I ignored such a trivial matter, and walked down to the front with the other two. Sitting in the front row was MozFiend, another of the Blue Rose Society, who we had met at the concert on Wednesday. Kyle gave her a Blue Rose Society pin badge, and later on, handed her the famous Blue Rose Ring, which will continue it's journey across the USA, from one Blue Rose member to another.
BLUE ROSE MEMBER 'MOZFIEND' RECEIVES THE BLUE ROSE RING FROM PRESIDENT KYLE. WHO WILL RECEIVE IT NEXT AS IT TRAVELS TO NEW JERSEY?
At 8 pm, Kristeen Young walked on stage for her set, and just as on Wednesday, as soon as the lights went down, there was a surge toward the stage by about sixty people. I stood in the second row. Again like Wednesday, Kristeen's show was mesmerizing. None of the crowd could take their eyes off her, as she gave everything.
All the usual favourites were in Kristeen's set, along with the new song that she had showcased on Wednesday, which she very graciously allowed me to title 'Soon' (See @KristeenYoung on twitter to see our conversation). I can't emphasise enough what a great song 'Soon' is, she just HAS to release it as a single, even if she does end up ditching my title, it is a truly stunning song. Kristeen also sang ANOTHER new song at BAM, and that too was awesome. I have no idea what it's called, but it has a few swear words in it, as Kristeen gets something off her chest. The song also contains a number of chants of 'No! No! No!' If she is looking for advice from her new title giver, I would like to suggest the catchy title of, er, 'No!'
KRISTEEN YOUNG AT BAM IN A CLAW DRESS
At 9 o'clock on the dot, we were informed that it was "time for school'" and Big Hard Excellent Fish's 'Imperfect List' struck up. The few of us who were standing at the front were allowed to stay, and very few others joined us, probably thinking, 'How could we possibly be allowed to just walk up to the front and stand, particularly at a posh opera house like BAM.' The Morrissey Band breezed onto the stage, with the musicians looking splendid in matching white, button up shirts, while the singer had on a black zip top. As they all took up their positions, Moz announced that it was good to be in Brooklyn at last, and said, "I await my instructions," before the opening chimes of 'Action is My Middle Name' kicked in.
THE MORRISSEY BAND MAKE THEIR ENTRANCE AT BAM
It was obvious from the very first "biting" that Morrissey was in a relaxed and playful mood, and 'Action' was sung with full meaning and force. It is criminal that this song has never seen light of day at a record company.
BITING HIS INITIALS AT BAM - ACTION IS HIS MIDDLE NAME
Action was followed by one of my highlights of the night, 'Everyday is Like Sunday', which saw Morrissey not only place his right hand across his chest, just as he does on his MorrisseysWorld blog, but he also accepted a book from somebody in the crowd, and then pretended to read it as he continued to sing. It was like watching poetry being recited. During 'Sunday', we were treated to a lyric change of 'fucking face,' and at the very end of the song I was convinced that he was going to shout 'Rat', just as he had done at the end of the same song in Milan, but instead, he bizarrely shouted, "twat", which coincidentally is the very same word I had used to describe myself on my blog of yesterday.
EVERYDAY IS LIKE SUNDAY - "TWAT"
Having finished 'Sunday', Moz informed all those of us standing at the front to mind out, because there would be a lot of "mic whipping", and then it was straight in to 'How Soon is Now?' which was just unbelievable. I have seen this song sung live a number of times, but tonight it was just incredible, and Morrissey gave it EVERYTHING.
AN INCREDIBLE RENDITION OF HOW SOON IS NOW? - AND MIC WHIPPING APLENTY
As if the first three songs hadn't been a good enough start, song number four was Morrissey's own personal favourite, 'First of the Gang to Die', which again, he gave EVERYTHING to. FOTG was one of four changes to the set from Long Island, with 'Black Cloud', 'People Are the Same Everywhere', and 'Please, Please, Please', also coming in, while 'Irish Blood', 'I Know It's Over', 'To Give' and 'Sweet and Tender Hooligan' dropped out.
MORRISSEY TELLS BAM THE STORY OF HECTOR BEING THE FIRST OF THE GANG TO DIE
At some point in the evening, and if I'm honest, I can't remember when, Morrissey told how some concert lister at the New York Times, had suggested that Morrissey needs therapy, which Morrissey obviously took offence to as he repeated, "Therapy!, therapy!, therapy!" over and over again, before then adding, "he earns three dollars an hour, and he thinks 'I' need therapy!"
The big hits just kept coming and coming, with 'Shoplifters of the World Unite' being played after FOTG, and once again Morrissey gave his all with every word, and he wasn't kidding about the mic whipping, he was whipping for Britain, albeit his very own small piece of Britain that the Royal family have been unable to highjack.
NOT NEEDING THERAPY, BUT ENCOURAGING SHOPLIFTERS OF THE WORLD TO UNITE
The absence of 'I Know It's Over' meant that there was no appearance of one of the giant inflatable red roses that I have wafted around during this song at the last two concerts I attended. It is just as well that he didn't sing it, because I had placed the non inflated rose on the floor, at the front of the stage, but unbeknown to me, we were standing on a false floor above the orchestra pit, and my rose had slid through the gap, never to be seen again.
Song number six was another of my favourites of the night, and it hit home to me that this song SHOULD have been released as a single, 'Black Cloud.' Morrissey put so much passion into the song, and as he sung of the black cloud that stopped him being able to have the one he cherished, he stared up to the gods as if visualising the cloud hanging there. A truly mesmerizing rendition of the song, but WHY, oh WHY was it never released as a single?
A BLACK CLOUD HANGING OVER BROOKLYN
As Morrissey got hotter and sweatier, his trademark heart shape started to form on his back, and it is obvious that he wants to reclaim it from Bieber. The chatting with the crowd continued through the evening, and he made a reference to the David Letterman Show, saying that Letterman had asked to buy his drum kit off him. Perhaps Letterman is a Twin Peaks fan. If you are one of the ones reading my blog for the first time, and by the way, welcome along, and thanks for reading, if you are wondering why I have mentioned Twin Peaks, it is because on Morrissey's blog, 'MorrisseysWorld.blogspot.com. he makes constant references to Twin Peaks, and the new double drum kit has been designed to have one with RED lettering, and one with BLUE, which is a nod to the Twin Peaks character Dr Jacoby, who had a red lens on one side of his glasses, and a blue one on the other. Morrissey also asked the crows if they could name the person on the drum kit. I was the only person to shout Steve Cochran, but Morrissey ignored me, and informed everybody that it was his father. I'm sure the crowd believed him, most fans take Moz at his word, and he lies a lot, ESPECIALLY about writing his MorrisseysWorld blog.
THE RED 'TWIN PEAKS' DRUM
And on the subject of Twin Peaks references, during the next song, 'People Are The Same Everywhere', Morrissey made a VERY obvious 'O' sign with his thumb and fore finger, which is another sign from both Twin Peaks and the MorrisseysWorld blog. As I write this review, I have just sneaked a peek into the so called Morrissey 'fansite', 'Morrissey So-Low', to see what people are writing about the concert. Unbelievably for So-Low, most of the comments are quite positive today, which is hardly surprising, because it really WAS the best concert EVER, but even when writing a positive review, the So-lowers end up letting themselves down. The most in depth review on So-Low so far is by a user named 'Anaesthesine', but although most of his/her review is good, he/she has called 'People Are the Same Everywhere' "dire!" What was he/she watching, it was a blinding delivery.
MORRISSEY TELLS THE MASSES THAT PEOPLE ARE THE SAME EVERYWHERE, WHILE LIAM HOVERS BEHIND LOOKING FOR ANY SIGN OF TROUBLE
Some other comments that have been posted on So-Low today, particularly aimed at myself, Kyle and Kyle's Dad, are absolutely vile. The So-Lowers have completely and utterly missed out on the MorrisseysWorld phenomenon, and they are kicking themselves. They are trying to make out that Morrissey ISN'T behind MorrisseysWorld, but that's because they haven't bothered to search for answers, or scratch beyond the surface. They just can't comprehend what is going on. Now they are just making themselves look fools.
Anyway, back to far more important things than a washed up old website, last night's concert. Alma Matters has grown on me more in the past year than ANY other of the other regular songs on the current set list. I never really appreciated just how good it was when the Maladjusted album came out. Yesterday Morrissey spat out every word of Alma as though he were telling his life story. And yes, it is his life, to ruin his own way, so why don't the haters, the misguided fans at So-Low, and the guy at the New York Times just let him get on with it.
ALMA MATTERS IN MIND, BODY AND SOUL
As Morrissey sung 'Alma's' opening lines of "So, the choice I have made, may seem strange to you," I had a horrible feeling that he was going to sing Trouble Loves Me straight after (see my blog entry of yesterday to see why that wouldn't have been good), but instead, the next song was the title track from the Maladjusted album, and not 'Trouble.' The one thing our misguided So-Low friend Anaesthesine HAS got right in his review, is that he says that Morrissey didn't 'perform' Maladjusted, he PREACHED it. I like that, and it is true, Moz DID preach it, and the audience were no doubt all drawing mental pictures of that Stevenage overspill that the subjects of the song are trying to escape from. I used to live in Stevenage, and it IS horrible. I wonder if the overspill area was The Poplars? Hmm.
POPLARS - A STEVENAGE OVERSPILL AS SUNG ABOUT IN MALADJUSTED
A quick shirt change and Moz was back in a red number, ready for 'Lemme Kiss Yuh', which again was delivered as though EVERYTHING depended on it, and maybe it did. You can probably tell by now that this wasn't just any old Moz concert, this one was special, possibly because it was in a beautiful theatre, in a happening city. As always, at the end of 'Kiss You', the shirt was ripped open, and then cast to the masses, who clawed and scrapped to get a piece of it, until Morrissey's security guard, Arturo, arrived on the scene with his scissors to restore the peace.
ARTURO (LEFT, OBVIOUSLY!) - PEACE MAKER
Another change of shirt, and we were into the more uptempo 'You Have Killed Me', which had the crowd singing along to every word, well, at least those in the crowd who knew the words, because as always, there were a number of people who didn't really seem to know that many of the songs. I suppose it's good that they are exploring new things, if Mozzer can be described as a 'new thing'.
Ouija Board was song number tweleve, and if my memory serves me right, which normally it doesn't, a girl stepped up from the front row and hugged Morrissey. Actually, now I come to think about it, it might have been during 'November Spawned a Monster' that she stepped up. Oh well, it was rather nice.
The stage was ridiculously low, and any one of us could have walked onto the stage at any time during the concert, but after the rough treatment given to Morrissey by the idiot at Greenvale, the BAM crowd were really respectful, and nobody ruined it for the rest. Julia Riley was in the front row as usual, with a large male friend, and there was another guy stood with them who kept glaring at me all evening. He was one of the people who had refused my offer of a rose on Wednesday at Tilles, but having said that, so did Julia. I honestly believe that although Julia runs Morrissey's official True-To-You.net website, she is blissfully unaware of Morrissey's involvement with MorrisseysWorld. Is that possible?
One of the comments left on So-Low today says, "There were a cluster of people with roses spray painted blue," to which an anonymous reply has been left by a person who HAS to have been the 'glarer' saying, "Yeah, there's a Scottish or Irish dude who brought them to two consecutive concerts and it really is nothing more than a nuisance. Moz didn't want them 2 nights ago and he still doesn't. In the 80's he was into flowers thrown at him...no longer. Leave them home, please." The blissfully unaware glarer is called Anthony, and he KNOWS what Morrissey wants. Scottish indeed. Och.
I still can't decide what my absolute highlight of the night was, but 'Please, Please, Please' is certainly a contender. In the absence of an inflatable red rose to waft for the torch song, I produced my Blue Rose from my trouser leg, and held it high in the air. Now was the moment of truth, would Moz come and take it? The song ended, and he turned to me and bowed to the rose. That was good enough for me.
I decided to keep the rose held aloft for the remainder of the concert, and on the very next song, 'You're the One for Me, Fatty,' Moz edged towards our side of the stage. In fact he spent a lot of the whole show on our side of the stage. I didn't think for one minute that he would take it, but as 'Fatty' finished and he launched into my highlight of the night (there we are, it just arrived) 'November Spawned a Monster,' Morrissey came right to where I was standing and brushed the leaf of the rose with his hand as he collected handshakes. Although I had promised to deliver a Blue Rose in New York, I could tell that he wasn't going to take it on this occasion, and I would have to be happy with knowing that I'd managed to get a plastic Blue Rose to him at the Letterman Show. Maybe another day, he'll take my REAL Blue Rose.
MORRISSEY'S TOUR MANAGER HOLDING MY BLUE ROSE WHICH MYSTERIOUSLY GOT ME USHERED IN TO THE LETTERMAN SHOW VIA THE STAGE DOOR.... BUT OF COURSE MORRISSEY HATES ROSES AND IS NOTHING TO DO WITH THE BLUE ROSE SOCIETY! WAKE UP WAKE UP!
The reason that 'November' was my highlight, was a combination of outstanding vocals, as ever, but also a hint of the contorted dance from the 1990 video. Morrissey REALLY was feeling every word of every song at this concert, and 'November' typified it.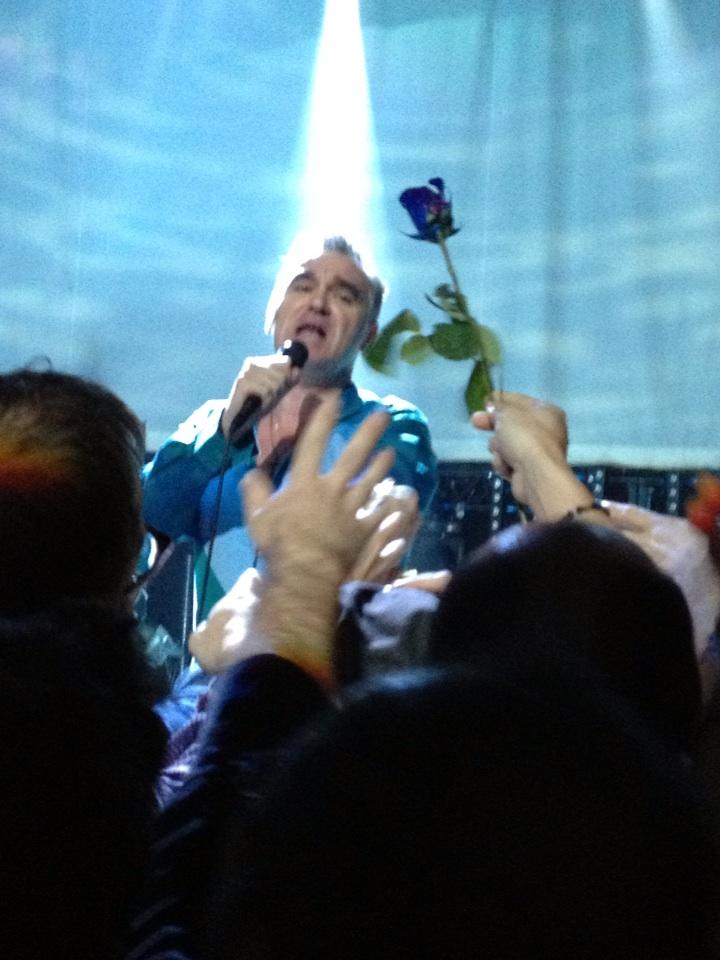 MOZ GAZES AT MY BLUE ROSE DURING NOVEMBER
I can't remember the exact point at which the band were introduced, but Moz produced an envelope, and then said something along the lines of, "And the nominations for musician of the year are... Boz Boorer, Solomon Walker, Anthony Burulcich, Jesse Tobias (who incidentally got a huge roar) and Gustavo Manzur. And the winner is....(ripped open the envelope) Taylor Swift." He then pulled a face, ripped the paper up, and the band played on.
TAYLOR SWIFT - MUSICIAN OF THE YEAR
Song number sixteen was 'One Day Goodbye Will Mean Farewell,' and this song sparked scenes off desperation as everybody surged forward, holding their hands out like beggars, but begging just to be touched by The Mozziah. The lyrics of this song seem to hit deep with the fans, as they see it as a reminder that one day, it might all come to an end.
'Goodbye' was sung once again with great emotion, and it really could have been the actual signing off, such was the feeling put in to it. As the fans grabbed and clawed at their idol, Mozzer's own personal security boys were on red alert, each of them on their toes, ready for action, like a solid unit in a football (soccer) team. Mozzer's two main henchmen, Liam and Arturo were like Man United's Ferdinand and Vidic; Liam the nimble Ferdy, and Arturo the more solid, no nonsense Serb, although I'm pretty sure Arturo is not Serbian. Liam Ferdinand isn't just about speed though, he has that aggressive 'other side', and will often go in with his studs up when he thinks he can get away with it. Also lurking at the side is Joannides Evra, who is also known for his speed, but enjoys getting stuck in when it kicks off.
'I'm Throwing My Arms Around Paris' again showed Mozzer's great ability to show self deprecation, and in fact, it was an evening of some of his best self deprecating songs. "Nobody wants my love," he cried, and the hands of the crowd reached ever nearer. Immediately after 'Paris', it was time for the ever popular 'Speedway', which is hard to believe is nearly twenty years old now. I waited with anticipation for the pause, wondering what A cappella song we might get this time, but Moz remained silent as he stood in the pitch black. When the house lights came back up, he stood there, subtly holding the thumb and forefinger of his left hand in another 'O' shape. I smiled to myself, and both Kyle's Dad and MozFiend smiled too.
The harrowing Meat is Murder video was played next, as Morrissey sang every word as though this was a brand new song that he was singing it for the first time. He turned his back on the audience for virtually the entire song, as he stared at the images of animals being killed. By him watching the screen, he was forcing his audience to watch with him. His passion for the welfare of animals is stronger than ever, and Morrissey obviously believes he has a duty to speak up for the speechless. As the song entered the long instrumental at the end, Moz sunk to his knees as if in prayer, and covered his ears as the guitars thrashed out a sound reminiscent of a dying cow. This song has been turned into a much harder song than it's original 1985 version, and it's better for it, in fact all five of the Smiths songs that were played at BAM were not only as good as they were back in the eighties, they have ALL been improved, mainly due to Morrissey's voice now being deeper and richer, but also musically. The Smiths songs CERTAINLY aren't improved when Johnny Marr performs them, but HOW could they be, he wasn't the singer!
The band left the stage, and then I witnessed something quite bizarre, but not unexpected, I listened to Arturo tell ALL the security that Kyle has got pre-clearance to run on stage at the encore. Nobody else has EVER had that treatment, so WHY is Morrissey letting the President of the Blue Rose Society embrace him. Only a fool would try to pass it off as Morrissey just being kind to a young fan. OPEN YOUR EYES AND YOU'LL SEE WHY THIS IS HAPPENING.
The band came back on stage, and I tossed my Blue Rose right to Morrissey's feet. He bowed to the audience, and stared at the rose, but he didn't touch it. It then fell into the gutter, and a dirty great juggernaut called Arturo Vidic went over it. Moz walked to the microphone and said, "However, this song is called, 'Don't interrupt the Sorrow'."
As people stood bewildered, 'Still Ill' kicked in, and the place went wild. Jesse came right to the front of the stage, and as he moved back, Moz launched into, "I decree today that life is simply taking and not giving," and it wasn't long before Kyle set off into the arms of The Mozziah, where he was then spun around, before being carried by Morrisey back to his dad. In all the excitement, President Kyle forgot to take his Blue Rose on stage, to give to Morrissey, but I don't think he's in danger of losing his presidency because of it. With Kyle returned; Vidic, Ferdinand and Evra then set about fighting off the many other who fancied taking the small step up onto the stage. Some were successful in reaching Mozzer, some were not. I didn't attempt it of course, I'm more than happy for President Kyle to show the love of the Blue Rose Society.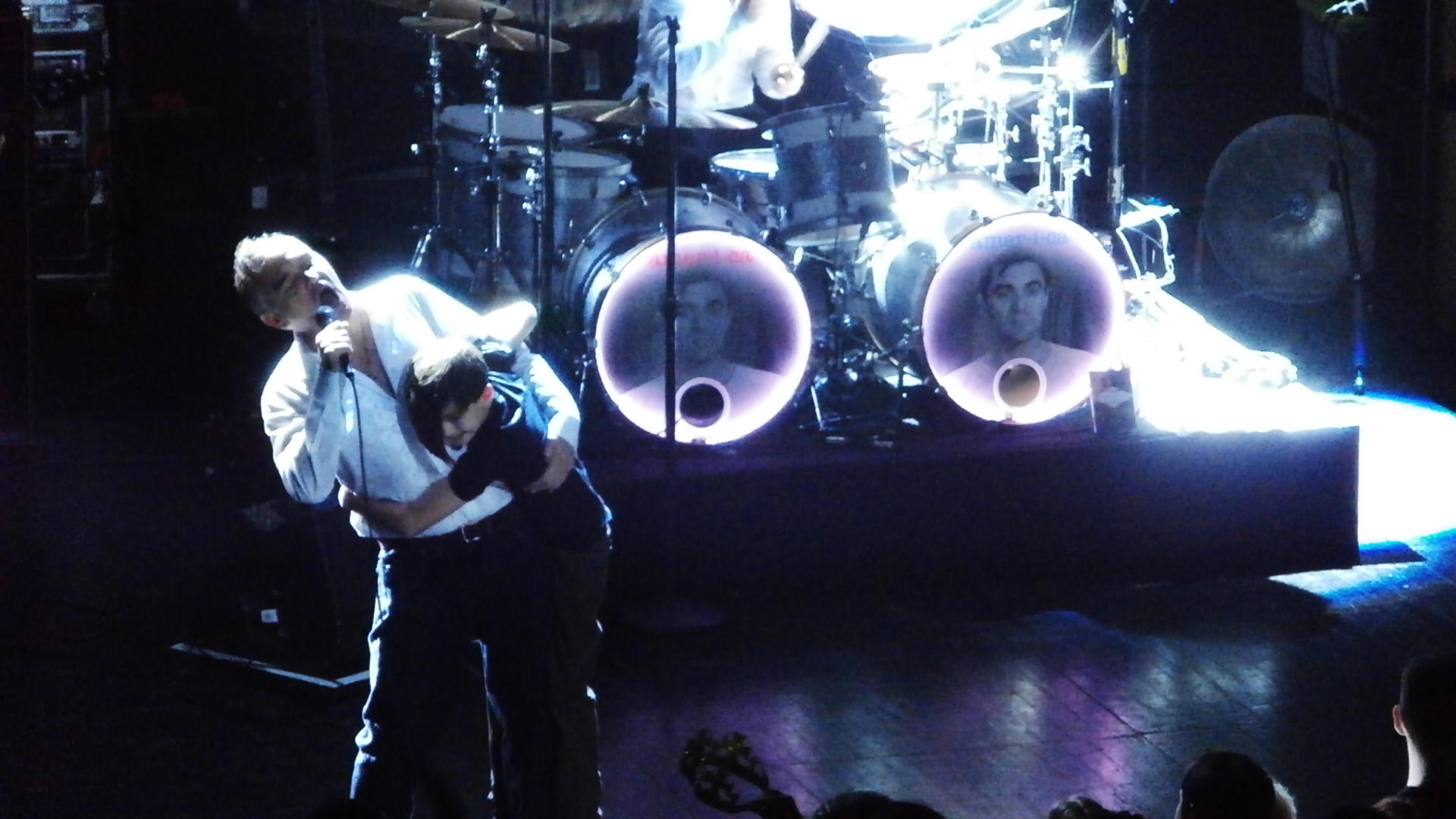 PRESIDENT KYLE EMBRACES MORR-EE-SAY
After the greatest concert I've ever been to, I asked Arturo Vidic for a copy of the set list, which I had been led to believe are not allowed to be handed out anymore. He gave it to me.
And will the Blue Rose Society President be on stage tomorrow with his Blue Rose, well you'll just have to keep your eyes open.
Viva the Blue Rose Society - Please come and join us, and bring roses for Morrissey to show you care.
TRB - @TheRatsBack