I have arrived back in a snowy UK, having had the most fantastic week in New York watching Morrissey. I still can't believe what a great adventure it has been, which included:
1. Me giving a Fake Blue Rose to the Fake Morrissey at the Letterman Show, which subsequently resulted in myself and my two travelling companions, 'Midlife Matt' and 'Sophie Twenty Something' (STS), being whisked into the SOLD OUT Letterman Show via the stage door to see Moz sing 'Action is My Middle Name.'
THIS PHOTO IS 'NOT' MORRISSEY, IT IS MORRISSEY'S TOUR MANAGER DONNIE, WITH MY FAKE BLUE ROSE, WHICH I AM CONFIDENT HE GAVE TO 'NOTMORRISSEY', WHO IS THE AUTHOR OF MORRISSEYSWORLD, WHICH IN TURN RESULTED IN 'THE REAL MORRISSEY' AKA TRM, ALLOWING ME AND MY 2 FRIENDS IN TO THE LETTERMAN SHOW! CONFUSED? THEN I SUGGEST YOU START READING BY BLOG FROM THE VERY BEGINNING, BUT BE PREPARED TO HAVE YOUR MIND BLOWN. (ANOTHER RIDICULOUSLY LONG PHOTO CAPTION FROM YOURS TRULY)
2. Me writing on my blog of Wednesday January 9th, "Disaster has struck, I can't find my toothbrush. I can't arrive at the Tilles Center tonight and expect Moz to take the Blue Rose from my teeth with my breath smelling of last night's pasta," only for Morrissey to then walk on stage that VERY evening at the Tilles Center, and say at the encore, "I've been looking for someone to... share my toothbrush with, which is why I came here (pause). All in vain!" It has now been suggested by '@ShutTheKellUp' in the Twitterdilly Arms, that we should throw toothbrushes on stage. Could the toothbrush become the Life of Brian 'shoe', or the Rocky Horror Picture Show 'toast'?
A SHOE - IT'S A SIGN
THE HEIR TO KYLE'S PRESIDENCY WITH HIS TOOTHBRUSH
3. The Tilles Center on Long Island being awash with roses.
4. Kyle, the President of the Blue Rose Society going on stage with Morrissey at Tilles Center.
5. Morrissey bowing to my Blue Rose at Brooklyn after singing 'Please, Please, Please Let Me Get What I Want.'
6. Kyle being swung around on stage at Brooklyn
KYLE ON STAGE AT BROOKLYN
7. Kristeen Young naming her mesmerizing new song, 'Soon' after I inadvertently suggested it.
8. Meeting fellow Blue Rose members; Kyle, Kyle's Dad and MozFiend
9. Handing the mysterious Blue Rose Ring to Kyle at Long Island and then seeing him pass it on to MozFiend at Brooklyn.
THE BLUE ROSE RING BEING GIVEN TO MOZFIEND BY KYLE
10. Inducting Midlife Matt and STS into the Blue Rose Society.
Midlife Matt and STS had thought I was deluded when I told them all about MorrisseysWorld and The Blue Rose Society, but what they witnessed in Manhattan at the Letterman Show, and what they heard and saw at Long Island, left them in NO doubt whatsoever that Morrissey is behind MorrisseysWorld.
There was of course a down side to my trip, namely the despicable abuse that Kyle, his father and I received on the Morrissey-Solo website. What had previously been a bit of harmless adult banter, was taken WAY beyond that, when an eleven year old boy was subjected to unmoderated abuse. I was forced to write a blog on Sunday, asking Peter Finan aka Uncle Skinny, the so called moderator of Morrissey-Solo, to remove the abusive content about Kyle. I don't mind the stuff about me being on there, it is water off a duck's back, and what is more, the constant linking on So-Low to my blog has seen my daily audience quadruple to 1,400 hits a day, which means more people are finding out what BLUE ROSE and MorrisseysWorld are all about. Skinny DIDN'T remove any comments, and instead, abused me further.
MASTERMIND CONTESTANT PETER FINAN - HIS SPECIALIST SUBJECT IN THE QUARTER FINALS WILL BE MORRISSEYSWORLD AND IF HE MAKES THE SEMI'S (WHICH IS DOUBTFUL BASED ON HIS KNOWLEDGE OF MORRISSEYSWORLD), WILL BE THE HISTORY OF THE BLUE ROSE SOCIETY
In my blog piece about So-Low, I also wrote that I would stop ALL interaction with anybody who continued to stand by the vile So-Low moderator, and I posted it to MorrisseysWorlders curios; @RosyMires , @Stillicling and @Cathplus5, asking them to support me, rather than stand back and allow Finan to allow an eleven year old face online attack. I was neither surprised or disappointed to see that Rosy 'Friend to Everyone' Mires, Still.I.Fawn and 'Carefree' Cathy ALL sided with Skinny.
Early on Sunday morning, I wrote an open letter to Morrissey on my blog, and tweeted it to Kristeen Young, asking her to pass it on to Morrissey. Obviously, 'I KNOW' that Morrissey reads my blog on a regular basis, but for TRM to do something about Peter Finan, it HAS to come from a different source than MorrisseysWorld or my blog, as Morrissey HAS to be able to deny any involvement. The BIGGEST 'coincidence' in this whole phenomenon, might just be about to happen - Morrissey MIGHT actually BAN Peter Finan from all concerts, but of course it will be NOTHING to do with MorrisseysWorld or me, I mean, HOW could it be, as in the words of Finan himself, I am just "the character behind the blog (MorrisseysWorld AND Mozziah), and I have "fooled hundreds into believing it was by Morrissey, and had to stop saying it was after being called out on the scam, then admitting it was a 'parody' all along." Finan has also added to his latest rant that I, "then decided it would be a jape to continue the scam by inventing this bullshit (Blue Rose) society. The guy is nothing but a scam artist and a bullshit merchant." If Finan IS banned, HE, along with Rosy Mires et al, will all be saying it's just a coincidence. Oh the irony. Will Moz ban him? Time as ever.....
After writing my open letter, I packed up my clothes, which included my four new Morrissey t-shirts, and then headed out for a last day around Manhattan, taking in the west side area of Chelsea, which I had never been to before. I hope to be able to write my New York Tour Diary at some stage, but at the moment, there is just too much going on with both Morrissey and Our Mozzer.
A recent photograph of Morrissey in Manhattan has emerged on the net, and it has reminded me of my unpublished parody piece from Christmas.
MORRISSEY - LAST WEEK IN MANHATTAN
My unfinished and unpublished parody piece from Christmas is about Morrissey disguising himself as 'Our Mozzer' aka 'NotMorrissey aka '@MorrisseysWorld', by simply putting on a flat cap. The joke being that his friends should be able to tell the difference between Morrissey and 'NotMorrissey' by the 'cap', so therefore, every time he uses the internet as 'NotMorrissey', he puts his cap. The story takes it a step further, with Morrissey deciding that if he fancies popping down to the shops unnoticed, he can put his cap on, and not get spotted, but he then gets annoyed if the paparazzi photograph him, thinking that he is Morrissey, when it is CLEARLY 'NotMorrissey.' Perhaps the piece will be finished one day, if there is ever a lull.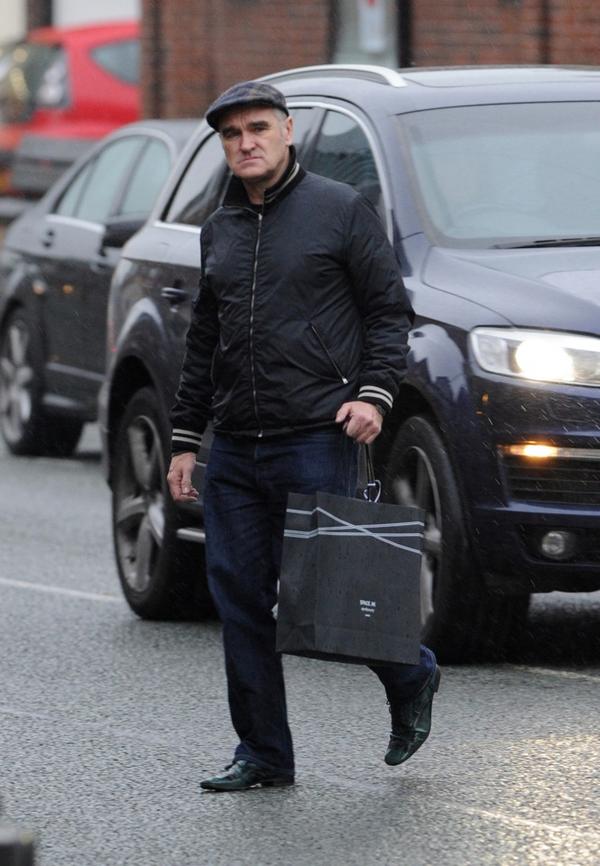 THE 'NOTMORRISSEY' FROM MY UNPUBLISHED PARODY ARTICLE
My flight home from Newark to Heathrow resulted in me once again sneaking into Premium Economy for a three hour snooze, and also watching a superb film, that I would never have watched in a million years had Midlife Matt not suggested it. The film is 'The Perks of Being A Wallflower' and is a 'coming of age drama set in 1990's Pittsburgh' (now you can see why I would never have watched it). The film features 'Asleep' by The Smiths, which is reason enough to watch it, but the movie itself is captivating.... although rather ironically, Midlife Matt fell asleep.
A CAPTIVATING MOVIE
I was given a lift home from the airport by my mother and step father. I'm not sure that my mother has ever really listened to Morrissey, but as I talked about my trip (I didn't bother mentioning MW, roses etc, there would just be no point!), I mentioned that I'd bought a t-shirt with 'Oh Manchester, so much to answer for' on it. She laughed, and said "ain't that the truth" (although she didn't really say 'ain't, my mum isn't an 'ain't' sort of gal.) I asked her why she had said that, and she told me all about the time that she and my dad lived and worked in Manchester. I was flabbergasted. I had NO idea that they had lived there, I just thought my dad had gone to Uni there.
As it transpires, my dad NEVER went to Uni at all, he went straight from school into the RAF to do his National Service, and fully intended to become an RAF officer, until some bright spark decided to send him and many other servicemen out to Christmas Island in 1955/56 to test nuclear bombs. Funnily enough, the testing put him off being in the forces, and he also contracted cancer from the exposure to radiation.
On returning to the UK, my dad de-mobbed and at the beginning of 1959, went to live in a place called Northenden in Manchester. He then worked for the next two years in Wythenshawe Hospital. He married my mum in 1960, and took her for a honeymoon in Minehead, but after just 4 days, he was missing Manchester so much, he packed everything up, and drove my mum back up to her new home. She took up a job at Withington Hospital, and worked afternoons in the Denmark Rd chest clinic. Despite my dad's love of Manchester, my mum missed the south, and they left at the beginning of 1961. If things had been different, I could've been born a Mancunian. Thank god for a mother's instinct!
WITHINGTON HOSPITAL MANCHESTER
I really shouldn't be waffling on about wallflowers and my parent's time in Manchester, there is SO much to catch up on, but I only have twenty minutes of writing time left. I have decided that as writing this blog has now become my full time job, and nobody could EVER wish for a better job, I have to strike a balance between blogging and family time, so from now on, I will tweet and write up until 5pm every week night, but then every evening and weekend will be family time, and I shall just have to catch up on whatever I miss. Whatever I don't get to write about today, can wait until tomorrow, or NEVER in the case of some things.... which may include those tour diaries of mine.
I have had no chance yet to go through all the youtube footage of Saturday's concert at Atlantic City, so I have no idea if there were any missed signs. Morrissey definitely DIDN'T play an encore, which HAS to be as a result of the bullying by So-Low of the Blue Rose Society. WILL Morrissey show his support for the Blue Rose Society by WEARING a Blue Rose tonight? We shall have to see.
The only video that I HAVE seen of the Atlantic City concert is of 'Speedway', which was awesome. During the pause, Morrissey sang, "Life tends to come and go, that's ok, as long as you know, life tends to come and go, as long as you know, know, know, know, know, know, know, know, know, know...... " before adding, "did you know?" The song is of course, 'I Won't Share You. Photographs that have emerged, show that Morrissey was sporting pink finger lingerie, which is obviously a reference to the MorrisseysWorld blog, in which in one of his parody stories (I can't remember which one) he says he continues to wear it to show he is suffering (perhaps somebody could post the actual quote, and state which article it's in? Thanks.) The trashy nail polish was back too.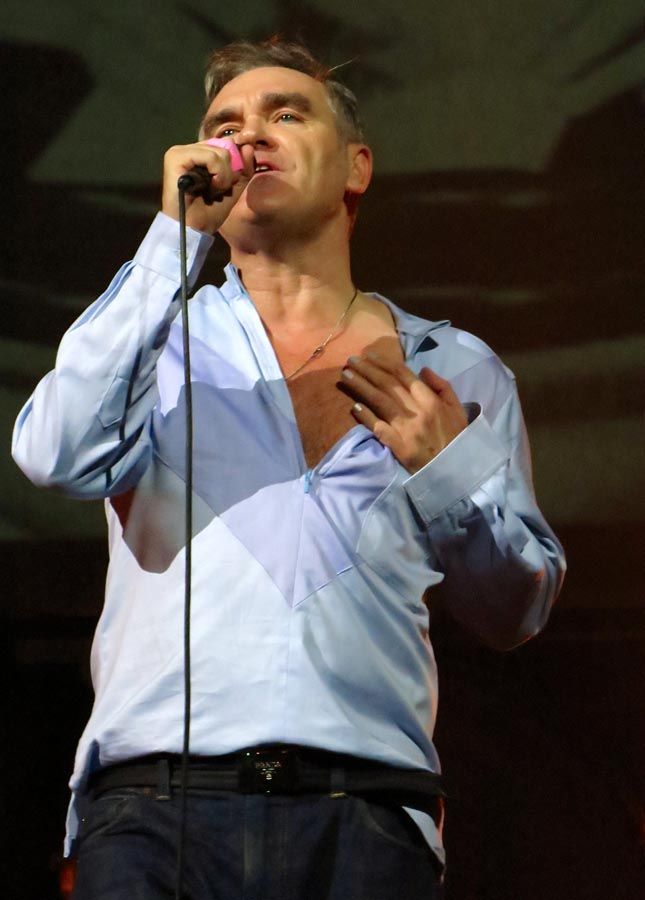 FINGER LINGERIE AND TRASHY NAIL POLISH IN ATLANTIC CITY
Tony Visconti has been interviewed by Rolling Stone magazine, and in the interview he is asked if he will ever work with Morrissey again. Here is his reply:
"Hopefully we will. I'm going to see him Friday night in Brooklyn. We email a lot. He's very reluctant to have a deal with anybody 'cause nowadays, the problem is, when a label signs you - right now ha has no label - so if I sign a new label deal, he has to sign a 360 deal. They want a piece of everything. If you write a book, if you write a song, if you're in a movie, they want part of your fee for all these things. So that's the deal that the big labels are offering now and that's because sales are so low and they have to make their money some way. He's totally against that. He's old-school. I actually don't blame him. He could pull a Radiohead and post it online for a fee, I know, but he's also old school about paying for it himself. Traditionally, the label's gotta pay for him. I understand that, and there's an old saying in show business that you never invest your own money in a show. It kinda follows onto recording to some extent, but that attitude has changed. He could also sign to an indie label that wouldn't make him sign a 360... but beyond that, he has enough fans that he'd make a killing charging 10 dollars for an album online. Yeah, he'll make his money back, yeah. He's playing his new songs onstage, they're being recorded on cell phones every night of the week and they're wonderful songs."
TONY VISCONTI - TO WORK WITH MOZ AGAIN? DEAR GOD, YES PLEASE!
Some great detective work by '@EricaCalil' has resulted in the uncovering of the identity of Morrissey's latest stage back drop, which I had previously described as a 'Slum Mum and Daughter'. How WRONG was I?
THE 'SLUM MUM' AND 'DAUGHTER'
It transpires that the 'Slum Mum' that I referred to (and you must remember I was in the front row, so I was craning my neck), is in fact NINE YEAR OLD Amanda from North Carolina (smoking) and her eight year old cousin Amy. The photo is from 1990, and the story can be read here: http://tamburina.tumblr.com/post/19383658386/amanda-and-her-cousin-amy-by-mary-ellen-mark-north
The story tells that Amanda was in a special school for children with problems, and that she was both very intelligent and very naughty. I would LOVE to know how life is now treating a 31 year old Amanda.
I have now run out of time. Tonight Morrissey is back on stage in Red Bank, New Jersey. I think I am right in believing that MozFiend will be in attendance, and she will be looking for a member of the Blue Rose Society to hand the Blue Rose Ring to. That person will need to be going to both North Bethesda and Reading. If anybody IS going to both, please leave a comment below.
Kyle will also be at tonight's show, let's hope he is shown kindness and respect.
Viva Blue Rose
TWITTERDILLY ARMS TOP 10 - WEEK BEGINNING SUNDAY 13TH JANUARY 2013
(A weekly chart is counted down EVERY Tuesday at 12:45 UK time by @FluffRat)
1. HOW SOON IS NOW? (LIVE ON LONG ISLAND) (TOOTHBRUSH & THE CALL FOR KYLE) - MORRISSEY (NEW ENTRY) (See the roses being thrown on at the start of this encore, listen to 'toothbrush' speech, and here the call for 'Kyle' at 1 min 50 secs, before seeing Kyle run on in his Blue Rose Society t-shirt: http://www.youtube.com/watch?v=JAweuiHZQN0)
2. PLEASE, PLEASE PLEASE LET ME GET WHAT I WANT (LIVE IN BROOKLYN) - MORRISSEY (NEW ENTRY) (See the Blue Rose at 2 min 14 and the 'Bow to the Blue Rose' at 2:37: http://www.youtube.com/watch?v=-lu5v5rMmnA)
3. STILL ILL AKA DON'T INTERRUPT THE SORROW (LIVE IN BROOKLYN) - MORRISSEY (NEW ENTRY) (See Kyle being swung around: http://www.youtube.com/watch?v=_d0G_77E5BA)
4. NOVEMBER SPAWNED A MONSTER (LIVE IN BROOKLYN) - MORRISSEY (NEW ENTRY) (See Morrissey 'hugged' at 1 min. Does anybody know who the hugger? It was very touching, and this girl should be in the BRS: http://www.youtube.com/watch?v=lsV4xpNCGO4)
5. MALADJUSTED (LIVE ON LONG ISLAND) - MORRISSEY (NEW ENTRY) (http://www.youtube.com/watch?v=IWqA-6O2SNQ)
6. I KNOW IT'S OVER (LIVE ON LONG ISLAND) - MORRISSEY (NEW ENTRY) (http://www.youtube.com/watch?v=vRq7BGJ7M8o)
7. SWEET AND TENDER HOOLIGAN (LIVE ON LONG ISLAND) - MORRISSEY (NEW ENTRY) (http://www.youtube.com/watch?v=6sUu4aJC0vI)
8. SPEEDWAY + THAT JOKE ISN'T FUNNY ANYMORE (LIVE ON LONG ISLAND) - MORRISSEY (NEW ENTRY) (http://www.youtube.com/watch?v=IDl94FRN_bM)
9. ACTION IS MY MIDDLE NAME (LIVE ON LETTERMAN) - MORRISSEY (NEW ENTRY)
(http://www.youtube.com/watch?v=SFm_s0O5aok)
10. WELCOME TO MY WORLD - DEAN MARTIN (NEW ENTRY) (http://www.youtube.com/watch?v=qX7BAfXn85Y)
(Editors footnote: As time passes, and you get the opportunity to reflect back, the one song that I can't get out of my head from the concert in Brooklyn is 'Black Cloud', but unfortunately, there is no footage of it on Youtube. It would have been placed high in the chart, as would 'Everyday is Like Sunday' and 'First of the Gang' from Brooklyn, plus Kristeen Young's 'Soon'.)