Normal service has been resumed. Last night's concert in Red Bank New Jersey saw Morrissey return to the stage for the first time since Saturday night. There was anticipation from some of the MorrisseysWorlders that the concert would see Morrissey do or say something to show support for Blue Rose or to condemn So-Low, especially as 'NotMorrissey' had tweeted on Sunday to say: "The next concert will be different."
Well, from the Youtube footage that I have so far seen, which is quite a lot thanks to the Youtube user 'QualityHospital', there was NO mention of Blue Rose OR So-Low, but the concert was, as predicted by Our Mozzer, DIFFERENT! I will get to the 'difference' in a minute, but first some reasoning and So-Low bashing.
Morrissey HAS to keep completely distanced from MorrisseysWorld if the secret is to continue, and he is probably keen to keep up the myth that he doesn't EVER read So-Low. Morrissey and the band only ever wore the 'Fuck Morrissey-Solo' t-shirts ONCE, because ANY publicity for So-Low is GOOD publicity, and Morrissey CERTAINLY doesn't want So-Low getting any publicity, especially as they are in such a decline.
COUNT BASIE THEATRE, RED BANK, NEW JERSEY - NO MENTION OF SO-LOW
The vast majority of Morrissey's concert going fans have NEVER heard of Solow, and even those who have, very few visit it. Those of us who have chosen to have Morrissey in our lives on a daily basis, sometimes forget that not ALL Morrissey fans are the same as us, So-Low is not on their radar. We are of course our own worst enemies, we all say we won't go to the So-Low place, but we still do, usually just to read the concert reviews, but as the reviews are inevitably just full of absolute crap, we come away wondering why we bothered. I honestly can't remember the last time I read a good, informative, and supportive review on So-Low.
If none of the MorrisseysWorlders/Blue Rosers had read the rubbish on So-Low the other day, we'd have been none the wiser about the vile hatred, so perhaps the answer is, if you ARE going to peek into the slums of So-Low, keep it to yourselves, and don't report your findings to others.
THE SO-LOW SLUM
'WHAT WAS DIFFERENT ABOUT LAST NIGHT'S CONCERT?' I hear you all cry. Be patient, I'm getting to that, but firstly, a little more So-Low bashing.
Despite my blog being linked on So-Low a number of times the other day, I only received 900 extra hits, and I am pretty sure that everybody reading So-Low that day, WOULD have been curious enough to check out what my blog was about, so therefore, So-Low only have 900 daily users. In fact, that isn't true, because the likelihood is that some people would have looked more than once, so their readership is probably around 700, which is not very many at all, and is WAY, WAY down on the number of users So-Low used to have. The number of actual registered users who regularly leave comments is probably no more than about 30. It would appear that fans have left in their droves. We now have to ignore them. After today, I will NEVER mention either So-Low or Uncle Skinny EVER again.
SO-LOW HQ - FALLING OFF A CLIFF
'THE DIFFERENCE, THE DIFFERENCE?' Soon. Keep reading. This morning, I worked my way through my twitter time line, and I was saddened to see the following tweet from Kyle's dad, sent BEFORE the concert: "It is wearing me so bad, I will drive 90 miles 2 ways and this the 1st time in 22 years I feel not welcome."
That must have been a horrible feeling, travelling to a Morrissey concert full of dread rather than excitement, and all because of the abuse on So-Low. The next tweet from Kyle's dad was AFTER the concert, and read: "Completely ignored, would not even shake you know who's hand at all, very sad, wish I had not got Reading tix."
KYLE'S DAD (LEFT) - DOWN IN THE DUMPS
Kyle's dad's reaction is a perfectly normal reaction, especially as both 'NotMorrissey' and TRM have been so good to Kyle, but Kyle's dad HAS to understand that you can NEVER have expectations of Morrissey, and he owes NONE of us ANYTHING. What is more, if Morrissey ever starts to do the expected, then he stops becoming the man we all love. Part of his charm is that he NEVER does the expected.
So NOW to the DIFFERENCE. In fact there were TWO, and one would appear to be especially for Kyle. Morrissey opened last night's show with 'The Youngest Was The Most Loved', which I think is pretty obvious to all of us MorrisseysWorlders, was Morrissey paying tribute to Kyle, as he NEVER usually opens with this song. I don't think Morrissey was EVER likely to have acknowledged Kyle last night in any other way, for three reasons: A) Morrissey wouldn't want to be seen showing any fan favouritism, B) He is keen to protect Kyle from any back lash and C) Morrissey has NEVER publicly acknowledged that he knows who Kyle is.
You only have to look at the abuse Julia Riley receives on So-Low to see how jealous other fans can be if Morrissey shows attention to somebody on a regular basis, so it is quite possible that Morrissey will NEVER give Kyle public recognition, mainly for his own good. Even when Kyle ran up on stage for the umpteenth time at Brooklyn on Friday, Morrissey pretended that he didn't know who he was, even asking somebody in the centre row, "Is he yours?"
Yes Moz may shout Kyle's name during a song, but that is 'hidden.' Morrissey has never publicly admitted that he knows of Kyle, and it is important that any relationship built with 'NotMorrissey', is not confused with TRM. Morrissey has been MORE than generous towards Kyle, and he obviously likes him very much. We all do.
ON STAGE LAST NIGHT - OWES NOTHING
The SECOND DIFFERENCE actually occurred before the first! Morrissey walked on stage last night, to what I at first thought was Klaus Nomi's 'Death' instead of the usual 'Imperfect List', but as HeatherCat posted on twitter, it is actually 'Wayward Sisters' by Nomi.
So, 'NotMorrissey' had made yet ANOTHER correct prediction, but all coincidental, of course! Three days ago, 'NotMorrissey' also posted the following tweets, following the vile comments left on So-Low after the Brooklyn concert:
"The sick b*****ds at Morrissey-So-Low are monsters. They disgust me, as does that site. I am not joking. I am appalled."
"Those dreadful human beings live under a rock. They are fantasists. But, Tseng and Finan went too far this time."
The only way to completely sink So-Low, is to offer an alternative. The only reason ANY of us go to So-low AT ALL is because they tend to print the set list to each concert first, but if Morrissey was to have his own website, with the set posted first, possibly even with a photo of each 'actual' setlist, then So-Low would disappear forever. My gut feeling is that this is what Morrissey has had planned all along. He's even mentioned it a few times in various MorrisseysWorld articles. I predict that MorrisseysWorld is just a vehicle to destroy So-Low. So-Low is getting closer to death. Now we just have to wait.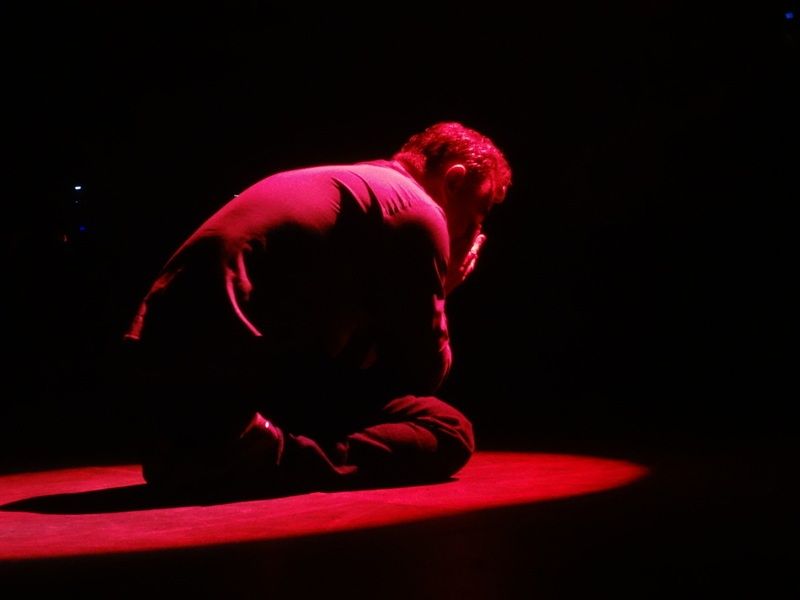 MORRISSEY IN RED BANK
With regard to the rest of last night's concert, there was no "shut your ugly mouth" or a cappella song during Speedway, and at the beginning of the encore, Morrissey quoted from the song Rubber Ring, saying, "And when you're dancing, and laughing, and finally living." Morrissey seemed to be in a fairly upbeat mood throughout the concert, and referred to the Count Basie Theatre as the Count Dracula. During the introduction of the band, Boz Boorer was referred to as, "the very spreadable Boz Boorer." I don't know any other details about the show.
Here is the set list:
TUESDAY JANUARY 15TH - COUNT BASIE THEATRE, RED BANK, NEW JERSEY
1. THE YOUNGEST WAS THE MOST LOVED
2. YOU HAVE KILLED ME
3. SHOPLIFTERS OF THE WORLD UNITE
4. ACTION IS MY MIDDLE NAME
5. ALMA MATTERS
6. BLACK CLOUD
7. YOU'RE THE ONE FOR ME, FATTY
8. SPEEDWAY
9. NOVEMBER SPAWNED A MONSTER
10. MALADJUSTED
11. OUIJA BOARD, OUIJA BOARD
(INTRODUCTION OF THE BAND)
12. PEOPLE ARE THE SAME EVERYWHERE
13. ONE DAY GOODBYE WILL BE FAREWELL
14. HOW SOON IS NOW?
15. EVERYDAY IS LIKE SUNDAY
16. PLEASE, PLEASE, PLEASE LET ME GET WHAT I WANT
17. LET ME KISS YOU
18. MEAT IS MURDER
19. I KNOW IT'S OVER
ENCORE
20. STILL ILL
Further to my previous comment about favourtism and expectation, I must mention that an anonymous 'somebody' left a comment on my blog four days ago, asking if I was "slighted" because Morrissey hadn't taken my Blue Rose. Here is the comment and my reply:
The question now of course, is where does Blue Rose go from here? The Youtube footage shows that there were NO roses in the audience, and certainly none were thrown on stage. Just as it seemed in Long Island that word would start to spread, we are back to the very beginning. Will Blue Rose go underground? Will it be reborn when other MorrisseysWorlders such as HeatherCat and Clover Dean (who is going to Vegas, LA and San Diego) attend concerts, or will it just die?
I am presuming that MozFiend would not have found anybody to pass the Blue Rose Ring to last night, so it may well have ended it's journey across America already. Perhaps MozFiend would be kind enough to leave a comment below, letting us know what has happened, and perhaps other Blue Rose members cold leave comment, telling which concerts they are going to, and whether or not they will be taking a rose.
MOZFIEND (LEFT) RECEIVES THE BLUE ROSE RING IN BROOKLYN - WHERE DOES IT GO NOW?
Although I have watched all the footage from last night's show, I still haven't watched any yet from Atlantic City, I shall hopefully find time later. I can report however, that GWO (@girlwithout) has discovered the identity of the new stage back drop. It is NOT a still from the James Dean film 'Giant', as had been suggested by Romina, but is instead a photo of 'Teenagers in the ruins of Smithfield Market in Belfast, Northern Ireland, 1974.'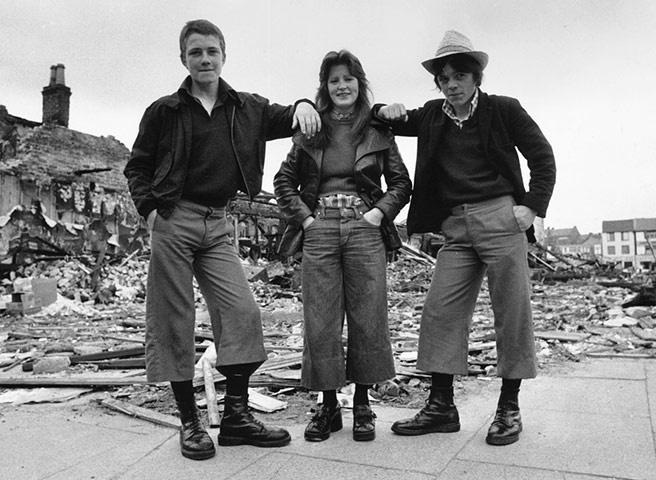 TEENAGERS IN THE RUINS OF SMITHFIELD MARKET IN BELFAST, N.I, 1974
The only other things to report, are that Our Mozzer has once agin closed the MW blog, posting 'No signs at New York' Therefore MorrisseysWorld is now closed. It goes on to say:
"A plea to Morrissey:
The vile goings on at Morrissey So-Low must not go unpunished. (Blah, Blah, Blah) Finan is every bit as bad as David Tseng; in fact he's worse. Ban him now. Ban him for life. Then perhaps MorrisseysWorld can return. All hail President Kyle! BlueRoseSociety for ever."
Every MorrisseysWorld post has been removed. For the record, the number of hits for MW currently stands at 355,067. My semi-mesmerizing blog, which started 21 months after MW, currently has a hit count of 128,111. With MW closed, hopefully my blog can take giant strides to claw back the quarter of a million hits that I am currently behind, and then world domination shall be mine.
The most frustrating thing about MW closing, is that 'Broken' (the unemployed gay medical officer, who is Our Mozzer's right hand man) had tweeted on Sunday to say: "I happen to know the New Mozzer Order part 2 was ready to go. Sadly that will probably never happen now." He added, "The part 2 parody featured a certain unpublished poet quite prominently. You'd have loved it!"
BROKEN MORRISSEY - HE CLAIMS ON TWITTER TO BE AGED 28-32.... DON'T THEY ALL!
Later in the day, Broken added a further teaser: "@rioferdy5 Rio you featured in the new MorrisseysWorld article (unpublished) as my "bit of rough!"" There were even MORE teasers to come, in reply to Loughton Lil discussing the MUKIB (Medically unnecessary kick in bollocks), Broken said: "Something similar happened in the unpublished MW Blog post. I got to use my own foot this time," and then went on to add, "Part 1 of the Morrissey World Order was sadly-overlooked genius. Can't believe so few people got to laugh along, but I only saw the draft of Part 2 - it could be much better. It goes through 3 or 4 drafts."
BROKEN'S "BIT OF ROUGH" IN THE YET UNPUBLISHED MW ARTICLE
That will do for today. It is very sad to report the death of HMV, but in my eyes, they died YEARS AGO, when they stopped selling records. Surely one day, music purchasers will want something to hold and play.... or perhaps they won't!
HMV - IN ADMINISTRATION
*STOP PRESS - 1 HOUR AFTER I POSTED THIS BLOG, THE MORRISSEYSWORLD BLOG COMPLETELY VANISHED. MORRISSEYSWORLDERS ARE NOW HOPING THAT MORRISSEYSWORLD IS GOING THROUGH A COMPLETE REVAMP, AND WILL THEN RELAUNCH AS 'THE' NUMBER 1 MORRISSEY NEWS SITE, WHERE ONLY PLEASANTRIES WILL BE ACCEPTED, SET LISTS WILL BE PUBLISHED FIRST, AND DISCUSSIONS WILL REMAIN TASTEFUL. COULD THIS FINALLY BE THE END OF THE VILE SO-LOW PLACE? DID FINAN GO TOO FAR BY ALLOWING UNMODERATED ABUSE OF AN ELEVEN YEAR OLD....... OR HAS OUR MOZZER JUST GOT BORED, AND BUGGERED OFF? TIME AS EVER.....*