I am pleased to report that 'MozFiend', who is the current holder of the 'Blue Rose Ring', has reported in, and STILL has the ring. Here is her comment from yesterday:
Agent MozFiend here. I am sorry that I did not have the time to write sooner. I am still in possession of the Blue Rose Society ring. Since being passed the ring by Kyle in Brooklyn I have attended two shows- Atlantic City and Red Bank, NJ. In AC I was afraid to show my affiliation with the Blue Rose Society due to the goings on at So-Low concerning Kyle and his father. And I didn't see anyone with a rose there or anything else that would give away a member, so I stayed quiet about it all. At the Count Dracula Theater in Red Bank, I chatted up many of the surrounding fans in the front rows and either they had never heard of MorrisseysWorld, had heard of it but knew nothing much about it, or they think MorrisseysWorld is a hoax perpetrated by some nutbag pretending to be Morrissey and followed by a bunch of delusional mental patients, and they wanted NOTHING to do with it at all. I am still going to the show in Port Chester, NY and I will do my best to pass on the ring to a worthy successor or I will do whatever it is you desire me to do with it. I am as ever a faithful servant of the Blue Rose Society.
We now need SOMEBODY to receive the ring from MozFiend on Saturday night in Port Chester, but that person will need to ALSO be going to the Pittsburgh show on Monday 21st. Is there ANYBODY out there who can help us keep the ring moving. If nobody leaves a comment on today's blog, we will need MozFiend to post the ring to '@HeatherCat222', so MozFiend, please join twitter and make contact with Heather if nobody leaves a comment today. If there IS somebody who can take the ring, please leave a message for MozFiend, with a meeting time and place at the Capitol Theatre.
It is interesting to read MozFiend's comment that most fans at Red Bank had 'never' heard of MorrisseysWorld. This of course isn't surprising, MW has never been advertised 'anywhere', so how 'could' the huge majority of Moz fans ever possibly have heard of it? MozFiend also encountered people who 'had' heard of MW, but knew nothing about it. This isn't surprising either, as the majority of those who 'have' heard of MW, would have dismissed it as being of no relevance, because Morrissey himself had informed everybody via True-To-You that he wasn't involved. His fans believed him! It is ALSO no surprise that MozFiend encountered people who deemed MW to be a hoax run by a deluded nutbag, this is because the moderator on the Number 1 Morrissey fan site is TELLING people this, and unfortunately they think he knows what he's talking about. He doesn't!
COULD THE AUTHOR OF THE HYSTERICALLY WITTY MORRISSEYSWORLD, WHICH HAS MADE DOZENS OF CORRECT PREDICTIONS REGARDING THINGS MORRISSEY WILL DO, 'REALLY' BE A DELUDED NUTBAG? ER, NO!
The readership numbers of my blog have recently gone through the roof, thanks mainly to a certain cesspit of a website linking to it. For all those of you who have recently found my blog, and are wondering what the hell it is all about, I shall tell you a little secret, but don't just take my word for it, find out for yourselves:
MORRISSEY IS THE AUTHOR OF MORRISSEYSWORLD.
The scum who run the cesspit site, whose name I refuse to mention, will do everything they possibly can to convince their readers that Morrissey isn't behind MorrisseysWorld, this is because they are PETRIFIED that their site will soon be obsolete. Their main tactic is to accuse me of being the author of MorrisseysWorld, which although is greatly flattering, is of course untrue, I do not possess the genius of Moz.
I am pretty confident that the 'Scum Cesspit' owner, David Tze, is fully aware of who I am, but he will never actually name me as the person behind MorrisseysWorld because he KNOWS it is Morrissey, so he leaves it to his moderator to shout and scream abuse, and to accuse anybody and everybody of being the author of MW. The moderator is clueless to Tze Tze's games, and is also blissfully ignorant of the truth, which is what he claims to seek.
DICTATOR DAVID TZE - KNOWS THAT MORRISSEY IS BEHIND MORRISSEYSWORLD
Anyway, my thanks to Dictator Tze and his 'Scum-Pit' for linking their readers here, hopefully those who can be bothered to read the WHOLE of my blog, and thus discover the truth behind this unbelievable MorrisseysWorld phenomenon, will join in the excitement that many of us have been enjoying for the past eighteen months or so.
Our little group of MorrisseysWorlders are known as the 'Blue Rose Society' or the 'Deluded Dozen' as we have nicknamed ourselves, although our numbers are now FAR in excess of a dozen, we are into the hundreds. EVERYBODY is welcome. Unfortunately, this isn't the greatest time to have discovered the truth about MorrisseysWorld, as the blog and twitter account have recently closed, but hopefully this is just a temporarily measure, and Morrissey will return, although it should be noted, we NEVER refer to him as Morrissey, that makes him uncomfortable, he is 'Our Mozzer', a self-aware parody, and don't bother to ask if he's the real Morrissey, because he will say, "NO", although very occasionally, just because he's 'Morrissey', he says, "YES!"
Most of the Blue Rose Society are on twitter, so if you are new to this whole phenomenon, please come and join us, starting with @Heathercat222, @GirlOnBike1102, @Girlwithout, @MozIsMyShepherd (formerly @BraveVampire), @MozKidKyle (The Blue Rose President), @PapaSonsFilm (Posh semi-Greek film director), @Caterita2008, @Fancys123, @Vulgar1mkela, @AirRaid25, @Shutthekellup, @YunaraGunarso, @MozzeriansATW, @awillo9658 and @LizzyCatMoz, but you may wish to avoid; @TheRatsBack, @LoughtonLil and @MancLadMozFan. If Moz comes back, he's @MorrisseysWorld.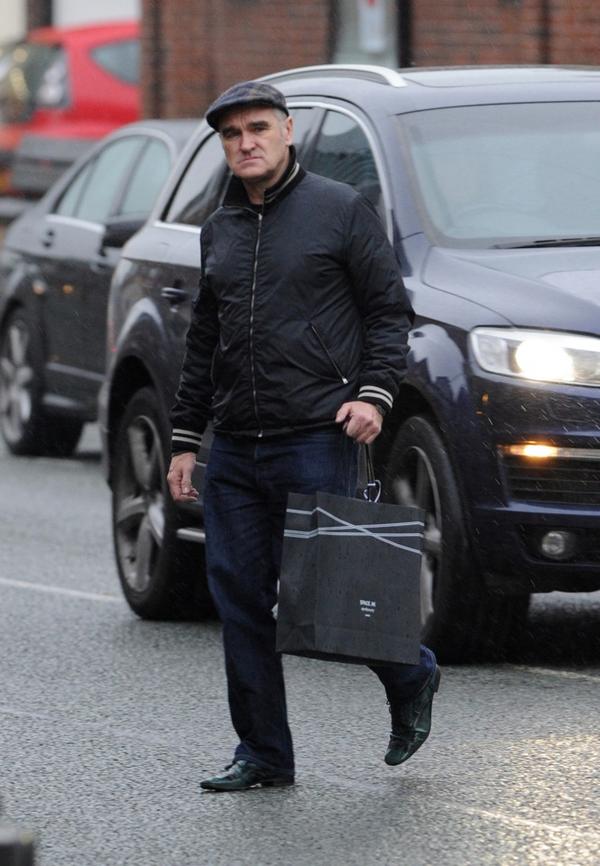 OUR MOZZER OR MORRISSEY?
Yesterday, I very briefly mentioned an email interview that Morrissey has just given to the Pittsburg Post Gazette. Here are the highlights:
On the subject of set lists and online fan suggestions: "I don't think whatever songs I sing matters that much because it's not as if any of them are actually 'awful.' I read nothing online. There's a hateful online creche called Morrissey SoLow, which cured me of canvassing opinions many years ago." (It should be noted that Morrissey hasn't publicly mentioned 'Scum Cesspit' in over a year. It is NO coincidence that he chooses to mention it now, just days after the vile attack by 'Scum Cesspit' on the Blue Rose Society.)
On the subject of believing he is a 'religious character' who can solve his fans' problems: "I don't think that anymore. I survive because the songs are strong, and for no other reason. I have never once relied on a promotional campaign, and even now, I can't imagine what such a feeling must be like." (I love the fact that Moz once again ignores the actual question, and talks about something he wanted to talk about instead of what he was asked, ie promotional campaigns, which has NOTHING to do with religious characters! It is obvious that Morrissey has always felt let down by every record label's inability to promote him properly. Each and every label has FAILED to realise what they had, in having Moz on their books, and his frustration is obviously still there, eating away.)
MORRISSEY - NO LONGER SEES HIMSELF AS THE MOZZIAH, OH BUT I DO.
INTERVIEW HIGHLIGHTS CONTINUED:
On the subject of old material no longer feeling right: "I think the sentiments are timeless, which is why the early catalog still sells well. The Morrissey catalog through Universal is abysmally distributed." (Again Moz very cleverly turns the subject to one he wants to talk about, which in this case, is running on a similar line to the last one. Firstly he attacked poor promotion, and now he attacks Universal's poor distribution, which once again, is of course true.)
On the subject of the likes of The Stones and The Who playing into their 70s: "It's good if it's well-executed. If the Stones and the Who want to play music at 70 instead of nodding off in front of Turner Classic Movies, then I think that's a healthy decision." (This is good news for us Moz fans, as it would seem that Moz has 'U' turned regarding his view on 'oldies' doing live shows. There is no reason to believe that Moz will retire from live singing; after all, it is what he lives for, his voice is stronger than ever, he keeps selling tickets and he's probably seen all the Turner Classic Movies.)
THE ROLLING STONES - STILL GIVING THEIR FANS WHAT THEY WANT - PLEASE NOTE, THE CHARLIE WATTS IN THE PICTURE WAS BORROWED FROM MADAME TUSSAUDS
INTERVIEW HIGHLIGHTS CONTINUED:
On the subject of whether it is important for The Smiths to be inducted into the Rock and Roll Hall of Fame: "Not really because I'm not a Smith. During the time that I was friends with Daviid Bowie, he said no to the Rock 'n Roll Hall of Fame, and he also turned down a knighthood from Buckingham Palace. I certainly admire the latter, and I admire Boy George, who also turned down an MBE from the Queen." (It is VERY interesting to note that Morrissey mentions Boy George, who has been a long time friend of 'Our Mozzer' on twitter. Boy George named '@MorrisseysWorld' in a national British newspaper as his favourite tweeter, and now we have REAL Morrissey complementing Boy George in an interview. One has to ask, if Morrissey has NOTHING to do with MorrisseysWorld, then WHY, of all the people in the whole wide world, has he chosen to pay a compliment to the man who chose MorrisseysWorld as his favourite tweeter? The coincidences just mount up, and mount up, and mount up.
BOY GEORGE - WHY HIM?
The other day, I mentioned that Morrissey has started wearing a finger plaster again (finger lingerie), but I couldn't remember what article on the MW blog had first mentioned the plaster. My thanks therefore to Heather Cat, for finding the reference to the finger plaster. The MW blog is not currently available to view, but Heather found the reference on MY blog, from the 'History of MorrisseysWorld' piece I wrote on June 2nd. Incidentally, if you are fairly new to this whole MorrisseysWorld phenomenon, this article may help explain a lot of things, see here: http://followingthemozziah.blogspot.co.uk/2012/06/history-of-morrisseysworld.html).
Here is the original quote about the finger lingerie from the MorrisseysWorld blog:
6TH OCTOBER 2011 - 'My Twitter Journal 6th September - 6th October 2011':
"Consider leaving plaster on finger long after healing or altenatively wearing cosmetic finger plaster to emphasize personal suffering of my journey." In the same article, Our Mozzer attacked Justin Bieber for stealing the 'heart symbol,' and Moz vowed to "reclaim it as his own." Incidentally, I forgot to mention in my review of Morrissey's concert in Brooklyn, the 'heart symbol' appeared on his back as he got sweatier. He also accidentally burped during the concert. Dreadful manners.
THE YELLOW FINGER PLASTER, EMPHASIZING "PERSONAL SUFFERING ON MY JOURNEY"
Quite a lot of footage has at last appeared on Youtube from Wednesday's concert at Strathmore. Here is the set list, and where possible, I have added Morrissey's quotes, and links to the footage. Morrissey seems to have been in good spirits, and at one stage passed the mic to a female fan who, as usual spouted the usual, "I love you so much." The stand out song for me was 'Speedway', but there was no a cappella during the pause.
THE MUSIC CENTER at STRATHMORE, NORTH BETHESDA, MD - JANUARY 16TH 2013
SET LIST:
INTRO - WAYWARD SISTERS BY KLAUS NOMI
"The joy of music"
1. SHOPLIFTERS OF THE WORLD UNITE: http://www.youtube.com/watch?v=3OO8tD-YRRQ
2. EVERYDAY IS LIKE SUNDAY: http://www.youtube.com/watch?v=g2EuAy8QIK8&list=UURGXfTJMDeLNILrISytOMcQ&index=7
3. ACTION IS MY MIDDLE NAME: http://www.youtube.com/watch?v=JBl3gUNT234
"Are you at peace? Could you be happier? So what?"
4. YOU HAVE KILLED ME: http://www.youtube.com/watch?v=kULfaR4KTpg&list=UURGXfTJMDeLNILrISytOMcQ
5. YOU'RE THE ONE FOR ME, FATTY: http://www.youtube.com/watch?v=ytWMvWzJu2M&list=UURGXfTJMDeLNILrISytOMcQ
6. I'M THROWING MY ARMS AROUND PARIS
7. OUIJA BOARD, OUIJA BOARD
"Of course, history can be made on Wednesdays, just as well as any other day, unless of course, you feel a bit rough, from yesterday, a hard at Pepco, a hard day at Walgreens, a hard day on the streets, (in response to heckler) Amen. (Then goes to another heckler who says, "I love you so much, just let me hug you," to which Moz says, "I thought you might."
8. SPEEDWAY: http://www.youtube.com/watch?v=xXF_bR_zPEQ
9. BLACK CLOUD
10. STILL ILL
11. ALMA MATTERS: http://www.youtube.com/watch?v=ZL1kZVK2dag
12. I KNOW IT'S OVER
13. LET ME KISS YOU
14. MALADJUSTED
BAND INTRODUCTION "For your private notes of the ing, on the guitar is Boz Boorer. On the bass from (screeches) 'Chicago', is Solomon Walker, on the drums from New York is Anthony Burulcich (Ed's note - he's from Long Island, so I was told recently), on the guitar from Mexico, Austin, Jesse Tobias, on the piano is Gustavo Manzurs (Ed's note - Moz pronounced Manzurs slightly differently to previous times, emphasizing the 'z' as opposed to an 's'), and I of many selves of which this is the only one.")
15. NOVEMBER SPAWNED A MONSTER: http://www.youtube.com/watch? v=PvDPEaAnTkU&list=UURGXfTJMDeLNILrISytOMcQ&index=1 (Includes Band intro)
16. PEOPLE ARE THE SAME EVERYWHERE
17. ONE DAY GOODBYE WILL BE FAREWELL
"We're not finished with you yet." "If you are meant to find someone than you will. If you're not meant to, then you won't. That's all I can say. I heard a phone ringing somewhere... for me, it's got to be for me. So many buses, I never board them, *sighs* what's the point? You only have to get off, so therefore *tuts*.
18. PLEASE, PLEASE, PLEASE LET ME GET WHAT I WANT: http://www.youtube.com/watch?v=ohrerEvOxkc&list=UURGXfTJMDeLNILrISytOMcQ
19. MEAT IS MURDER
ENCORE
"Be very gentle." (Ed's note - probably in reference to being half strangled during an encore recently, although it was to be ignored, as the very first stage invader tried to pull him over. Nobody else made the stage.)
20. HOW SOON IS NOW?: http://www.youtube.com/watch?v=0NUTKv06Fuw
If anybody has any more links to songs, please add them to the comments box and I will add them on.
There has been no Kristeen Young footage added for ages, which is a real shame. If anybody would care to video some Kristeen footage, it would be greatly appreciated, especially the new song, 'Soon', which really IS superb.
An announcement on True-To-You has told how Morrissey has refused a headline offer for this year's Coachella Festival.
So, tonight there is a concert in Reading PA and tomorrow Moz heads back to NY state to play Port Chester. I shall now take a rest from blogging until Monday, so if there is anything that anybody thinks I should know, please leave comment, and let's hope MozFiend can get the ring to somebody.