THE MORRISSEYSWORLD BLOG IS BACK *Sounds trumpets*...... but none of the old articles are there! *Trumpets go flat*
Yesterday evening (afternoon in east coast America), as the Twitterdillians continued to mourn the disappearance of MorrisseysWorld, Our Mozzer's right hand man, Broken (@BrokenReturns), made an unexpected visit to the Twitterdilly Arms, and in between his usual goading and mocking, he encouraged Kyle, the Blue Rose Society President, to ask Our Mozzer to bring back the MW blog.
We all know that TRM (The Real Morrissey) has a soft spot for Kyle, but was Kyle able to find Our Mozzer's soft side? Maybe! Read on.
Here are Broken's twitter highlights from yesterday, and for those who may be new to this blog, and are wondering who Broken 'is', he is believed to be one of Morrissey's many online 'pessoas', ie 'characters', although don't bother asking him if he's Morrissey, because he will tell you that he is NOT, although he might just tell you that he IS, just for the sheer hell of it! Broken will usually attempt to start a lively debate, and may well lead you up a path that you don't want to be led up, so if you take him on, BEWARE, although he is always honest, and he happens to be one of my favourite pessoas. Broken spends much of his time on line posting semi naked pictures of footballers, which seems to be his penchant.
BROKEN - BACK IN THE TWITTERDILLY ARMS
BROKEN'S TWITTER HIGHLIGHTS JAN 21ST 2013:
"Kyle is the BlueRoseSociety hero."
"Guys if Moz gives you the mic, take the chance to mention BlueRose!"
"How amusing that troll-in-chief Tseng labels the MW author a 'troll' on the trolling capital of the web, so-low."
"@MozkidKyle Cool pic! If you do a pic asking MorrisseysWorld to come back I'll email him!"
THE PRESIDENT'S REQUEST
BROKEN'S TWITTER HIGHLIGHT'S CONTINUED:
"But was there a sign in New York? I don't think so."
"Rat is the Jermaine Jenas of Sandown Pier." (I don't think that this was necessarily a compliment, but you never know!)
SANDOWN PIER - THE PIER BAR WAS ONCE A FAMOUS HAUNT FOR THE ISLE OF WIGHT'S GAY COMMUNITY..... ALLEGEDLY! THE THEATRE CLOSED IN THE 1990S
BROKEN'S TWITTER HIGHLIGHT'S CONTINUED:
"3 years of blogging and... no one brought moz a rose or a t-shirt or ANYTHING. People say how much they want it... but nobody makes it happen... except @mozkidkyle of course."
With reference to my 'All at Sea' blog of yesterday: "I knew you'd get the reference. I still remember the classic post-apocalyptic FollowingTheMozziah." Broken is of course referring to 'Houston Gate', an incident that caused all hell to break loose last year in the Twitterdilly Arms, when Our Mozzer jokingly announced that he was saddened by the passing of Oprah Winfrey, when in fact it was actually Whitney Houston who had selfishly topped herself, leaving her young daughter without a mother. Our Mozzer's 'joke' was seen by a number of the MorrisseysWorlders as 'evidence' that the author of MorrisseysWorld was OBVIOUSLY NOT Morrissey, as Morrissey would NEVER be so cruel. A couple of people even accused the author of MorrisseysWorld of being racist for suggesting that Whitney looked like another similar looking person! In response to my "post-apocalyptic" blog entry (see Day 153 of this blog), Morrissey left the following message:
Morrissey then followed this up by writing a hilarious parody article on the MW blog about a parallel life on a nuclear submarine.
The comment by Morrissey in last week's Pittsburgh Post Gazette interview about being "away at sea, but without the sea", immediately got me thinking about the nuclear sub parody piece, and it obviously reminded Heather Cat of the MW blog too, as she also mentioned the 'Nuclear Sub' piece in the comments section of my blog yesterday. Heather also posted this:
Personally, I didn't read anything into 'That Joke Isn't Funny Anymore' being sung last weekend. The only reason that I had written about it was because it had been sung a cappella at Long Island. Having said that, maybe Heather is right, after all, it does seem to have just been given a 'one off', in much the same way as 'The Youngest Was The Most Loved' was given a special airing for Kyle. Could it be that Morrissey is pulling certain instances out of my blog and turning them into 'one off' set openers?
Morrissey also seems to be using interviews more and more to drop hints about MorrisseysWorld. It is often stated by people who conduct these email interviews, that they are not allowed to ask any questions about The Smiths, but I am just waiting for somebody to ask about MorrisseysWorld, it surely has to happen soon. So far, only the ONE interview in a Brazilian publication last year has mentioned MorrisseysWorld, and of course Morrissey took the opportunity to deny involvement, even labeling MW "Dangerous."
A recent interview with Loaded magazine saw Morrissey mentioning German's riding bicycles, and the city of Coventry. These 'could' be a reference to long time MorrisseysWorlder Girl-on-Bike aka GOB, who is German, has a user name relating to bicycles, and lives in Coventry. It could of course be yet another coincidence, but two days after the magazine was published, Morrissey ALSO mentioned Taylor Swift on stage at Brooklyn, a name that he once gave to GOB in the MW chat room!
TAYLOR SWIFT - A BIKE RIDING GERMAN LIVING IN COVENTRY
BROKEN'S TWITTER HIGHLIGHTS CONTINUED:
"Message from MorrisseysWorld: TIME HEALS EVERYTHING EXCEPT WOUNDS." (@GoramStitches asked, "hence the finger lingerie," which Broken then retweeted).
(In reference to the MW blog coming back) "Maybe Heather's BlueRoseRing will do it"
"@PapaSonsFilm I have a large ego, low self-esteem and a personality disorder... undiagnosed of course." (You mean he's not NORMAL???)
"The blog begged Moz to condemn So-Low and a few days later... he did. A sign?"
"I'm reading Hitch-22 by Christopher Hitchens." (It would be interesting to know if 'Morrissey' has read this!)
HITCH 22 - BROKEN'S CURRENT READING MATERIAL
BROKEN'S TWITTER HIGHLIGHTS CONTINUED:
"@Mozismyshepherd @TheRatsBack You two have been real troopers for the BlueRoseSociety." To this, Kyle's dad replied:
"@Brokenreturns @theratsback We did our best along with @Mozkidkyle."
Broken then tweeted: "Yes, I meant @MozkidKyle and @mozismyshepherd - The Rats back just stood still and wondered!" ( Cheeky Broken Cunt! )
At this stage, Broken posted a new MorrisseysWorld article, entitled: 'Will MW return?' The article states, "A day or two after we condemned Morrissey So-Low, the true artiste took the opportunity to write: "There's a hateful online creche called Morrissey SoLow, which cured me of canvassing opinions many years ago." "
The article goes on to add, "The Blog will NOT return unless the seminal artiste gives us a clear sign. Over to you, Mozzer..." All the old MW blog articles are still missing, so Kyle HAS managed to bring the blog back, but it will apparently only properly re-open if Morrissey gives a sign, but WHAT might that sign be? Could it be that Heather Cat HAS to get the BlueRoseRing to Morrissey on Saturday? It's got to be worth an effort.
THE BLUE ROSE RING
It was great to receive comments on my blog yesterday from both Leslie (Hand in Glove), who was the one who dared to challenge the two muppets on the Scum Cesspit the other day, and also MozFiend, who gave an excellent account of her attempt to stage invade. If you've read both of these comments already, I apologise, but they both merit a place on my blog:
Leslie's Comment:
MozFiend's Comment:
I was at Long Island when MozFiend bravely attempted a stage invasion, and was unceremoniously dumped back into the front row. I am so pleased that she came away from Port Chester with an acknowledgement from Moz.
And so to yesterday's concert:
HEINZ HALL, PITTSBURGH, PA - MONDAY JANUARY 21ST 2013
The stand out songs for me, from the footage that I have seen so far, are 'Please, Please, Please' and 'Meat is Murder.' When I first saw 'Meat is Murder' sung live, in 1985, I immediately gave up eating meat..... it lasted two weeks and I then returned to my old habits.
I was brought up eating meat, and the ethics were certainly never questioned in either my house, my friends' houses, or at any of the schools I attended; eating seemed the most natural thing in the world to do. Despite Morrissey pricking my conscience in 1985, I, like most other meat eaters, decided it was far easier to detach the meat on my plate from the act of an innocent animal being slaughtered. Far more people were much stronger than me, and the message from the song 'Meat is Murder' changed the eating habits of thousands of people. It is probably fair to say that no 'pop song' has EVER had such an effect, and it could well end up being Morrissey's legacy.
DO WE CARE, DO WE CARE, DO WE CARE?
Having detached the meat on my plate from the slaughter of animals, I also detached the sentiment of the 'Meat is Murder' song, and have spent the last twenty eight years enjoying it as just an unbelievably good song, one of my favourites, but the guilt has always been there, niggling.
Last August I started suffering chest pains, and was eventually admitted into hospital. The cardiologist told me that I was very lucky that I hadn't suffered a massive heart attack, and that my arteries were blocked. One of the reasons for the blockage was years of consuming red meat.
Needless to say, I haven't touched red meat since that day, and I now feel I can enjoy listening to 'Meat is Murder' without feeling such a fraud, even if I did give up red meat for selfish reasons, and not because of that niggling guilt. I still eat chicken, and am not proud of it, but having spent nearly fifty years addicted to meat, it is a hard habit to break, and unless I were to give up eggs, all dairy produce, and stop wearing leather, I would never consider myself truly fighting the cause for animal welfare anyway. I really admire those who do, I wish I was such a caring and loving person.... I'm not!
The graphic video Morrissey uses in his shows during Meat is Murder will hopefully continue to help convert stronger willed people than I to vegetarianism, so long may the song remain in the set. Finally on the subject, if you go back and listen to the original 'Meat is Murder' from 1985, it is NOWHERE NEAR as strong a song as it is now. Compared to the hard hitting 2013 version, the 1985 song sounds like a dreamy wish. I will ALWAYS love the original, but today's version is, in my opinion, a hundred times better. Meat is Murder has grown up.
SET LIST:
1. SHOPLIFTERS O' THE WORLD: "Good evening, I am white trash.":
http://www.youtube.com/watch?v=8eNFjCA0XQI (Includes Wayward Sisters entrance)
2. YOU HAVE KEELED ME
3. SPEEDWAY - No idea at this stage if anything was sung during the pause.
4. EVERYDAY IS LOIKE SUNDAY: http://www.youtube.com/watch?v=zm5sCC7Z4FE
5. ACTON IS MY MAIDEN NAME
6. ALMA MATTERS
7. MELON JUSTICE
8. STILL EEL
9. I'M THROWING MY ARMS AROUND PORRIDGE
10. SQUEEZY BOARD, SQUEEZY BOARD
11. BLACK CLYDE
12. YOU'RE THE JUAN FOR ME, FATTY: http://www.youtube.com/watch?v=h4XrWJPtlJA
13. NOVEMBER SPAWNED A MINCER
14. TO GIVE (THE REASON I LIVE)
15. I KNOW, I KNOW, I KNOW
16. LEMME KISS HUGH: http://www.youtube.com/watch?v=xKuAadwQ-yA
17. PLEASE, PLEASE PLEASE ME: "In all the world, I am my best friend. I look after me, and that's the way it's always going to be, which is OK. However... *sings*: http://www.youtube.com/watch?v=dOdSoFJ0MvY
18. MEAT IS MOIDER: http://www.youtube.com/watch?v=YjGwln0IMoo
ENCORE
19. HOW SOON IS NAH?: http://www.youtube.com/watch?v=--62kMUbPNs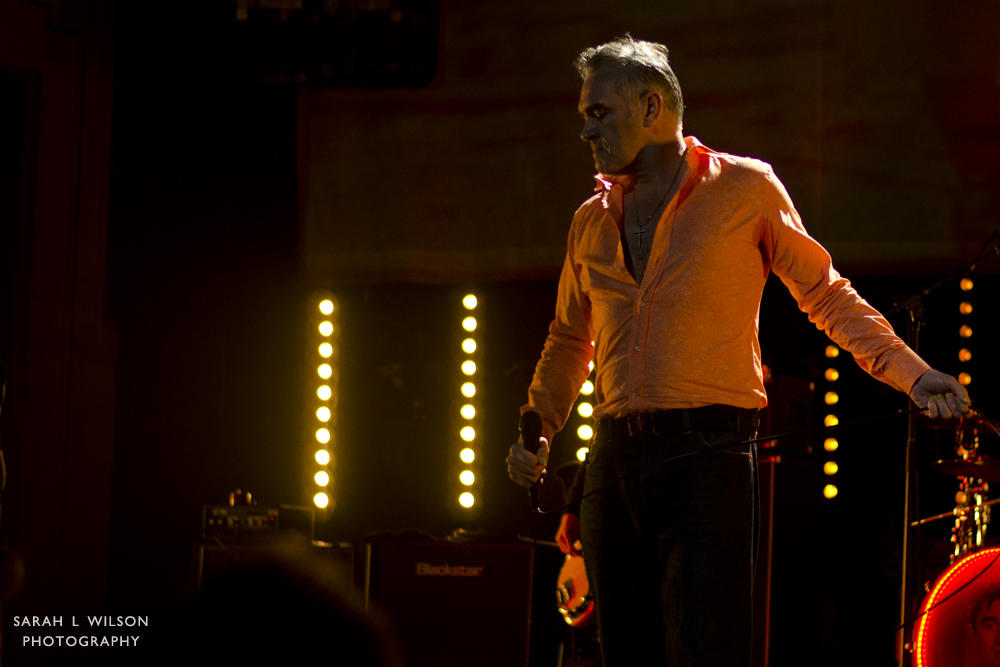 MORRISSEY IN PITTSBURGH
It was announced yesterday that the film director Michael Winner had died. Winner will be remembered amongst MorrisseysWorlders for his spat on twitter with Our Mozzer, which resulted in Winner asking, "Who is Morrissey?", a tag line that was to later be adopted by TRM (The Real Morrissey) on his stage back drop. Michael Winner was always a very outspoken character, and not particularly popular. I wonder if he went to his grave still not knowing who Morrissey was? I have only read one obituary, written by Morrissey's former lodger/friend/minder/photographer Jake Walters. He wrote on twitter yesterday:
"I don't usually speak badly of people I've photographed or the dead as it's unfair. But Michael Winner was a cunt." I wonder if Walters does after dinner speeches?
"MICHAEL WINNER WAS A CUNT" - JAKE WALTERS
As I write this, a new article has been posted on the MW blog, entitled 'Why I Love Years of Refusal' by Broken, so I am now off t read it. Earlier today, I presented the brand new Twitterdilly Arms Top 10, to a good sized audience in The Arms. The chart was dominated by songs the breathtakingly good concert in Reading PA. Tonight's concert is in that horrible looking leisure centre in Columbus, that I speculated before Christmas would be cancelled.... it was, but it looks like this time, it will go ahead. Let's just hope there is some footage posted on Youtube, especially of Speedway, I HATE not knowing what was in yesterday's pause, could somebody PLEASE post what it was, even if you post anonymously ; )
THE TWITTERDILLY ARMS TOP 10 - WEEK BEGINNING SUNDAY 20TH JANUARY 2013
(A weekly chart of the most played songs in the Twit Arms, counted down every Tuesday at 12.45pm)
1. BLACK CLOUD (LIVE IN READING PA) - MORRISSEY (NEW ENTRY):
http://www.youtube.com/watch?v=HuGu43OyOLU
2. THEN I SCREAMED (AKA SOON) (LIVE IN READING PA) - KRISTEEN YOUNG (NEW ENTRY):
http://www.youtube.com/watch?v=NBBruFEtXAs
3. STILL ILL (+ THE BLUE ROSE PRESIDENT SPEAKS) (LIVE IN READING PA) - MORRISSEY (NEW ENTRY):
http://www.youtube.com/watch?v=vzNu7n5JFHo
4. SPEEDWAY (+ '0' '0' and ASLEEP) (LIVE IN READING PA) - MORRISSEY (NEW ENTRY):
http://www.youtube.com/watch?v=m8Knu9-bAH4&feature=player_embedded
5. HOW SOON IS NOW? (+ THE BLUE ROSE PRESIDENT INVADES) (LIVE IN READING PA) - MORRISSEY (NEW ENTRY):
http://www.youtube.com/watch?v=WnpnH28WHk4&feature=player_embedded
6. EVERYDAY IS LIKE SUNDAY (MEOW) (LIVE IN READING PA) - MORRISSEY (NEW ENTRY):
http://www.youtube.com/watch?v=KcTfTY4QW3g
7. THE YOUNGEST WAS THE MOST LOVED (LIVE AT RED BANK NJ) - MORRISSEY (NEW ENTRY):
http://www.youtube.com/watch?v=r0ImVZiO1fc
8. OUIJA BOARD, OUIJA BOARD (LIVE IN READING PA) - MORRISSEY (NEW ENTRY):
http://www.youtube.com/watch?v=ZN2GD5ljE0Q
9. UNTITLED ('NO') (LIVE IN READING PA) - KRISTEEN YOUNG (NEW ENTRY):
http://www.youtube.com/watch?v=wcUcrCqmf6Y
10. WELCOME TO MY WORLD - DEAN MARTIN (NO CHANGE):
http://www.youtube.com/watch?v=qX7BAfXn85Y
SOME OF THE SONGS THAT DIDN'T QUITE MAKE THIS WEEK'S CHART:
11. SHOPLIFTERS OF THE WORLD UNITE (READING) - MORRISSEY
12. ALMA MATTERS (READING) - MORRISSEY
13. YOU HAVE KILLED ME (STRATHMORE) - MORRISSEY
15. ACTION IS MY MIDDLE NAME (STRATHMORE) - MORRISSEY
18. GOT LOVE IF YOU WANT IT - THE STRYPES: http://www.youtube.com/watch?v=AqQOiMYPsA8
24. NOVEMBER SPAWNED A MONSTER (RED BANK) - MORRISSEY
29. I KNOW IT'S OVER (RED BANK) - MORRISSEY
37. JEANE (GLASTONBURY) - THE SMITHS: http://www.youtube.com/watch?v=4u51oTz9PWM
65: AYE AYE AYE AYE MOOSEY - MODERN ROMANCE
67. KISS YOU - ONE DIRECTION: http://www.youtube.com/watch?v=T4cdfRohhcg
68. WHERE ARE WE NOW? - DAVID BOWIE: http://www.youtube.com/watch?v=QWtsV50_-p4
76. UPSTARTS - JOHNNY 'MACCA' MARR: http://www.youtube.com/watch?v=0aCaT0fZzj467
JOHNNY 'MACCA' MARR (AT NUMBER 76 IN THIS WEEK'S CHART) WEARING HIS BLUE ROSE SOCIETY PIN (BADGE) AS HE COLLECTS YET ANOTHER NME ARSE LICK AWARD FOR HIS WORK WITH THE SMITHS
WATCH OUT FOR THE NME THROWING AWARD AFTER AWARD AT MARR IN 2013 FOR HIS SOLO ALBUM, NO MATTER WHAT IT'S LIKE. THE NME ARE USING MARR AS THEIR TWO FINGERS UP TO MORRISSEY. JOHNNY IS IN DANGER OF BECOMING LIKE MUTTLEY IN 'STOP THE PIGEON'.
"MEDAL, MEDAL, MEDAL"