A series of events led to me closing my twitter account yesterday morning, and also posting a blog entry announcing that my 'FollowingTheMozziah' days were over.
I am writing this 24 hours later, sat in my office at work, a place I returned to yesterday lunchtime. Don't get me wrong, I haven't slept here all night, I just mean I've returned to full time office life. I absolutely don't want to be here, but A) Writing my blog and tweeting had taken over my life to the detriment of 'real life', B) I feel duty bound, in these economic hard times, to be involved with a business I've run for the past 20 + years, C) There is NO C!
I won't be publishing this blog entry, well not today anyway, although I expect I will end up publishing it at some stage, after all, what's the point of writing ANYTHING if somebody, somewhere doesn't read it? Actually, that's not true, I have often found that writing helps release thoughts that don't necessarily need to be shared, just released.
The addiction of having written this blog for the past sixteen months is going to prove a hard habit to break, and if truth be told, I don't really want to break it, but I KNOW I can no longer continue to give it the full time input that I have been giving it as well as working full time, and also giving time to my family. My immediate reaction yesterday was to give up blogging completely, but 24 hours on, I am now wondering if I can just write the story of MorrisseysWorld on a part time basis, and don't get involved with tweeting at all, which really can steal hour upon hour of your life without you realising it. The story of MorrisseysWorld is far too important not to tell, so I HAVE to try and make this work.
Over the next few days, I shall continue to write my blog, and if I can manage to cover the MW story properly, without it taking up so much of my time, I will publish the blog entries at the beginning of next week. I have sneaked a peek into the Twitterdilly Arms, and according to Broken, I WILL be returning at the beginning of next week anyway! How does he know? Perhaps he KNOWS that Morrissey will do something at the weekend that will draw me back in. Perhaps Morrissey will take the Blue Rose Ring from Heather Cat. Time as ever....
There have been some very lovely comments left by people in both The Twit Arms and on my blog, saying that they don't want me to stop blogging. I am genuinely touched by the comments, and it goes to prove that dispite all my waffle, my writing has been appreciated. I now feel dreadfully guilty for yesterday's decision, but if I return now, and then find that I really HAVEN'T got the time to blog , then I'd have to stop again, which I don't want to do. Only Our Mozzer is allowed to come and go at will and toy with people's emotions.
Before calling it a day yesterday, I had already written a little bit about the concert in Ohio:
MORRISSEY IN CONCERT - LC (LIFESTYLE COMMUNITIES, NOT LEISURE CENTRE) PAVILION, COLUMBUS, OHIO - WEDNESDAY JANUARY 22ND 2013
THE LC COLUMBUS - PART OF MORRISSEY'S 'LIFESTYLE COMMUNITIES' TOUR
The yellow finger lingerie was still in place, and the Smithfields Dr Martens picture was used as the backdrop. Some of the videos I have viewed are courtesy of former MorrisseysWorlder Still.I.Cling. As Still.I.Cling stood there filming, did she REALLY not ask herself, 'Why is Morrissey wearing a yellow finger plaster on a different finger to the one he was wearing it on the other day?'
Still.I.Cling was a central part of the MW community back on 6th October 2011, when the article about the finger lingerie was first published. I wrote about this just a few days ago, so I am repeating it purely and simply for Still.I.Cling, as last night she stood just 10 yards away from the completely uninjured Moz finger that was sporting a plaster. WHY don't people want to see the obvious and embrace MorrisseysWorld, WHY?
Here is the original quote AGAIN, from the MW blog regarding the finger lingerie:
6TH OCTOBER 2011 - 'My Twitter Journal 6th September - 6th October 2011':
"Consider leaving plaster on finger long after healing or altenatively wearing cosmetic finger plaster to emphasize personal suffering of my journey."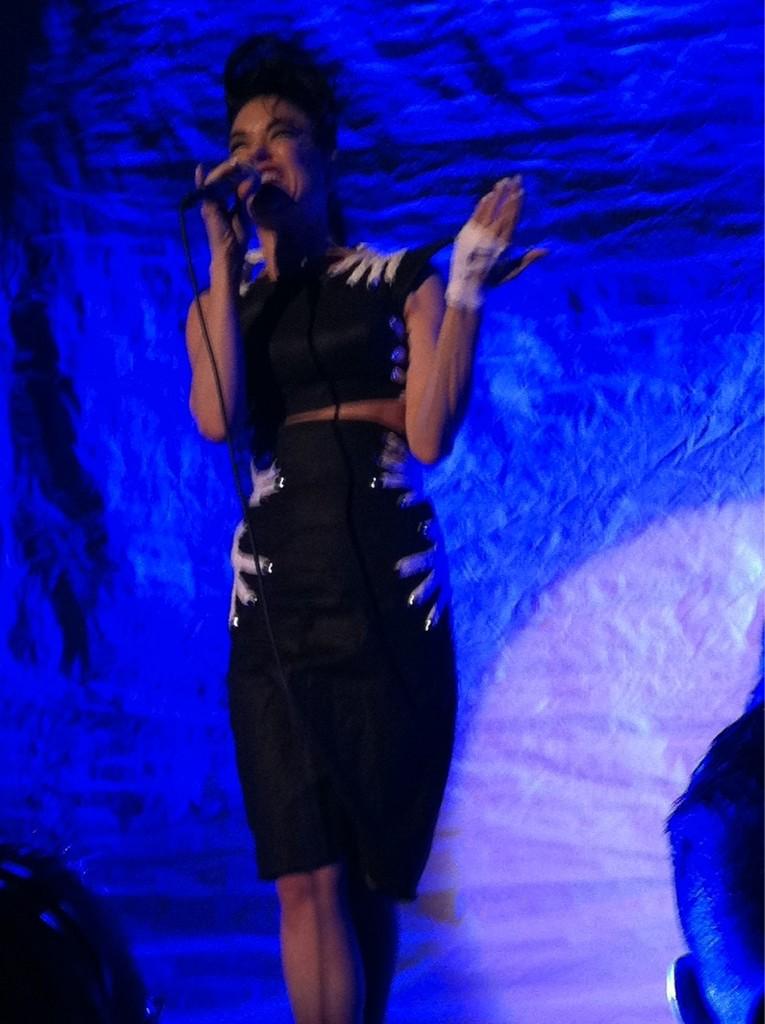 KRISTEEN YOUNG IN COLUMBUS - IS HER HAND BANDAGE ALSO EMPHASIZING PERSONAL SUFFERING... OR DOES SHE HAVE A BAD HAND?
SET LIST:
1. SHOPLIFTERS OF THE WORLD UNITE:
http://www.youtube.com/watch?v=0uZagUBoyOE - Moz moved with the style and grace of a classic latino dancer, and at the end of the song gave a polite, "gracias," before then saying, "I've come to wish you an unhappy birthday." He then launched into 'Everyday is Like Sunday.'
2. EVERYDAY IS LIKE SUNDAY
3. FIRST OF THE GANG TO DIE
4. YOU'RE THE ONE FOR ME, FATTY
5. BLACK CLOUD
6. SPEEDWAY:
Morrissey sang "I'm just a country-mile behind the world" from 'Miserable Lie' during the pause.
7. NOVEMBER SPAWNED A MONSTER
8. OUIJA BOARD, OUIJA BOARD
9. ALMA MATTERS
11. I'M THROWING MY ARMS AROUND PARIS
13. ACTION IS MY MIDDLE NAME:
http://www.youtube.com/watch?v=jk3AfRJogNE - Morrissey effortlessly breezed through 'Action' as though he had been singing it for years, which I suppose he HAS, it is now an old friend. I'd love to know what inspired the song. At the end of 'Action,' Morrissey passed the microphone to the audience. Having read on twitter that Broken was encouraging the audience to mention Blue Rose, I am sure we all hope that one day somebody will, but at the moment of course, only the odd one or two at most concerts even KNOW about Blue Rose or MW, so it ain't likely to happen any time soon. Lat night's audience comments consisted of requests to sing 'Sister I'm a Poet', 'Frankly Mr Shankly', and there was of course the usual "I love you" and "You have changed my life." BORING, BORING, BORING! MENTION THE FUCKING ROSE!
14. I KNOW IT'S OVER:
http://www.youtube.com/watch?v=0EFCVggtnS4
(This clip contains the same audience chat as above)
15. LET ME KISS YOU
16. PEOPLE ARE THE SAME EVERYWHERE
17. PLEASE, PLEASE, PLEASE LET ME GET WHAT I WANT:
'Rant' + song: http://www.youtube.com/watch?v=sZsITuqktiA One of the comments left on my blog of yesterday was from Leslie, who posted a link into her blog (see here: www.thereisalightthatnevergoesout.blogspot.com), where she (I am presuming Leslie is a she!) discusses the 'rant' before 'Please, Please, Please.' It is interesting that Morrissey criticises marriage, which Our Mozzer has done a lot lately on twitter. COINCIDENCE of course, COINCIDENCE!
18. MEAT IS MURDER
ENCORE:
19. HOW SOON IS NOW?:
http://www.youtube.com/watch?v=jYxtEVgYtVQ
Compilation of a few different songs
.
Just before I abandoned twitter yesterday, the MorrisseysWorld account had been re-activated. At the time of my departure, Our Mozzer hadn't tweeted, but since then, a number of tweets were posted, here are the highlights:
"And so the wheel turns once again."
"I have a problem with my autobiography. I've found the central character to be flat and yet scarcely believable. How do I write him out?"
"We few beautiful-ugly cripples hide from the light of the Sun and pray for the pouring rain. We are Morrissey's Home Crowd. BlueRoseSociety."
"Do you think if I change the lyrics of Art-hounds to "Va va voom, va va voom" that I might get a record deal?"
"Without followingthemozziah.blogspot.com how will I know if I've given myself another sign that I'm possibly myself?"
Broken was also VERY complimentary towards me, for a change, saying: "Without Rat, the BlueRoseSociety has lost its shining light and the petals now look dull grey-black."
Broken's tweet about me coming back next week said: "TRB will be back by the beginning of next week and surprise you all... well perhaps any of you over eighty."
When Broken laid into the Scum Cesspit moderator, whose name I no longer mention, his close friend Rosy Mires decided to act as chief defender, asking Broken,"Do the words 'hateful online creche' resonate with you? Read your tweets back. You think Moz would approve?" Broken soon put her in her place, saying,"Rosy how do you manage to be morally neutral and yet sanctimonious simultaneously?" I couldn't have put it better myself. When it comes to backing the wrong horse, Rosy Mires couldn't have got things more wrong if she'd tried. She's backed a two legged ass that's not even at the right race course.
Anyway, that will do for today, a day in which I have returned to work, attended a funeral, and yet STILL managed to write a blog entry. Maybe I CAN make this work.
I nearly posted one of the poem's from the funeral as a blog posting today, as 'TheRatBacks' lament, but even 'I' am not that full of my own self importance..... what am I on about, of COURSE I am:
HE IS GONE
You can shed tears that he is gone
Or you can smile because he lived
You can close your eyes and pray that he will come back
Or you can open your eyes and see all that he has left
Your heart can be empty because you can't see him
Or you can be full of the love that you shared
You can turn your back on tomorrow and live yesterday
Or you can be happy for tomorrow because of yesterday
You can remember him and only that he is gone
Or you can cherish his memory and let it live on
You can cry and close your mind, be empty and turn back
Or you can do what he would want; smile, open your eyes, love and go on.
The poem was written by David Harkins, not about death, but about an unrequited love. It would actually make a good lament for Morrissey or Our Mozzer, especially with the 'open your eyes' and 'close your mind' lines.