The Mozziah is back! *Gets the palm leaves, bunting, plastic blue roses et cetera out of the loft and waves them vigorously*
BALBOA THEATRE, SAN DIEGO, CALIFORNIA - WEDS 27TH FEB 2013
SET LIST
1. THAT JOKE ISN'T FUNNY ANYMORE
2. EVERYDAY IS LIKE SUNDAY
3. HOW SOON IS NOW?
4. IRISH BLOOD, ENGLISH HEART
5. NOVEMBER SPAWNED A MONSTER
6. OUIJA BOARD, OIUJA BOARD
7. I'M THROWING MY ARMS AROUND PARIS
8. SPEEDWAY
9. ACTION IS MY MIDDLE NAME
10. ALMA MATTERS
11. YOU'RE THE ONE FOR ME, FATTY
12. YOU HAVE KILLED ME
13. STILL ILL
14. TO GIVE (IS THE REASON I LIVE)
15. PLEASE, PLEASE, PLEASE LET ME GET WHAT I WANT
16. MEAT IS MURDER
17. LET ME KISS YOU
18. THE BOY WITH THE THORN IN HIS SIDE
(Set list provided by LIVE feed to The Twitterdilly Arms by @Vulgar1mkela)
Last night's San Diego concert was attended by a number of the Blue Rose Society, including Vulgar (@Vulgar1mkela), Clover Dean ( @MozzeriansATW) and Old Willoughby (@awillo9658). A number of photos have been posted on the walls of the Twitterdilly Arms, but one in particular got me very excited as I thought it was a HUGE sign. It is a picture of one of the t-shirts being sold at the concert, which depicts Morrissey dressed in a plain white robe, holding a lamb, with the caption 'Moz Is My Shepherd'.
T-SHIRT ON SALE AT A MOZ CONCERT NEAR YOU
I immediately presumed that Morrissey had printed these t-shirts in homage to Kyle's (President of the Blue Rose Society) dad, who has the twitter name '@MozIsMyShepherd', but it transpires that Kyle's dad actually changed his twitter name to MozIsMyShepherd AFTER seeing the new t-shirts last month in New Jersey. Although not a sign, the fact that Moz is dressed as The Mozziah is good enough for me.
And so to the concert. As I write this at lunch time on Thursday in the UK, it is 5am in San Diego, and the only video footage that has been posted on Youtube is of 'Please, Please, Please Let Me Get What I Want' (See here: http://www.youtube.com/watch?v=Xn2CzE4-xS4&sns=tw), so there is very little for me to report. I have no idea if there was a song during the 'Speedway' pause, and I don't know what was said between songs. One thing that I DO know, is that Vulgar has left comment on my blog of yesterday, to say that the band wore 'Superman' t-shirts and..... *drum roll* MORRISSEY TOOK VULGAR'S BLUE AND RED ROSES!
MORRISSEY LAST NIGHT IN SAN DIEGO TAKING DELIVERY OF VULGAR'S RED AND BLUE ROSES (THE WHITE ONE WAS HANDED TO KRISTEEN YOUNG EARLIER IN THE EVENING)
Vulgar has reported back to the Twitterdilly Arms to say that Morrissey took the flowers during 'Alma Matters' and actually sang some sort of thank you to her, along the lines of "these are from you." We shall have to hope some Youtube footage emerges to find out exactly what was sung. That camouflage shirt Moz is wearing is HILARIOUS. Could it be that he is taking the piss out of the Duck Dynasty people, who appeared on Tuesday's Jimmy Kimmel show? Could it be a reference to homosexual men not fighting wars? Actually, the shirt looks VERY familiar, let me take a closer look....
Hold on, it's........
.......... Justin Bieber's shirt that I published on my blog yesterday! IT'S A SIGN *Waves a palm or two* RE-OPEN MORRISSEYSWORLD! It may not be a 'novelty pop act t-shirt', but it's a 'shirt worn by a novelty pop act', which is good enough for me. RE-OPEN MORRISSEYSWORLD!
Clover Dean ALSO took some beautiful looking BLUE ROSES to the Balboa theatre last night, but I presume they didn't reach Moz. It is the thought that counts.
BLUE ROSES TAKEN TO BALBOA THEATRE BY CLOVER DEAN (@MozzeriansATW)
And here are some more photos from Vulgar:
It would appear that there is a new stage back drop, does anybody know WHO it is?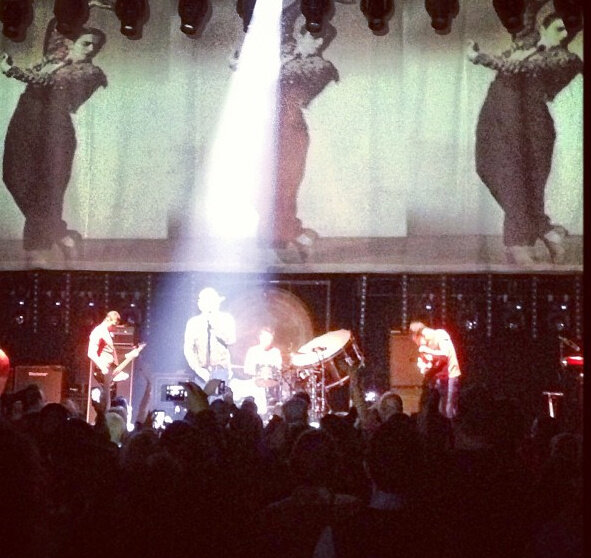 MORRISSEY AND THE MORRISSEY BAND ON STAGE LAST NIGHT WITH A NEW BACK DROP
The double drum kit with the red and blue Ameri-ca has been replaced by a single drum with a man on it, but I can't post the photo that I have seen as it is an Ingrastram picture, which you can't copy and paste. I wish people wouldn't use this Ingrastram thingy, whatever it is!
It is great to see that 'The Boy With The Thorn In His Side' has been added to the set, it is a classic (aren't they all?). I remember watching Margie Clarke interview Morrissey on The Tube when this song was coming out, and Morrissey describing how the song is about the music industry. Whenever I hear the song now, I STILL think of that interview in Scotland. Isn't nostalgia great, it warms your cockles! I wonder if this song has been added because singer Tracey Thorn has recently published her autobiography, which apparently has a section about Moz?
MORRISSEY AND MAR....GI
I will write more about the San Diego concert tomorrow, as more video footage emerges on Youtube. In the meantime, if anybody would like to see the footage of Johnny Marr performing 'How Soon Is Now?' last night at the NME awards, here is the link, but i must warn you, that although YES Johnny is now officially a 'Godlike Genius', and YES I will always love him for the work he did with Morrissey, he CANNOT sing! There is no point trying to dress it up any other way, he just can't, but God he can play that guitar! The link: http://www.youtube.com/watch?feature=player_embedded&v=mmU1sLabqLY
THIS PHOTO HAS APPEARED ON T'INTERNET, BUT WAS IT FROM LAST NIGHT'S CONCERT, AND IF SO, 'WHO' TOOK THE INFLATABLE ROSE? NOTICE THE BLUE ROSE HEAD ON THE BLACK LEADS. SURELY THIS PICTURE WAS FROM THE LONG ISLAND CONCERT?
So, to other news. Morrissey's decision not to appear on the Jimmy Kimmel show on Tuesday resulted in Kimmel mocking Moz by getting the Duck Dynasty people to do a 'carrot hunting' sketch. Morrissey responded with the following statement on True To You:
27 February 2013
I was disappointed with last night's Jimmy Kimmel Show wherein our smiling host managed to ridicule depression (70% of Americans have experienced depression according to the National Institute of Mental Health). He then found time to ridicule healthy eating (the obesity epidemic in the U.S. costs $147 billion per year in medical expenditure), and he also ridiculed the notion that animals should be entitled to the possession of their own lives. Furthermore, he found time to jokingly promote gun-ownership - hugely amusing for the parents at Sandy Hook, no doubt. He also promoted his special guests Duck Dynasty - who kill beings for fun.
None of the above issues are, of course, as important as Jimmy Kimmel himself, who has finally revealed his show to have an overwhelming loss of meaning. Tune in and relive the intellectual fog of the 1950s.
Morrissey
Kimmel (@JimmyKimmel) responded to Morrissey's response by tweeting a photo of Morrissey's 'You Are The Quarry' album cover, which depicts Morrissey holding a Tommy Gun, and tweeted, "Note to Morrissey - if you have more dumb statements to make, I invite you to make them where I do, on my show." I think that Jimmy calling his own statements dumb, is his way of saying the door is still open for Morrissey to appear on the show, but as to whether Moz decides to enter through the open door remains to be seen. I hope he does.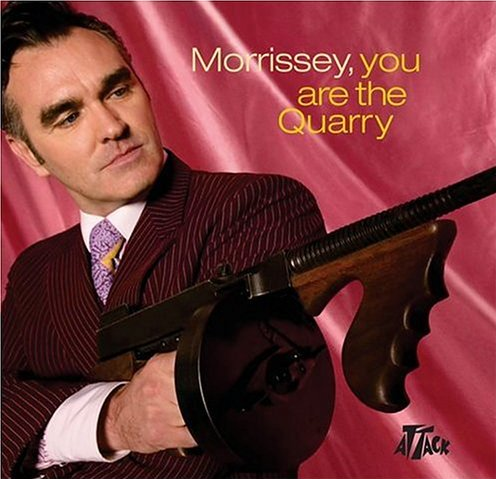 Another new Morrissey interview has appeared on the world wide web, this time with HollywoodReporter.Com. Here are the highlights:
On the subject of the Staples Center in LA agreeing to go vegetarian for Moz but not Paul McCartney - "I was amused to hear that Sir Paul McCartload was very angry that Staples had said yes to me but no to him, when really, he should be happy for any victory on behalf of the animals. I know he works hard for PETA, but he also loves the British royals, whose treatment of animals is abysmal. The Queen herself wears enough fur to blanket most of Russia. He also once sang "Give Ireland back to the Irish," which was directed at the Queen. Well, she refused, and she still refuses, yet Sir Paul gives her the thumbs up! If he cared passionately about animals, he'd return his knighthood. He doesn't need the Queen's approval. He's given more pleasure to people worldwide than she could ever dream of."
SIR PAUL APPEARING ALONGSIDE DESPERATE DAN IN THE LAST EVER COPY OF THE DANDY COMIC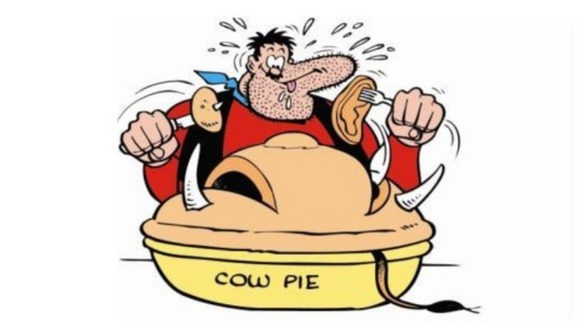 DESPERATE DAN - FAMOUS FOR EATING COW PIE
It is great that Sir Paul McCartload (you have to laugh at Mozzer's name changes) has ethics and principals, but Morrissey is quite right in everything that he says about Sir Paul (I also love how Moz ALWAYS piss takingly uses the 'SIR' when referring to Elton, Macca et al) , you can't hold a strong political position about Ireland and then accept a knighthood from the Queen and you can't campaign against meat eating and then be seen shaking hands with the UK's best known carnivore, even if he IS a cartoon. Neither John Lennon nor Linda McCartney would have made such schoolboy errors. Sir Paul has to walk the walk, not just talk the talk.
SIR PAUL TALKING THE TALK
PAUL MCCARTNEY WITH GEORGE MICHAEL (NO RELEVANCE TO THIS ARTICLE WHATSOEVER BUT I FOUND THE PICTURE WHILST SEARCHING ON GOOGLE IMAGES AND THOUGHT I MIGHT GET A LAUGH FROM SOMEONE SOMEWHERE BY CALLING THE BLOKE ON THE RIGHT GEORGE MICHAEL. IF NOTHING ELSE, IT HAS AMUSED ME)
HOLLYWOOD REPORTER HIGHLIGHTS CONTINUED:
On the subject of his concerts - "The love and intensity from the crowd is quite incredible for me to witness. It sets its own terms, so therefore the success of any night doesn't entirely depend upon my own efforts. I turn up in order to watch the crowd, whereas it's generally assumed that they turn up to watch me. The only difference is that I don't have to queue, and I don't get groped by venue security." (I love this last line.)
On the subject of a record deal - "I have no DIY instincts, and recording without a major label would give the music world yet another reason to completely ignore me. I've had one very poor offer -- from Sony -- but otherwise nothing ever happens. The search for wisdom goes on. Help!"
THE PYE RECORD LABEL - OWNED BY SONY, BUT UNLIKELY TO HAVE THE NAME MORRISSEY ON IT WHILE THEIR OFFER REMAINS "VERY POOR"
On the subject of The Smiths - "A lot of people are homesick for The Smiths, because the songs are so good. The Smiths were never promoted and almost never received radio play, and this mystery has protected them in the long run. But a reformation will never take place because reformations can only work if the same spirit that made the band form in the first place still exists. But it doesn't."
On the subject of the memoirs - "Autobiography is a therapeutic act of self-loyalty, even if, like me, you end up with chapters of self-disgust rather than reams of narcissism. If the book doesn't come out soon, I'll burn it." (When I asked about the book in my 'fake interview' last May, I was given the response, "Coming to a pulping unit near you soon.")
JIMMY KIMMEL (CENTRE) AND THE CAST OF DUCK DYNASTY BURNING MORRISSEY'S BOOK (HOLD ON, ISN'T THAT BOZ BOORER BEHIND JIMMY?)
THE HOLLYWOOD REPORTER: "You'll be playing a show at Hollywood High School. is there something about the school's legacy (Carole Lombard, Judy Garland and Mickey Rooney are among its famous alumni) that made you want to perform there?"
MOZ: "Well, no, not really. It's just handy for The Cat and Fiddle." (HILARIOUS!)
THE CAT & FIDDLE ENGLISH THEMED PUB ON SUNSET BLVD..... NO, I'M NOT MAKING THIS UP, IT 'REALLY' IS!
LINEKERS BAR, NEXT DOOR TO THE CAT & FIDDLE (ALRIGHT, I 'HAVE' MADE THIS ONE UP, BUT IT WOULD BE FUNNY! I LOVE THE 'REAL STATE AGENT' SIGN.... THEY AIN'T KIDDING ABOUT THE REAL STATE!)
On the subject of Morrissey seeing Kirk Douglas - "Kirk, I think, is the last of the famous. I felt fathomless depths of awe in his presence. Such people mean more than presidents. My wish to meet list has been completed. Most actors of quality are dead. Kirk Douglas has actually outlived death."
On the subject of 'other things' - "I'd like people to be aware of the pangs of childbirth, and that every male is not necessarily a man. But perhaps these are topics for another time." Girl on Bike (@GirlOnBike1102) has tweeted to say that the subject matter of not all males being men, was discussed in the MW chat room by Our Mozzer and Alex West (@AlexWest95)
Well, that's enough for today, so I will finish by showing what the President of the Blue Rose Society thinks of Our Mozzer calling him Justin Bieber:
And finally, finally, a tweet from yesterday from Boy George:
#
thewrightstuff
Mathew, Morrissey is genius! He is loved all over the globe!