MorrisseysWorld is still absent, and yet my blog, which is dedicated to following the activity of MorrisseysWorld, limps on.
TRM (The Real Morrissey) is ALSO absent, and he will NOT be re-commencing his tour this coming Saturday as he had previously stated, as he has been forced to cancel two more concerts due to Alan Bennett's bleedin' asparagus, or something similar.
MORRISSEY (RIGHT) - BLEEDING DUE TO EATING ALAN BENNETT'S ASPARAGUS
Here is yesterday's True To You Statement:
4 February 2013
Due to doctor's orders, the upcoming engagements with MORRISSEY in Las Vegas on Sat Feb 9 and in Phoenix on Sun Feb 10 will need to be rescheduled. MORRISSEY is currently undergoing treatment for a bleeding ulcer and Barrett's esophagus. These shows are in the process of being rescheduled immediately and all patrons are encouraged to hold on to their tickets as the new dates will be announced within the coming days. MORRISSEY thanks everyone concerned for their well wishes during this time and hopes for a speedy recovery. The tour will resume as scheduled in El Paso at Tricky Falls on Feb 12.
The very first words of the statement immediately grabbed my attention, as "Doctors Orders" is a phrase used in the game of Bingo, and I happened to write about Bingo Players in my blog of Friday. As 'coincidences' go, I don't think I can add this one to the very, very long list, but out of interest,
'Doctor's Orders' represents the number 9 in the game of Bingo, and the number 9 is seen by many people as a VERY significant and strong number.
I have no idea if Morrissey's day to day life is influenced by numbers, but many people ARE very heavily influenced by numbers, and I wouldn't be at all surprised if Morrissey is. IF he is, and IF the number 9 is of particular significance to Morrissey, then it completely changes the first sentence of the TTY statement. It would no longer read that Morrissey is cancelling due to a doctor telling him to, but because the number 9 is telling him to. Would Morrissey REALLY cancel two shows because a doctor 'ordered' him to? And will three more days rest REALLY make THAT much difference? (The Number 9: http://www.halexandria.org/dward091.htm)
The statement 'could' of course have been written by Morrissey's publicist Lauren Papapietro (@LaurnPapapietro), which would put a quick end to my little number 9 theory, but while I'm on the subject of Bingo, I am pleased to announce that my collection of Number 1 singles is continuing after all (for now anyway) thanks to the fact that Bingo Players have released their shitty little song 'Get Up (Rattle)' on cd for the German market! Good old Germany.

UK NUMBER 1 AND NOW RELEASED ON CD, ESPECIALLY FOR THE RESIDENTS OF A SMALL ROAD IN BRAMFELD, ON THE OUTSKIRTS OF HAMBURG, WHERE THEY REFUSE TO ALLOW BROADBAND INTO THEIR LIVES
Having just re-read the TTY statement, I think it is far more likely to have been written by Lauren than Morrissey as Oesophagus is still spelt without an 'O' and the word 'patrons' is used, which is much more 'American' than it is English. Oh well, I liked my little number 9 bingo theory, but unless Morrissey walks on stage in El Paso next Tuesday and announces, "Man Alive, Number 5", I shall NEVER mention Bingo again. Hand signs and roses are one thing (or two actually), but if we start suggesting Morrissey is talking to us through the language of Bingo, we really might all get carted away!
Perhaps Morrissey REALLY IS simply listening to his doctor's advice, and is being sensible, in which case, I sincerely wish him a speedy recovery, but 'Bingo Gate' would be SO, SO funny!
EYES DOWN FOR YOUR FIRST NUMBER THIS TIME - MOZ CALLS THE NUMBERS WHILE MAM KEEPS A RECORD
So, with both Our Mozzer and TRM resting, what is there for me to write about? I could mention that my football management skills has resulted in my Under 15 side winning their Cup semi-final on Sunday, or I could write about my cricket captaincy skills taking my team to the Indoor league championship on Sunday evening, but modesty prevails on both counts. I won't even mention that in the one week that I've been back at work, I have done more business than my predecessor did in the previous four months (True)!
Instead of mentioning any of the above, I will write about a number of comments that have been left on my blog in the past few days. Firstly, LizzyCatMoz left a comment on Friday regarding 'The Last of the Famous International Playboys.' Lizzy wrote that 'Broken' had been in the MorrisseysWorld chat room last week, and had mentioned that 'Playboys' was a particular favourite of his. Lizzy adds, "Lo and behold it is now to be re-released as a single." This DEFINITELY warrants a place on the 'coincidence' list, and much higher up than my Bingo coincidence.

THE 1989 VERSION OF 'PLAYBOYS'
It would be quite interesting to list EVERY coincidence in order of how 'coincidental' they actually are, but the list is now SO long, it would take forever to plough (plow?) back through my blog and list them all. As I write this, another TTY statement has been issued, stating that 'Playboys' will be released on the Parlophone label with 'People Are The Same Everywhere' as a b side for the 7 inch, 'Action Is My Middle Name' as the b side for the cd and 'The Kid's A Looker' as an extra track on the download release. The statement also mentions that 'Kill Uncle' has been remastered and will be re-released too. Now, if my (very poor) memory serves me right, there was once an article on the MW blog that mentioned a 'Kill Uncle' re-release, with the inclusion of a tacky badge. Hmm.
As 'Glamorous Glue' ended up being the third best selling vinyl single of 2011, 'Playboys' backed by 'People' has a HUGE chance of being the best seller of 2013. Perhaps I should abandon my Number 1 collection and just purchase the weekly 'vinyl' Number 1, although I doubt such a chart is even produced anymore.
THE 2011 PROMO FOR 'GLAMOROUS GLUE', WHICH I STILL HAVEN'T BOUGHT - WILL THERE BE A VINYL PROMO FOR 'PLAYBOYS?'
I have to ask, WHY does Morrissey need a new record label when he seems to have control over what EMI are releasing anyway? He's even managing to release new material via his old label! Maybe Morrissey realises that the three new songs have been around too long to be considered 'new' anymore, and they won't make it onto the NEW album when it is eventually released. Interestingly, both 'Art-Hounds' and 'Scandinavia' seem to have been put on a back burner for now, hopefully because Morrissey realises they both HAVE to feature on a new album, particularly 'Scandinavia' which is up there with ANY of his other masterpieces.
I EAT THE SOIL
Right, back to the comments left on my blog. Also on Friday, it was announced that Kyle's dad had suffered a heart attack. Thankfully, all is OK, and 'KD' (Kyle's Dad) is now back at home resting. 'KD' was able to join us earlier today for the Twitterdilly Arms Top 10 countdown, and his favourite Moz song, 'Bengali In Platforms', entered the chart at Number 2 (One little duck for all you bingo fans). I find it quite a strange song to have as an all time favourite, but that just goes to show the appeal of Morrissey songs. If you were to ask a hundred Moz fans to name their absolute favourite song, you would quite possibly get a hundred different answers. The same could not be said for many other artists, including the likes of Queen, Abba and The Beatles, where you would probably find the same songs being listed.
QUEEN'S MASTERPIECE, BUT WHAT IS MORRISSEY'S?
The most interesting coment left on my blog in the past few days was by 'SmallBoyJokesAndLoadedGuns' (aka SBJ aka @TheMozBot aka Trouble). SBJ wrote on Friday, "I think it should be added that the very last MW blog article (the YOR review) contained the word "oesophagus" (with an O) in its first sentence." I have a shocking memory, so I would NEVER have remembered such a thing, but although the MW blog has been taken down, because I subscribe to it, I am still able to access it, so I had a look, and SBJ is RIGHT!
Here is the article:
Why I love 'Years of Refusal' by Broken
Some albums help you through a particular period; some push hay down your oesophagus; others slip away like dusky green needles from tall, wispy Scots pines. Years of Refusal helped me through.
2009 was a desperate time. I had nothing except obligations and no one but myself. The Sadness I felt was beyond melancholy, despair, or apathy, and it was beyond mere medical assistance. I was a walking coma with a smile on my face. The Sadness squeezed my spirit into one small corner of my mind, like a needle of conscious unwilling, and warped everything I touched and everything I held, which was nothing at all.
This is an absolutely HUGE coincidence, and makes 'Bingo' now seem ridiculous in comparison. The word 'oesophagus' is NOT an everyday word, so unless this really is a VERY BIZARRE coincidence, it would tend to suggest that Morrissey was already aware of his condition. Nowhere in the TTY statement of Jan 31st did it say that his treatment for 'Barrett's Oesophagus', or '(Alan) Bennett's Asparagus', as it shall now be referred to on this blog, was a NEW diagnosis, so perhaps Morrissey had been previously diagnosed with '(Alan) Bennett's Asparagus' and merely took this opportunity to have one of his regular check ups! I am of course guessing, but for the word 'oesophagus' to be used on the MW blog just days before the official statement HAS to be more than a coincidence, it HAS to be.
ALAN BENNETT - DISCOVERED '(ALAN) BENNETT'S ASPARAGUS'
That will do for today, and I may not blog again for a while, especially if both Our Mozzer and TRM keep a low profile. I keep meaning to write my New York Your Diaires, but somehow I fear the moment may have passed. I even have a contribution from 'Midlife Matt.' Here are a couple of photos from our trip instead:
THE NYPD IN TIMES SQUARE (THE ONE ON THE LEFT IS A PLAIN CLOTHES OFFICER)
TWO OF THE STAFF IN HOLLISTER ON 5TH AVENUE - THE ONE ON THE LEFT LOOKS IN PARTICULARLY GOOD NICK FOR A MAN IN HIS LATE THIRTIES
The mention the other day of 'That Joke Isn't Funny Anymore', reminded me that I hadn't published MY joke that I promised a few week's ago, so I published it on Sunday, it was called 'Logic.' I did intend to feature 'Rosy Mires' as the one who had gone on the logic course, but I couldn't allow her to use the 'M' word, so I changed it to David T. Some people didn't like my joke, and left comments such as, "Useless waste of DNA", "You have an attitude problem that sucks", "Uh oh, someone's obsessed with someone" and "You distort people's perceptions of others to foster a negative view of them. You humiliate others." Each and every comment made me laugh my socks off, but that last comment in particular was the best of them all, it's what Uncle Doolally has been doing on So-Low for years! Oh the irony.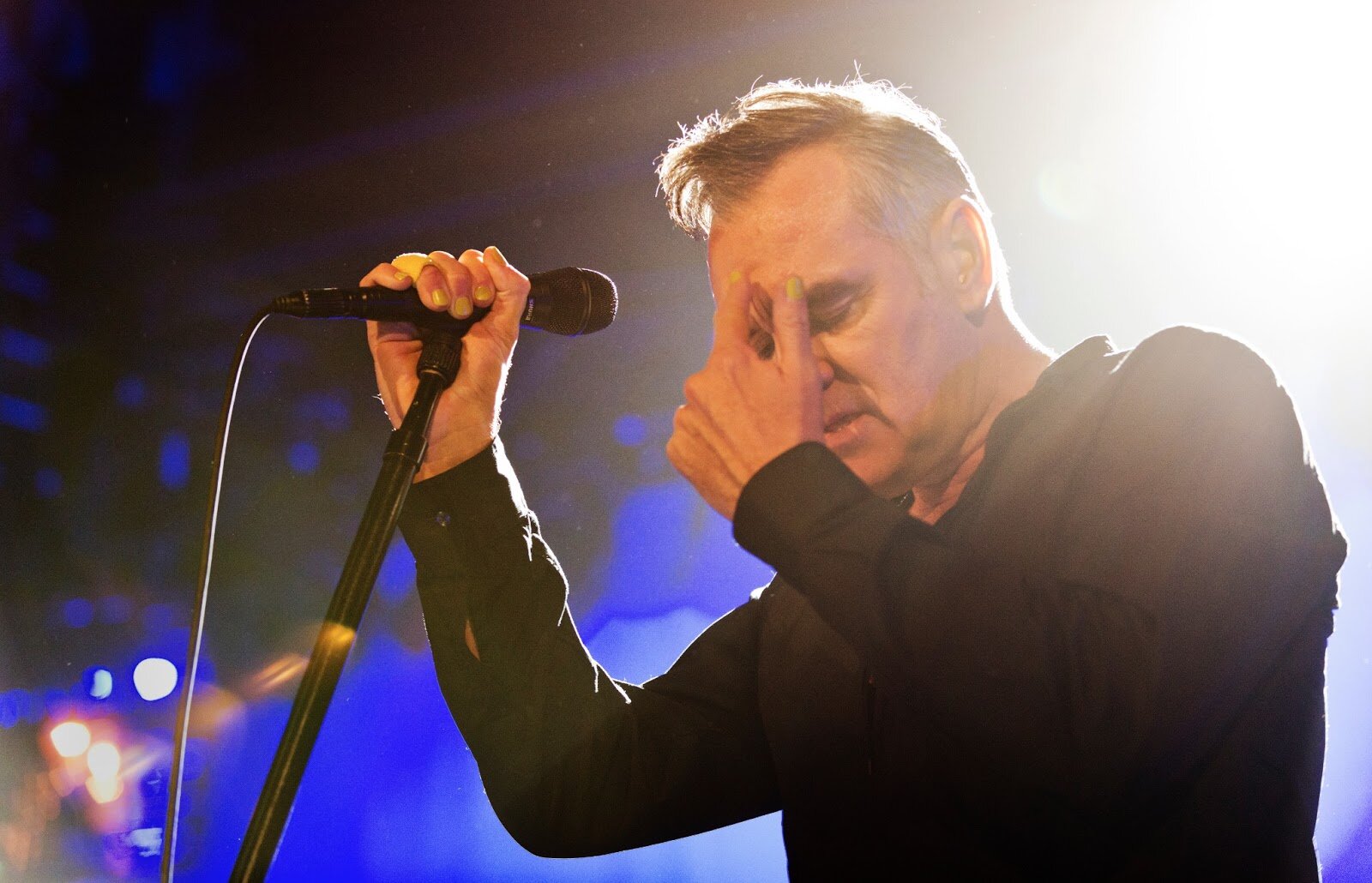 "DEAR GOD, PLEASE HELP ME!"
THE TWITTERDILLY ARMS TOP 10 - WEEK BEGINNING SUNDAY 3RD FEB 2013
1. THAT JOKE ISN'T FUNNY ANYMORE (LIVE IN PORT CHESTER NY) - MORRISSEY (NO CHANGE)
2. BENGALI IN PLATFORMS - MORRISSEY (NEW ENTRY)
3. THE LAST OF THE FAMOUS INTERNATIONAL PLAYBOYS - MORRISSEY (RE-ENTRY)
4. COME BACK TO CAMDEN - MORRISSEY (RE-ENTRY)
5. EVERYDAY IS LIKE SUNDAY (LIVE IN BROOKLYN) - MORRISSEY (NEW ENTRY)
6. ALL THE LAZY DYKES - MORRISSEY (RE-ENTRY)
7. THE SLUM MUMS - MORRISSEY (RE-ENTRY)
8. LIFEGUARD ON DUTY - MORRISSEY (NEW ENTRY)
9. I KNOW IT'S OVER (LIVE IN SYDNEY) - MORRISSEY (NEW ENTRY)
10. WELCOME TO MY WORLD - DEAN MARTIN (NO CHANGE)
(NEXT WEEK'S CHART WILL BE A TOP 10 OF THE BEST COVERS MORRISSEY HAS EVER SUNG, AS VOTED FOR BY YOU. PLEASE DM @FLUFFRAT ON TWITTER OR LIST YOUR TOP 3 IN THE COMMENTS SECTION BELOW. THANK YOU. NOW TO GET OUT OF THESE BRACKETS).
*Goes off singing* I am the last of the famous, In - ter- nash - ernal Playboys, the last of.....