This is my first blog entry for a week, as the MorrisseysWorld blog (MorrisseysWorld.blogspot.com) has still not returned, and Our Mozzer (@MorrisseysWorld) is still absent from twitter. I (@TheRatsBack) too have stayed out of The Twitterdilly Arms (The MorrisseysWorlders name for twitter), as without Our Mozzer, or his sidekick Broken (@BrokenReturns), there seems little point in being there. Many others have also stayed away. It would appear that The Blue Rose Society are resting.
THE TWITTERDILLY ARMS - "I DON'T DO THAT MUCH TALKING THESE DAYS"
In the past week; David Bowie's petulance has irritated Morrissey, more Moz concert dates have been cancelled as Morrissey's bleedin' ulcer continues to bleed and his abnormal food pipe cells continue to be abnormal in the form of '(Alan) Bennett's Asparagus', Boy George has declared on National TV that he is a Morrissey fan, Britain is in a state of horror as they eat horses by mistake, Johnny 'Muttley' Marr continues to talk about The Smiths and prepares himself to accept YET ANOTHER NME award for 'Not Being Morrissey', and the BIGGEST news of the week.... Waddington's are getting rid of the Monopoly 'Iron'! Here is a breakdown.... That Was The Week That Was:
Day 511 - Weds Feb 6th. Boy George appeared on a BBC 4 tv show called 'Danny Baker's Greatest Album Showdown', in which Baker, BG, David Hepworth and Grace Dent chose their three favourite albums. Although it was actually Dent who chose a Smiths album, and not Boy George, BG showed his love for Morrissey by quoting lyrics from 'Last Night I Dreamt' and 'There Is A Light That Never Goes Out'. BG also said, "I'm a HUGE Morrissey fan," before then going on to discuss Morrissey's lyrics by saying, "It's SO genius, it's so clever." The programme itself was ruined by Baker making it all about him and talking FAR too much.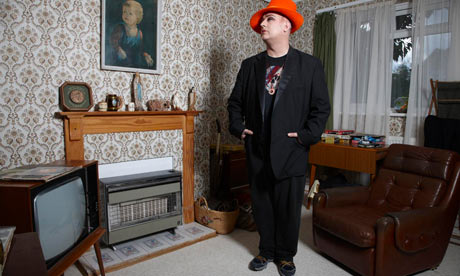 BOY GEORGE - "I'M A HUGE MORRISSEY FAN"
The biggest news of Wednesday was a True-To-You statement regarding David Bowie. I love the way Morrissey has used the word 'ordered', which makes Bowie sound like a militant dictator. Here is the statement:
6 February 2013
Bowie refusal
David Bowie has ordered EMI UK not to run the proposed artwork for Morrissey's April 8th issue of the re-mastered The Last of the Famous International Playboys single and CD. The sleeve featured a previously unseen private photograph of Bowie and Morrissey taken by Linder Sterling in New York in 1992. Although Bowie has no legal rights to the photograph, most of his back catalogue is presently licensed to EMI.
I have to confess, that unlike many Morrissey fans, and unlike Morrissey himself, I have never been a particularly big Bowie fan. I saw him play live in 2004, but I left after a dozen songs, as I was bored rigid. I have never either bought OR listened to a Bowie album, but then again, he wasn't 'mine', I was born too late to fall in love with David Bowie at his peak, ie 1972. Bowie belonged to those who were thirteen or fourteen in 1972, I was born at the very end of 1965, so when I was fourteen, I fell in love with Adam Ant and NOT David Bowie. Adam Ant meant EVERYTHING to me, in the same way that Bowie would have meant EVERYTHING to a thirteen year old Morrissey, which is why everything that has happened in recent years, including this latest issue over the photo, MUST hurt Morrissey. They say NEVER meet your heroes, let alone befriend them, go on tour with them, and duet with them!
MORRISSEY AND BOWIE DUETTING
Both David Bowie and Adam Ant have never really been able to 'better' their 'Ziggy Stardust' and 'Dandy Highwayman' peaks of 1972/73 and 1980/81 respectively, where as Morrissey has continued to write better and better songs. Many people still harp on about The Smiths, but for me, 'You Are The Quarry' is a better album than ANY of The Smiths albums, whilst 'Life Is A Pigsty' is as good as any other song Morrissey has ever written, and both 'Quarry' and 'Pigsty' are from the last ten years, NOT forty years ago like 'Ziggy Stardust.'
When David Bowie performed 'Dancing in the Street' with Mick Jagger in 1985, it proved that he was just a brand, and no longer a serious artist.
THE SOUND OF 1972 - BEFORE MY TIME
Morrissey's TTY statement proves that EMI are obviously scared stiff of upsetting Bowie, and Bowie is proving that Morrissey was RIGHT to walk out on that 1995 tour, because Bowie obviously believes he is more important than Morrissey, which he is NOT. History will one day prove that although Bowie's 'Ziggy' was inventive, Morrissey's lyrical genius is WAY beyond Bowie's, WAY beyond. Unfortunately, none of us will be around to witness the realisation of the masses, but luckily, some of us are living 'through it.'
MEAT IS MURDER - I LIVED THROUGH IT, AND THEREFORE IT'S 'MINE'
It must be strange for Morrissey, because although the likes of Bowie, Bolan, Nico, Johansen, Ferry, Mael & Mael etc were all heroes to him, NONE of them can hold a candle to his genius, which I expect he's probably worked out for himself by now, which in itself, must feel kind of weird. Morrissey will also be VERY aware that every single one of those heroes of his saw a decline in the quality of their output, which is something Morrissey will NEVER want to do, and he is right to think like that. If your next album isn't as good as the previous one, then DON'T release it. The one thing Bowie HAS got right, is that he has waited ten years to release a new album, and I have NO doubt that his new album will be a Number 1, just because his fans have had to wait.
It's a shame that Bowie feels the need to try and show some sort of seniority over Morrissey by refusing to let his photo be used, but it is my guess that he is jealous. Morrissey NEVER had a 'Dancing In The Street' moment, and Bowie knows it.
Day 512 - Thurs Feb 7th. Johnny Marr continues to talk about The Smiths in every interview, which is not surprising as he has an album coming out in a couple of weeks. Interestingly, Morrissey always refuses to talk about The Smiths in his emailed interviews. I predict that Marr's album will enter the UK chart at Number 4, on the back of him having been in The Smiths, it will then drop quickly out of the chart. I may be wrong, and perhaps the album is much better than the two songs I have heard, but if 'Upstarts' is anything to go by, Marr is nowhere near his Smiths peak, but then again, how could he be without the lyrical genius of Morrissey? 'Upstarts' vs 'Black Cloud' or 'Scandinavia'? No contest. (Upstarts, for anybody who is interested: http://www.youtube.com/watch?v=ivF0D5hWaBw) I make NO apologies for being cruel to JM, I am just being honest in my opinion. The Smiths was only ever about Morrissey for me, which is why a reunion would mean nothing.
DAY 513 - Fri Feb 8th. Waddingtons announce that they are to replace the iron in their Monopoly game with a cat! WHY? I am ALWAYS the iron! It won't effect me, because I will continue to use my old Monopoly set!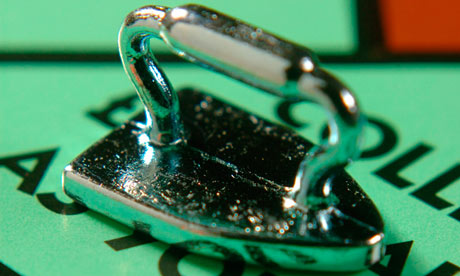 ANY OLD IRON?
DAY 514 - Sat Feb 9th. I awoke to the following TTY statement:
8 February 2013
As the doctor has ordered MORRISSEY to rest for two additional weeks, the upcoming Texas engagements in El Paso (2/12), Austin (2/13), Pharr (2/15), Beaumont (2/16), and Dallas (2/18) will need to be rescheduled. MORRISSEY is currently undergoing treatment for a bleeding ulcer and Barrett's esophagus. These shows are in the process of being rescheduled immediately and all patrons are encouraged to hold on to their tickets as the new dates will be announced shortly. MORRISSEY thanks everyone concerned for their well wishes and looks forward to getting back on the road. The tour will resume as scheduled in Denver at Temple Hoyne Buell Theatre on Feb 21.



The first thing to strike me was that 'Doctors Orders' had been replaced by "the doctor has ordered", so there are NO bingo references going on this week! Poor old Moz must really be suffering with that bleedin' ulcer, but hopefully he will return to the stage on the 21st.
Day 515 - Sun Feb 10th. Rain all day. Come armageddon, come.
DAY 516 - Mon Feb 11th. The NME announce that they are to give Johnny Marr yet ANOTHER award, despite the fact that he really, really hasn't done ANYTHING relevant since 1987. They are using Johnny Marr to get back at Morrissey, and Marr is either too blind to see it, or just doesn't care. Marr knows full well that Morrissey was having to take the NME to court, but shrugging your shoulders and saying 'it's not my battle' doesn't wash. If Johnny Marr is a 'Godlike Genius', then Morrissey is, er, The Mozziah!

Tomorrow marks the first anniversary of the Twitterdilly Arms 'Houston Gate'.
TWITTERDILLY ARMS CHART - SPECIAL TOP 20 COVERS EDITION (AS VOTED FOR BY THE 'DELUDED DOZEN':
1. MOON RIVER: http://www.youtube.com/watch?v=kPzwOWEeFr4
(MORRISSEY LIVE VERSION: http://www.youtube.com/watch?v=aiM3oJsLxJY)
(AUDREY HEPBURN VERSION: http://www.youtube.com/watch?v=9J1OcKd_Dqw)
2. THAT'S ENTERTAINMENT: http://www.youtube.com/watch?v=Cr5JgUjOhq8
(MORRISSY LIVE VERSION: http://www.youtube.com/watch?v=uBd7QOp3Bws)
(THE JAM VERSION: http://www.youtube.com/watch?v=KPk6O8D_niY)
3. REDONDO BEACH: http://www.youtube.com/watch?v=Qfi1o0vT23I
(PATTI SMITH VERSION: http://www.youtube.com/watch?v=B9f4C4iZ9o8)
(PATTI SMITH DEMO VERSION: http://www.youtube.com/watch?v=JaENP1A1EL0)
4. TO GIVE (THE REASON I LIVE): http://www.youtube.com/watch?v=Xs1E9Y6ijzk
(FRANKIE VALLI VERSION: http://www.youtube.com/watch?v=hpLM20jtf0A)
(SHIRLEY BASSEY VERSION: http://www.youtube.com/watch?v=6Rjy6I7v13w)
5. NO ONE CAN HOLD A CANDLE TO YOU: http://www.youtube.com/watch?v=p_iqHAykd2A
(RAYMONDE VERSION: http://www.youtube.com/watch?v=dgEYEp4zriU)
6. INTERLUDE: http://www.youtube.com/watch?v=FkfjWl4zA1o
(TIMI YURO VERSION: http://www.youtube.com/watch?v=-jcvl5RZYEs)
7. A SONG FROM UNDER THE FLOORBOARDS: http://www.youtube.com/watch?v=2rbbowLw7-A
(MAGAZINE VERSION: http://www.youtube.com/watch?v=kBfh8682eLE)
8. COSMIC DANCER: http://www.youtube.com/watch?v=xCcMXBOF8gs
(MARC BOLAN VERSION: http://www.youtube.com/watch?v=SlimsLXEkAc)
9. NOTHING RHYMED: http://www.youtube.com/watch?v=w5_t_M_Msa8
(GILBERT O'SULLIVAN VERSION: http://www.youtube.com/watch?v=MtoefxZGR6U)
10. SATELLITE OF LOVE: http://www.youtube.com/watch?v=CaCXpAAAvpo
(LOU REED VERSION: http://www.youtube.com/watch?v=BgXE2fVvzlg)
11. EAST WEST: http://www.youtube.com/watch?v=4k65N-cQ5jA
(HERMAN'S HERMITS VERSION: http://www.youtube.com/watch?v=oY_AVmwiZNM)
12. (MARIE'S THE NAME) HIS LATEST FLAME: http://www.youtube.com/watch?v=OvSGYZ4IAYo
(ELVIS PRESLEY VERSION: http://www.youtube.com/watch?v=rZ91R6xlH-Y)
13. MY INSATIABLE ONE: http://www.youtube.com/watch?v=MJPWo_bDVkc
(SUEDE VERSION: http://www.youtube.com/watch?v=ItWqXrVPB3E)
14. SUBWAY TRAIN: http://www.youtube.com/watch?v=LfdaxhZM7uI
(NEW YORK DOLLS VERSION: http://www.youtube.com/watch?v=DU8THJuEEiw)
15. DRIVE-IN SATURDAY: http://www.youtube.com/watch?v=N8WapGTthUA
(DAVID BOWIE VERSION: http://www.youtube.com/watch?v=vDcyJ9fhVcg)
16. HUMAN BEING: http://www.youtube.com/watch?v=MBrGPAvBsLg
(NEW YORK DOLLS VERSION: http://www.youtube.com/watch?v=iFqycWeWSOA)
17. SKIN STORM: http://www.youtube.com/watch?v=tBQVZtP_qvc
(BRADFORD VERSION: http://www.youtube.com/watch?v=LsfvkQaZSOY)
18. WHAT'S THE WORLD: http://www.youtube.com/watch?v=A2qMZQQMHqU
(JAMES VERSION: http://www.youtube.com/watch?v=CcSPUkOMOC4)
19. YOU SAY YOU DON'T LOVE ME: http://www.youtube.com/watch?v=DEnc3LVo3L4
(BUZZCOCKS VERSION: http://www.youtube.com/watch?v=l_1lqPjmsII)
20. TRASH: http://www.youtube.com/watch?v=mGPXHqvMqNM
(NEW YORK DOLLS VERSION: http://www.youtube.com/watch?v=0JkOk25TsbU)
BUBBLING UNDER:
STREET LIFE: http://www.youtube.com/watch?v=RHj72RpOKe4
(ROXY MUSIC VERSION: http://www.youtube.com/watch?v=arct2SuLcZs)
MOON OVER KENTUCKY: http://www.youtube.com/watch?v=RzRUoQJ-XUY
(SPARKS VERSION: http://www.youtube.com/watch?v=tnqzRyOLwM4)
WORK IS A FOUR LETTER WORD: http://www.youtube.com/watch?v=l04rIfMfLcA
(CILLA BLACK VERSION: http://www.youtube.com/watch?v=EJQWxFv_8_g)