The MorrisseysWorld blog is back *waves palms, throws blue roses et cetera et cetera et cetera - as Yul Brynner said in his 1956 Oscar winning role as the King of Siam - more of that in a minute*, and what is more, TRM (The Real Morrissey) seems to have found a new lease of life since his touch with death, and has been out about in LA; attending football matches, stalking Kirk Douglas, hanging out at parties and picking up an oscar for 'Best Actor'. All of this means of course, that I am back, 'Following The Mozziah'.... the story is old, I know, but it goes on.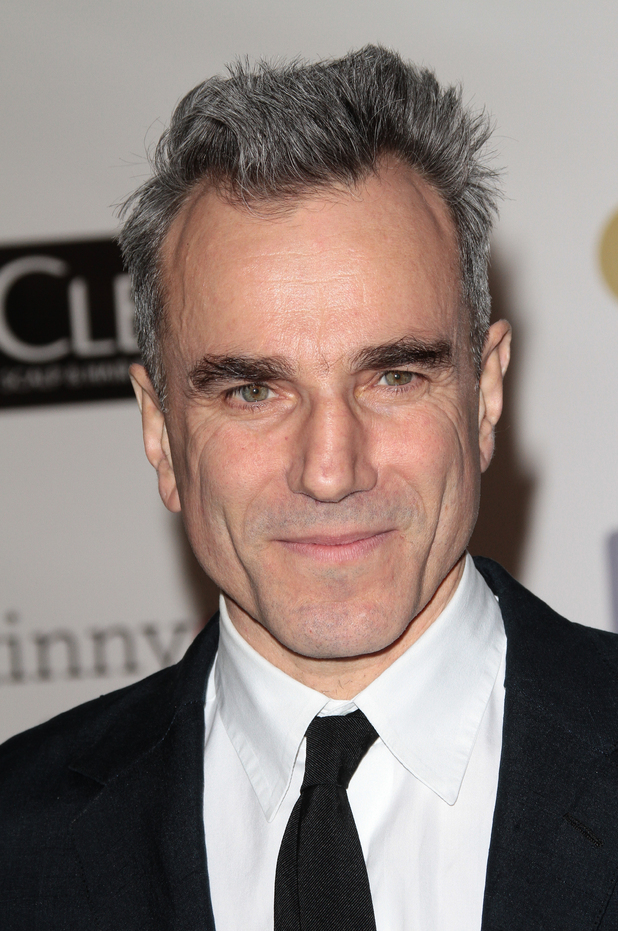 OSCAR WINNER
Seeing as I haven't written a blog entry since last Wednesday, I will work through events of the last week in order. In fact, I haven't really written a proper blog entry since last Tuesday, as my blog entry of Wednesday was my attempted interview with Morrissey, which he completely and utterly ignored, just as I was ignored when I attempted to interview 'Our Mozzer' back on New Year's Eve. In the words of Our Mozzer himself in the latest MorrisseysWorld blog entry, "I wonder why that s*d bothers." More about the MW blog later, but first, Robbie 'The Moz Chin' Keane.
Last Thursday, Morrissey posted an article on the True To You website, all about him meeting Irish footballer Robbie Keane. The article explained how Robbie and Moz are related via Robbie's late grandfather, who was Peter Morrissey's (Father of Moz) cousin, so I am guessing that Robbie Keane told Moz of the connection, although it could of course have been Morrissey who informed Robbie, or perhaps they both already knew, who knows? Who cares? Anyway, Robbie and Moz met up at an LA Galaxy game and compared chins. The next step is to find the relationship of Messrs Keane and Morrissey to Daniel Day-Lewis (see photo above, which isn't 'really' Moz for those of you who may have been fooled!)
MORRISSEY WITH HIS 'NEW' COUSIN ROBBIE KEANE AT LAST WEEKS LA GALAXY MATCH
On Friday, Morrissey posted another article on True To You, this time about him nearly meeting his film hero, Kirk Douglas. The posting explained how Moz was walking alongside Douglas while taking a stroll, but he was "too incurably demented to tap his shoulder and pledge eternal thanks and servitude." It is great to see this side of Moz, most 'celebrities' would never admit to being in such awe of another 'celeb', which goes to show just how much Kirk Douglas means to Morrissey.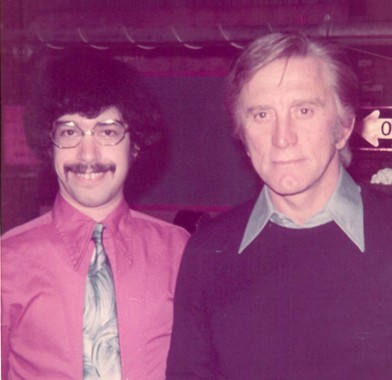 MORRISSEY (IN DISGUISE, ALTHOUGH THE CHIN GIVES HIM AWAY) WALKING ALONGSIDE KIRK DOUGLAS IN LA LAST WEEK
I have to confess, I don't know very much about Kirk Douglas' film career, although I distinctly remember watching him in a few westerns when I was growing up. Morrissey mentions in his TTY article that Douglas was never awarded an Oscar, saying, "I am not alone in knowing how constantly robbed Kirk Douglas was of that voodoo doll known as the 'Oscar', he added, "his magnetic force and colossal onscreen assurance in 'Two weeks in another town', 'Lonely are the brave' and 'The bad and beautiful' still stand as the best screen acting yet produced, in years when the Oscars , as usual, were awarded instead to the blandly servile.'
I decided to find out who the 'blandly servile' actors were, who beat Kirk Douglas to the 'Best Actor Oscar' in the three years that he was nominated. Here are my findings:
1950 - Kirk Douglas was nominated for his role as boxer Midge Kelly in the film 'Champion'. The other nominees were; Broderick Crawford in 'All the King's Men', Gregory Peck in 'Twelve O'Clock High', Richard Todd in 'The Hasty Heart' and John Wayne in 'Sands of Iwo Jima'. And the winner was....... Broderick Crawford.
1953 - Kirk Douglas was nominated for his role as film producer Jonathan Shields in the film 'The Bad and the Beautiful'. The other nominees were; Marlon Brando in 'Viva Zapata!', Gary Cooper in 'High Noon', Jose Ferrer in 'Moulin Rouge' and Alec Guinness in 'The Lavender Hill Mob'. And the winner was....... Gary Cooper.
1956 - Kirk Douglas was nominated for his role as artist Vincent van Gogh in the film 'Lust For Life' . The other nominees were; Yul Brynner in 'The King and I', James Dean in 'Giant', Rock Hudson in 'Giant', and Laurence Olivier in 'Richard III'. And the winner was...... Yul Brynner.
YUL BRYNNER
On Saturday night, Morrissey attended a pre-Oscar party at the Chateau Marmont Hotel in West Hollywood, which resulted in a couple of 'celebs' posting tweets. First, Stephen Chbosky (@StephenChbosky), who is the author and director of 'Perks of Being a Wallflower' tweeted, "To all Perks fans... Holy f@cking sh/t... I met Morrissey tonight! He said the Perks movie was lovely. I repeat... Holy f@cking sh/t!!!". It would appear that Mr Chbosky was as excited about meeting Morrissey, as Morrissey was about seeing Kirk Douglas. It's a funny old business, this fame game.
'PERKS' AUTHOR STEPHEN CHBOSKY WITH BOZ BOORER
The next fan to send a Moz related tweet was our old friend Russell Brand (@RustyRockets), who has obviously been forgiven by Moz and welcomed back into the small fold. Brand, who a couple of weeks ago appeared on the Jonathan Ross show wearing a 'knock off' Smiths shirt with a Viva Hate photo, tweeted the following message and photo in the early hours of Sunday morning, "Late night, Maudlin Street."
PEACHES AND HERB - REUNITED AND IT FEELS SO GOOD
It will be interesting to see if Brand now attends any of Morrissey's LA concerts after failing to see him in Wellington, New Zealand before Christmas.
RUSSELL 'KNOCK OFF' BRAND ON JONATHAN ROSS
And now to the main point of my blog, the return of MorrisseysWorld *Waves palms, blue roses et cetera et cet.... * Sorry, I've already done that bit!
On Sunday evening, the MW blog returned with an article entitled, 'ALL EYEZ ON ME - MY LIVE TOUR JOURNAL, 2013'.
The hilarious piece covers the January concerts, and sees Our Mozzer at his self deprecating best, whilst also having a humorous pop at many people along the way, including Uncle Skinny and the Solowists, accusing them of, "barely having travelled outside of your own semi." No sympathy is shown by Our Mozzer for Morrissey's former guitarist Vini Reilly, who has fallen on hard times, with Our Mozzer saying, "did anyone come to my aid in 2001 when I had to switch the climate control off in February? Did anyone offer to pay my lighting costs in 2009? Of course not. Still, I'd like to make a donation; it's just that smelly, old Stephen has already taken it!"
VINI REILLY IN MORE AFFLUENT TIMES, IE, WHEN HE COULD AFFORD CURTAINS, ALTHOUGH IT SHOULD BE NOTED THAT THERE IS JUST THE ONE CURTAIN, THE OTHER TWO IN THIS BOX BAY WINDOW HAD ALREADY BEEN SOLD AT THIS POINT TO PAY FOR PLANT FOOD AND HEATING. VINI CLAIMS THAT IT WAS HIM, AND NOT "SMELLY" STEPHEN STREET WHO WROTE ALL THE TRACKS ON THE VIVA HATE ALBUM BUT POOR MOZ CAN'T PAY 'EVERYBODY' WHO CLAIMS TO HAVE WRITTEN THE TUNES, HE'S NOT A BLEEDIN' CHARITY YOU KNOW! IS THIS TOO LONG TO BE A PHOTO CAPTION? I THOUGHT SO. SORRY.
The 'All Eyez On Me' article, which I have no idea as to why eyes is spelt with a z, also has a dig at Stephen Colbert and David Letterman saying, "That Colbert c*** was about as amusing as Avian TB, but at least he was marginally more believable than David Letterman.
THE UNBELIEVABLE DAVID LETTERMAN ENTERING THE ED SULLIVAN STUDIO TO INTRODUCE MOZ ON JANUARY 8TH 2013
The 'All Eyez Tour Journal' article then goes on to mention receiving "a lovely blue rose today", which was rather nice of Our Mozzer. It then goes on to suggest that the Blue Rose Society President ISN'T eleven year old Kyle after all, but Justin Bieber! The whole article really is VERY funny, and shows that illness hasn't damaged Our Mozzer's wit in any way. There is quite a lot written about the illness, and my blog even gets a mention with the following, "Watched FollowingThemozziah update... seven hours without a single comment. Quite frankly I wonder why that s*d bothers. I picked up my synthetic blue rose, inhaled the aroma of cheap plastic and Donnie's Boots aftershave, and smirked."
TOUR MANAGER DONNIE WITH 'THAT' ROSE... PLUS CHEAP BOOTS AFTERSHAVE (NB. BOOTS IS A PHARMACY CHAIN IN THE UK)
The most disappointing thing about the return of MorrisseysWorld, is that just FIFTEEN people bothered to leave a comment (SEVENTEEN if you count the two anonymous haters, which could of course be Moz self deprecating!) on this hilarious article. I wonder why that genius s*d bothers!
Another article was also been posted on the MW blog on Sunday, but it isn't new, it is a piece that was originally posted on a website called Cracked.com in September 2011. It has received over 14,000 hits on Cracked, but although it is obviously written by Our Mozzer, and hilariously funny, he has for some reason waited until now to re-release it on the MW blog. Re-issue, re-package, re-evaluate the blog.
That will do for today. Morrissey was supposed to be making his comeback tonight on the Jimmy Kimmel show, but because the shows producers obviously thought it would be funny to have Morrissey appear on the same show as the Robertson family, who own a shop selling products for duck hunters, Morrissey has understandably decided to withdraw from the show, which means he makes his comeback on February 27th, thirty years to the day since the recording of 'Hand In Glove'. And now that Moz has a free evening tonight, perhaps he'll answer my interview questions. Hmmm.
TWITTERDILLY ARMS TOP 10 - WEEK BEGINNING SUNDAY FEBRUARY 24TH 2013
1. DO YOUR BEST AND DON'T WORRY - MORRISSEY (NEW ENTRY)
2. THE TEACHERS ARE AFRAID OF THE PUPILS - MORRISSEY (RE-ENTRY)
3. SHAME IS THE NAME - MORRISSEY (RE-ENTRY)
4. SCANDINAVIA - MORRISSEY (RE-ENTRY)
5. JEEPSTER - T.REX (NEW ENTRY)
6. ACTION IS MY MIDDLE NAME - MORRISSEY (RE-ENTRY)
7. SEASICK, YET STILL DOCKED - MORRISSEY (RE-ENTRY)
8. SPEEDWAY - MORRISSEY (RE-ENTRY)
9. BOZANOVA - BOZ BOORER (RE-ENTRY)
10. WELCOME TO MY WORLD - DEAN MARTIN (NO CHANGE)