I am still getting over the thrill of having 'bagged' another Morrissey interview (see my previous blog entry), but much as though I would like to have left the interview as my main page over the weekend, it is my duty to write a blog entry today, catching up on the events from San Diego on Wednesday. In the words of Morrissey, "Because We Must."
An unbelievable photo has been posted on the walls of the Twitterdilly Arms by Vulgar (@Vulgar11mkela), which shows Vulgar and Kristeen Young posing alongside the BLUE ROSE SOCIETY RING. Just look at Kristeen's face.
VULGAR, KRISTEEN AND THE BLUE ROSE RING IN SAN DIEGO
Vulgar has also posted a couple of other pictures which show her roses at the San Diego concert before she handed them to Morrissey during 'Alma Matters'.
MORRISSEY ON STAGE IN SAN DIEGO WITH VULGAR'S 'VIVA BLUE ROSE SOCIETY' FLOWERS IN THE FOREGROUND. NOTE THE BLUE RING AROUND THE DRUM.
MORRISSEY SPOTS THE BLUE ROSES AND MOVES IN.................
................ TO ACCEPT THEM
It has been pointed out by '@TheMozBot' (aka 'Trouble' aka 'Not Trouble' aka 'SmallBoyJokes') in the Twitterdilly Arms that this is the FIRST time that Morrissey has accepted a BLUE ROSE from the audience (President Kyle had to get on stage to deliver his in New York), and therefore 'TheMozBot' has nominated Vulgar as 'Vice President' of the Blue Rose Society. Having seen the photo of Vulgar with Kristeen, I for one 'certainly' won't be arguing, so all those in favour (or, if you must, favor) please say 'aye' in the comments section below.
At tonight's concert at the Staples Center in Los Angeles, Vice President Elect, Vulgar, will be handing the Blue Rose Society ring over to another member of the Blue Rose Society, who will then take the ring to Hollywood High School on Saturday. I think Vulgar is intending to pass the ring to JJazmineMoz, but there are a number of other Blue Rosers attending tonight, including Clover Dean, Old Willoughby and Manc Lad. Who will get the ring and then where will it go? With the announcement from Morrissey in my interview that he will be playing England later this year, WHO will bring the ring back to Blighty? Perhaps HeatherCat will get it to Moz before he leaves the USA!
On Wednesday night in San Diego, the band came onto the stage to the sound of Klaus Nomi, and as they took their customary 'pre-match bow', Boz whispered something to Moz, but it can't have been anymore than a word or two. I wonder what it was? (See here at 28 secs:
http://www.youtube.com/watch?v=4XQvVkrLgB4&list=UUzAi-0hpTZUhGx2UtX0g90A&index=2
). Morrissey then announced, "Sorry, we're open", before Gustavo Menswear struck up a beautiful piece on the piano, and then moved into 'That Joke Isn't Funny Anymore.'
It has always been fairly traditional for Morrissey to open a show with a really raucous song to get the mosh pit jumping, but opening with 'Joke' or 'Last Night I Dreamt' (which he has done before) REALLY works.
THE MORRISSEY BAND ENTER TAKE TO THE STAGE IN SAN DIEGO
SAN DIEGO SET:
1. That Joke: Here is some footage of the Klaus Nomi intro and piano opening to 'That Joke':
http://www.youtube.com/watch?v=7OWeMqVBT10&feature=player_embedded
. This is a better quality video of JUST the song (without the piano intro), which it has to be said, has Moz sounding every bit as good as he was pre-illness. The Moz is back, and long may this song remain in the set:
http://www.youtube.com/watch?v=fusxQJTa4x4&list=UUjce7WXXcWqEvrdahqwCInw&index=3
2. Sunday: As mesmerizing as ever. TRULY! :
http://www.youtube.com/watch?v=06yhyX20ywM
3. How Soon Is Now? I am pleased to report that Morrissey DOESN'T attempt to play the guitar!
http://www.youtube.com/watch?v=r51850SS9j8
4. Irish Blood: No footage found. If you know of any, please add in the comments box below.
5. November: This song was probably the highlight of the night for me, but unfortunately the video is cut short. The way Moz looks down as he sings "You're SO ugly" really makes you believe that there is actually somebody there. This isn't a man going through the motions, he feels EVERY word.
http://www.youtube.com/watch?v=Z1v03Xemslk
6. Ouija: No footage found.
7. Paris: No footage found.
8. Speedway: No footage found but one of the So-Low lot has reported that Moz sang something about "being in love and could it be you" during the pause. Can anybody add to this?
9. Action: Before singing 'Action', which according to 'PinkIsTheNewBlog.Com' was going to be the song sung on the Jimmy Kimmel show, Morrissey said, "Because we didn't.... you will have noticed the host... making jokes about things that aren't funny... in his little asbestos suit... to which my reply is *blows a raspberry*" The only footage that I have seen of this is via 'PinkIsTheNewBlog' on Telly.Com and not Youtube. I have NO IDEA how to copy the footage, so here is the whole link on 'Pink':
http://www.pinkisthenewblog.com/2013-02-28/morrissey-lives-returns-to-the-concert-stage-in-san-diego?utm_source=dlvr.it&utm_medium=twitter
10. Alma: No footage found, which is a real shame as this is the song in which Morrissey took the roses from Vulgar.
11. Fatty: No footage found.
12. Killed Me: No footage found.
13. Still Ill: No footage found, which is most unusual for a Smiths song being played in the USA.
14. To Give: This was definitely another of the highlights of the night. Is it REALLY a cover?
http://www.youtube.com/watch?v=-yOOlFHxk4c
15. Please Please: Morrissey introduced the song with one of his 'rambles', saying something along the lines of, "I'd now like to use my physic powers for monetary gain, monetary gain.... but I think I might make it to tomorrow, in which case, from the gutter to anywhere else...*sings*" The song is, of course, as beautiful as ever:
http://www.youtube.com/watch?v=ey-otkTAITQ
16. Meat: No footage found.
17. Lemme Kiss: And off comes the shirt.
http://www.youtube.com/watch?v=eSVIu7Bkbas
18. Boy Thorn: Yesterday I suggested that this song could have been added to the set in honour of Tracy Thorn, but I have just remembered that on Day 524 of my blog, I picked up on Morrissey's TTY quote regarding being "equipped with an extra eye" in San Diego. Back on Day 524, I mused that the eye could be a reference to the number 'one' in the game of bingo. Could it be that the "equipped with an extra eye" quote meant 'equipped with an extra song', ie 'The Boy With A Thorn In His Side'? The words to the song are also VERY apt for the whole MorrisseysWorld journey, "How can they look into my eyes and still they don't believe me? How can they hear me say those words, still they don't believe me? And if they don't believe me now, will they ever believe me?" Of course Morrissey could have added this song because he just likes it! The only footage I've found is on Telly.Com, linked via 'Pink':
http://www.pinkisthenewblog.com/2013-02-28/morrissey-lives-returns-to-the-concert-stage-in-san-diego?utm_source=dlvr.it&utm_medium=twitter
Nobody has managed to come up with a name for either the backdrop star or the drum kit actor, well, I presume it's an actor. Here he is:
NEW DRUM KIT AND IMAGE ON DRUM
I wondered if it was maybe the Avengers star, Patrick McNee?
PATRICK MCNEE?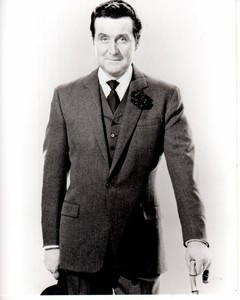 PATRICK MCNEE IN THE AVENGERS
I'm pretty sure that the guy on the drum is wearing a gun and holster, and although the Avengers did use guns, I don't think Steed (McNee's character) would have worn one on his hip like that, so back to the drawing board.
Next stop, the Staples Center.