If ever absolute proof were ever needed that MorrisseysWorld is run by Morrissey and not a fraudster, it has been given this last weekend. I am not referring to the fact that Morrissey took possession of the Blue Rose Ring at the Staples Center in front of 20,000 people, I'm not even referring to the fact that Morrissey ignored ALL flowers YET AGAIN at both Staples and Hollywood High EXCEPT Blue Roses, which he accepted at both venues, I am referring to the fact that Morrissey has let the MorrisseysWorld twitter account expire by mistake! Welcome to the madness of 'Following The Mozziah'.
MORRISSEY WITH NINE YEAR OLD DEVAN, THE NEWEST MEMBER OF THE BLUE ROSE SOCIETY, AT HOLLYWOOD HIGH SCHOOL ON SATURDAY
I will write about the two unbelievable Los Angeles concerts in a minute, but first things first, the MorrisseysWorld twitter account. The '@MorrisseysWorld' twitter account has come and gone a number of times over the past eighteen months, but this time it has gone for good, or at least, the 8,000 followers and more importantly, ALL of the thousands of witty tweets, which included hundreds of original Morrisseyesque quotes. This is the equivalent of an Oscar Wilde manuscript being burnt, and therefore never seeing the light of day. The loss of the MW tweets is nothing short of tragic.
If you shut down a twitter account, it remains yours for 30 days, but if you don't re-activate it within the 30 days, you lose it. It is logical to presume that if MorrisseysWorld was being run by an attention seeking fraudster, there is NO way on earth that he/she would let the '@MorrisseysWorld' twitter account disappear, especially with 8,000 followers massaging his/her ego, and let us not forget that the account had even been voted the 'Best Twitter Account' in the Observer newspaper by none other than eighties 'Pop Legend', Boy George.
EIGHTIES POP LEGEND BOY GEORGE AND PARTNER
None of the 'Deluded Dozen' were even aware that the MW twitter account had gone until 'Broken' returned (did you see what I did there?) on Friday, having not tweeted since February 2nd (when in the midst of Morrissey's illness, he had tweeted to offer support to Kyle's dad, who had suffered a heart attack) and tweeted, "DID YOU ALL HEAR? SOME PRICK STOLE MORRISSEYWORLD'S TWITTER NAME. SO THE ACCOUNT IS NOW OFFICIALLY DEAD. RIP."
Of course the account hadn't been stolen at all, it had just remain inactive for over 30 days, so therefore it had ceased to be. In the past when Morrissey had closed the MW account, he had always made sure that he re-activated it within the 30 days, but it is probably fair to assume, that TRM had 'other' things on his mind over the past month, ie, trying to stay alive, so re-activating a twitter account was probably not topping his list of priorities. I blame Boz!
SmallBoyJokes, who is now known as '@TheMozBot', realised that the MW account had become available to the public, so she registered the name to keep it safe. The burden of owning it was proving too much though, so this morning, she passed it onto.......ME! I am now MorrisseysWorld!
This MorrisseysWorld phenomenon has now seen me own both
'@MorrisseysMum', which I also believe was owned by Moz,
and now
'@MorrisseysWorld'
. Ironically, many people have always believed that I was behind MorrisseysWorld, so now that I am, they should be happy. I have registered the MW account with my 'Fluff' twitter account, and the power has already gone to Fluff's head as he tweeted earlier to say, "I'm living in MorrisseysWorld! I like it here, can I stay? Not 'arf." We now have to hope that Our Mozzer asks for the MW account back, and although all his previous Morrisseyesque tweets have gone, let's hope he will start again.
Broken also tweeted on Friday to ask, "Did anyone enjoy the fake interview?" Needless to say I was thrilled, but with all that has been going on, my interview has been pretty much lost, although nobody would ever have believed it to be true anyway..... but I know, and that's good enough for me.
Broken also tweeted, "Surprise coming to a pop concert near you soon!" Well, he wasn't wrong there!
Broken's final tweet of Friday read simply, "Drinking tea." There was no mention of a "taste of the Thames." I wonder what his brew of choice is? I would guess Yorkshire. Does anyone know? I'm a Tetley man myself.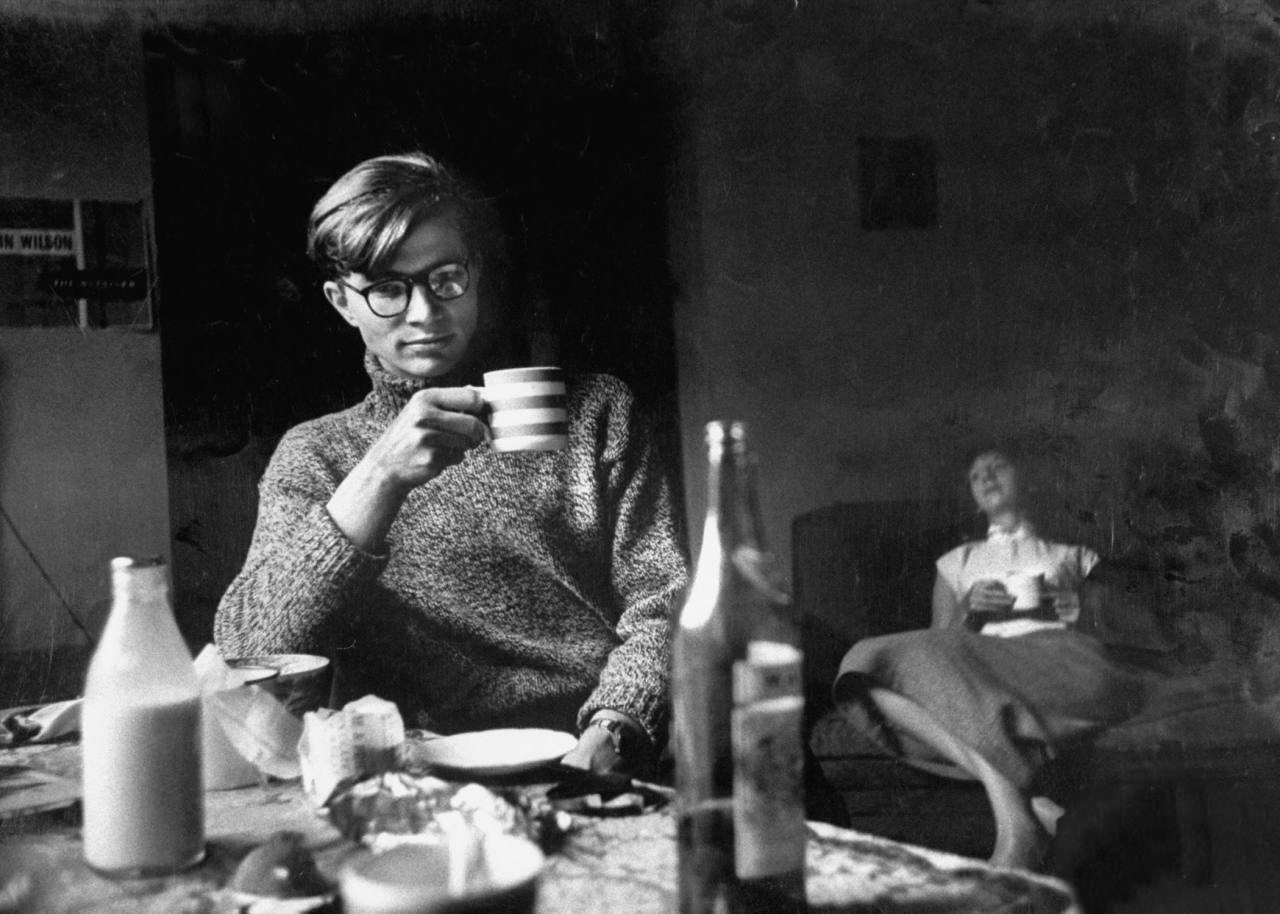 BROKEN HAVING A BREW LAST FRIDAY
FRIDAY MARCH 1ST 2013 - STAPLES CENTER, LOS ANGELES, CALIFORNIA
SET LIST (Nicked from SoLow, which is all it's good for):
Shoplifters Of The World Unite / Irish Blood, English Heart / Alma Matters / You Have Killed Me / You're The One For Me, Fatty / Action Is My Middle Name / That Joke Isn't Funny Anymore / I'm Throwing My Arms Around Paris / Speedway / Meat Is Murder / Ouija Board, Ouija Board / November Spawned A Monster / To Give (The Reason I Live) / How Soon Is Now? / Please, Please, Please Let Me Get What I Want / Everyday Is Like Sunday / Let Me Kiss You / First Of The Gang To Die // The Boy With The Thorn In His Side
On Friday night, Morrissey played to a crowd of 20,000 people at a sold out Staples Center (or, as you really should, centre) in Los Angeles, or as our latino friends call it, 'Moz Angeles'. It has been reported that the vast majority of the audience were Latinos, but that's because the latinos LOVE the Stretford Poet. The Mexican love for Moz is a phenomenon in itself, and their passion is second to none. The UK members of the Blue Rose Society failed to get noticed in Manchester, with most of those who attended making NO effort to get to the front. We can't dress it up any other way, we DIDN'T try hard enough, and we failed. The latino members of the Blue Rose Society not only got to the front in SD by whatever means they could, they did it again in LA, and what is more, they took roses and VERY MUCH got noticed. MEXICANS DON'T FAIL!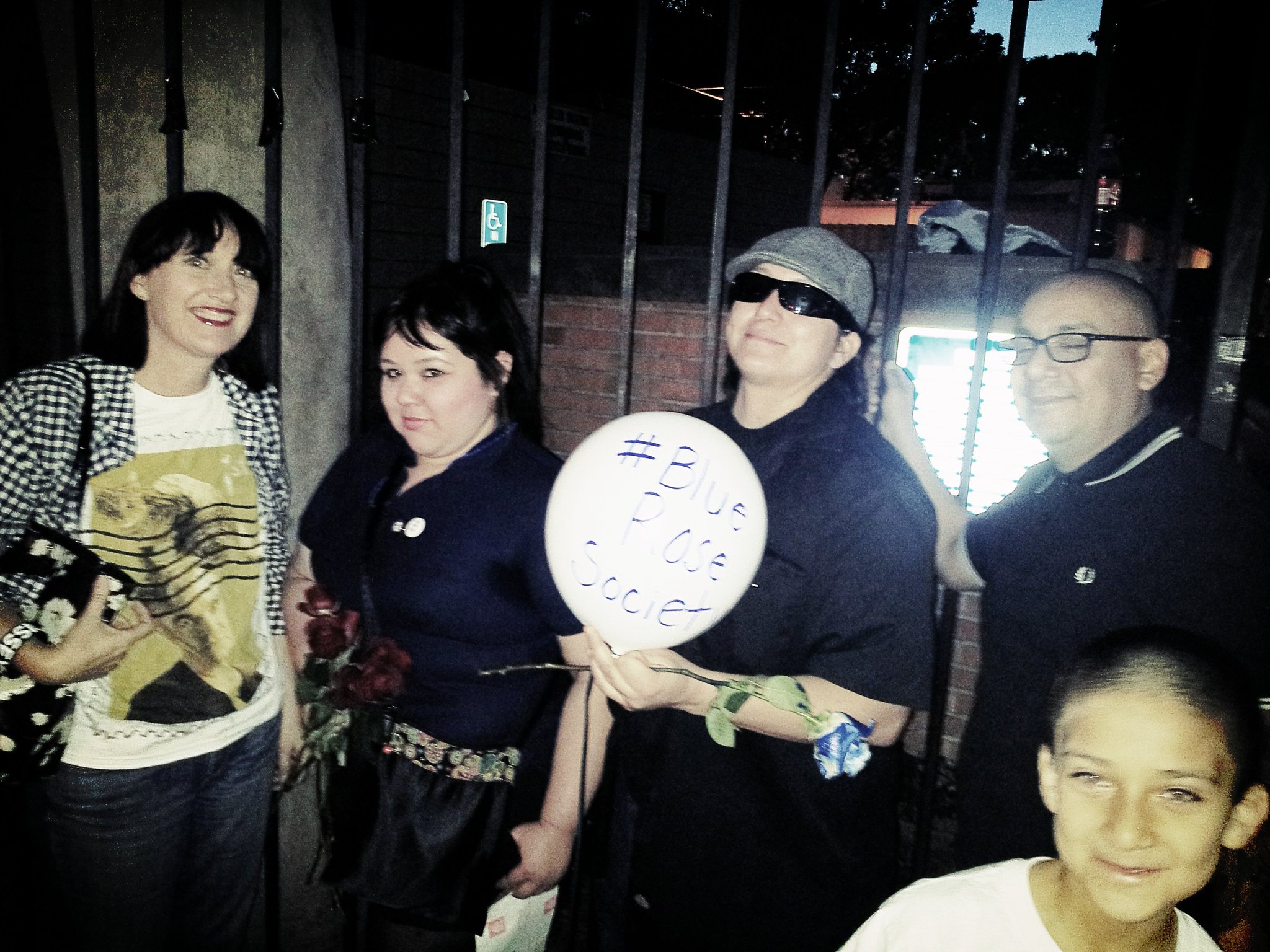 L TO R: OLD WILLOUGHBY (WHO ISN'T LATINO), JJAZMINEMOZ, VULGAR, JIMI JAMES AND DEVAN IN MOZ ANGELES LAST WEEKEND
A number of the Blue Rose Society members were in attendance at Staples, including the new Vice President (and President of the Moz Angeles Chapter),Vulgar, who had successfully given a BLUE ROSE to Moz in San Diego last week. Also at Staples were Clover Dean and JJazmine. A number of 'celebs' were also at the concert, including Russell Brand and my favourite film director of all time, Quentin Tarantino. I absolutely love Tarantino's films, and have lost count of the times that I have watched Reservoir Dogs, Pulp Fiction and particularly Kill Bill Volumes I and II. I had NO idea Tarantino was a Moz fan, but it makes sense that he is.
QUENTIN TARANTINO - MOZ FAN
The Staples show not only had Kristeen Young supporting as usual, but also Patti Smith. I was too young to have been a fan of Patti Smith first time around, but I do understand why Morrissey would have been so inspired by her. Youtube footage of Patti singing 'Pissing In the River' at Staples has emerged, and Patti would appear to be in good voice. (See here:
http://www.youtube.com/watch?v=mf6op_iJGCw&feature=player_embedded
)
Morrissey was introduced on stage by an actor by the name of Patrick Dempsey, although I must confess, I have NO idea who he is. I have since learned that he stars in an American drama show called 'Grey's Anatomy', which also means nothing to me. I am not embarrassed by this lack of knowledge, and I have one up on all those Yanks who may be reading this and laughing at me, because I know who Alan Halsall is, and I bet they DON'T! (I am now childishly laughing to myself. How did I ever end up like this? What do I mean end up, I started out like this. Now I really must get out of these brackets, there is a lot to write about today.) That's better.
From the footage that I have seen on Youtube of the concert at Staples, it was superb (of course), and UNBELIEVABLY, Vice President Vulgar passed the Blue Rose Ring to Moz, but rather than me write about it, it means far more to read the actual words that Vulgar left on my last blog entry. You can feel the passion and excitement oozing out of her fingertips as she typed:
During Let Me Kiss You there was a very funny lyric change to "I have travelled all over Flint Michigan."
During First of the Gang there was a very subtle 'O' sign given.
Quote of the night from Moz: "I have found that the best way to avoid ending your life as an embittered wreck is to start out as one."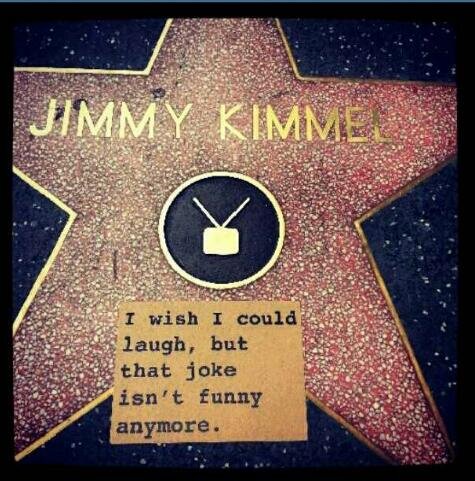 JJAZMINEMOZ ADDED A LITTLE SOMETHING TO KIMMEL'S STAR
I'm really sorry that I haven't gone into more detail, it really was a special concert, and I must mention that '@mancladmozfan' was also there, but although he claims that he sent a blue rose back stage to Moz, we only have his word for it. When will he EVER deliver that rose to the stage?
MANC LAD ON THE PARK BENCH HE CALLED 'HOME' WHILST IN LA
HOORAY FOR HOLLYWOOD
SATURDAY MARCH 2ND 2013 - HOLLYWOOD HIGH SCHOOL, LA
SET LIST (Again nicked from SoLow, which is STILL all they are good for):
Alma Matters / Ouija Board, Ouija Board / Irish Blood, English Heart / You Have Killed Me / November Spawned A Monster / Maladjusted / You're The One For Me, Fatty / Still Ill / People Are The Same Everywhere / Speedway / That Joke Isn't Funny Anymore / Meat Is Murder / Please, Please, Please Let Me Get What I Want / To Give (The Reason I Live) / Everyday Is Like Sunday / I'm Throwing My Arms Around Paris / Action Is My Middle Name / Let Me Kiss You // The Boy With The Thorn In His Side
WHICH NAUGHTY CHILD HAS BEEN PLAYING WITH THE 'O' S? SURELY NOT......
...... MORRISSEY, WHO IS PHOTOGRAPHED ARRIVING AT SCHOOL. IS THAT A NEW YORK DOLLS LP UNDER HIS ARM?
At the Hollywood High School concert, Moz wore the BLUE ROSE shirt.
MOZ IN THE BLUE ROSE SHIRT
Before I continue with the description of the concert, Morrissey's rose shirts, the accepting of roses et cetera et cetera et cetera, I will start by writing about Morrissey's introduction onto the stage. This time it was the turn of Russell Brand to introduce Moz, and after a heartfelt ramble, Brand read from a piece of paper, which is what Moz had TOLD him to say as an introduction. Morrissey's words were, "He loves animals. He thinks humans should be kept in cages. He's very tetchy on a staircase at midnight, but don't let that put you off. I Gristle Bandage, proudly give you, Lord Mudslide."
GRISTLE BANDAGE INTRODUCES LORD MUDSLIDE
Apart from being incredibly witty, the words given to Brand to read by Morrissey, immediately rang a bell with a couple of the Blue Rose Society. Both GirlOnBike (GOB) and ChuckNorrissey (aka SmallBoyJokes) realised that Morrissey had picked up on their twitter conversation of early on Saturday, in which Chuck called the Blue Rose adventure "one long mud-slide." Here is the comment that GOB left on my blog:
Girl On Bike
3 March 2013 16:55
(The mudslide introduction can be seen here: http://www.youtube.com/watch?v=9xHJjcWrZSU)
Lord Mudslide took to the stage and after bowing to his friend Gristle Bandage, announced "Viva Mehico, and never forget your alma mater." School was now in session as Moz launched into Alma Matters. I can't help but think that playing a school, just like playing a seaside pier in England (Gt Yarmouth 2009), was a very important venue for Morrissey to tick off on his 'must play' list. There can't be ANY other artist, dead or alive, who has the imagination to play the venues Moz plays. There is also no other artist who understands the importance of issuing records on vinyl, or the importance of the label on the vinyl record. NOBODY understands like Moz.
During this very first song, Morrissey spotted nine year old Devan with the blue rose that Vulgar had given him, and he leaned into the audience to take it from him (see here: http://www.youtube.com/watch?v=ToWcitbV5bg). The rose wasn't thrust toward him, Morrissey LEANT into the audience to get it, just as he did when he took that first RED ROSE in Pomona in November 2011 (see here: http://www.youtube.com/watch?v=xf9MaBVuCEE), and the first WHITE ROSE in Bogota in March 2012 (see here: http://www.youtube.com/watch?v=oVaezmLcyi4), and the first BLUE ROSE in New York in October 2012 (see here: http://www.youtube.com/watch?v=cPqwwA0ZQiQ).
The BLUE ROSE SOCIETY has happened because Morrissey has MADE it happen, just as Oscar Wilde was responsible for Green Carnation. Much as though I would love to take the accolade for BLUE ROSE, it has ALL been Moz, with each of us just playing our part. IT'S F***ING GENIUS! Alma Matters was the perfect way to start the concert, and having watched the footage, you almost feel as though Morrissey was back at his own alma mater.
MOZ LEANS INTO THE AUDIENCE TO TAKE A BLUE ROSE FROM DEVAN
After the perfect rendition of Alma Matters, Morrissey eased into Ouija Board before then placing the rose on top of the front bass drum, where it remained. (see here including video of Irish Blood: http://www.youtube.com/watch?v=QiuAg9c76_w)
I shall now let Vulgar take over again, and once again, the passion from her writing is a beauty to behold:
Once again, I can't go into the whole concert as I am now into Tuesday morning, and I really do need to get some sleep. Devan trumped his BLUE ROSE gift to Moz at th beginning of the concert by going on stage for a hug during the encore. Another BLUE ROSE was also taken by Moz during the night, but I haven't got the time to dig out the footage. One of the highlight songs for me was Speedway, where Moz sang 'Asleep' during the pause, which must surely have been for Stephen Chbosky, the author of 'Perks of Being A Wallflower', although I don't know if Chbosky was there. Maladjusted was another highlight, especially when Moz sang to the people waving the roses (see here: http://www.youtube.com/watch?v=RmJvY7vnnzE)
In other news: The mysterious stage backdrop picture has still not been identified, although Fancys123 has suggested it could be flamenco dancer Jose Greco. The man on the drum has also not yet been identified.
The cover for the forthcoming 'Playboys' single has been released, with Bowie being replaced by Rick Astley. You have to smile.
The Kill Uncle album cover has also been released which depicts Moz wearing a Moz t-shirt. You have to smile.
And finally, amongst all this Morrissey excitement, I must mention that Johnny Marr's debut solo album 'The Messenger', which is on the major Warner Brothers record label, yesterday entered the UK Chart at Number 10. Any rumours that it was at Number 5 in the midweek chart but dropped to 10 as thousands of people returned the album after hearing Marr sing 'How Soon Is Now?' at the NME awards, are purely malicious. Marr, who is now a 'God Like Genius', should be congratulated on reaching Number 10, and all those interviews in which he really didn't want to mention Morrissey or The Smiths, but still did, paid off.
Foot Note - Morrissey's debut solo album, 'Viva Hate', reached Number 1 in the UK chart and the lowest position for any of his nine solo studio albums is Number 8. Morrissey remains without a 'God Like' title or a record deal.
And tonight Matthew..... Morrissey and his band head to Davis.
ANOTHER FOOTNOTE - Congratulations to President Kyle, Kyle's dad, Kyle's mum and all the other Kyle relations on the arrival of the new Kyle sibling, a baby girl.
Now, what is to be done with this MorrisseysWorld twitter thing?