I had hoped to publish a blog entry yesterday, but I was up and out early, and home late, so there was just no chance to finish what I had started to write. Broken had made a return to twitter on Wednesday, and I managed to copy a few of his quotes, but when I arrived back in the Twitterdilly Arms at midday today to copy the rest, the '@BrokenReturns' account had gone, so although I am aware he had written more, I don't have the quotes. I shall now edit what I had started to write yesterday, and cobble together the rest:
Early Wednesday afternoon (Mexican time, late evening UK time), '@BrokenReturns' appeared on twitter for a while, asking, "I wonder -- will Moz give us another sign?" Just two hours later, it was announced that Morrissey had pulled out of headlining the Vive Latino Festival! So, does this mean that Broken really IS nothing to do with MorrisseysWorld, and the 'scammer' has at last been found out, or could it be, that at the time of Broken's visit to the Twitterdilly Arms, Morrissey still fully intend to carry on with his appearance at the festival, but something happened AFTER Broken's visit to 'The Arms' that forced Morrissey's withdrawal? The most likely explanation is an afternoon visit to the Doctor, who quite probably informed Moz that he REALLY MUSTN'T go ahead with the show.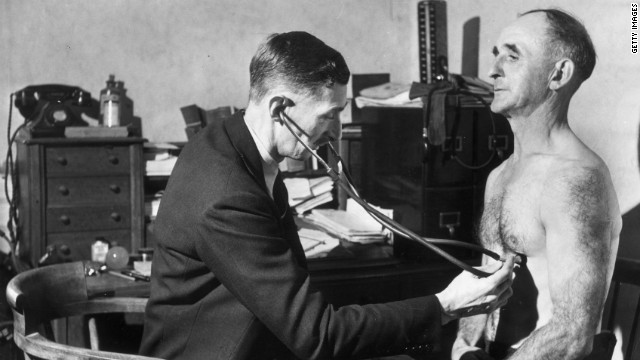 DR HERNANDEZ LISTENING TO MOZZER'S CHEST ON TUESDAY AFTERNOON (AND 'YES', THAT 'REALLY' IS MOZ, NOTICE THE EYEBROWS AND CHIN. HIS RECENT ILLNESSES HAVE SENT THE INFAMOUS QUIFF INTO RECESSION)
Broken returned to twitter early Thursday to announce, "BIG NEWS IMMINENT" and "MORRISSEY'S WORLD WILL BE COMING INTO VIEW ." Could these tweets mean the return of MW, and if so, then WHY would Broken have called it 'Morrissey's World" and not "MorrisseysWorld"? One thing I do know for sure, is that NOBODY has made any contact with me with regards to me returning the '@MorrisseysWorld' twitter account, so I have a distinct feeling that Morrissey's involvement with twitter, at least in the format of MW, is over!
One of Broken's tweets that I remember reading said something along the lines of, "Our Mozzer has closed the blog because none of you used the chatroom." Broken also tweeted that we should "look out for a vulgar picture and a cheap book", which could mean the autobiography is at last on it's way, but who knows? I did wonder if the "Big News" tweet may have meant that Moz was going to cancel the tour, but another of Broken's tweets said something like, "Morrissey will play the next concert even if he's crawling onto the stage and gasping for air."
MORRISSEY OUTSIDE THE LIBERTY TOWN HALL IN LAWRENCE, KANSAS - AND FOR HIS NEXT TRICK, HE WILL TRY TO CRAWL INSIDE, IN TIME FOR MONDAY'S CONCERT
So, as we await the "BIG NEWS" and the "coming into view" of "Morrissey's World", and "that crawl", let me catch up on other events. The Solowers' reaction to my last blog entry, was to resort to 'anonymous' name calling, and in the cases of former MorrisseysWorlder RosyMires and would be journalist Rod Pollard, a blocking for me on twitter. The reason that they resort to anonymous name calling and blocking, is because they are unable to logically debate, so they just pretend this isn't happening, and hope it will go away. With the disappearance of MorrisseysWorld and now Broken, they may have gotten their wish.
The whole phenomenon of MorrisseysWorld is, of course, just too much for the likes of RosyMires, Pollard and the Solowers to get their heads around. To her credit, RosyMires did once try to give a logical explanation to MorrisseysWorld on her website, 'MozWorldAintMoz.blogspot.com', but her reasoning was that ALL the 'signs' were just coincidental, and when it got to about 423,438 'coincidental' signs, she shut her website down, and went back to the 'hoping it will all just go away' strategy, whilst the other Solowers cling to the 'Moz just wouldn't' theory.
Unlike the Solowers, members of the Blue Rose Society are able to offer reasoned and logical arguments as to why MorrisseysWorld IS Morrissey, but not ALL the members of the 'BRS' believe that Morrissey is behind MorrisseysWorld, and yet STILL they are able to embrace BLUE ROSE for what it represents. This is best explained in a comment left on Wednesday by 'Chuck Norrissey', who obviously DOESN'T believe that Morrisseysworld is Morrissey, but feels that it HAS to be the work of somebody close to Moz, and has his full blessing. Here is 'Chuck's' comment, which also includes a fantastic view of 'Morrissey Fandom' and a superb explanation of how MorrisseysWorld has cured her own "over-the-top fandom", which I think many of us would agree with. (I have just re-read the last two paragraphs and I have started to referring to MW in the present tense again, what can it mean?)
The only thing that I don't agree with 'Chuck' about in her letter to 'Anon', is that Morrissey himself was not the person behind MW, I 100% believe it was him, as there is just NO way that anybody else could have written the things he wrote, and there is NO way that Morrissey was just playing along. (I have just read back that last sentence and noticed that I have started to use MorrisseysWorld in the past tense, which suggests that I am telling myself it's over!)
THOSE 'CLOSE TO MOZ' ENJOY A TEQUILA IN MEXICO, BUT IS ONE OF THEM THE AUTHOR OF MORRISSEYSWORLD? NO CHANCE!
After I had written in my last blog entry about Rod Pollard seeking an emil interview with Morrissey, Morrissey's publicist, Lauren P, tweeted Pollard and Skinny, to give them her email address. Meanwhile, Broken tweeted something like, "Moz will never give ROB pollard an email interview but he may give one to John ROBB!" Pollard replied to Broken, but as he has blocked me, I have NO idea what the tweet said, but as it looks as though Pollard won't be getting an interview, I have written a parody one for him instead:
-------------------------------------------------------------------------------------------------------
ROB POLLARD'S INTERVIEW WITH MORRISSEY
It is June 2013, Morrissey has just returned to England from his tour of the USA and is sat in the 'Hand in Hand' pub in Wimbledon Village, London. Sat opposite him is journalist, Rob Pollard, who had requested an email interview with Morrissey via Morrissey's PR company, but, much to his surprise and jubilation, has instead been chosen by Morrissey to be the first person to interview him in the flesh since 2007.
POLLARD: Thank you so much for choosing me to be the first person to interview you properly in the last six years, can I ask why you chose me?
MORRISSEY: You once said of Mike Joyce, (picks up a piece of paper with his own child like scrawl on it and reads) "The guy's a prick. Constantly on the radio like the spokesman for The Smiths when the reality is if there were to be a reformation, he would be the last person to know."
POLLARD: Er, yes, yes I did, but what, I mean, why, er....
MORRISSEY: Have you anymore questions?
POLLARD: (flustered) Er, yes, quite a few, but, er, I wrote that quote on the Morrissey Solo website, I thought you didn't like it?
POLLARD: Then why do you read it?
MORRISSEY: I don't, but why are you a member of it?
POLLARD: Well, because I'm a huge fan of yours and it's the place where all of your fans go.
MORRISSEY: But you just pointed out that I hate it, so why would you want to associate yourself with it?
POLLARD: Er, I don't, I mean, I very rarely post anything on there.
MORRISSEY: And yet you remain friends with the moderator, despite the fact that I have made it very plain that I despise the place. I have worn a t-shirt on stage which read 'Fuck Morrissey-Solo.com', I have banned the site owner from my concerts for life and in a recent interview with the Pittsburgh Post, I labelled Solow a "hateful online creche", so 'surely' you can see that I would prefer my true fans not to use this site? (pauses) Perhaps this interview isn't such a good idea after all (gets up to leave).
POLLARD: (panicking) Er, no, sorry, I never realised...... I won't use solo again, I promise!
MORRISSEY: (sitting back down) I had a feeling you'd say that.
POLLARD: (trying to compose himself) I read that Pittsburgh interview, and when you described Solo as a "hateful online creche", you also said, "I read nothing online", but that obviously can't be true, you obviously 'do' read things, otherwise how would you know what they've been saying?
MORRISSEY: Are you calling me a liar?
POLLARD: (panicking) NO! No, definitely not, but you do sometimes seem to contradict yourself.
MORRISSEY: Life is one big contradiction.
POLLARD: Er yes, I suppose it is. Can we start the interview now?
MORRISSEY: Start? That's the fifth question you've asked me already, so we are hardly 'starting' are we? You asked Johnny Myrrh eleven questions in your recent interview with him, so to keep an even balance, you may ask me eleven too. You have six left.
POLLARD: (sounding pleased and surprised) You read my Johnny Marr interview?
MORRISSEY: A poor choice for question number six Rob, old son, especially as I have already stated that I have!
POLLARD: But did you like the interview?
MORRISSEY: The typeset was pleasing to the eye. Question eight?
POLLARD: This isn't going as I'd planned, there were so many things I wanted to ask you, but I seem to have been distracted. I'm still feeling a little confused about the fact that you read things on line, when you said in an interview that you don't.
MORRISSEY: Next you'll be saying those statements I made on True To You about me having nothing to do with MorrisseysWorld were a lie too!
POLLARD: Oh god no! I KNOW full well that the whole MorrisseysWorld thing wasn't anything to do with you, it was the work of a liar. (Morrissey licks his top lip and takes a sip of his gin)
MORRISSEY: How can you be one hundred percent sure that I wasn't involved?
POLLARD: I've been a fan of yours for over twenty years AND I own every Smiths record that was ever released, I just KNOW that you wouldn't do it.
MORRISSEY: But what about all those roses I accepted on stage whilst I ignored all other flowers?
POLLARD: I've never noticed any roses. I went to your concert in Manchester and there were no roses there.
MORRISSEY: I have been given a number of roses in recent months, I thought you said you were a fan, do you not watch my concerts on Youtube?
POLLARD: Er, no, I, er, I... er, I've been ever so busy lately.
MORRISSEY: (looks at watch) This pub is starting to get busy the Wimbledon tennis must be finishing.
POLLARD: (sounding very excited) Oh god, tennis is my life, do YOU like tennis?
MORRISSEY: No! Right, three questions left, let's see what you've got.
POLLARD: Well, I won't ask you the usual cliche questions, I'm sure you don't want me to ask you about a Smiths reunion?
MORRISSEY: No, but you've now asked me if I'd like to have been asked, which seems a dreadful waste of a question, but it's your interview, so who am I to tell you what to ask. Nobody should be told anything, we should keep our minds open and find answers for ourselves. Am I starting to sound like Morrissey's World?
POLLARD: I don't know, I never read it, Uncle Skinny told me not to. Can I talk to you about politics?
MORRISSEY: Yes, but you've now only got one question remaining, so I would avoid the temptation to mention my previous referral to UKIP or to ask me if I agree with Johnny's view that MP's should be elected via an X Factor style poll, and ask something juicy. (Pollard scribbles out his question).
POLLARD: Johnny Marr told me in my interview with him that, and I quote, "I don't know what Morrissey's doing but I'm behind it", what do you think he meant?
MORRISSEY: Perhaps he meant that both he and I have secretly been behind MorrisseysWorld! Now, wouldn't THAT be a twist?
-----------------------------------------------------------------------------------------------------------
One other tweet that I can remember Broken posting yesterday, was about Our Mozzer leaving a comment on, "that rodent's blog"! Here is the comment:
Broken also tweeted to mention that the comment was aimed at Solow. Having been out all day yesterday, I had not read anything on Solow, but I have just taken a look, and they have fallen to new depths of depravity. The topic of conversation was focused around the apparent suicide of a Morrissey fan called Margaret Dale, who Morrissey had written a beautiful eulogy about on True To You. Rather than praise Morrissey for taking the time to write a touching tribute to a dedicated fan, the Solowers ripped Morrissey to pieces and danced on Margaret's grave. Rather than delete the vile filth that was being written, the moderators left EVERYTHING, all in the name of 'Freedom of Speech', DESPITE continuing to delete all reference to the Blue Rose Society. I have no idea who Margaret was, but what a shame she never found BLUE ROSE, it might have been just what she needed.
So, is MorrisseysWorld over for good, and did we ever manage to get to the bottom of the '@MorrisseysMum' twitter account, which was initially advertised for months and months on the MorrisseysWord blog, before Our Mozzer completely 'U' turned and accused the owner of being Uncle Skinny? The 'Mum' account yesterday posted a number of photos from Mexico and then instructed '@Banjaxer' to get on a plane. What could it all mean? Is Morrissey about to start wearing a BLUE ROSE?
I will finish with the final three tweets of Broken's that I can remember, which include one to Marcus 'Papa Blue Rose' Markou, which said:
"Make the film of MorrisseysWorld!" Here are the other two:
"MorrisseysWorld changed us all."
"Fare Thee Well."
And "Fare Thee Well" from me too, but will I be back, or is the journey over?
Trouble Loves Us All