With the MorrisseysWorld blog closed and the MorrisseysWorld twitter account now permanently gone, the ONLY way of Morrissey communicating with the BlueRoseSociety is via his chat room, and yesterday he did just that....... unfortunately, those present decided that although the chat room is a public forum, they do not wish to share their 'personal' conversation with either the outside world, or the rest of the BRS, so when historians ask, "what did Morrissey say?", the answer will remain unknown.
Luckily for the BRS and historians alike, I 'sneaked a peek' into The Mozziah's small white room, with a notebook and pen clutched in my rat like claw. Also, JJazmine leant in through a window with her camera. If it hadn't been for the journalistic instincts of myself and JJazmine, then NOBODY would get to know of Our Mozzer's preachings.
JJAZMINE AND RAT ARE CHASED OUT OF THE SECRET MW ROOM BY OTHER MEMBERS OF THE BRS
I suggest that Lizzycatmoz and Chuck Norrissey don't read on, but of course they will, and I repeat my plea of the other day, PLEASE take notes, and share the word of The Mozziah/Our Mozzer with everybody, I'm sure he won't mind, the BRS WANT TO KNOW WHAT HE SAYS! Here is JJ's photo from yesterday: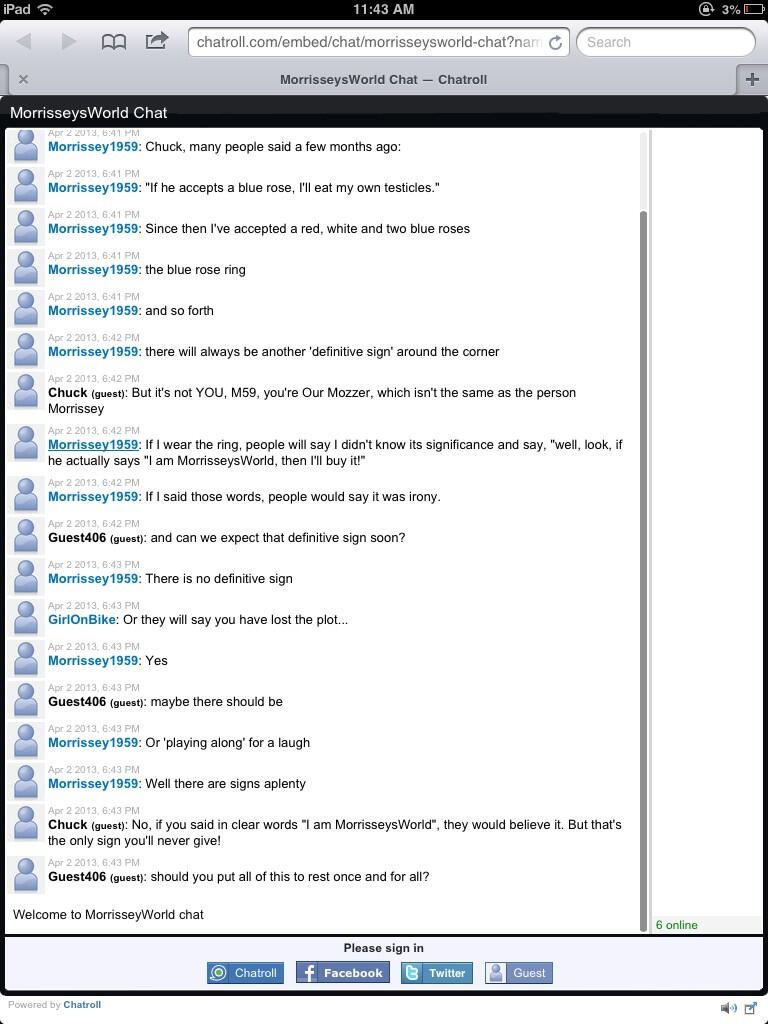 I can also reveal that Morrissey1959 wrote, "I'm playing England soon. Just a few shows. I might book a large venue, 30,000, with P.Smith, Young and the Giant and Kristeen Young." He added, "God I'm deluding myself. I almost thought I WAS Morrissey just then. *wipes his brow with a cold flannel and juts out his jaw*"
OUR MOZZER WITH HIS TRADE MARK HEART SHAPE - PLANNING A LARGE UK CONCERT
Morrissey1959 also wrote:
"MorrisseysWorld shows us that not everything is as it seems. It also gives a faint flicker of amusement to a tiny group of people. It also fills my listless days and empty nights. MorrisseysWorld is humiliating, degrading and crass, and there's three fabulous reasons to love it. It's pure 'Carry On'. If I'm willing to write Girlfriend in a Coma, why not create MorrisseysWorld?"
HIRSUTE GENIUS, TALBOT ROTHWELL - WRITER OF THE 'CARRY ON' SCRIPTS
I missed an awful lot of what M1959 revealed in yesterday's chat, so unless Lizzy, Chuck, or any others post a comment below, we will NEVER know. I did read that Our Mozzer was having a go at people's obsession with celebrities such as David & Victoria and Brad & Angelina, and he also added, "dare I say, Russell and Katy." I also read a conversation between M1959 and somebody with the user name 'Solo', but I didn't have the chance to take any notes. The basic gist was that 'Solo' was having a go at Morrissey regarding the quality of his more recent songs, and 'Solo' also moaned that Morrissey preached about being gentle and kind, and yet continuously laid into various people. I was unable to hang around to see if M1959 responded, can ANYBODY fill in the gaps?
M1959 also once again mentioned that Ricky Gervais, Russell Brand, and the mysterious 'Broken' were all involved in the writing of the MorrisseysWorld blog, and he added that the admin guy, known as 'R', IS....... Russell Brand.
RG AND R 'R' B - MORRISSEYSWORLD WRITERS
When asked whether Banjaxer was the twitter user '@MorrisseysMum', Morrissey1959 wrote, "Jan Baxer? He once interviewed me. That is all I know of him." This isn't of course 'entirely' true, as Our Mozzer revealed in an early MorrisseysWorld piece entitled, 'Minutes of Bans and Concert Ejections Committee - 16/8/2011', that Banjaxer was a paid employee. What is more, Banjaxer was tweeting from the Ireland v Austria football match last week, so WAS he with Morrissey? There has been previous reference in my blog to Banjaxer taking Moz to a football match, the Man City v Wigan game last season (see here: http://followingthemozziah.blogspot.co.uk/2012/01/following-mozziah-day-125-tuesday-17th.html), so what IS Banjaxer's relationship with Moz?
BANJAXER, WITH WHAT LOOKS LIKE MORRISSEY'S SCRIBBLE ON HIS WOODCHIP WALL, BUT M1959 CLAIMS TO KNOW NOTHING ABOUT HIM..... MORRISSEY ALSO ONCE INFAMOUSLY CLAIMED TO KNOW NOTHING ABOUT TWITTER! HMM
More from Morrissey1959, this time on the subject of the MorrisseysWorld blog. May I once again remind my regular readers, YOU WOULD KNOW NOTHING ABOUT THESE QUOTES IF EVERYBODY KEEPS THE CHATS TO THEMSELVES!!!: "It is a little known fact that nobody read the Alexis Petridis article until 2011. It had been online since 2009."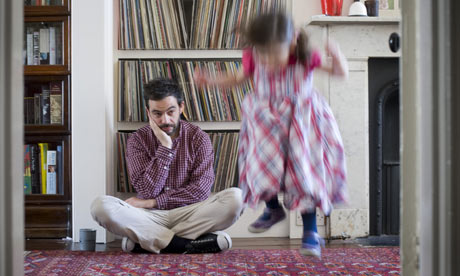 ALEXIS 'SHITTY CARPET' PETRIDIS - NOBODY INTERESTED IN HIM
My final quote taken Morrissey1959, was again taken from his discussion about the MorrisseysWorld blog articles: "My all-time favourites were the New Mozzer Order chapter and probably the first X Factor one."
Despite NOBODY leaving any quotes from the chat on my last blog entry, Romina left the following, rather interesting comment, about Damon the hairdresser:
Is Romina trying to subtly tell us that SHE is Damon, or am I just far too suspicious toward this Italian housewife and mother?

DAMON 'KEVIN PHILLIPS' ANACREONTE (FAR RIGHT.... NO, NOT 'FAR RIGHT' AS IN PAOLO DI CANIO, I MEAN 'FAR RIGHT' IN THE PICTURE... NOT THAT I AM IMPLYING THAT PAOLO DI CANIO IS A MEMBER OF ANY FAR RIGHT MOVEMENT, HE'S JUST A FOOTBALL MANAGER.... YOU ARE TWISTING MY WORDS IN YOUR HEAD AS YOU READ THIS, PLEASE STOP!)
Following Romina's revelation about Damon's surname, I googled him. According to the infamous website, 'ThisIsGloucsterhire.co.uk', Damon Anacreonte works (or at least did work) at 'The Barber Shop' in Cheltenham. TIG (This Is Gloucester, please keep up!) also mentions that Damon is the crew hairdresser for Morrissey and his band when they are on tour, and he used to work at 'The Refinery' in Mayfair, and also in Harrods. Damon gave an interview to TIG in 2010, and boasted "I've shaved the British cycling team and the English rugby team and lots of other famous names. I also did beard design for actor Christopher Lee."
Many Moz fans will recognise Damon as the man given the job of 'wafting' Morrissey with a towel during the 'Studio In Session' recording with Tony Visconti.
MORRISSEY AND DAMON THE; TOWEL WAFTING, TEA SERVING, HAIR STYLING, BEARD DESIGNING, KEVIN PHILLIPS LOOK-A-LIKE WITH THE ITALIAN SURNAME
I have no idea if I will be writing another blog entry again any time soon, I suppose it depends if there is any more activity from Our Mozzer, but I have just read on the twitter feed of the BRS Vice President, Angela 'Vulgar' Reyes, that M1959 popped back into the MW chatroom in the early hours of this morning, and declared that he won't be returning again! He also apparently said that he would wear the Blue Rose Ring. Let's hope the former is "typical me, typical me, typical me", and that the latter is true, although I think he would have to have the ring slightly enlarged if he is serious about wearing it, as it's a bit tight. In fact, the actual silk (?) Blue Rose could do with being reset into a nice piece of gold as opposed to the cheap tinny thing it currently sits upon.
THE BLUE ROSE RING - TIGHT AND TINNY
Just in case this is my last blog entry for a while, I must mention that Morrissey is going to be on tv next week, being interviewed by Victoria Wood about tea. Regular readers of FTM will recall that I wrote a rather hilarious 'spoof interview' between the two last October, BEFORE the actual interview took place. Six days ago, an anonymous person left a comment on my 'spoof interview' blog entry, to say that my interview was "uncannily accurate." Morrissey himself also left a comment on my blog that day, as follows:
Could Morrissey 'possibly' have taken something from my 'spoof interview' and included it in the 'actual interview'? We shall have to keep our eyes peeled to next weeks programme. Here is my spoof interview: http://followingthemozziah.blogspot.co.uk/2012/10/day-391-tea-for-two-and-two-for-tea.html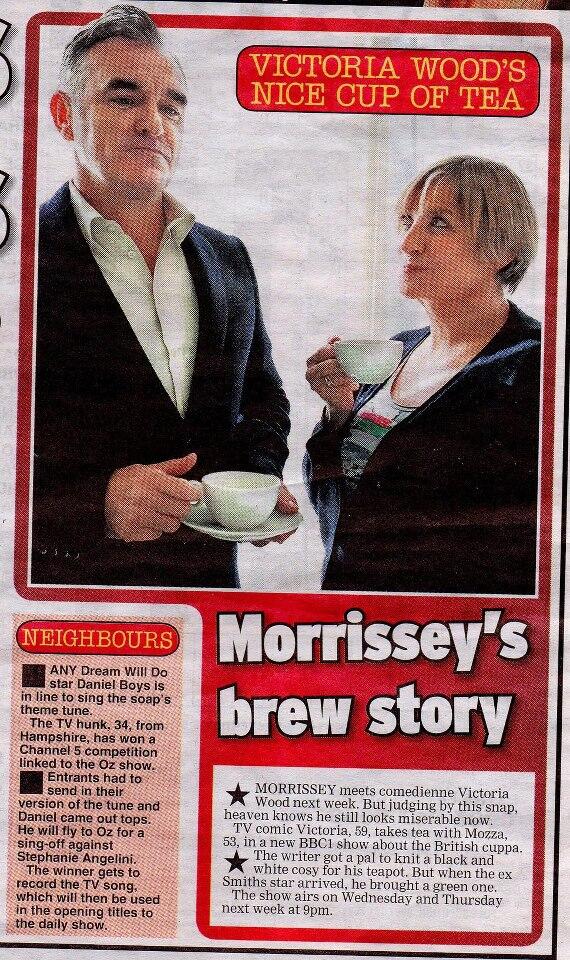 MOZ IN ONE OF TODAY'S NATIONAL RAGS
Well, that's it for today, a day in which the BBC have announced that Britain has a new 'Seven Tier Class System'. I am apparently one of Britain's 'elite class' (of course!), which according to the BBC, is "an exclusive group that is very hard to join.' I am far more suited to the Blue Rose Society, "an inclusive group that is very easy to join..... if you can find it!"
*Goes off singing* Hirsute, not parted, typical me, typical me, typical me, I started something..... And now I'm not too sure.